If you live in a small place, optimising storage space becomes a lot more challenging when kids and their toys enter the picture. But it's not entirely impossible with well-planned storage solutions. If you begin by setting up toy storage that works, it'll also make cleaning up that much easier for you and your family. Below, we share the best storage ideas for toys that will minimise clutter and keep your kid's playthings in order.
The Best Space-Saving

Storage Ideas For Toys
From bags to carts, here are some of our favourite toy storage ideas for small spaces.
Idea #1: Bag It Up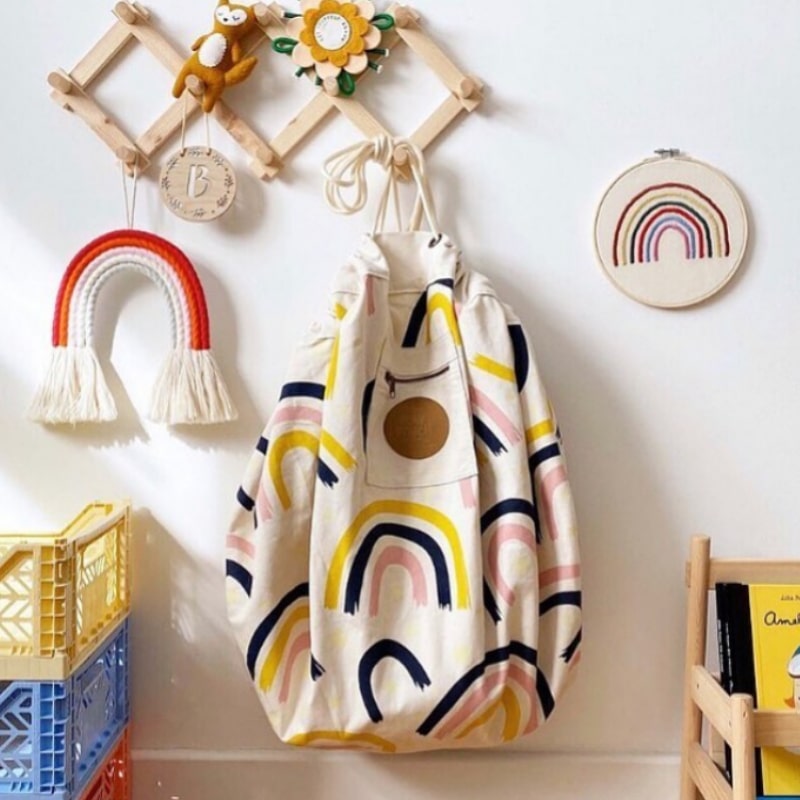 For the ultimate space-saver, this roomy storage bag performs double duty as a play mat and hanging toy storage. When open, it spreads out like a picnic mat so your little one can sit on it to play with their toys. And when it's time to clean up, a pull of the drawstring ensures everything is gathered up in the bag! It's an ingenious storage idea for toys with lots of small components, like LEGO. 
Similar products:
Idea #2: Keep It Modular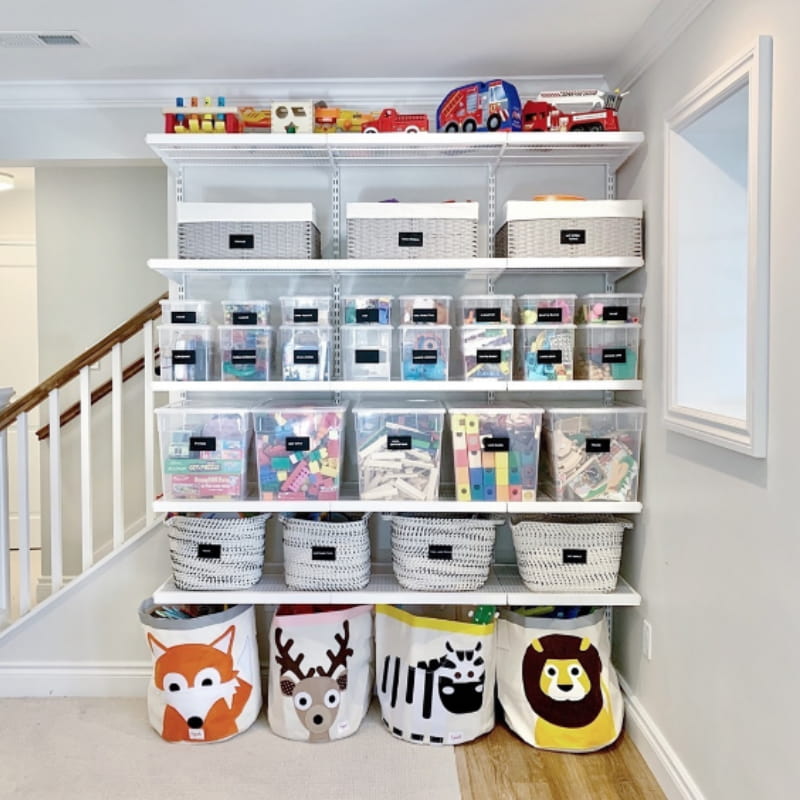 Modular racks are a great toy storage idea, especially if you have a growing family. They're great for personalisation, which means you'll be able to adjust the height between each shelf or add more shelves to accommodate your kids' growing toy collection. This flexibility will help anticipate your storage needs for years to come.
Similar product:
Idea #3: Sleep On It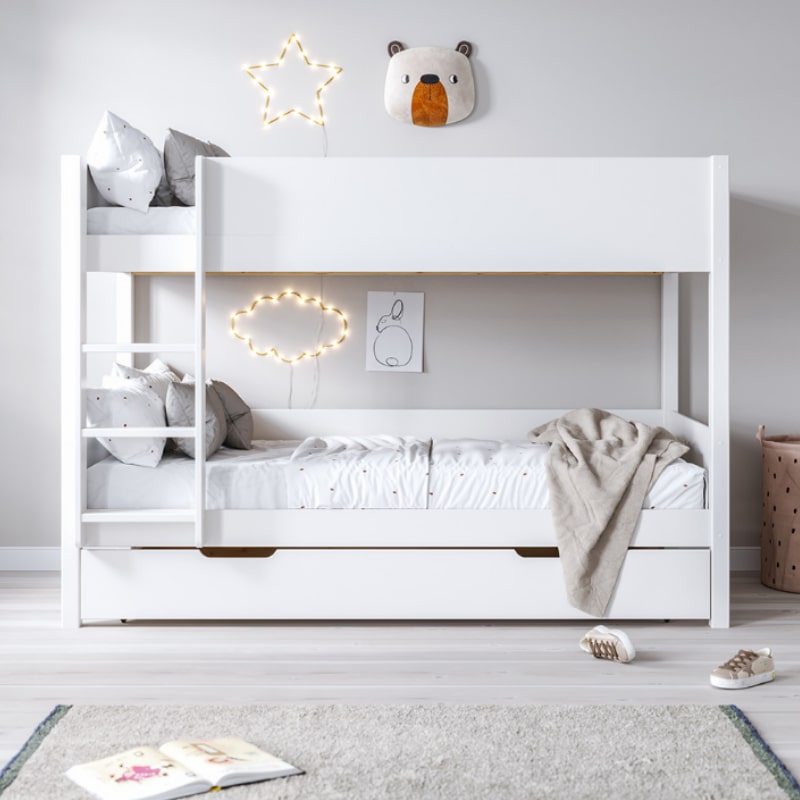 Why not consider looking for a bed with storage? This two-in-one solution is a mighty space-saver and a great storage idea for toys. Kids can conveniently stash away books and dolls in the pull-out drawer before hopping into bed for a good night's sleep.
Similar products:
Related: Pretty Up Your Daughter's Bedroom With These 13 Dreamy Ideas & These 13 Boys' Bedroom Ideas Are So Cool, Your Son Won't Want To Leave His Room
Idea #4: Don't Forget The Wall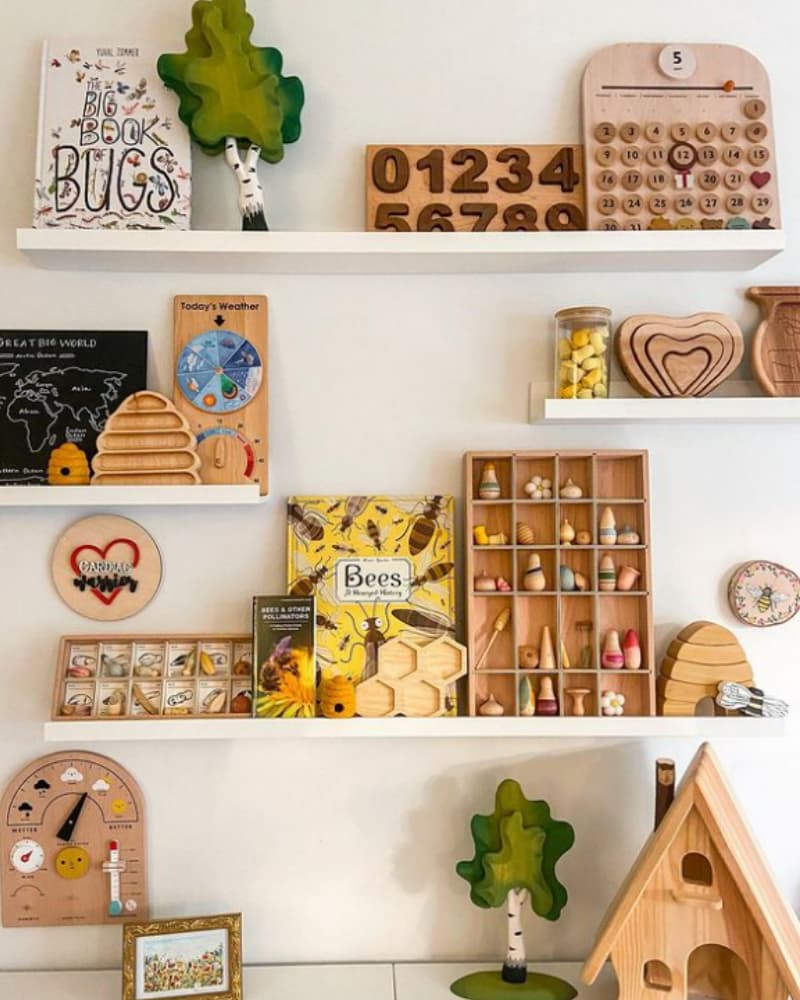 If you're pressed for space, always remember: the wall is your best friend. Mount a couple of 'floating' shelves on a plain wall, and you'll have the perfect storage solution for books and lightweight toys. And not to mention, a charming feature wall that will instantly jazz up the space.
Similar products:
Idea #5: Leave It Open
If you go by the Montessori method, you'll know that the use of child-height open shelving units is encouraged. This is so little ones can reach for their favourite toys and engage in independent, open-ended play. Besides, they'll make for a beautiful display if your toys are as colourful as these. They're also fairly easy to repurpose once the kids are all grown up, so they won't go to waste!
Similar products:
Idea #6: Use Baskets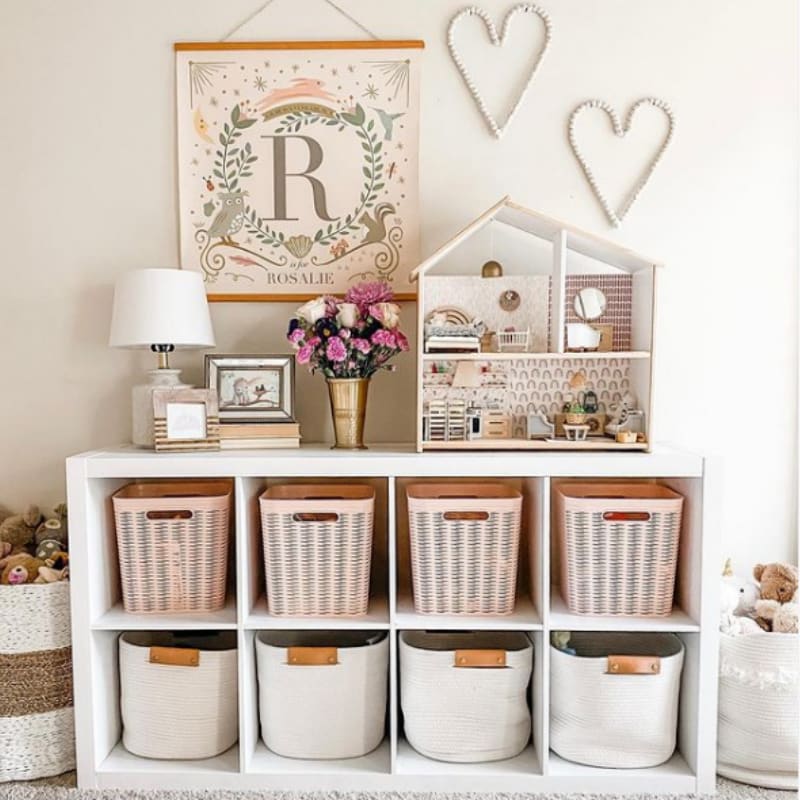 When the kids are older, make the open shelf a little more functional and chic with wicker or woven baskets. They can hold everything out of sight and store a lot more than a regular open shelf would. They're also handy to move around when you and your kids are cleaning up and sorting out toys.
Similar products:
Idea #7: Stack 'Em Up
Another toy storage idea that will help you skimp on space is stackable bins. They sit snugly on top of each other, so you can build your storage according to your child's height. As children tend to engage with toys that they can see and reach, it's best to opt for boxes with see-through lids.
Similar products:
Idea #8: Bin It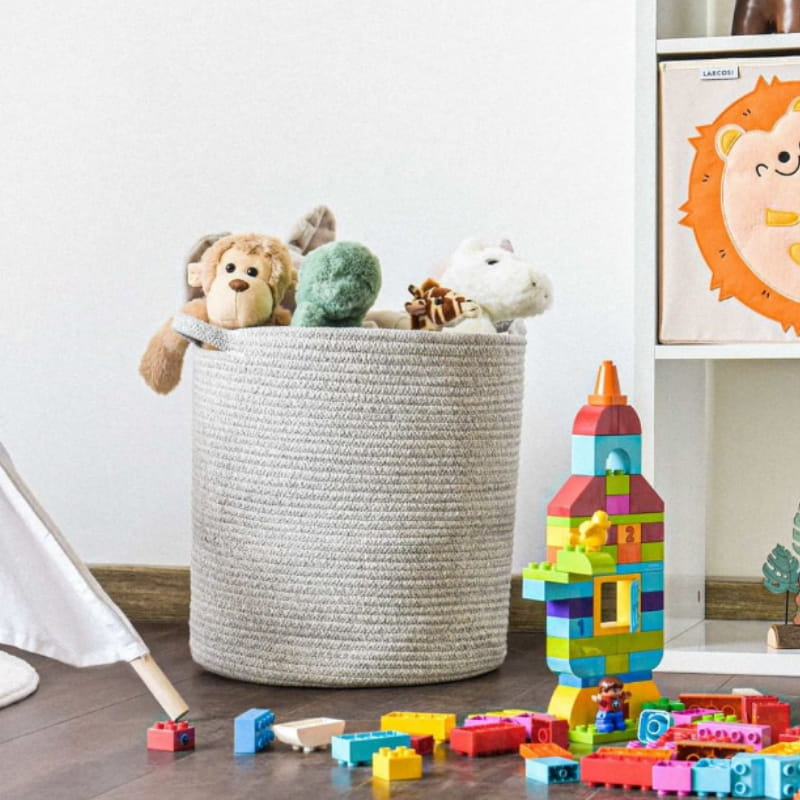 Soft storage bins are lightweight and great for moving around the house for a quick clean-up. If they're not in use, you can always fold and keep them, or even use them as laundry baskets. Go classic with a plain bin or lend a playful touch to the room with a brightly coloured one.
Similar products:
Idea #9: Keep 'Em On Wheels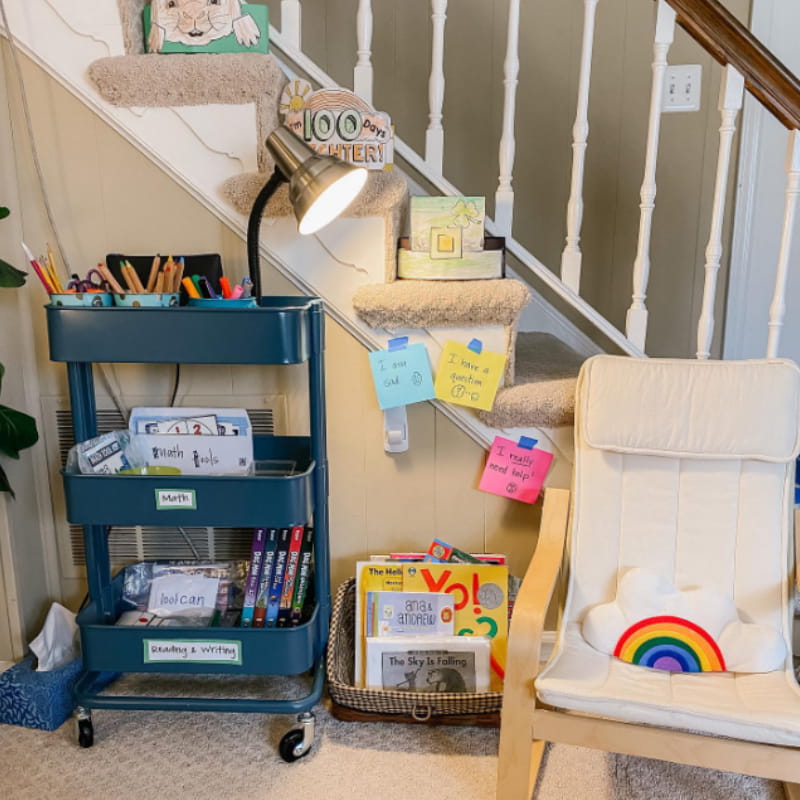 A cart on wheels is a nifty storage idea for toys. It's usually tiered, so you'll get thrice the storage on a third of the floor space! It's also mobile, so playtime doesn't always have to be rooted to the same spot. A useful hack is to label each tier, so that it's easier to identify where things should go when it's time to clean up.
Similar products:
Idea #10: Repurpose Existing Furniture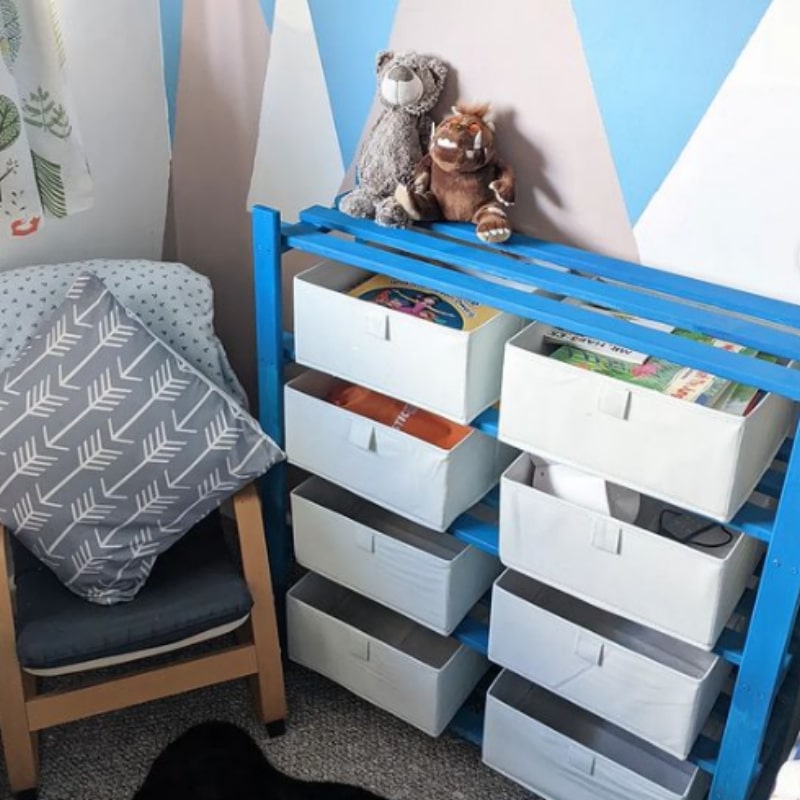 Tight on budget? Who says you have to spend on new furniture, when you can repurpose existing ones? Whether it's a used shoe rack, TV console, or bookcase, give it a fresh coat of paint, add on some storage organisers, and you've basically got yourself a functional toy storage! You'll not just save money, you'll also avoid taking up more floor space.
Related: The Best Places To Get Charming And Vintage Secondhand Furniture In The Klang Valley
Cancel Clutter With These Space-Saving

Storage Ideas For Toys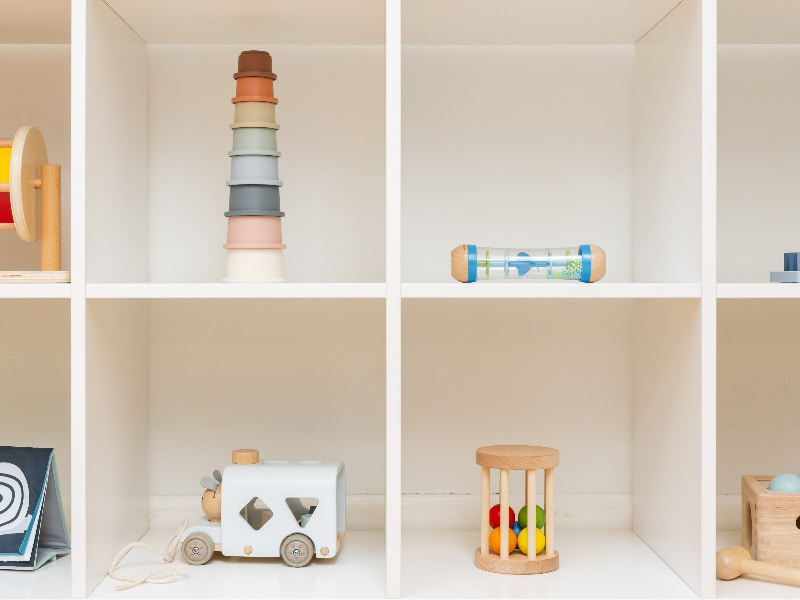 And there we have it – 10 storage ideas for toys that are practical for small spaces and great for keeping toys organised. If at all possible, try to keep the storage accessible to kids so they'll be more inclined to play with the toys on their own. You can also try colour-coding the shelves or labelling them to get your kids involved in tidying up!
If you're thinking of getting more toys, we recommend these STEM toys, developmental toys, and family-friendly card games. Or else, swing by Kedai Buku Shopee for more inspo.