Living in a small space often means being more mindful of the size and practicality of your furniture. If you're anticipating a newborn, the baby cot isn't spared. Luckily, with the array of baby cots on offer, it won't be difficult to find one that delivers maximum functionality and minimum footprint. Below, we share some pointers on what to look for when buying a baby cot, plus our recommendations for the best space-saving baby cots in Malaysia.
What To Look For When Buying A Baby Cot
As your child will be spending a lot of time in the baby cot, it's important to choose one that's comfortable, safe, and built to last. Here are some tips you should keep in mind before splurging on one:
Safety features:

A baby cot should be strong and sturdy, and if possible, adhere to international safety standards. The

NHS

also recommends that the vertical slats should be no more than 6cm apart to avoid head entrapment.

Non-toxic materials:

As babies tend to chew on anything when they're teething, a baby cot should be made and painted with only non-toxic materials.

Lockable wheels:

If the baby crib is on wheels, make sure they can be locked or removed in case you want to secure the crib to a spot.

Adjustable mattress height:

With a variety of height settings, you can lower the

mattress

as your child grows to prevent them from climbing or falling out of bed.

Snug and firm mattress:

If you need to purchase a mattress separately, it should fit snugly in the crib to eliminate gaps between the mattress and the sides of the crib. Moreover, it should be firm to reduce the risk of suffocation and ensure

safe sleep

.

Size matters:

The standard baby cot size is approximately 132cm (L) x 71cm (W), so anything smaller would be considered compact. To be safe, you should measure your space and door width before settling on a cot.
The

Best Baby Cot In Malaysia

For Small Spaces
If you have limited space at home but still want the best for your baby, check out our round-up of the best compact baby cots in Malaysia.
Getha Togetha Baby Cot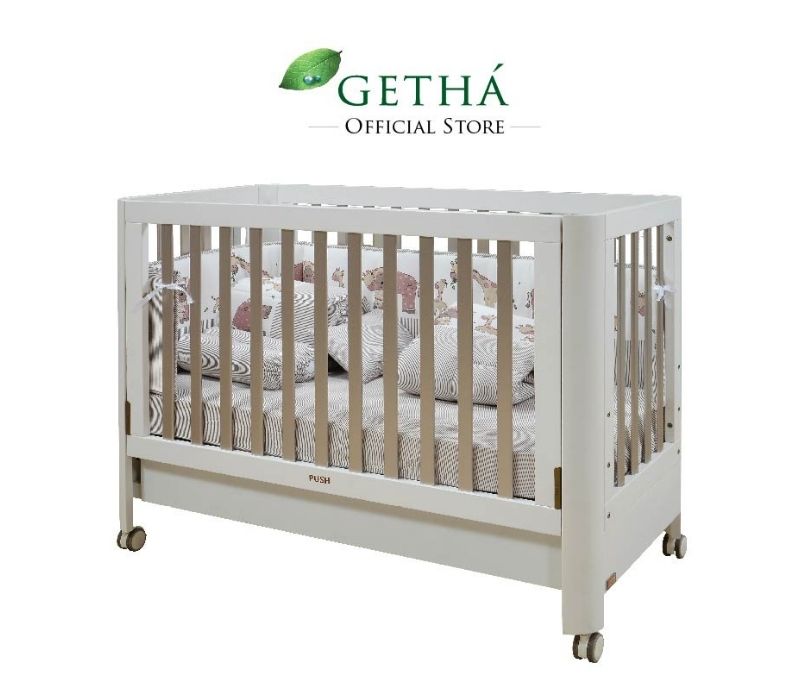 Dimensions: 125cm (L) x 66cm (W) x 97cm (H)
Max weight: 40kg
Comes with: Cot, latex mattress, and other optional bedding and pillows
The Getha Togetha Baby Cot falls on the pricier side, but it's one of the best looking baby cots in Malaysia that's sure to complement your Pinterest-worthy interior. This robust rubberwood cot can be transformed into a study desk, day bed, or kid's sofa, so it's guaranteed a new lease of life after your baby outgrows it. It also comes with three mattress height settings and a secure lock gate you can easily manoeuvre while holding your baby. To keep extra bedding out of sight, there's a discreet pull-out drawer right below the mattress.
Chicco Next2Me Forever Crib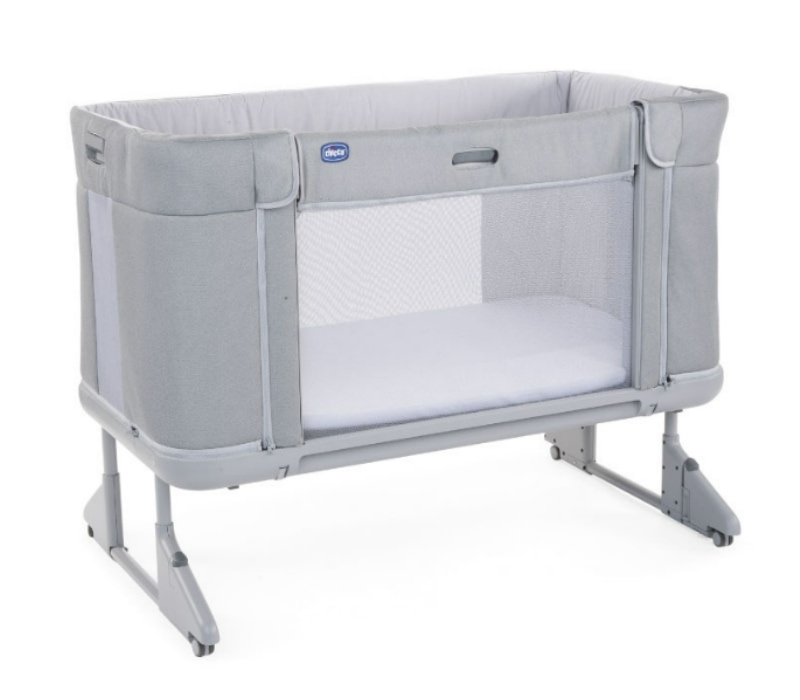 Dimensions: 121cm x 74cm x 91-108cm
Max weight: 22kg / up to 4 years old
Comes with: Cot, mattress, harness kit for attaching to bed
One of the best-in-class options for versatile baby cots in Malaysia is the Chicco Next2Me Forever Crib. It's not the most compact in width, but the extra space means the cot will remain in use well into toddlerhood. In fact, you can configure this 3-in-1 cot into a stand-alone cot, co-sleeper, or floor bed. It's especially handy for co-sleeping, as the legs are adjustable and foldable to adapt to parents' beds. Plus, a patented safety feature ensures the side rail can only be lowered when the cot is secured to the bed with a harness.
Sweet Heart Paris Multifunction Baby Cot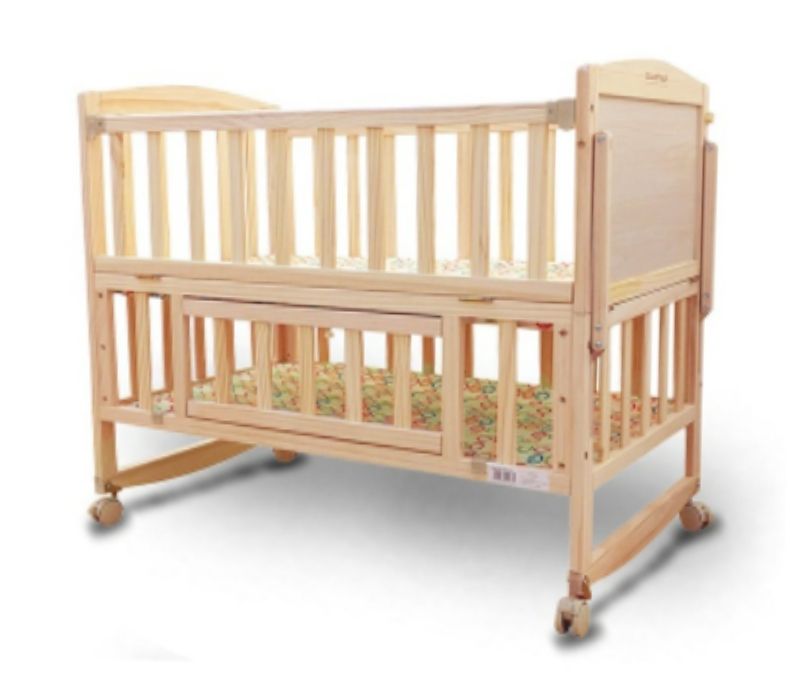 Dimensions: 99cm x 58cm x 86cm
Max weight: 25kg / up to 3 years old
Comes with: Cot, mosquito net and holder
Most mini baby cots come in the form of bassinets, but not this Sweet Heart Paris baby cot. It maintains a traditional crib design, and that's probably the biggest appeal of this best selling baby cot in Malaysia. It doesn't lack in functionality either. The cot has an adjustable bed height, with extra space below to store toys and books. It can also be transformed into a rocker, or converted into a bed or desk for when your child is older. Not only does this pinewood cot boast a smooth finish and rounded slats, its railings are also lined with food-grade teething strips to protect your baby's pearly whites.
Joie Kubbie Sleep Travel Cot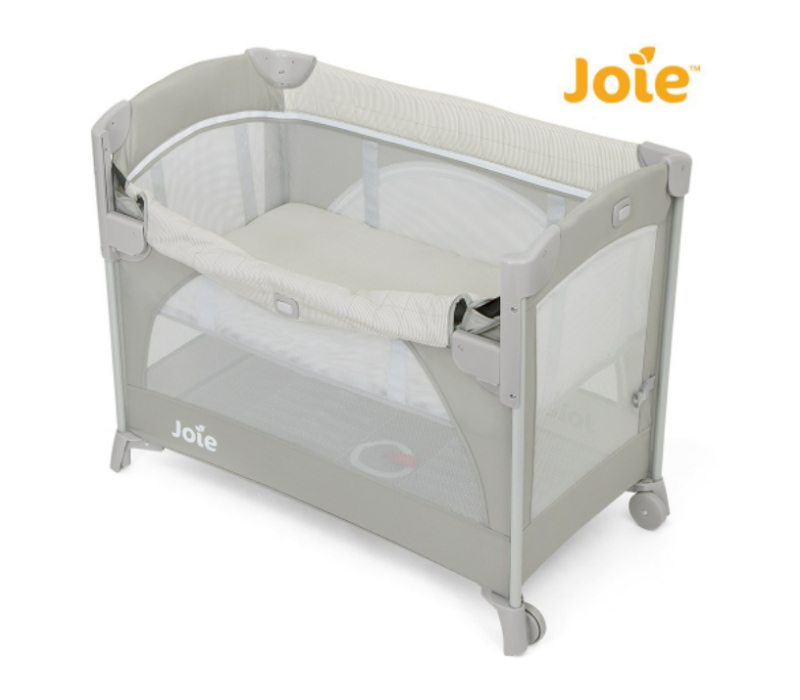 Dimensions: 99cm x 60cm x 81cm
Max weight: 15kg / up to 3 years old
Comes with: Foldable cot, removable mattress, travel bag
The Joie Kubbie Sleep Travel Cot is a compact baby crib slash playpen you can use at home or on-the-go. It comes with a detachable bassinet for sleeping, mesh lining for ventilation and visibility, as well as a removable mattress. On top of that, the ultra-secure frame has two integrated wheels so you can pull the cot wherever it needs to go. For co-sleeping, simply side-car the cot to your bed then lower the side panel to keep your baby within arm's reach. For travelling, the cot folds and stows beautifully in a matching travel bag. Wherever you are, this simple and stylish cot will fit right in.
Comfy Baby Ciak Baby Cot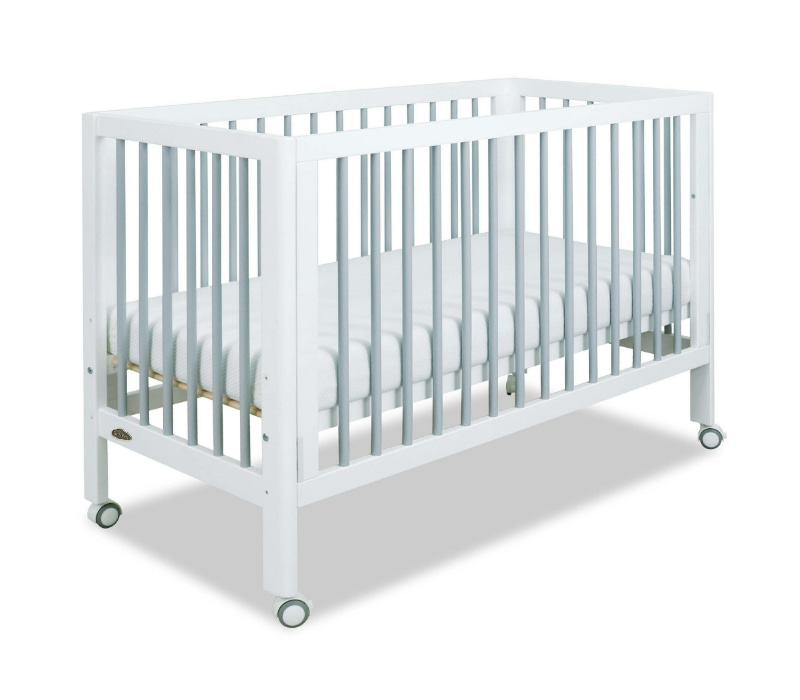 Dimensions: 125cm x 66cm x 103cm
Max weight: 50kg
Comes with: Cot, mattress, mosquito net
Looking for a baby cot with top-notch safety features? This minimalist Comfy Baby cot checks all of the boxes. It's made of solid Araucaria wood and baby-safe paint, with vertical slats that are safely 6cm apart. It also comes equipped with four castor wheels, two of which are lockable to prevent accidental movements while your little one is asleep. In terms of practicality, there are three mattress heights to accommodate your child's growth and a drop-down side that makes soothing your newborn easier.
Mamakiddies Portable Baby Bed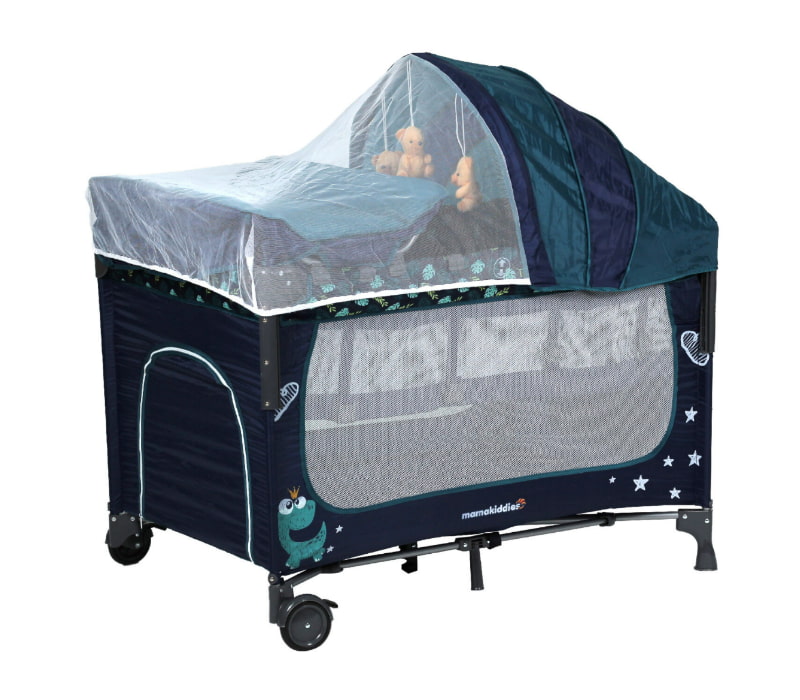 Dimensions: 109cm x 79cm x 76cm
Max weight: 15kg / up to 3 years old
Comes with: Foldable cot, mattress, changing station, canopy with mosquito net, carrying bag
This multipurpose Mamakiddies baby cot ranks in the top three best selling baby cots on Shopee Malaysia. Why? Because it hits the sweet spot between price point, quality, and versatility. Designed to European safety standards, this durable polyester cot is a bed, playard, and changing station rolled into one. Apart from the bassinet and cushioned changing table, the cot also includes a canopy-cum-mosquito net to protect your baby from pesky insects. It's got everything you need, whether you're travelling or living in a small space.
Beblum Lavo 5 Multifunction Baby Cot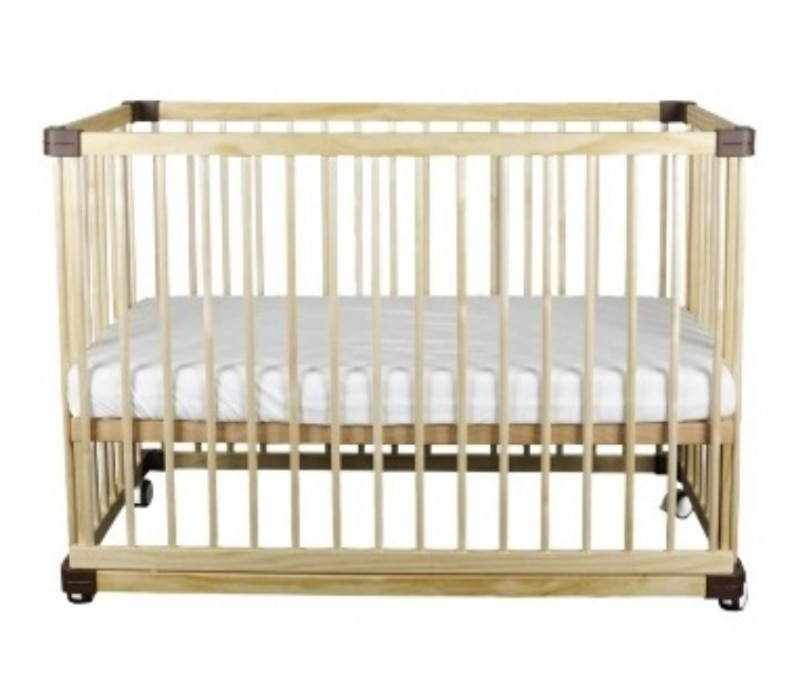 Dimensions: 124cm x 64cm x 90cm
Max weight: The weight of three adults
Comes with: Cot only. Mattress and bedding sold separately
Beblum's flagship baby crib is a strong contender among the best baby cots in Malaysia. The modular design allows the cot to be configured in various ways and even extended if you're expecting multiples. On its own, the cot is narrow enough to fit tight spaces but long enough to anticipate your baby's growth spurts. Plus, it comes with nine height adjustment settings and a set of lockable wheels. With the easy click system, it only takes 15 minutes (and zero tools) to install this cot!
Save On Space But Not Quality With The

Best Baby Cot In Malaysia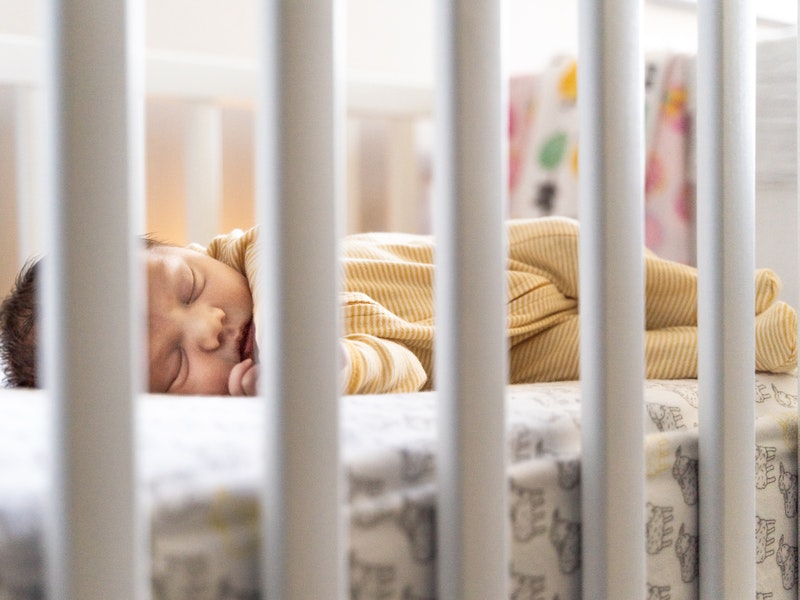 With these best baby cots in Malaysia, you can scrimp on precious floor space without sacrificing quality and versatility. Better yet, they'll provide your baby with restful sleep every day – and that means better sleep for you too!
If you're looking for baby room inspo, check out our easy decorating tips. And don't forget to sign up for Mum's Club to score exclusive deals, vouchers, and extra cashback coins on selected baby products and cots.