While we're still nursing our broken hearts from the hiatus announcement of BTS, we get another piece of news from the K-pop scene. Say hello to the new girl group under Hybe, NewJeans, who just burst into the scene by dropping their first pop-R&B single, Attention, on 22 July without any warning. No teasers, no promos, nothing. 
And before we could recover from that bop of a song, the music videos for their three other title tracks, Hype Boy, Hurt, and Cookie, dropped shortly after. Packed with intensive choreography, breathtaking vocals, and an addictive storyline to go along with their catchy melodies, it's no surprise why these girls are capturing everyone's attention. Before we get on to the juicy part of discussing NewJeans' fashion, let's first meet all five members of the group to get properly acquainted.
Meet The

New Girl Group

 Under Hybe, NewJeans
Minji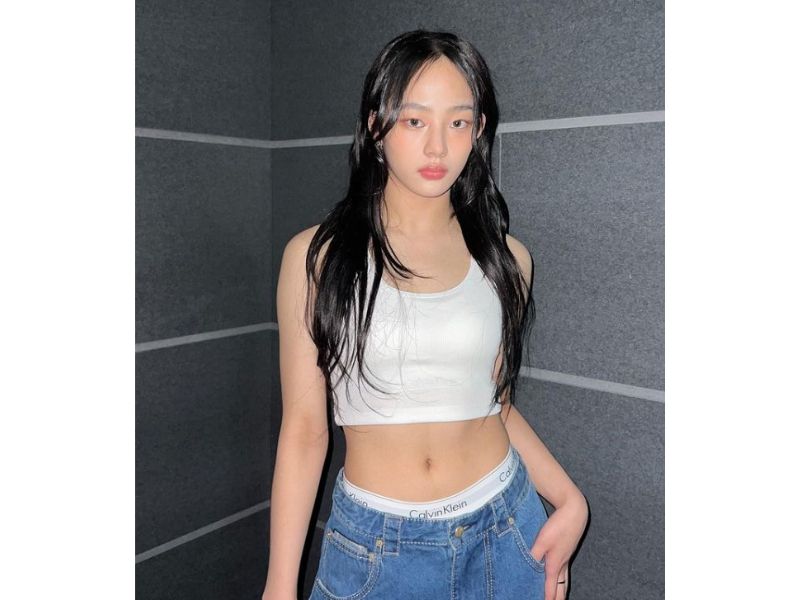 Korean member, Minji, was born in 2004 in Yeongwol-gun, Gangwon-do, South Korea. She had a cameo role in BTS' Permission To Dance music video and used to be a former JYP and Source Music trainee. She is described as a tidy person, which earned her the title of NewJeans' King Of Cleaning. Her fellow members also shared that she's the ultimate tsundere who seems cold at first but cares deeply for them the more they get to know her. 
Role: Leader, vocalist, and dancer. 
Haerin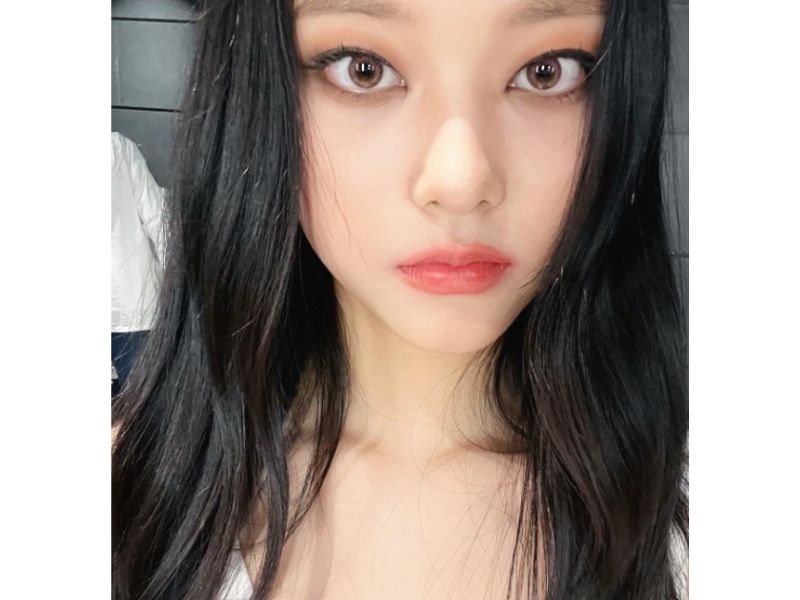 Haerin is another Korean member of the new girl group under Hybe, and hails from Gimcheon, Gyeongsangbuk-do, South Korea. In the group's recent introductory video, the 16-year-old describes herself as a deeply curious person who likes learning new things. She also loves bright colours and flowery scents and can speak both Korean and English.
Role: Vocalist and dancer. 
Danielle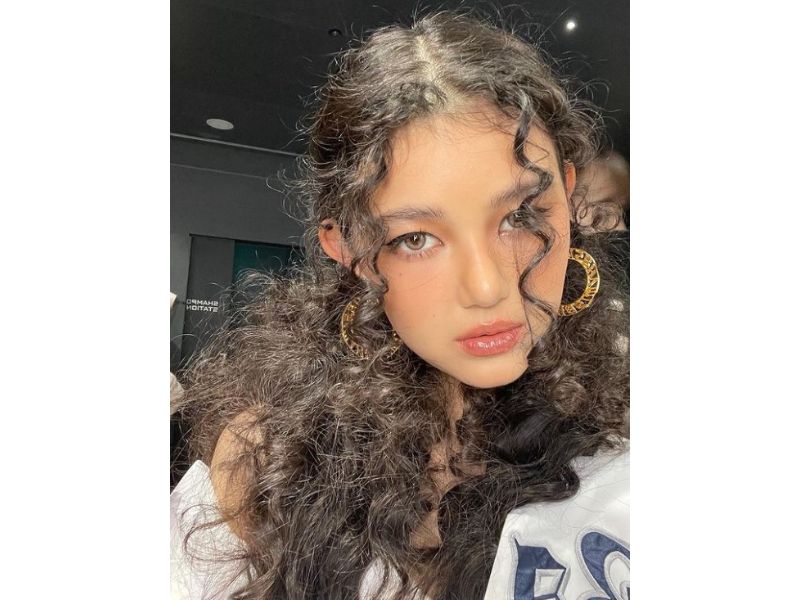 17-year-old, Danielle, was born in Munsan, Paju, Gyeonggi-do, South Korea but grew up in Australia. The '05 liner can speak both Korean and English and has already made several TV appearances in shows like Rainbow Kindergarten and Shinhwa Broadcast. She describes herself as daring, adventurous, imaginative, energetic, and lulu (remarkable). 
Role: Vocalist and dancer. 
Hanni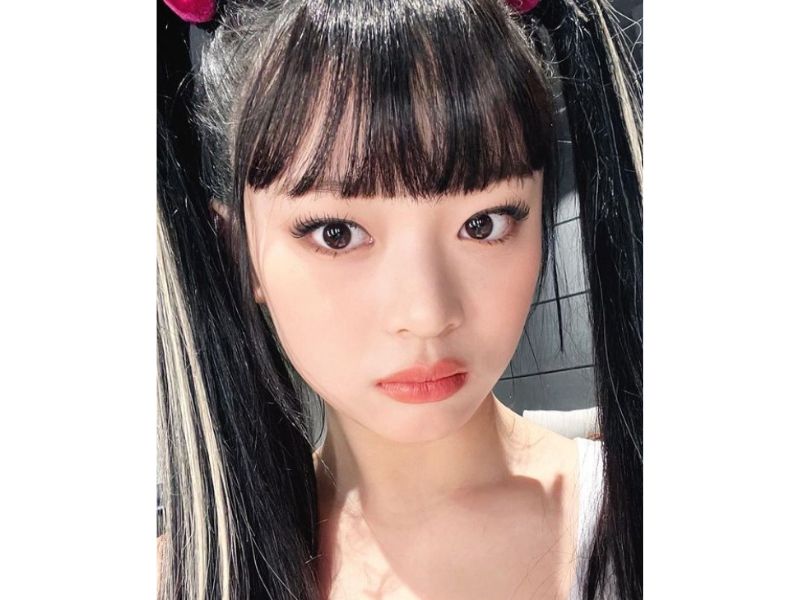 Hanni is the first Vietnamese idol under Hybe. The 18-year-old was born in Vietnam but grew up in Melbourne, Victoria, Australia and was even part of the Aemina Dance Crew whilst based there. Like Minji, Hanni also made a cameo appearance in BTS' Permission To Dance music video. 
Role: Main dancer and vocalist. 
Hyein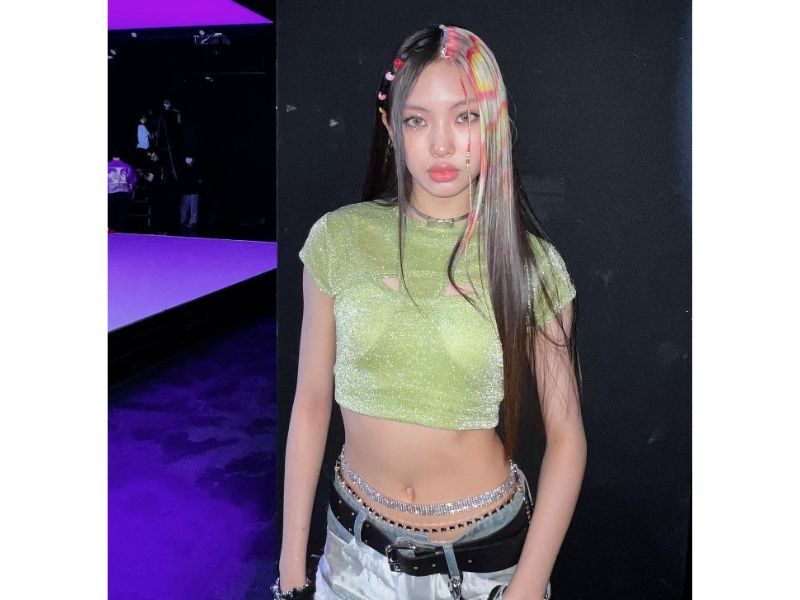 Born in Incheon, South Korea, Hyein is the youngest member (maknae) of Hybe's new girl group. The 14-year-old has had a couple of projects under her belt, having appeared on Pocket TV in a programme called the Play With Me Club. There, she shared her experiences as a K-pop trainee and also revealed herself to be a big BTS and TXT (Tomorrow X Together) fan.  
Role: Maknae, vocalist, and dancer. 
Y2K Outfits

From NewJeans' Attention & Hype Boy Music Videos
The 2000s fashion has been on the rise since the pandemic and judging from recent trends; we've long accepted that it's here to stay. Maybe it's the nostalgia of reliving one's childhood days. Or maybe it's just the pure curiosity to try a new aesthetic because you're bored. Whatever it is, it's clear that Gen-Z's fascination with the early noughties isn't going away anytime soon. 
This is evident because even the girls from NewJeans are decked from head-to-toe in 2000s drip. From scarf tops to baggy low-rise jeans, this new girl group under Hybe is radiating major 2000s fashion in all their outfits. Here are some of their best Y2K outfits and hairstyle moments in their music videos.
Scarf Top/Crop Top + Baggy Pants + Monogram Prints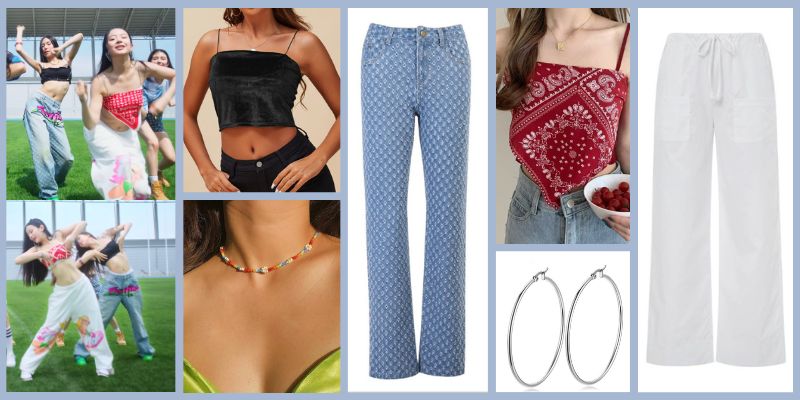 Nothing is more quintessentially Y2K than a scarf top paired with low-rise sweatpants as seen on NewJeans' Hanni. Next to her, Hyein is also dressed in a similar ensemble with a black, spaghetti-strapped bandeau crop top and monogram-printed baggy jeans.
Shop this style (outfit 1):
Shop this style (outfit 2):
Related: Scarf As A Top: 5 Ways To Transform Your Head Accessory Into A Possible… Necessity
Baby Tees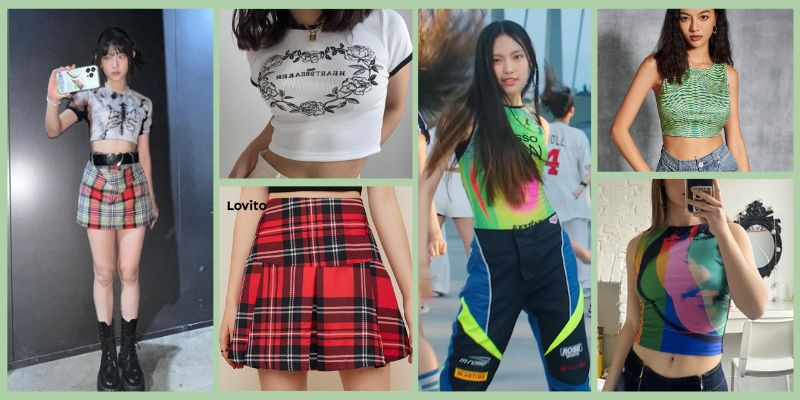 Graphic baby tees were all the fashion rage back in the '2000s. And they've made their appearance in NewJeans' music video debut. Haerin's Y2K outfit is further complemented by her ultra-cute space buns. Meanwhile, Hyein's look has a slightly more modern take with her racer pants. 
Shop this style (outfit 1):
Shop this style (outfit 2):
Pleated Mini Skirts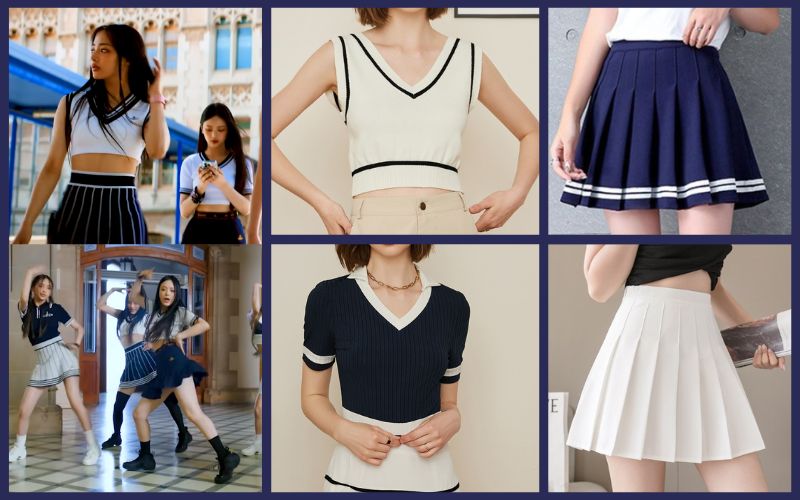 The pleated mini skirt was such a popular trend in the '90s that it made its way even to the early 2000s. Here, NewJeans' Y2K outfits take on a more muted, preppy style by pairing their skirts with neutral sweater vests and cropped polos. 
Shop this style:
Related: 11 Cute & Creative Ways To Wear The Pleated Miniskirt Trend
Front-Tie Tops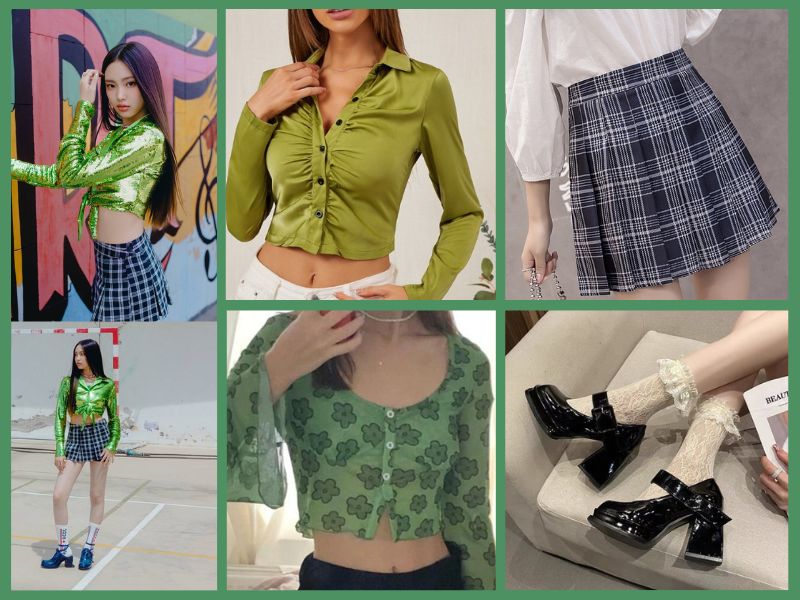 What's a Y2K outfit without a striking, statement piece? Combining a bold, metallic green shirt with a pleated mini skirt, Hyein's look is the epitome of 2000s fashion. She's even got the two ends of her shirt tied together to the front: a trait that every Y2K top has. 
Shop this style:
Double Denim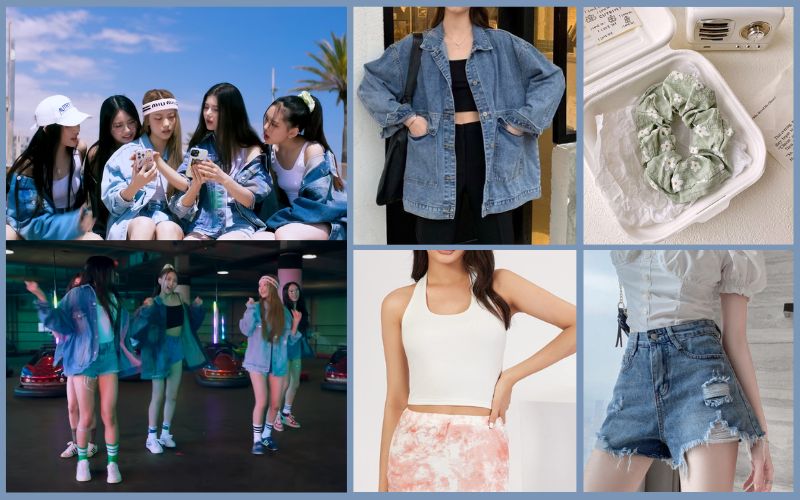 We've had some iconic denim-on-denim moments from past years. Think Justin Timberlake and Britney Spears' matching couple outfits or Bella Hadid's Canadian tuxedo with a denim bustier. And now, maybe Hybe's new girl group, NewJeans, can be added to the list? 
Shop this style:
Baggy Cargo + Baggy Pants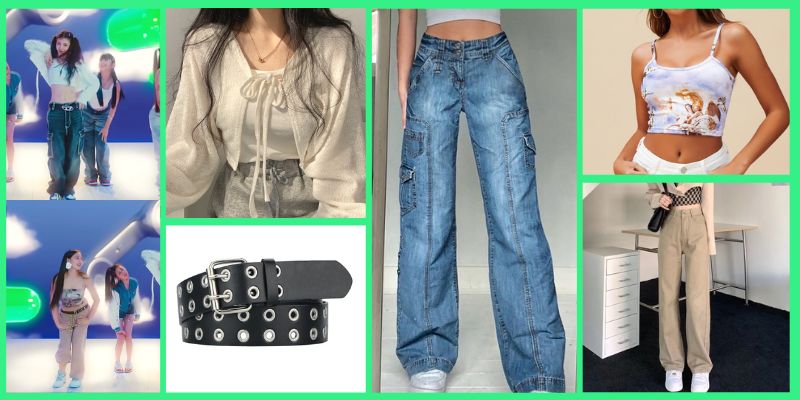 Joining the low-rise jeans trend, cargo pants are another Y2K piece that's been having a massive comeback this year. In the Hype Boy music video, Danielle is exuding 2000s hip-hop vibes with a pair of cargo jeans to go along with her white tank top and cropped cardigan. On the other hand, Minji channels her cool-girl confidence with baggy khaki pants and a printed bandeau crop top. 
Shop this style (outfit 1):
Shop this style (outfit 2): 
Y2K Hairstyles Seen On

Hybe's New Girl Group

NewJeans
In the words of comedy-drama TV series Fleabag, hair is everything. And what better way to complete your NewJeans-inspired Y2K outfits than with some matching Y2K hairstyles? Here are some of the looks spotted on the girls, below. 
Space Buns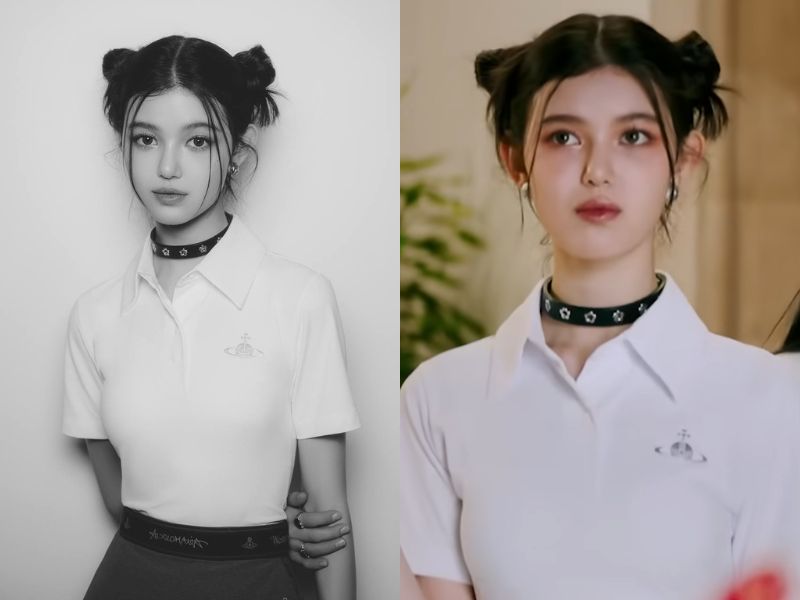 We love how Danielle's edgy space buns act as a complete contrast to her uniform style. With this hairstyle, you don't need to worry about it looking too perfect. Her face-framing tendrils and somewhat messy buns give an effortless charm to her look. 
Spiky Updo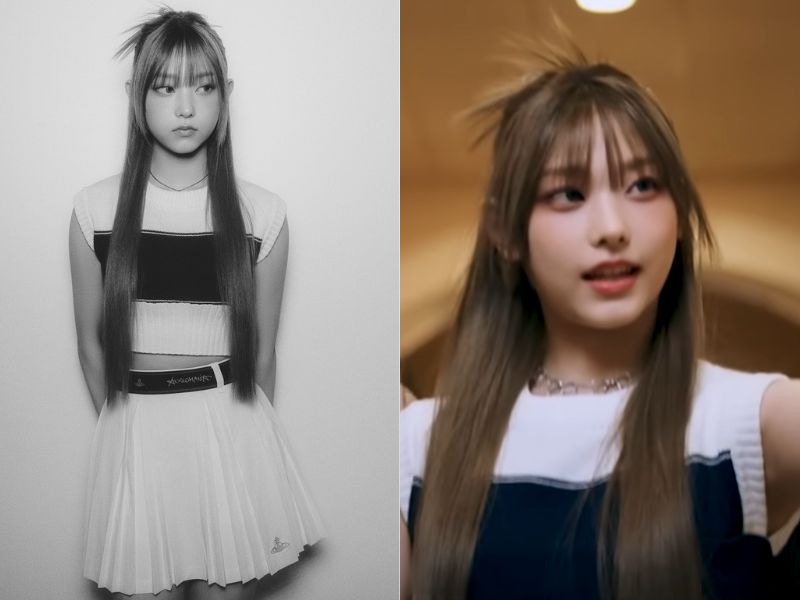 It was all about the spikes back in the 2000s. So it only makes sense that we're seeing a major revival of this retro hairstyle in 2022. And even Hybe's new girl group, NewJeans, is jumping onto the bandwagon. In their Hype Boy music video look, Haerin's spiky updo adds a nice edge to her silky-straight locks. 
Bubble Braids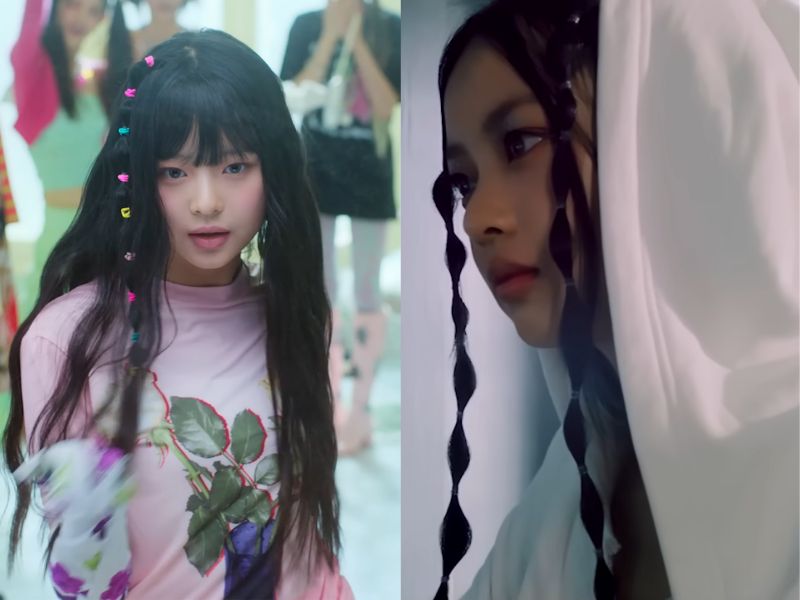 You can never go wrong with bubble braids for an easy yet impactful hairstyle. A high ponytail or two-pigtails are typically the more popular options, but Hanni is rocking smaller braids that complement her softer features. 
Butterfly Clips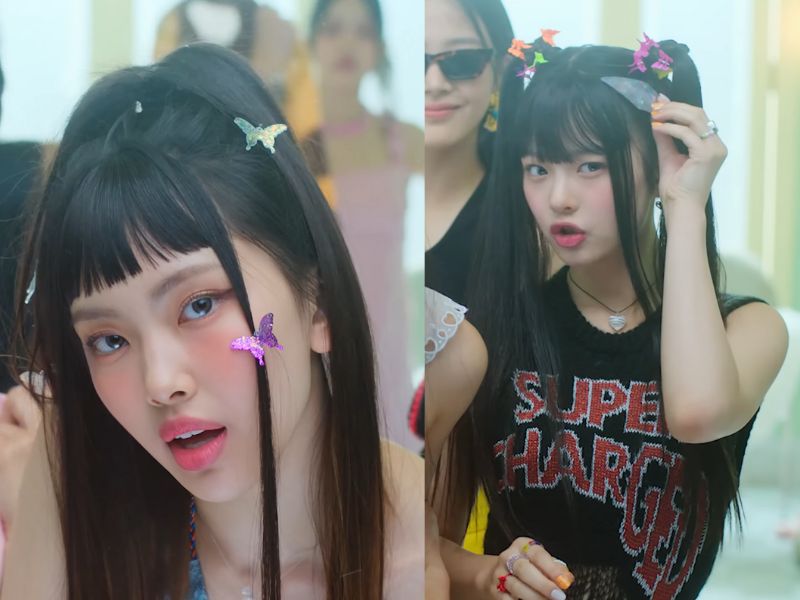 Butterfly clips are practically the it-girl's accessory for the early 2000s fashion aesthetic. Whether you prefer larger, eye-catching butterfly clips, like Hyein, or would rather opt for smaller designs, like Hanni, these hair accessories are sure to add a playful touch to your Y2K style. 
Bandana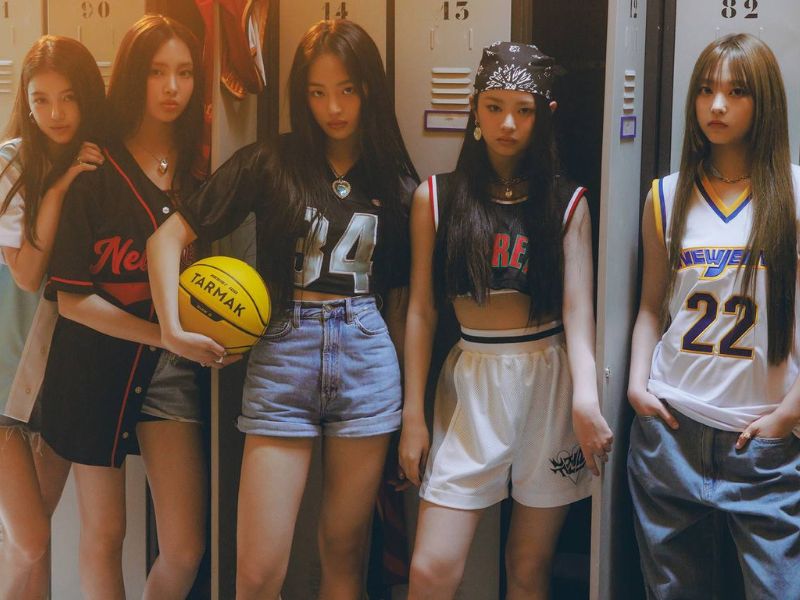 Another hair accessory that dominated the 2000s was the bandana scarf headband. They offer a much sportier vibe that's super easy to style and goes well with any athleisure look. In her Y2K outfit, Hanni's paisley-printed bandana coordinates with her black basketball jersey—two pieces which are key to the Y2K hip-hop style. 
Why Is

Hybe's New Girl Group

Called NewJeans?
So now that you know a little more about the new girl group under Hybe, you're probably still wondering why the name NewJeans and what's the meaning behind it? Here's what Min Hee Jin, CEO and head of ADOR, has to say. In a press release with Nylon, she explains that, "Pop music is a culture that is very close to our daily life, so it is like the clothes we wear every day." 
Jeans are a classic wardrobe staple that stands the test of time regardless of age and gender. So similarly, "NewJeans aspires to become an icon of generations—one you never grow tiresome of putting on." It's also supposed to be a wordplay on the word "New Genes". 
Stay Hyped & On Trend With NewJeans'

Y2K-

Inspired

Outfits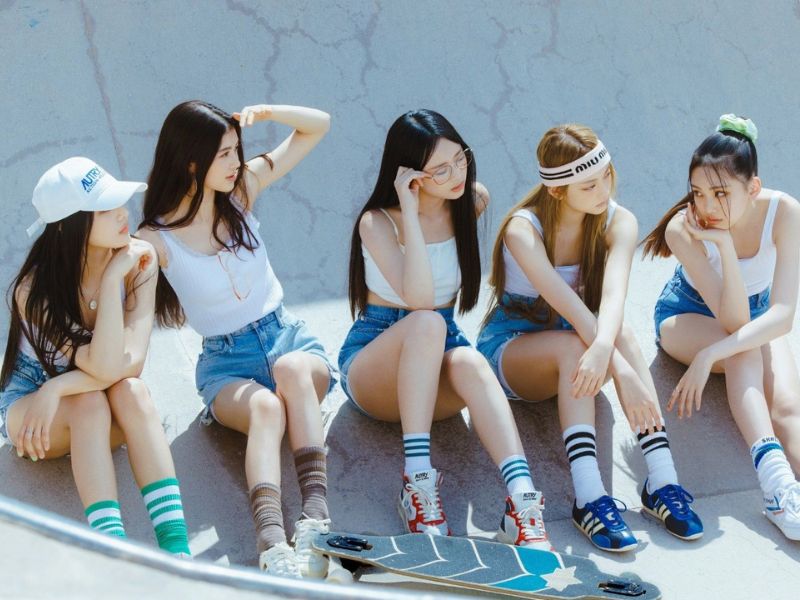 With that, you've reached the end of our round-up of NewJean's best fashion and beauty moments. What are your thoughts on the new girl group at Hybe? Are you already becoming a fan? Or are you just here for the Y2K vibes? Leave your comments down below! Looking for more K-pop-related content? Then check out our other articles on Enhypen's Blessed-Cursed outfits or learn more about BTS' best off-duty and on-duty looks. 
Don't forget to head over to Style By Shopee to stay up to date with all the latest fashion trends.