Cardigans for women have long moved on from being your grandmother's cosy outerwear piece to a fashionable trend that doesn't seem to be slowing down any time soon. From preppy to sexy, when it comes to styling cardigans, there are plenty of options to fit the aesthetic you're going for! And hey, as proven by Harry Styles' multi-coloured, patchwork crochet cardigan by JW Anderson, embracing the granny vibes can be a whole aesthetic too! If you don't know what types of cardigans there are or how to style them, then continue reading for more outfit ideas and fashion tips on this versatile knitwear. 
Styling Tips For Cropped

Cardigans 
Wear It As A Crop Top With Wide-Leg Pants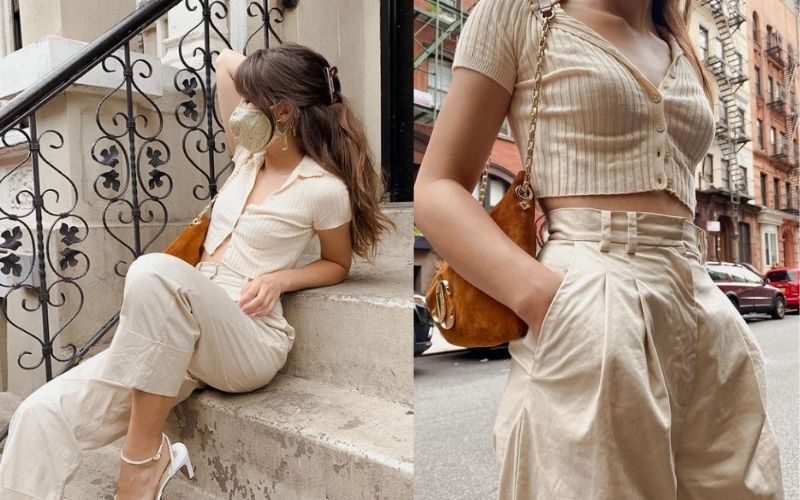 The best thing about styling cropped cardigans is their versatility to be worn as a top as well as outerwear. An easy way to show off your silhouette and create an illusion of a smaller waist is by pairing your short-sleeved cropped cardigan with some wide-leg pants. As the top is tight-fitted, wearing it with baggier bottoms would balance out the proportions and flatter your body shape even more. Throw on your matching heels and mini handbag to complete the fashion influencer-approved look. 
Channel Soft Girl Vibes With A Mini Plaid Skirt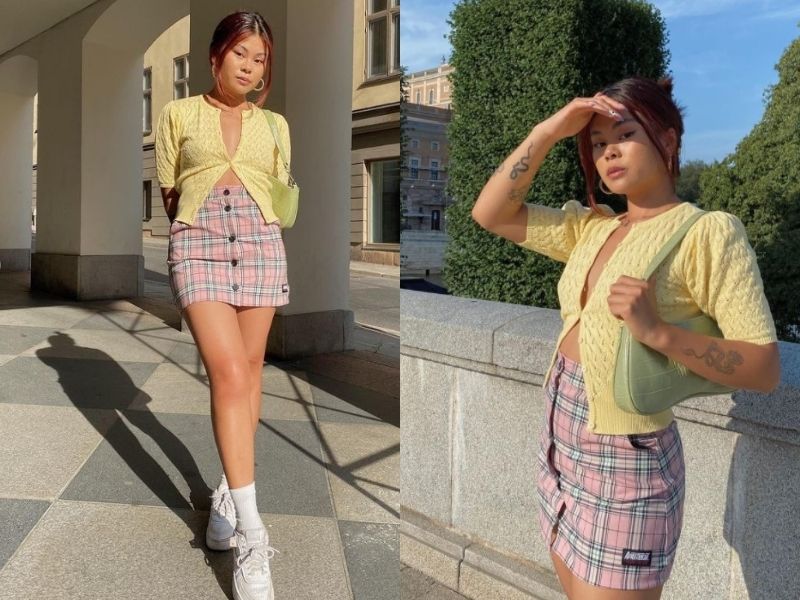 The plaid mini skirt and cropped cardigan combo have been a timeless outfit ensemble to exude a preppy look. After all, who could forget the iconic 'fits Cher Horowitz served us in Clueless (1995), especially that yellow uniform set? *Chef's Kiss* However, since layering that many pieces of clothing could leave you feeling overheated in our Malaysian weather, we'd suggest losing the blazer and going for the sweet, soft girl TikTok aesthetic instead. Stick to pastel tones and bring out your trusty white sneakers and ankle-high socks to capture its cute, school-girl essence. 
Throw On A Pair Of Joggers To Look Sweet And Sporty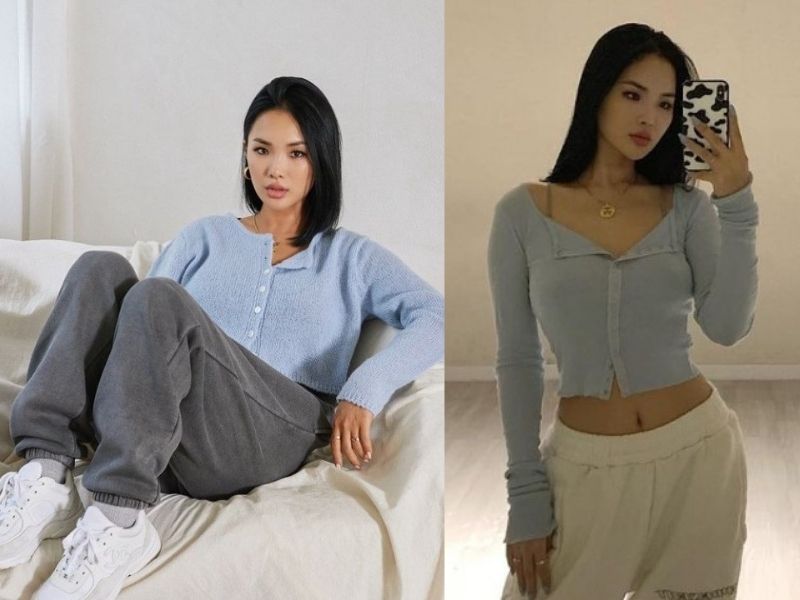 Want to know how to style your cardigan in a casual 'fit? This relaxed cardigan ensemble is perfect for athletic women who're constantly on the move. And if you've always liked the effortless, sporty-chic outfits that K-pop idols wear during their dance practices, then here's your chance to achieve a similar style. Wearing your cropped cardigan with a pair of neutral-coloured joggers or sweatpants will help you stay comfortable but fashionable even when you're sweating it out on the dance floor. Even if you're not athletic, this cardigan pairing for women makes for a perfect loungewear set for #stayhome days.
Styling Tips For Chunky

Cardigans 
Keep It Casual With Straight-Legged Jeans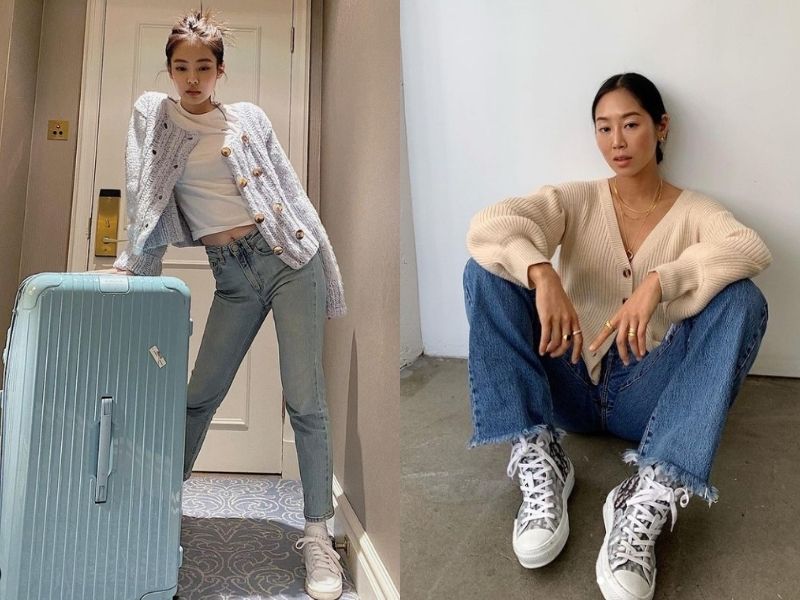 Styling chunky cardigans for women can be a hit or miss, as they tend to be quite oversized in terms of fit. You'll have lots of excess material to deal with, so avoid pairing them with the wrong set of clothes that'll end up making you look frumpy. Opt for a simple pair of straight-legged jeans and a white T-shirt to offset the bulkiness, as well as to let your outerwear be the central focus. 
Unleash Your Inner Sexiness With A Matching Bralette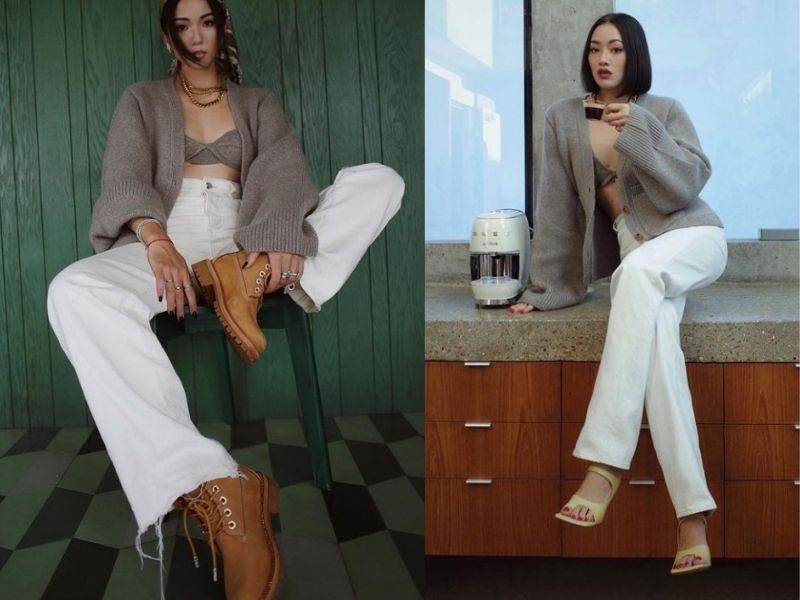 You don't need to stick to the prim and proper or casual looks when wearing chunky cardigans for women if that's not to your liking. Despite its humble appearance, cardigans can also be just as sexy when styled correctly. Pick a bralette that matches the colour of your cardigan (PS: it's a hot trend right now) for a sleek makeshift twinset. Then, finish the look with a pair of white pants and some strappy heels. If you don't feel comfortable revealing too much skin, simply button up the cardigan or wear a white T-shirt underneath the bralette for added coverage. 
Add A Pop Of Colour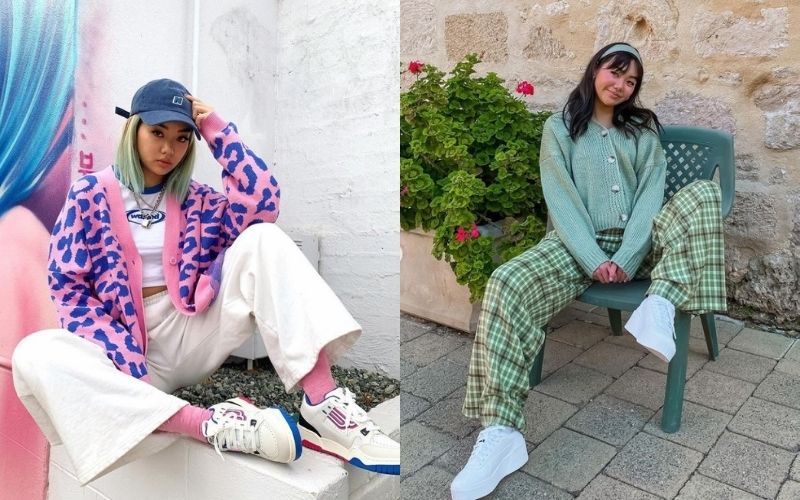 Neutral tones are great for a classy and elegant look but don't be afraid to make a statement with bright colours to stand out from the crowd. If you're not one to shy away from experimenting, you can opt for a full colour-blocking or monochromatic moment to keep the style fun and vibrant. Otherwise, your safe bet would be to have a simple base (preferably in cream or beige) to avoid any serious fashion faux pas. 
Styling Tips For Long

Cardigans 
With A Fitted Midi Dress To Keep A Snatched Figure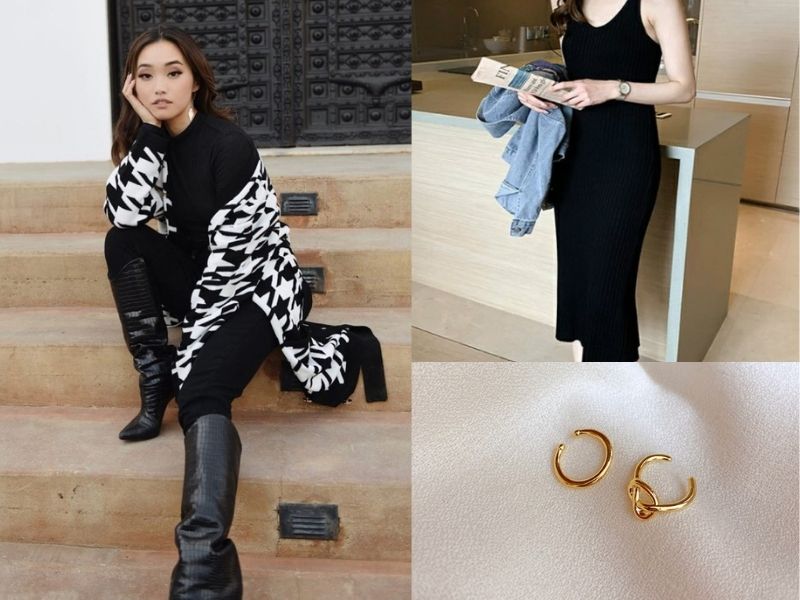 Long cardigans for women are the epitome of elegance and sophistication amongst all the other cardigan styles. Their flowy yet streamlined design can be very forgiving to the figure and give off a slimming effect. For petite ladies, they're a must-have essential to fake a taller height, because who doesn't want to look long and lean, amirite? A fitted midi dress or a fitted top and bottom combo paired with a long cardigan are some of the best ways to look polished and feminine. Transition your outfit from day to night by adding a pair of earrings, an evening clutch, and pointy-toed ankle boots. 
Show Off Your Literature Know-How With The Dark Academia Aesthetic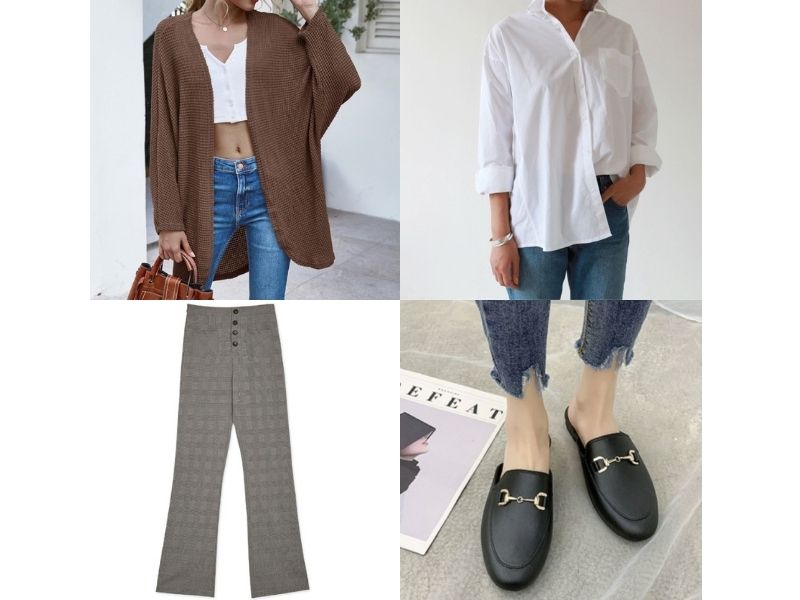 Arising from yet another TikTok fashion trend is the Dark Academia aesthetic. With this look, it's all about encouraging your love for knowledge and going deeper into your academic pursuits. Think dark, muted colours, button-up shirts, turtlenecks, and all things plaid (pants, skirts, and outerwear). In short, dress like how you would if you were a Hogwarts student sorted into Slytherin. 
To get the look, throw on a dark brown long cardigan over a white button-down shirt. Then, tuck the shirt into a pair of dark grey trousers and cinch the waist with a thin black belt. Finish off the look with some smart loafers and a satchel. All that's left to do now is wait for that Hogwarts letter you've been expecting since 2001. 
Stay Hippie With A Boho-Chic Vibe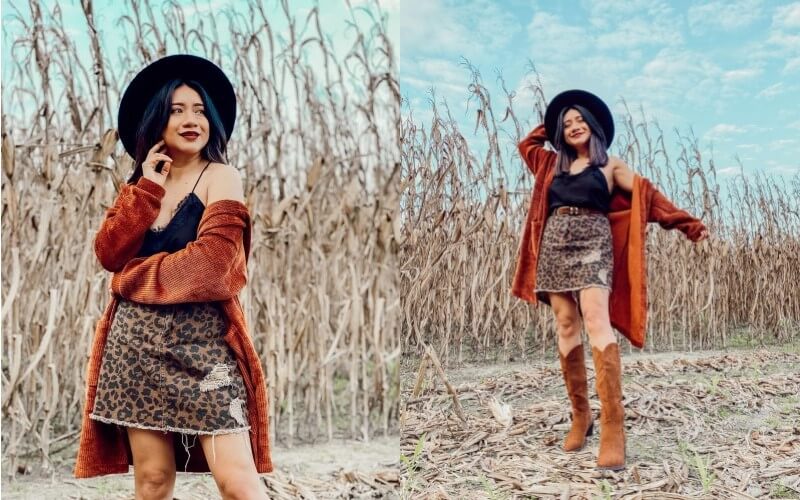 The bohemian style has definitely gotten more refined over the years. One way to amp up your free-flowing outfits from endearingly whimsical to fashionably sleek is by replacing the standard ripped jeans with a fitted skirt instead. Try to match the colours of your skirt with your cardigan for a well-coordinated look. Wear a black, short-sleeved mock-neck or camisole underneath and top it off with a matching black fedora hat and boots. 
Use These Styling Cardigans Tips To Slay In Your Next #OOTD Pictures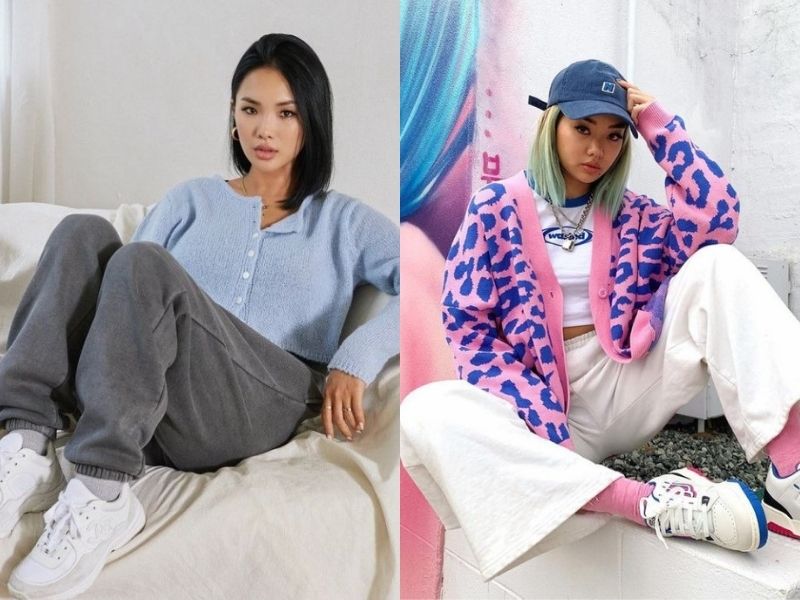 Now that you know what kind of cardigans for women there are, pick a style and start putting together your next Instagram-ready outfits. If you still can't choose, then start exploring and try all three styles to find your best fit. Still trying to figure out the best way to wear a beanie? Check out our other article on styling beanies.