We've already covered E-boys, soft boys, and soft girls, so in this article, we'll be talking about dark academia fashion. This trendy TikTok aesthetic has been booming all over social media with its neutral colour palette. Think earthy, muted, and darker shades like dark brown, grey, green, tan, and of course, black. Before we get into the outfits, let's first clarify what exactly is "dark academia". 
What Is

Dark Academia Fashion?
Dark academia is a subculture that places high importance on all things academic—education, poetry, writing, and reading. It seems to take inspiration from Greek culture, Gothic/European architecture, history, and arts, as well as from the Harry Potter movies. 
Ultimately, the dark academia aesthetic is a reflection of your passion for knowledge and learning through the clothes you wear on the outside. Here are seven styling tips and outfit ideas to recreate the preppy and moody aesthetic. 
What You Need To Emulate The Dark Academia Aesthetic
Turtleneck + Pleated Trousers + Black Chelsea Boots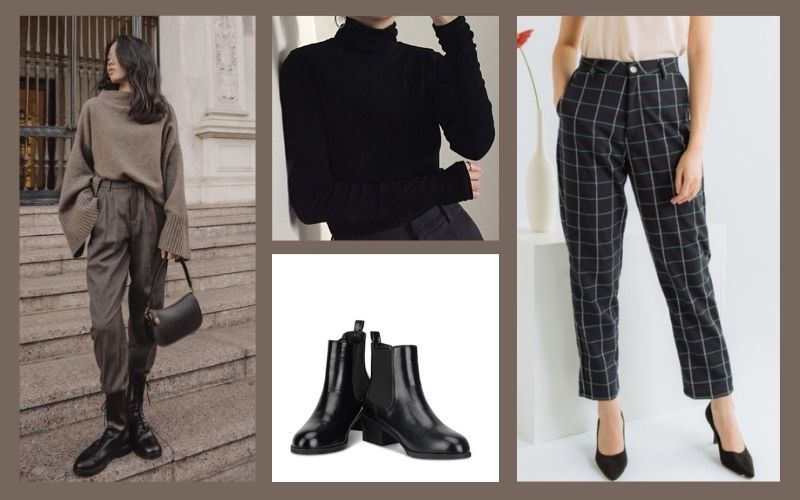 Dark academia fashion is all about dressing smartly, blending scholarly into stylish outfits. A common clothing piece you'll see the most are plain turtlenecks especially in the colour black. 
This classic layering top is usually worn with a pair of pleated or plaid trousers, a thin black belt, and black Chelsea boots. But if you prefer a more feminine style, replace the bottoms with a tennis skirt instead. 
Short-Sleeved White Button Up + Pleated Shorts + Oxfords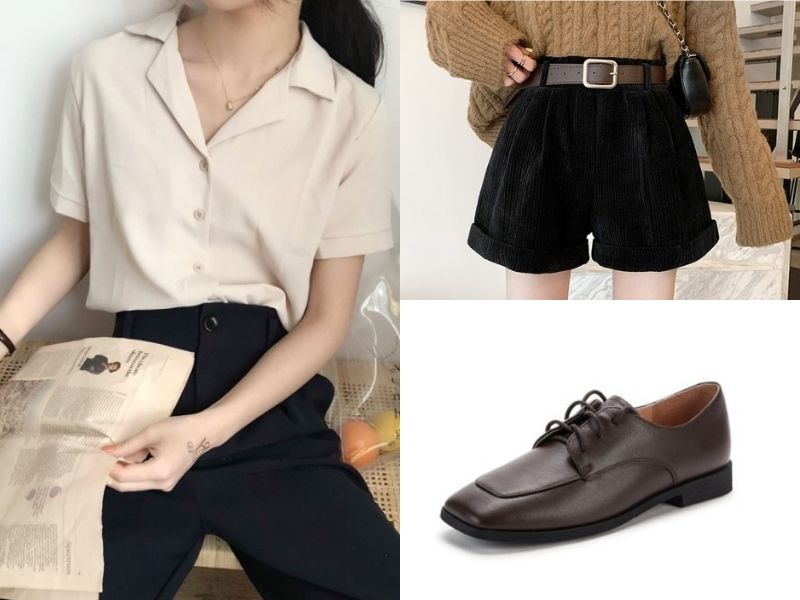 Admittedly, dark academia fashion isn't exactly warm weather friendly with its long-sleeved layers and cosy outerwear. That said, it has never stopped devoted fashion enthusiasts from rocking this preppy trend. After all, what's beauty without a little bit of pain? 
However, we'd suggest sticking to breathable fabrics such as linen and cotton as they're more practical to wear in our Malaysian heat. Or swap out your long-sleeved trousers and tops for pleated shorts and a short-sleeved button-up. Throw on a pair of Oxfords to complete your smart-casual outfit. 
Blazer + Skirt Set + Mary Janes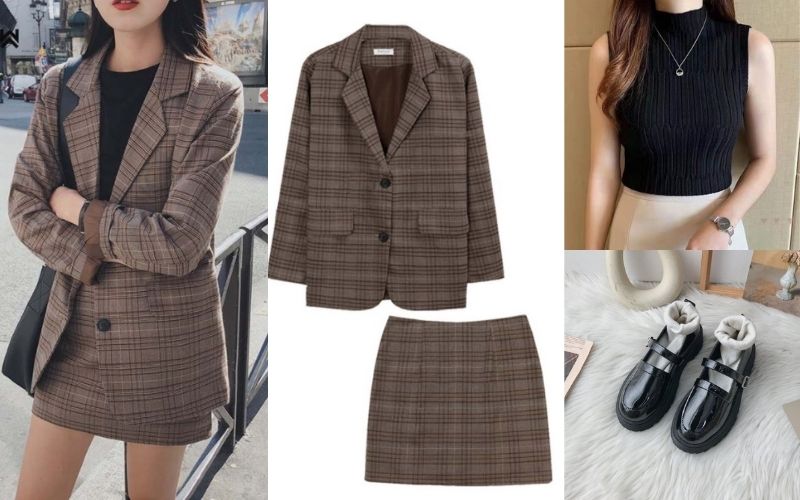 For outerwear, a houndstooth or tweed blazer is a popular choice in many dark academia fashion styles. It can be worn separately but is frequently paired with a skirt in a matching set—the perfect uniform befitting of a Hogwarts student. Not to mention, having a matching set is a lazy girl's cheat code to looking polished with zero effort involved. 
Remember to stick to the dark, muted colour scheme—black, grey, or brown—to stay true to the aesthetic. And if you're sorted into Slytherin, be sure to show off your house pride and add hints of green in your ensemble. Finish the look with a pair of white socks and Mary Janes.
Cardigan + Mock Turtleneck + Dress Pants + Ankle Boots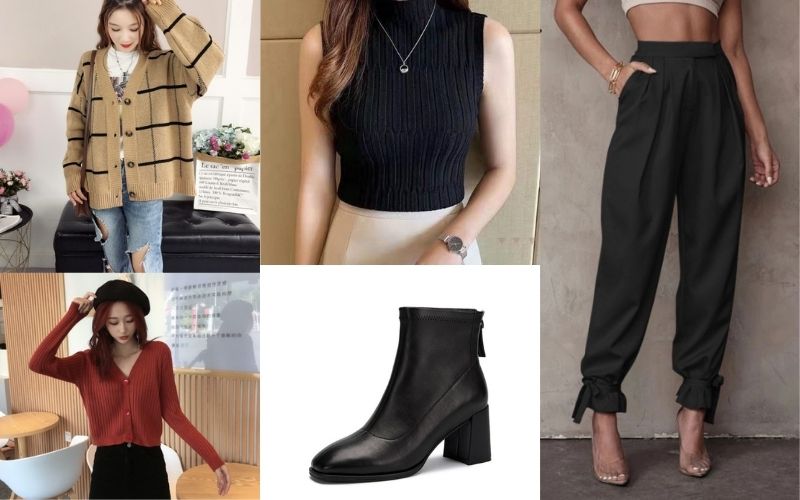 Another dark academia fashion-approved outerwear is the humble cardigan that lends a softer, more approachable feel to your moody outfits. Plus, it's also super trendy right now and comes in a wide range of styles—chunky, cropped, chunky and cropped etc. So pick a cardigan that best fits the vibe you're going for. 
For a sophisticated look that modestly accentuates your figure, opt for a moderately-fitted cardigan to wear with your dress pants. Or go for a chunkier knit and a mock turtleneck combo to get a cuter style.
Tip for chunky cardigans: Don't tuck in the entire hem as this will just make you appear bulkier than you are. Instead, go for a French tuck by tucking in the front of the cardigan at the centre, leaving the sides and the back untucked. 
Balloon-Sleeved Blouse + Dress + Beret Hat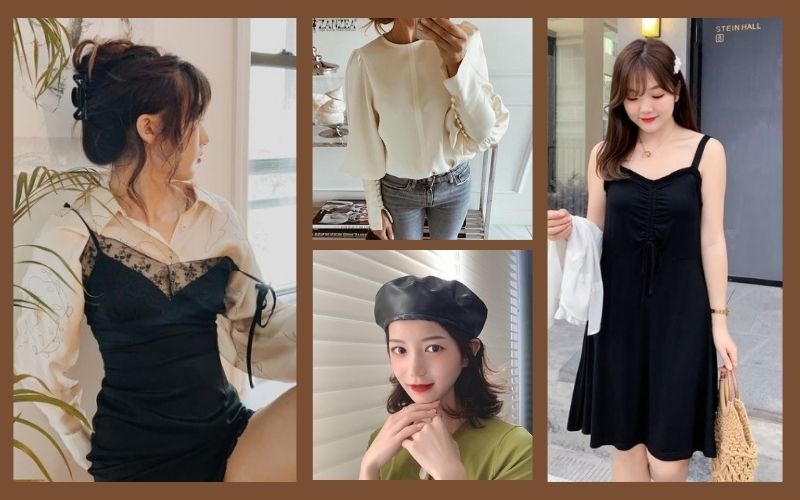 If you want a more romantic look, a billowy, balloon-sleeved blouse is a great way to add a delicate touch to your outfit. It's one of the dressier options for tops that you can easily wear on a library date before adjourning to brunch. 
Favoured designs in dresses for dark academia fashion is a simple little black dress. Don't be afraid to go for different textures and cuts for added visual interest to this wardrobe staple. Then, plop on a headpiece accessory like a beret. This elevates an otherwise basic outfit while allowing your personality to shine through. 
T-Shirt + Sweater Vest + Trousers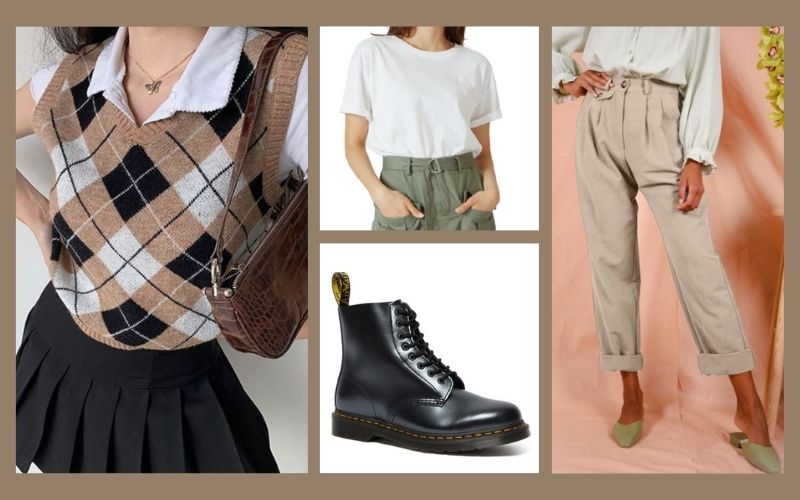 Besides cardigans, the sweater vest is another knitwear that's been trending this year in 2021. And it's just as well-loved within the dark academia community too. You can pair it with a white, long-sleeved button up shirt and creamy white trousers to capture the studious essence of the scholastic aesthetic. Or you could replace the top with a casual T-shirt for a modern and effortless look. Throw on some edgy combat boots to toughen up your semi-formal attire. 
Accessories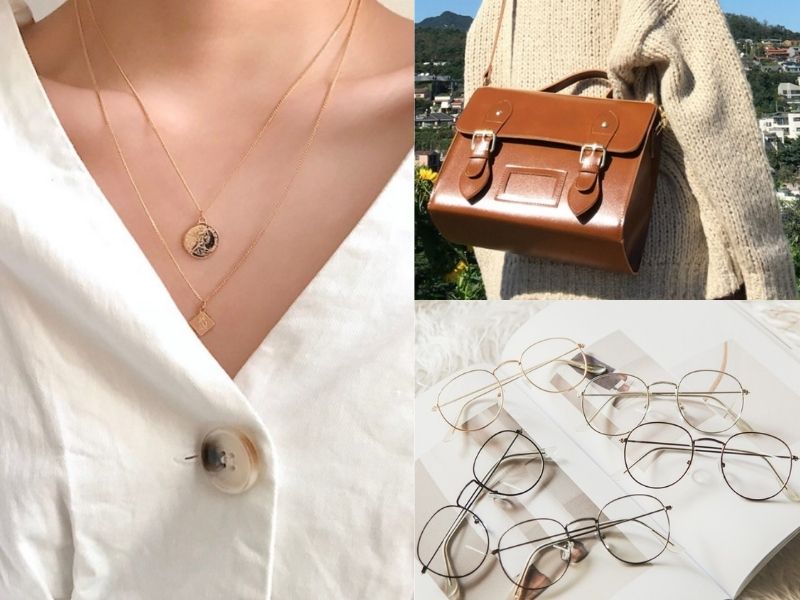 Accessories are kept to a minimum, limiting to only one or two lightweight pieces of jewellery in gold or silver. They're not supposed to be too bold nor extravagant and are worn to complement the outfit without being the centre of attention. 
Some of these include dainty coin necklaces and rings along with brown or black leather belts, berets, and round glasses. As for bags, messenger bags and satchels are a must-have for this preppy TikTok aesthetic. 
Tap Into Your Academic Side With These

Dark Academia Fashion

Styles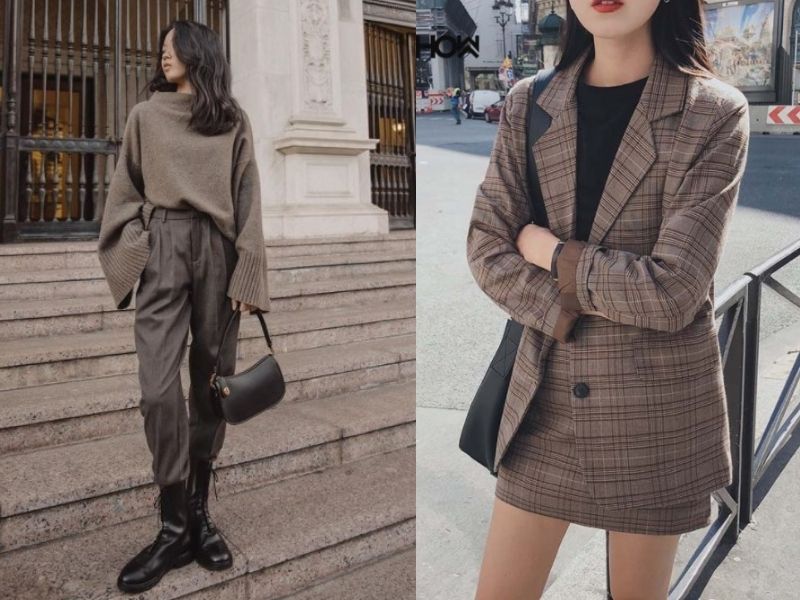 Now that you know what dark academia is, it's time to rock these scholarly outfits in your college classes. If you're curious about other TikTok aesthetics, then check out our other articles on how to dress like a soft girl or boy. Or channel your inner Daphne Bridgerton with baby doll dresses and more through the regencycore aesthetic.
Find more TikTok style aesthetics and outfit guides here.