In 2020, Bridgerton took the world by storm with its intricate designs and fanciful wardrobe. Its Pride & Prejudice meets Gossip Girl narrative provided the perfect form of escapism amid our mundane routines. And now, in 2022, they're continuing the saga with Antony Bridgerton and Kate Sharma's love story. Want to incorporate the #regencycore aesthetic in your own outfit? From baby doll dresses to pearl headbands, continue reading to know about all the pieces you need to be the next season's incomparable. 
Baby Doll Dresses

& Other Styles To Wear To Nail Bridgerton's Regencycore Aesthetic
Baby Blue Dresses (Season 1)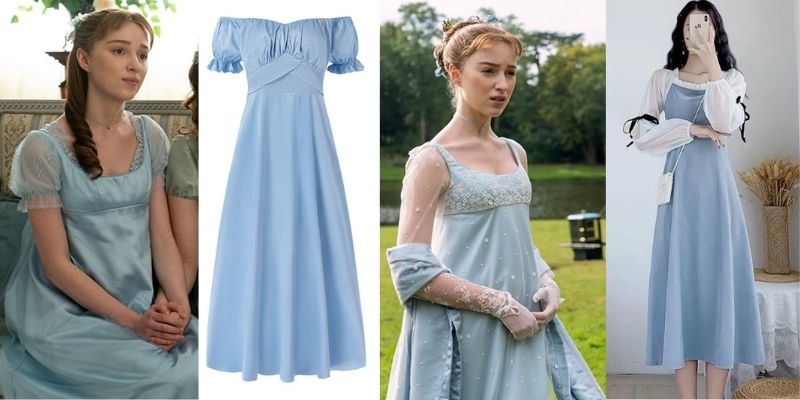 Baby blue was Daphne Bridgerton's signature colour in season 1. Who could forget the sweet yet stunning baby blue dress ensemble she wore during her romantic outdoor ballroom scene with Simon? As long as you incorporate this pastel hue, you've got the makings of a successful debutante worthy of the queen's approval and a duke's attention. 
Shop this style:
Teal & Jewel-Toned Dresses (Season 2)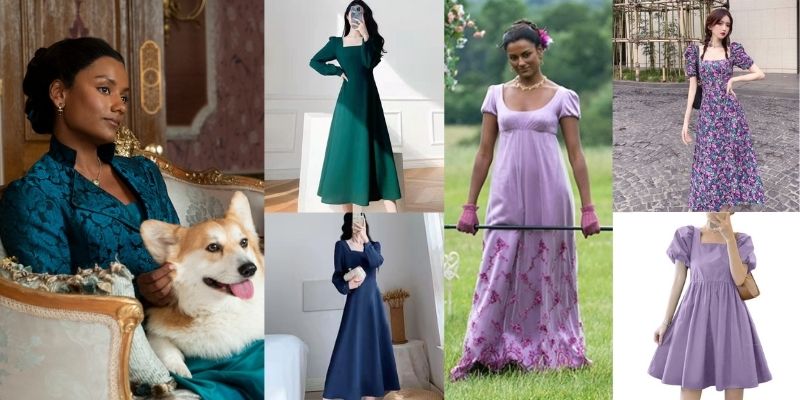 Season 2 sees Kate Sharma in bolder and more vivid hues. In a feature piece from Shondaland, costume designer, Sophie Canale explains how Kate's dresses are a reflection of her own feelings. Hence, as the series progresses, Kate's hues and fabrics transition from dark and stiff to bright and flowy. Though her outfits do feature quite a lot of blue, she does have her favourite shades: teal and plum! 
Shop Kate's style: 
Corset Tops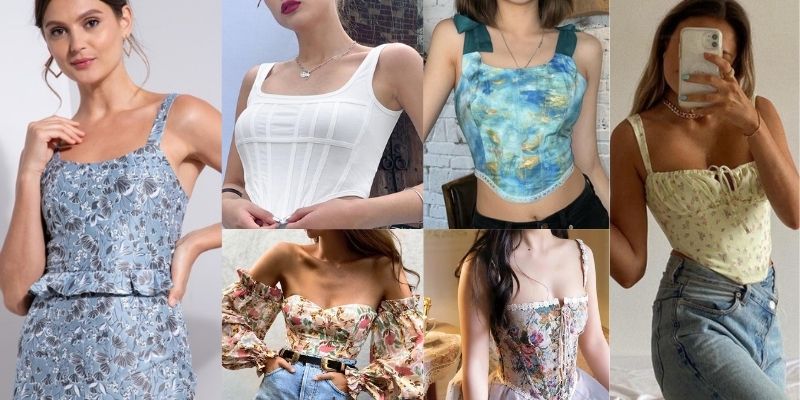 No #regencycore aesthetic is ever complete without a corset top. These figure-shaping pieces have been trending over the past couple of years, and it looks like they're here to stay for awhile. But instead of wearing your corsets underneath, layer them over your baby doll dresses to show off your regal flair. Try to stick to a consistent palette and coordinate your corset (or corset-inspired) tops with the colour of your outfit for a seamless monochromatic look. 
Shop this style:
Square Necklines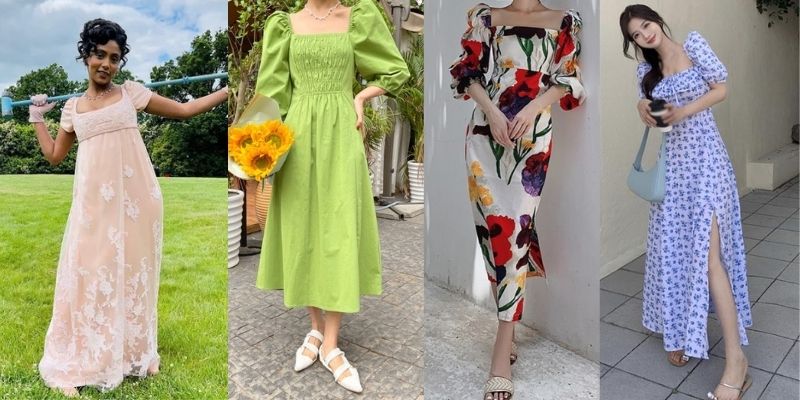 One main detail that you can find in almost all the baby doll-like dresses is square necklines. The design maintains a flattering balance between sexy and sophisticated, showing off your decolletage with just a hint of cleavage. Plus, it allows you to show off your stunning jewellery or pearl necklace! 
Shop this style:
Puffy/Balloon & Ruffled Sleeves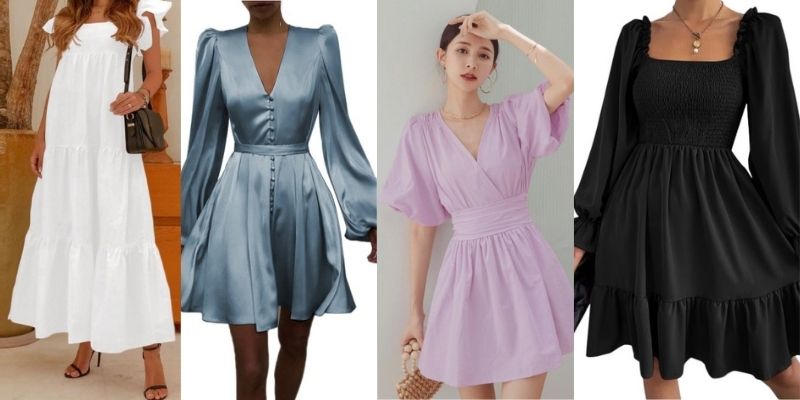 Puffed and ruffled sleeves are another #regencycore favourite that never fails to make a statement. We'd recommend a short-sleeved tiered maxi dress for a romantic stroll out in the gardens and a satin one-piece for the evening. 
Shop this style:
Floral Prints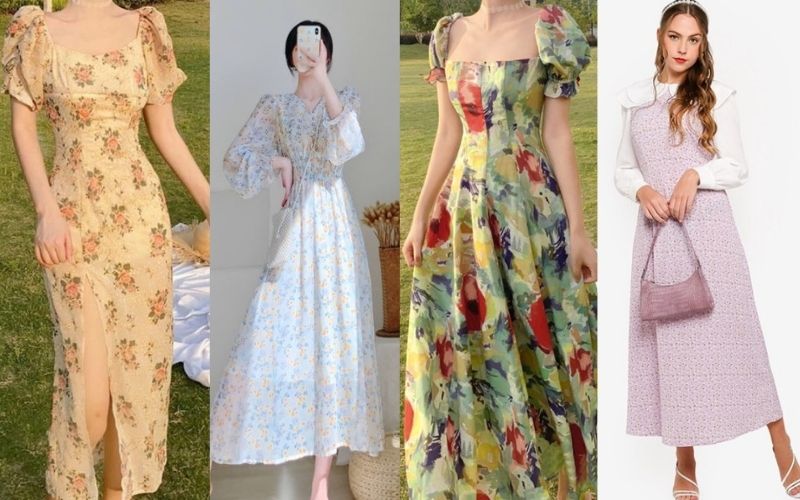 Love them or hate them, there's no denying that the Featheringtons know how to rock a good floral print. And the bigger the print, the better.  While floral isn't a trademark pattern in the Bridgerton and Sharma household, you can still find them spotting the feminine motif from time to time. 
Shop this style:
Baby Doll Dresses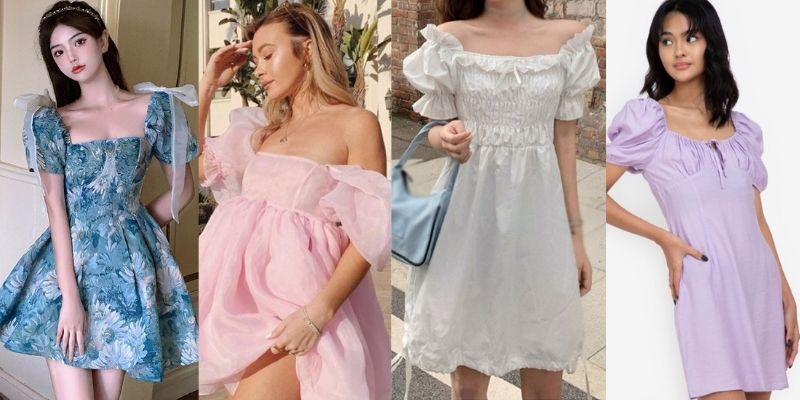 Want to give your Bridgerton #regencycore aesthetic a sexier touch? Then opt for a mini baby doll dress instead! Besides representing your favourite character's signature hues, look for dresses with ruched detailing and chiffon fabrics. These little details will add an alluring and romantic touch to this sensual little number. 
Shop this style:
Vintage-Inspired Accessories And Jewellery To Complete Your Regencycore Outfits
Pearl And Diamanté Headbands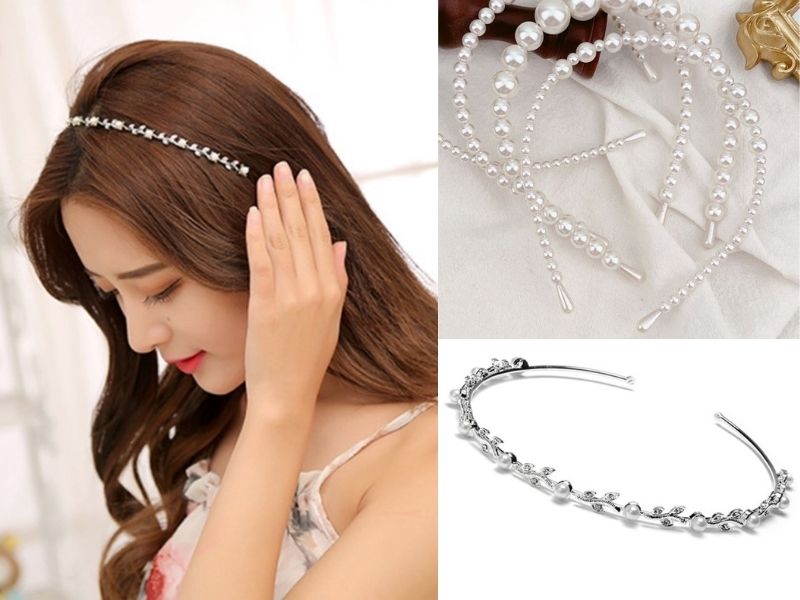 Instead of adorning your crowning glory with a tiara, embellished headbands are the ideal hair accessory you need to make your big debut in modern society. You can never go wrong with elegant pearls to draw attention to your features and ladylike charm. They're a classic decorative piece of jewellery that will never be out of fashion. And in Bridgerton Season 2, they seem to be making a bigger comeback more than ever, so wearing pearls is a must!
Lace And Silk Gloves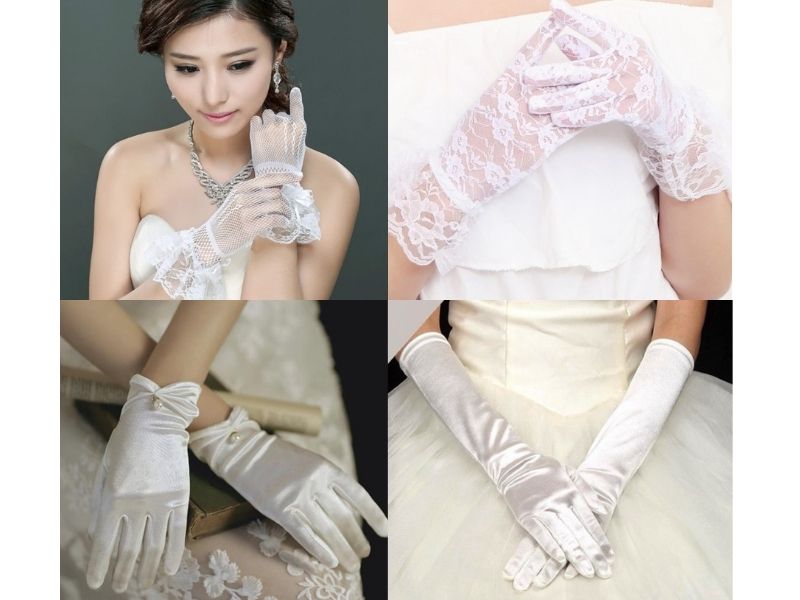 We have to admit that pulling on a pair of gloves is probably not the most practical accessory for your everyday wear. However, if you want to mirror the #regencycore aesthetic perfectly, donning these polished hand covers is essential. In the 19th century, it was common for young women (as well as men) to wear gloves—usually made of linen, silk or satin, or lace—whenever they went outside.
This is partly to protect their hands from all sorts of environmental elements (the weather, dirt, dust, and pollutants) in a stylish manner and also to flirt. Because if you can't convey your true feelings overtly, then at least you can tell an unsavoury suitor to back off in other ways. 
Teardrop Jewellery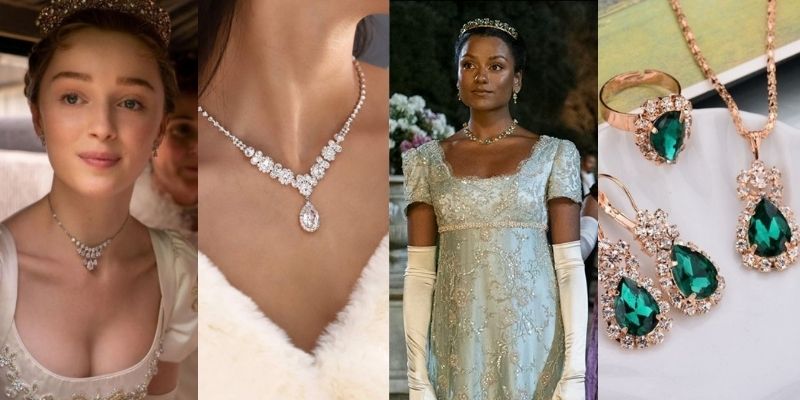 There's no better way to elevate your evening gown than with a couple of eye-catching, royalty-worthy gems in teardrop styles. Whether your personal style favours dainty necklaces, earrings, and rings or chunky, diamond-ornamented ones, you're definitely going to be considered as a serious contender from all the other girls making their debut. Another big jewellery trend? Opulent pearls for a demure yet sophisticated elegance. 
Channel Your Modern-Day Daphne Bridgerton With

Baby Doll Dresses

And Refined Jewellery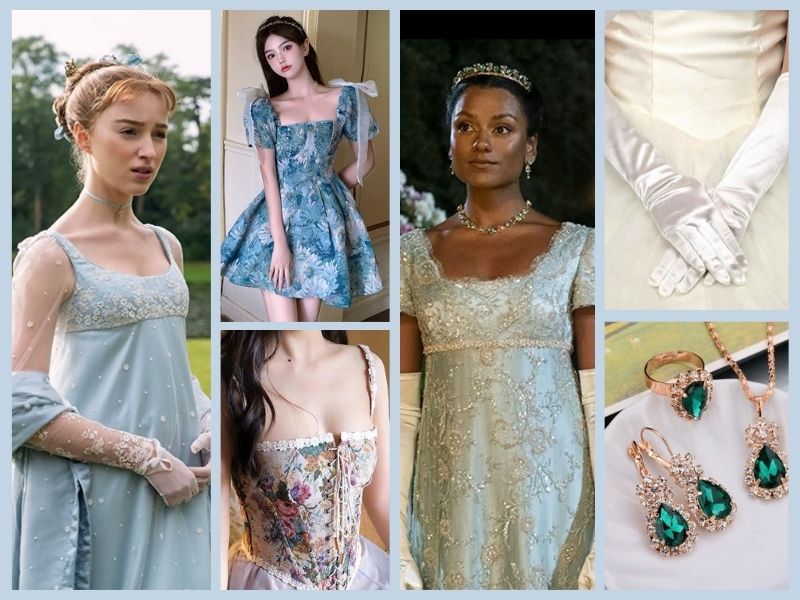 Now that you know how to dress like the cast of Bridgerton from Season 1 and 2, it's your turn to become the next season's incomparable. And just like Daphne and Kate, you too should be confident in your self-worth. Don't ever settle for anyone, especially not for the sake of being in a relationship. Besides, sometimes it's all about timing. Who knows? Perhaps your own Duke of Hastings and viscount is just around the corner.
Romantic daydreams aside, we hope you have fun styling your Bridgerton-inspired outfits to achieve a modern rendition of the Regency-era aesthetic. Just remember, a fool-proof way to nail the #regencycore is to opt for baby doll dresses, pastel blue or jewel-toned hues, floral prints and lots of pearl accessories. Don't forget to slay these 'fits in your next TikTok video alongside your soft girl outfit aesthetic.