Looking for a creative way for your children to spend their time at home that doesn't involve screen time? Then try the humble colouring book! However, don't just go for any colouring book. Pick one that would pique their interest; even better if it comes with additional activities, fun facts, and more to keep them engaged for longer. Ready to browse through some of the best options? Here are the top colouring books for kids of all ages, ranging from preschoolers to teenagers.
Best

Colouring Books For Preschool Kids

Aged 3 To 6
Didi & Friends Colouring Book

For preschoolers just starting out, choose a colouring book that has large and simple drawings instead of smaller, detailed illustrations. After all, they're still developing their fine motor skills and learning how to colour within the lines. Smaller pictures will only make it more challenging. 
In fact, that's what makes this Didi & Friends colouring book perfect for your kiddo. Besides the large pictures and wide spaces, each page comes with a coloured guide so your little ones can follow the example shown. Of course, don't forget a set of colour pencils or crayons! 
Colouring Is Fun – Hand-Eye Coordination Series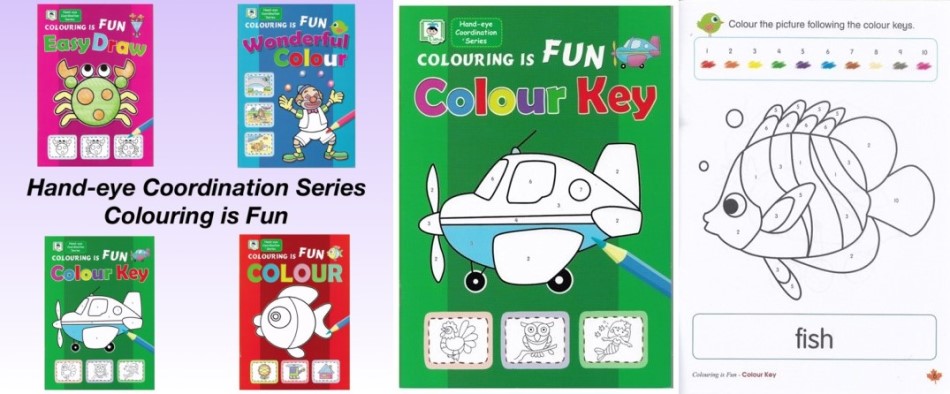 Colouring books for kids can be educational too. For example, this 15-page hand-eye coordination colouring book series that's created with preschoolers in mind. There are four variants in total: Easy Draw, Colour Key, Wonderful Colour, and Colour.
The Easy Draw option teaches kids how to draw with a step-by-step guide. With Colour Key, the spaces in the drawings are numbered and each digit is tied to a specific colour. Meanwhile, both Wonderful Colour and Colour provide a coloured example, but the former leaves a few blank spaces for kids to fill in with their colour of choice.
Tilly The Turtle Colouring Book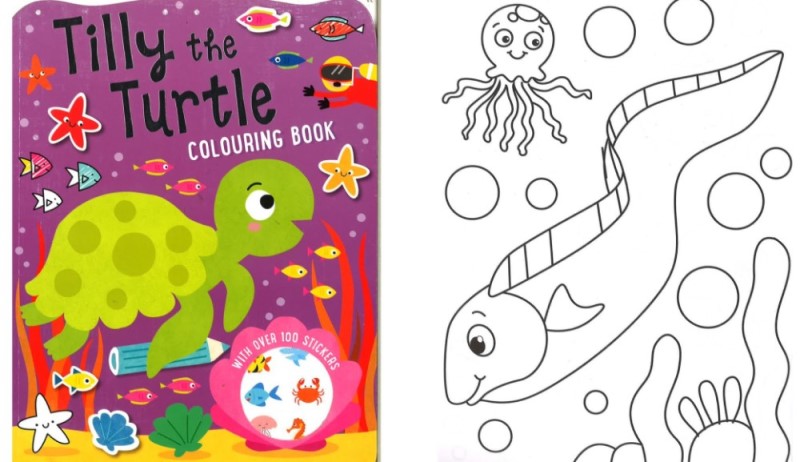 Is your little one fascinated by underwater creatures? Then this Tilly The Turtle colouring book will keep them entertained for hours thanks to 72 pages filled with large drawings of marine life including a stingray, sea lion, eel, and more. 
Bonus: It comes with over 100 stickers (which kid doesn't like stickers?) of underwater creatures that they can use in the book or just about anywhere. If they can't get enough and want more, you'll be glad to know that there are four other variants in this series: Sammy The Shark, Sophie The Seahorse, Daisy The Dolphin, and Ollie The Octopus.
I'm Going To School Colouring Book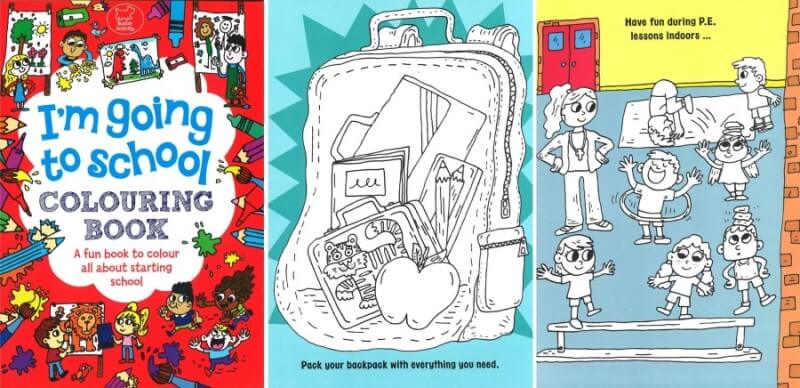 For kids heading to school for the first time, here's a fun school-themed colouring book that will not only get them excited for school life, but also help banish any classroom-related anxiety. Each page is partially coloured and filled with scenes that illustrate a typical day at school. Think colouring in school uniforms, the contents of a school backpack, and an indoor PE lesson.  
Related: 12 Stylish And Durable Backpacks To Get The Kids Excited For School
Best

Colouring Books For Young Kids

Aged 7 To 12 
Extraordinary Animals Colouring Book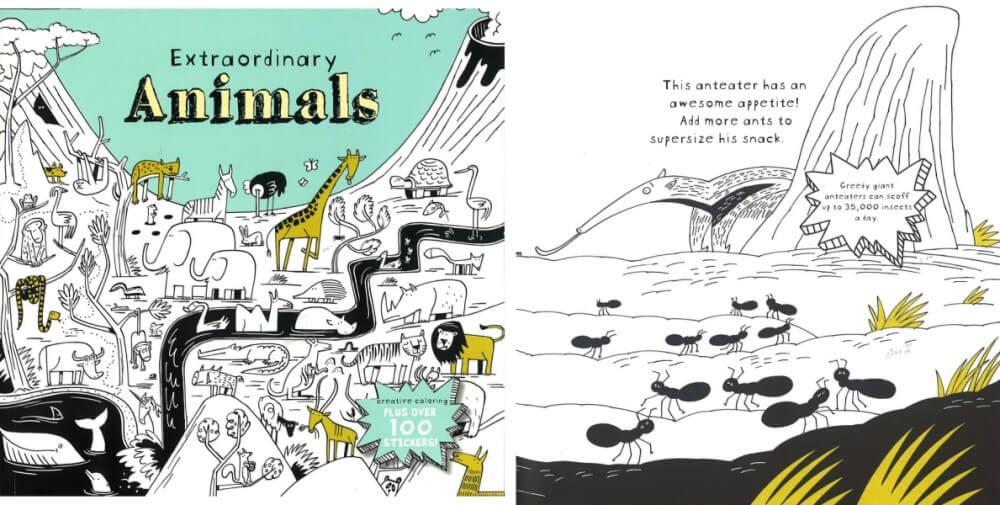 Looking for an engaging colouring book for kids that comes with a learning element? You'll find that in this Extraordinary Animals colouring book containing pages filled with fascinating facts about animals from all over the world, plus over 100 fun stickers! Besides colouring in flamingos' feathers and doodling designs on leopards' fur, there are also prompts to draw additional animals or insects, thus allowing them to use their imagination.
Disney Princess Awesome Colouring Book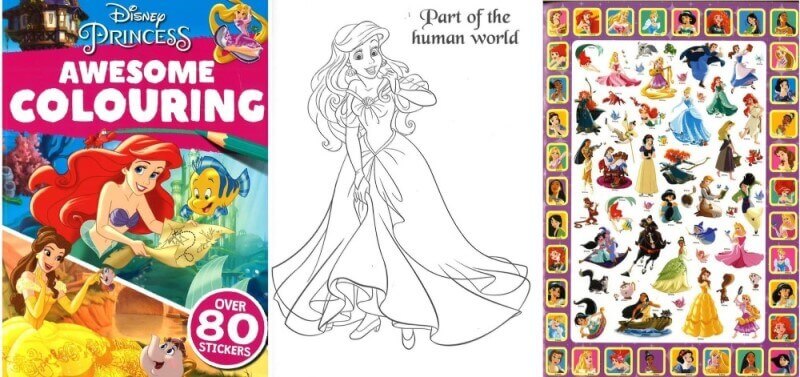 Can't stop hearing your little one talk about their favourite Disney Princesses? Then they'll be in for an exciting colouring adventure with this Disney Princess Awesome Colouring Book. From Cinderella and Ariel to Princess Jasmine and Mulan, it includes over 40 pages (plus 80 stickers!) that they can colour and decorate to their heart's content. 
Dinosaur Colouring And Maze Book
If your kids are looking for a challenge, trust this 48-page Dinosaur Colouring And Maze Book to offer that. On top of colouring in dinosaurs, there are over 40 mazes to solve, comprising four difficulty levels (beginner, intermediate, challenging, and expert) in various shapes and sizes. Answers are provided too, but don't tell them that! 
Best

Colouring Books For Older Kids

Aged 13 And Above
Time Traveller Colouring Book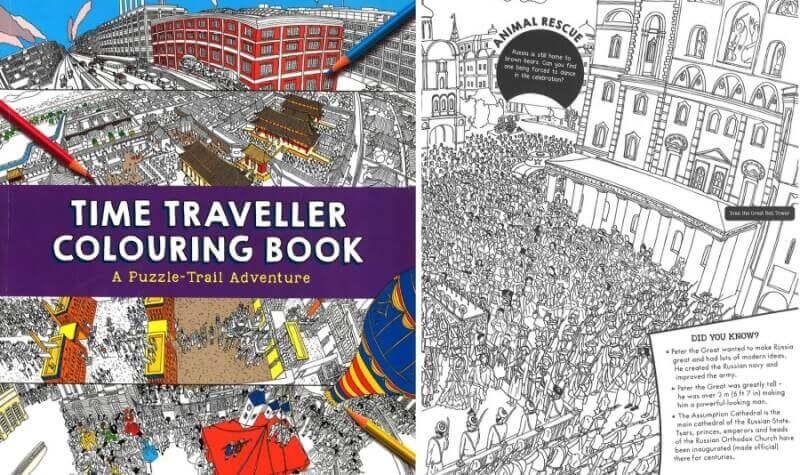 The older they are, the more detailed the illustrations can get. Case in point? This Time Traveller Colouring Book that even adults would enjoy. From Tokyo, Japan to Moscow, Russia, your kids will get to colour in the busy scenes of each city while discovering fun facts about the historical landmarks. Plus, there are also hidden geographical misfits and animals to locate. Fun! 
Around The World In 101 Patterns
Are they more intrigued by the intricate patterns of different cultures? Then fire up their creativity with Around The World In 101 Patterns. From ornate Mehndi patterns painted on Indian women's hands to Mexico's sugar skull motifs and stunning Italian mosaics (plus their historical facts), your kids can colour and doodle their way across the globe with this colouring book that's chock-full of beautiful decorative designs. It makes for a de-stressing activity too!
The Jungle Book: A Colouring Book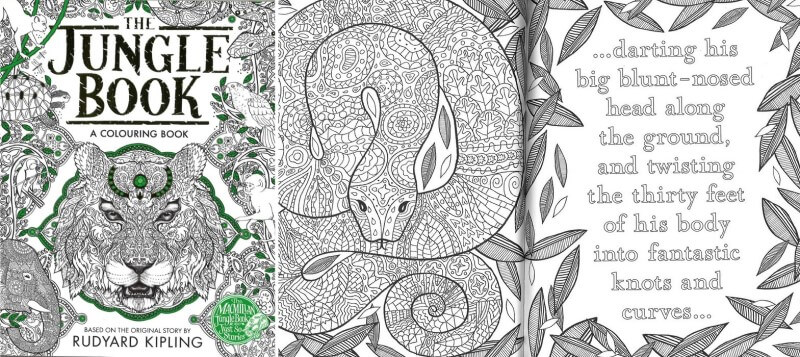 Inspired by Rudyard Kipling's The Jungle Book, your teenage kids can bring colour to the jungle with this colouring book edition of the classic story. Inside, the pages are filled with pictures and patterns of the forest and its wildlife, including characters like Mowgli, Baloo the Bear, Bagheera the Panther, Kaa the Snake, and Shere Khan the Tiger, along with pull quotes and detailed designs to colour in. 
Keep Your Children Occupied For Hours With These Best

Colouring Books For Kids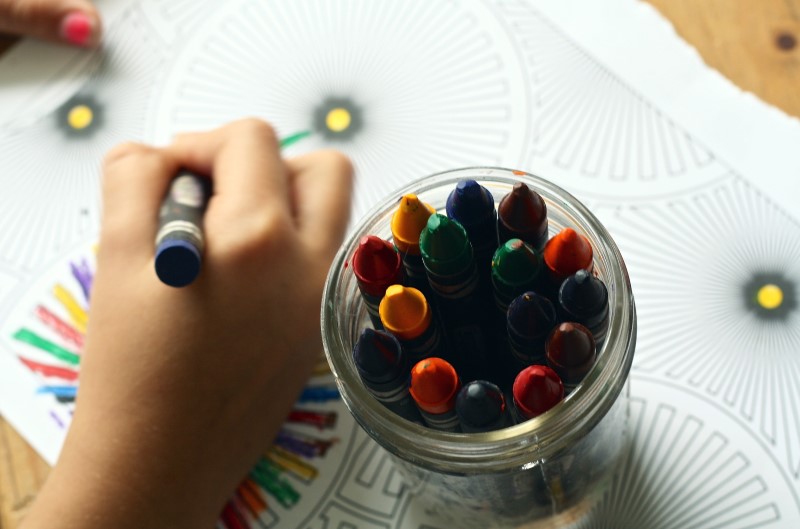 Just because an activity doesn't involve a phone or tablet, doesn't mean it can't translate to a good time. With these engaging colouring books for kids that are accompanied by fun and educational activities, your children will have a blast and time will pass quickly! For more gadget-free things to do at home, try one of these fun indoor activities for kids or family-bonding board games.
But before you cart out, head on over to Kedai Buku Shopee for the latest promotions on books, games, and hobbies, plus bi-weekly vouchers and theme refreshes!