Another year, another fashion trend inspired by our grandparents' wardrobe. We've already covered cardigans, so today we'll be talking about its more preppy and formal cousin, the sweater vest. What was long associated with nerdy stereotypes or snobby socialites in every cheesy teen rom-com is now hailed as 2021's most essential clothing piece. Don't know how to style a sweater vest? Here are eight ways to wear this season's knitwear without looking drabby. 
How To Style Sweater Vests

For Women
Cropped Sweater Vest + Wide-Leg Bottoms + Bucket Hat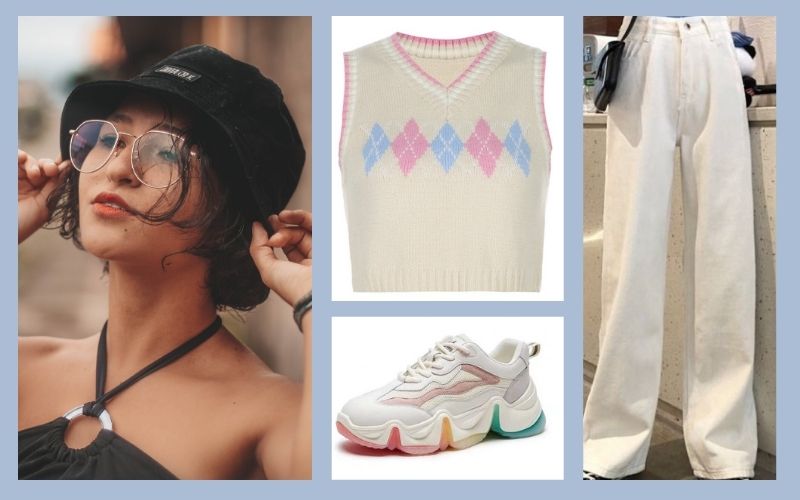 Not a big fan of layering clothes for the sake of fashion, especially in our hot climate? Don't worry, we've got you covered. This outfit combo is your cheat sheet as to how you can style the sweater vest fashion trend without sweating buckets in our Malaysian heat. 
First, turn your cropped sweater vest into a sleeveless top. Then, pair it with your choice of comfortable wide-leg bottoms for a laid-back style that reflects your cool aesthetic. Next, throw on a matching bucket hat to shield your face from the harmful UV rays. Lastly, slip into some chunky dad sneakers to round up the look. 
Oversized Sweater Vest  + White T-Shirt + Black Flared Pants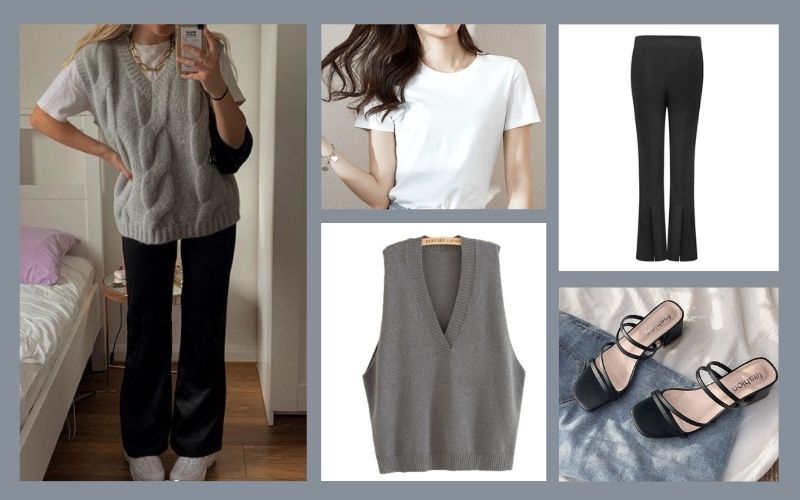 Wearing a white T-shirt as a base layer is currently the most popular way on how to style the sweater vest fashion trend. This outfit is great for those who love to combine formal and casual wear, allowing you to look polished but not stuffy. 
Opt for an oversized sweater vest to achieve a slouchier fit and balance out the bagginess with a tapered pair of black flared pants. Smarten up the relaxed attire with some strappy heels and adorn your neck with a simple chain necklace for the finishing touch. 
Sweater Vest + Pleated Skirt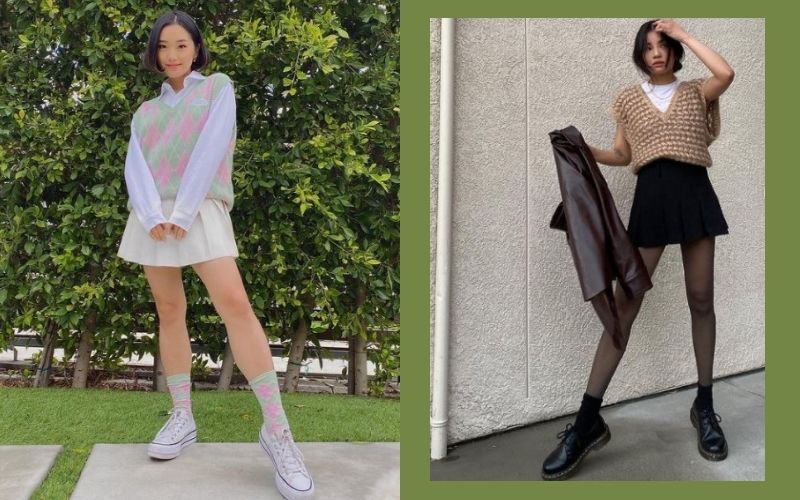 Wondering how to style a sweater vest to express your inner girly-girl? Then channel the preppy school-girl aesthetic with this classic sweater vest and pleated mini skirt combo. First, layer a white button-down shirt underneath your sweater vest. For shoes, throw on some loafers and knee-high socks to stay true to the academic-chic vibes. Or take on an edgier twist with a sturdy pair of combat boots to juxtapose the sweet and demure appearance. 
Sweater Vest + Dress/Oversized Shirt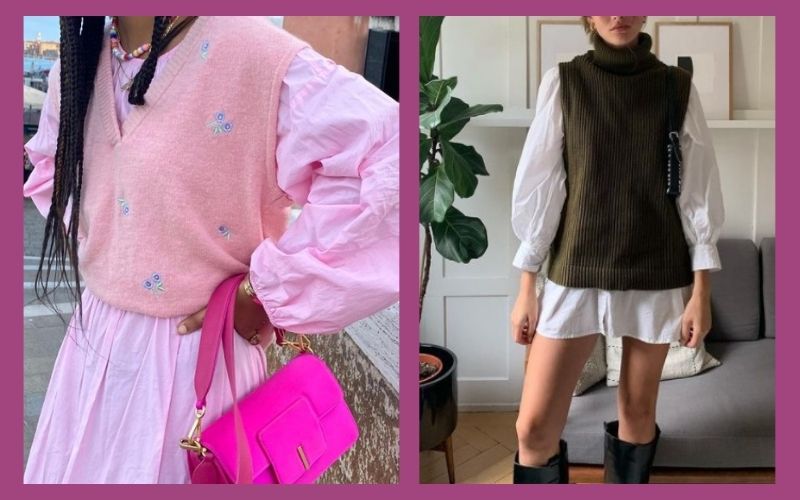 You don't need much when deciding on how to style a sweater vest. Pair it with your favourite one-piece dress to add dimension and charm to your feminine get-up. You could also opt for a dress with voluminous puffy sleeves for a more dramatic flair. 
For a vivid monochromatic look, stick to pastel colour tones to fully capture your fun personality. Another alternative to a regular dress? An oversized shirt; it will lend a more muted and sexy style! 
Sweater Vest + Button-Down Shirt + Faux Leather Pants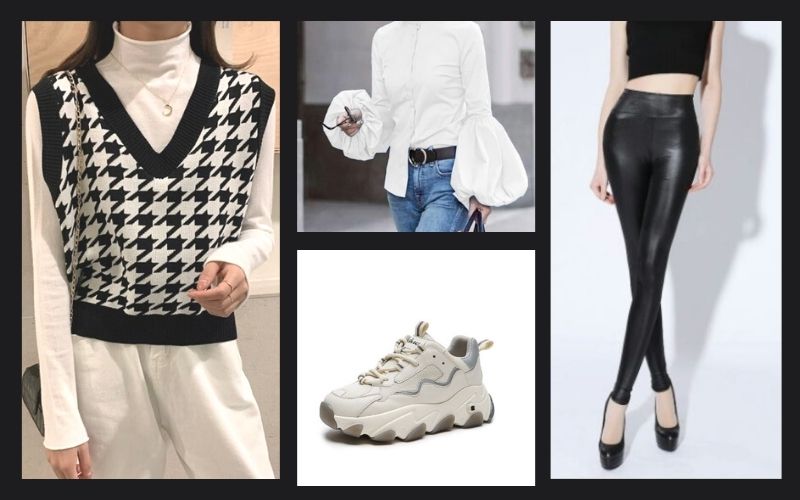 Step up your go-to button-down shirt with this sweater vest and faux leather pants combo. This fashion trend has been all over TikTok lately, combining an edgy yet sophisticated look. The best part is that it's super easy to recreate with just three main pieces. 
The key as to how you can style this sweater vest outfit flawlessly is through matching colours. Try coordinating the neutral black-and-white tones of your houndstooth sweater vest with your faux leather bottoms. For shoes, you can either elongate your legs with high-heeled black ankle boots or keep it casual with a pair of white dad sneakers. 
How To Style Sweater Vests

For Men/Unisex
Sweater Vest + White T-Shirt + Cargo Pants
Fellas, want to know how to style a sweater vest without losing your swagger? Taking influence from the skater or hip-hop aesthetic will do just the trick! Put together a casual street style look with some loose-fitted, brown cargo pants and a plain white T-shirt.
Then add a pop of colour with this green sweater vest to break up the neutral monotony. Throw on a bright, hot pink beret and chuck on a pair of matching sneakers to tie in the whole outfit. 
Sweater Vest + Sweatshirt + Baggy Jeans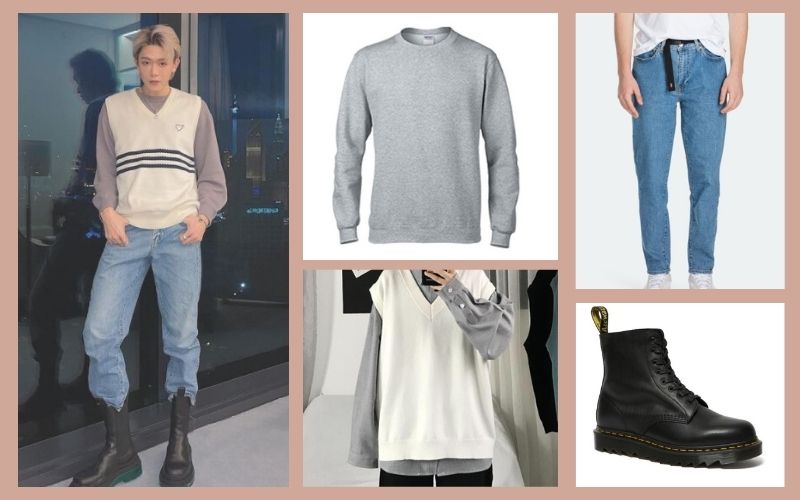 This look is for the guys who don't mind sacrificing a little bit of comfort for style. Sweatshirts are another fashion trend that's been blowing up on social media earlier this year. We can see why though—it ticks all the criteria when it comes to effortless dressing. 
To slay this look, simply pull it over and wear it with your favourite jeans. Layering on a sweater vest will instantly take your outfit from basic to suave. Next, tuck your loose jeans into a pair of black combat boots to finish off the look. 
Sweater Vest + Formal Shirt + Chinos
Sometimes, it's better to embrace the formalness of this fashion trend and rock it unapologetically. Tap into the Korean Oppa vibes from your GF's favourite K-pop star with this neat and dapper ensemble.
As for how to style this sweater vest look? Bring out your best light blue formal shirt to go with your crisp white chinos and matching white sneakers. Then put on a cream-coloured sweater vest over your shirt for a clean and cohesive look.
So

How

Are You Going

To Style

Your

Sweater Vest

?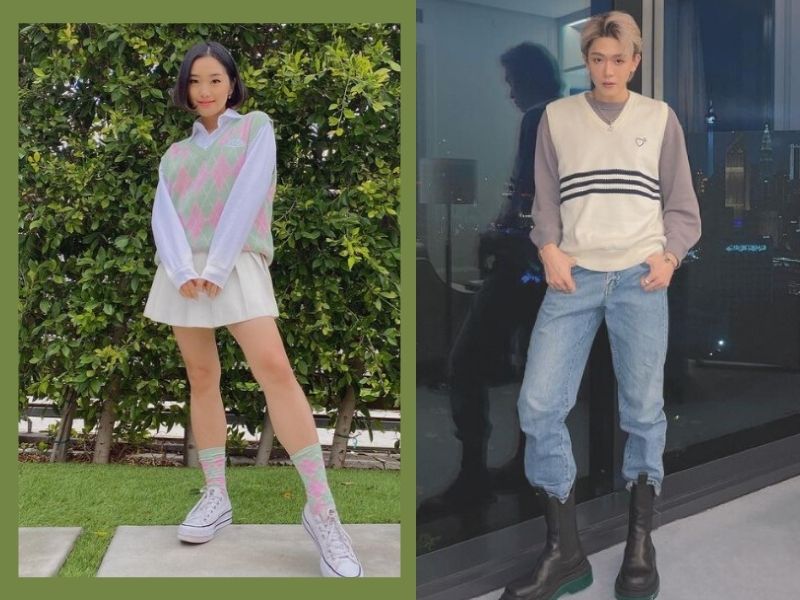 Now that you know the many variations of how to style a sweater vest, which way are you going to wear yours? We hope this article has helped you figure out what outfits you can put together with a sweater vest and inspired you to try out the fashion trend.
Got a fresh new haircut to go with your new look? Then don't forget to check out our other article on hairstyles for short hair.