The routine of a movie-goer often begins with a trip to the concession stand for a duo of soda and popcorn before embarking on the stairs to their designated theatre. But the snacking has long commenced en-route as they scoop portions of popcorn for a crunchy bite. By the time the opening scene starts, there are just about three-quarters of popcorn left. Undoubtedly, it's the allure of the quintessential entertainment snack, which is perfect for anything from a three-hour slow-burn film to snappy feel-good Netflix sitcoms. And with these homemade popcorn recipes, you can create your own too!
Homemade

Popcorn Recipes

For The Next Time You Binge-Watch Your Favorite Movies And Series
Salted Caramel Popcorn
A tried and true popcorn recipe, salted caramel gives the snack a sweet and salty flavour that's just hard to stop after a handful. The video above mimics Gordon Ramsay's recipe, but with exact measurements of the required ingredients. When cooking the corn kernels, it's best to use a large saucepan to ensure the sugar and caramel melt evenly. If you prefer your popcorn to be saltier, lightly season it with salt before serving. 
Recipe Ingredients:
100g of corn kernels 

200g of granulated sugar

40g of

butter

1 tbsp cooking oil

1 tsp of salt

1.5 tsp of

baking soda
Nutella-Coated Popcorn
While Nutella is delicious when spread over bread and pastries, it's equally tasty when tossed with popcorn! What's more, it's simple enough to create in less than 30 minutes, and this popcorn recipe starts by making popcorn in your preferred method. Then, the Nutella sauce is amped up in flavour with the addition of chocolate chunks and a touch of vanilla extract. What you get in the end is a gooey and silky dressing that leaves you wanting more.
Recipe Ingredients:
1 bowl of popcorn

150g of chocolate

½ cup of Nutella

1 tbsp of

milk

1 tsp of vanilla extract
Sriracha Popcorn
Don't let the name intimidate you. After all, this popcorn recipe requires less than a handful of ingredients and the result is a bowl of spicy-salty-buttery popcorn. What sorcery is this? Well, it's the trifecta of sriracha, butter, and garlic working their magic! If you're too beat by the time movie night arrives to make popcorn from scratch, a microwaveable alternative works just as fine too. 
Recipe Ingredients:
A bowl of microwave popcorn

¼ cup of butter

1 clove of garlic, crushed

2 tbsp of sriracha 

½ tbsp of

sugar

Salt to taste
Butter Parmesan Popcorn
Cheese aficionados, this popcorn recipe is for you! The freshly grated parmesan gives off a nutty flavour while salt and black pepper stack the base for an appetising bite. That said, it's important to garnish the popcorn when it's piping hot. This way, it allows the seasoning to evenly coat the popcorn while the cheese melts ever so slightly.
Recipe Ingredients:
½ cup of corn kernel

¼ cup of

canola oil

or

grapeseed oil

 

3 tbsp of unsalted butter

¼ cup of freshly grated parmesan

½ tsp of kosher salt (or to taste)

Black pepper to taste
Cookies & Cream Popcorn
This family favourite isn't just an ice cream flavour as Oreos taste just as good infused in a bowl of buttery popcorn! Plus, it's easy to make and takes only about 15 minutes! The key to nailing this popcorn recipe? Allowing the popcorn to cool off before dousing it with melted white chocolate chips and crumbled Oreo cookies, mixing everything in a resealable bag. As a result, you'll get a crunchy, almost cookie-like texture. Delicious!
Recipe Ingredients:
1 tsp of canola oil

A bowl of microwave popcorn

1 cup of white chocolate chips 

A sleeve of Oreo cookies, crushed
Peanut Butter Popcorn
Buttered popcorn is great and all but you know what's even better? Peanut buttered popcorn! There isn't a specific type of peanut required for this popcorn recipe, so, feel free to use your favourite; although a chunky version certainly adds to the crunch. A mixture of sugar, corn syrup, and vanilla extract is fused with the peanut butter of your choice to create a thick and consistent concoction.
Recipe Ingredients:
1 cup of peanut butter

1 cup of granulated sugar

½ cup of unpopped popcorn or about 16 cups of popped popcorn

1 cup of light corn syrup

1 tsp of vanilla extract
Your Movie Night Snacks Are No Longer Boring With These

Popcorn Recipes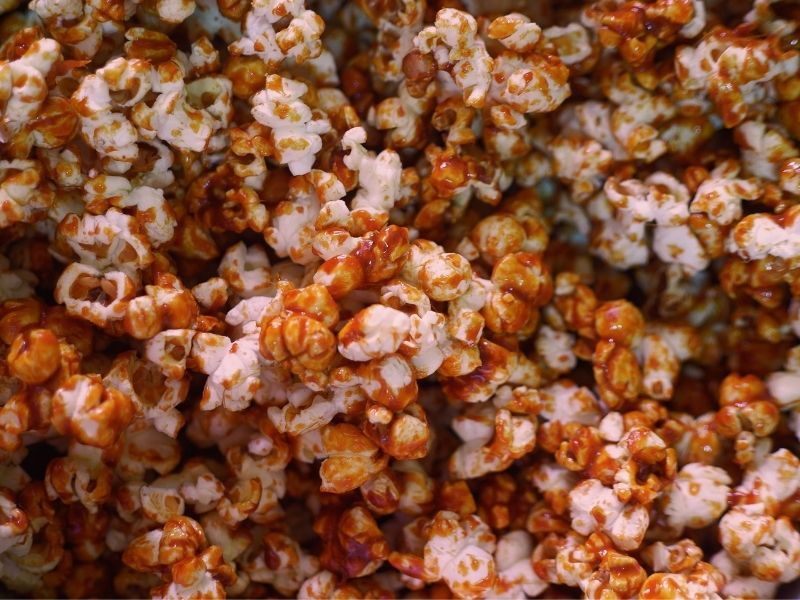 Granted, popcorn is great on its own. But why stop there? With the aforementioned homemade popcorn recipes, you can now elevate the classic late-night snack to new gastronomic heights. Even if you're strapped for time and resources, you most likely have the required ingredients stuffed somewhere in your kitchen cabinets. Although you may lack the usual company during your routine binge-watching marathons, there are many ways for you to connect virtually and still enjoy the usual fanfare, albeit physically apart.