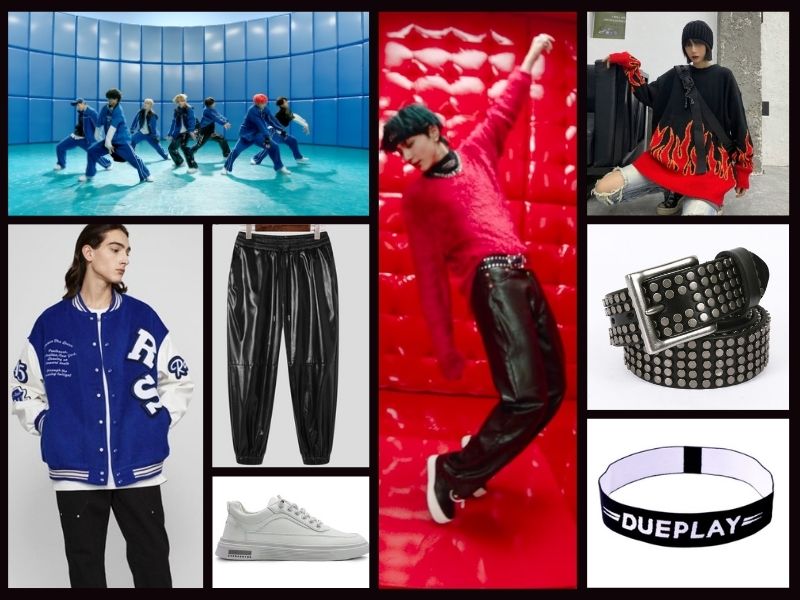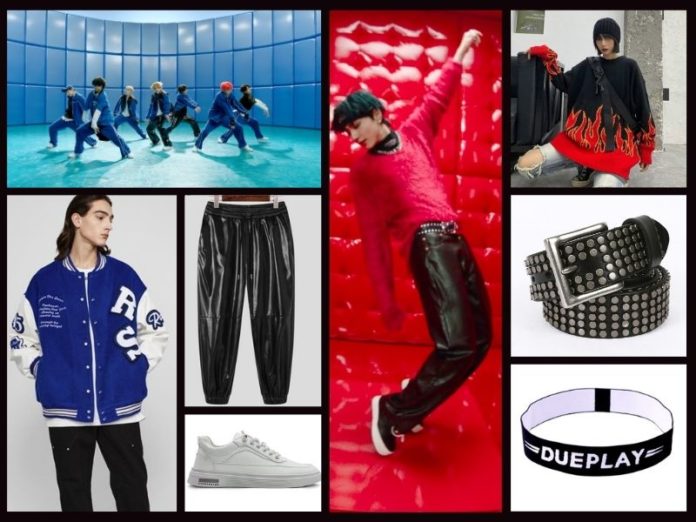 Enhypen has had an explosive season last year. They've received several best new artist awards and earned South Korea's ninth-biggest-selling album of 2021—all within their first year as a rookie group. And they're only getting even better as they continuously show fans a different side to them with each new album. 
Now, in 2022, the K-pop boy band is kickstarting the new year strong with their latest comeback track, Blessed-Cursed. The music video dropped on January 10 and amassed over 10 million views in just two days. In this title track, the members displayed a more powerful concept, not just in their performance, but through their fashion as well. We've compiled a breakdown of all their hip-hop style outfits to help you recreate their respective looks.
Hip-Hop Style

Outfits Inspired By

Enhypen'

s

Blessed-Cursed

Comeback
Sunghoon
Sunghoon is rocking a monochromatic ensemble, consisting of a silver puffer vest from ERL worn over a white graphic tee from 032C. He's also got another long-sleeved top layered underneath for extra coverage while adding a retro '90s hip-hop style flair to the look. Unless you want to be sweating buckets, wearing that many layers in Malaysia is probably not the best idea. Opt for a sweatshirt and a lightweight utility vest instead to get a similar vibe to Sunghoon's outfit. 
Shop this style:
Jake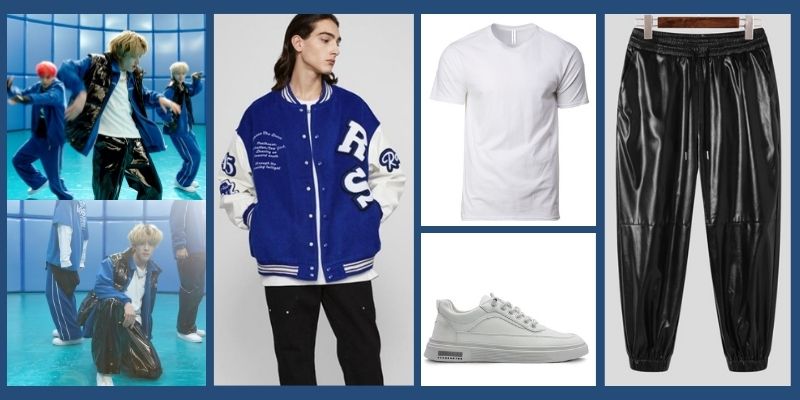 Jake is dripping with swagger and confidence with his hip-hop style attire. His black DSQUARED2 puffer vest and matching latex pants give a more rebellious touch to the sporty tracksuit. Similar to Sunghoon, you can do away with the extra layer and allow your jacket to be the centrepiece of your outfit. 
Shop this style:
Jay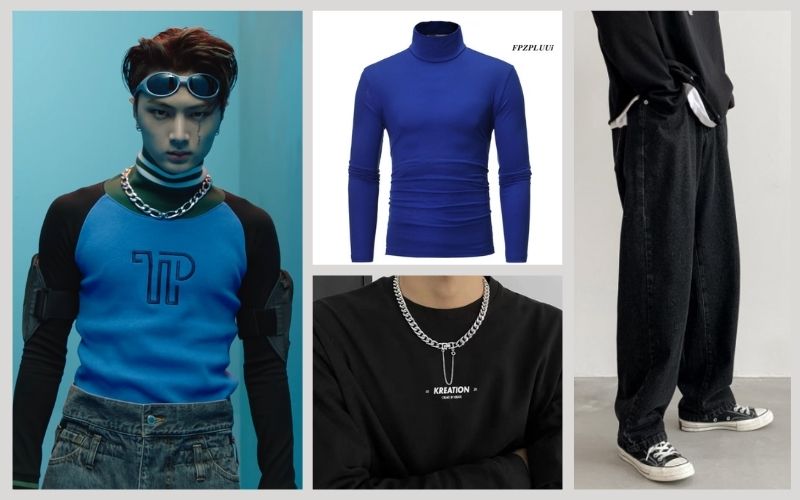 If you're feeling confident in your body, why not show it off by emulating Jay's look? In this latest Enhypen comeback, he's put in a ribbed, figure-hugging turtleneck that highlights his broad shoulders and slender waist. This is balanced out with loose-fitted pants because no hip-hop style is complete without some form of baggy clothing. 
Shop this style:
Heeseung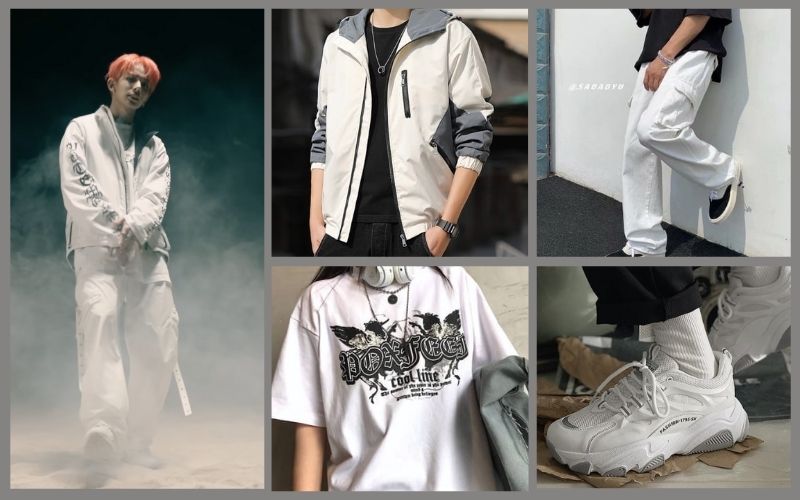 Heeseung keeps his outfit simple but edgy with a clean, all-white colour scheme from top to bottom. Looking for an even bolder touch to this look? Then do as Heesung has done and opt for a striking hair colour to make a strong fashion statement!
Shop this style:
Related: The Most Popular Korean Hair Colours You Must Try This Year
Sunoo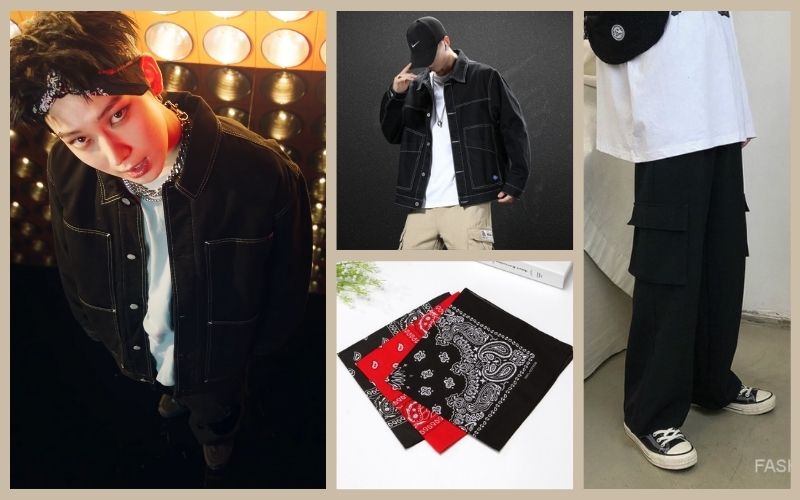 Contrasting Heeseung's all-white ensemble, Sunoo is placed in mostly black clothing. Known for his pretty-boy charms, this hip-hop style is by far the vocalist's coolest look yet. Simple as the outfit might be, the little details like the exposed stitching in the Carhatt WIP denim jacket make all the difference. His get-up is further elevated with a black paisley-patterned bandana tied around his head to match his oversized outerwear. 
Shop this style:
Jungwon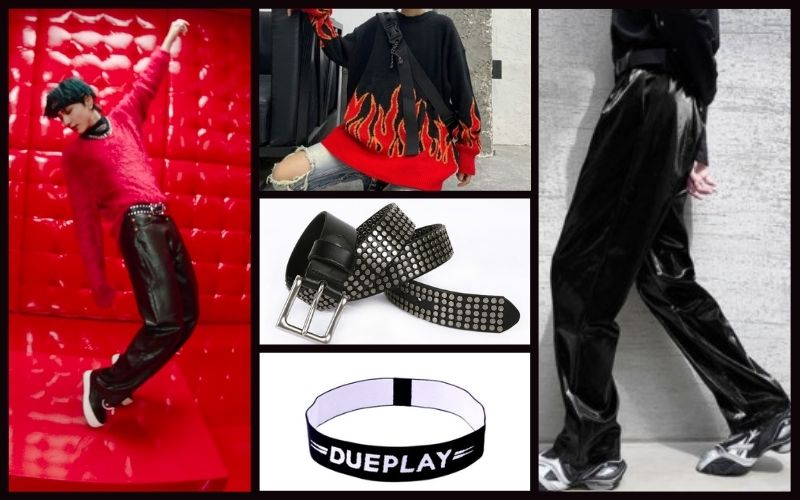 Jungwon is overflowing with charisma in this latest Enhypen Blessed-Cursed comeback. His outfit perfectly embodies the blend between the song's two dominant genres: hip-hop and '70s rock. With his red furry jumper from 1017 ALYX 9SM and logo turtleneck top from Vetements, the young leader proves that he can pull off any stylish look beyond his boyish charms. 
Shop this style:
Ni-Ki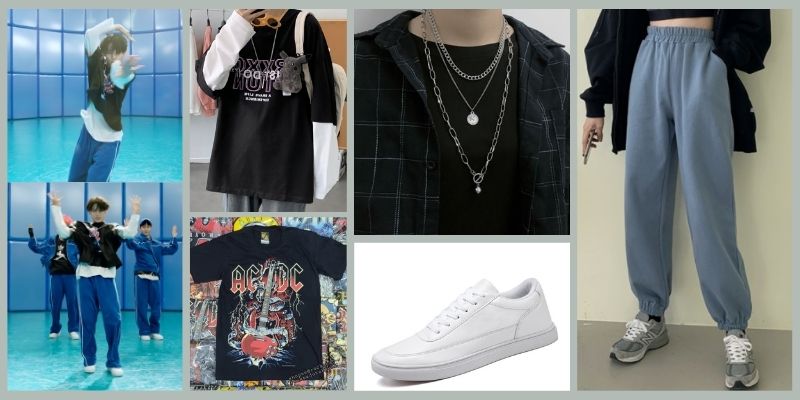 Lastly, we're finishing off the list with the maknae (youngest member) of the group. Ni-Ki is seen wearing a favourite e-boy combination in place of the usual tracksuit jacket. He keeps to the style of hip-hop mixed with rock by layering a graphic band T-shirt over a white long-sleeved shirt. 
Shop this style:
Look Effortlessly Cool With These

Hip-Hop Style

Outfits From

Enhypen'

s

Blessed-Cursed

Comeback
What did you think of Enhypen's latest comeback and whose outfit was your fave? Feel free to leave your thoughts down below! Not a huge fan of the hip-hop style? Then take your pick from one of these Korean outfits for men to find an aesthetic that best suits your fashion preferences. 
Find more Korean-inspired trends here.