The e-boy aesthetic is probably one of the most prominent trends for men's fashion found on TikTok. It's the male counterpart to the popular e-girl trend and is mostly tailored towards a younger teen audience, specifically Gen Z-ers. The "E" initially stood for "electric", referring to types of guys and girls present online within the 1990s to 2000s. However, between the 2000s and 2010s, the "e" became short for "emo"; embracing one's emotions. 
During that period, e-boys and e-girls were more closely associated with various alternative aesthetics, such as goth and skater to name a few. Though increasingly, there's a mesh of all sorts of style influences within this urban subculture. Overall, it's an edgy aesthetic that leaves room for experimentation to express your individuality. So, now that you've gotten a clearer picture of what an e-boy is, here are some outfit essentials that you need to recreate the look. 
What You Need To Put Together An E-boy Outfit
Black-Coloured/Solid-Coloured Clothing
The colour palette that's seen more frequently in most e-boy outfits is a minimalistic black, white, and grey ensemble. They're usually found dressed from head to toe in solid dark colours for a moody and grungy appearance. However, if an all-black outfit is a bit too full-on for your liking, you can also break up the outfit by pairing some black pants with a white T-shirt and denim jacket thrown over as outerwear. 
You also don't necessarily need to stick to a neutral colour scheme. Some e-boys like being a bit more adventurous with their style by incorporating pops of solid colours for a slightly bolder look. Popular shades include neon green, red, and baby blue, taking inspiration from the Cyber Goth style. As long as you keep some elements of black in your outfit, you're already a step closer to looking like an e-boy. 
Striped Long-Sleeved T-Shirt + Oversized T-Shirt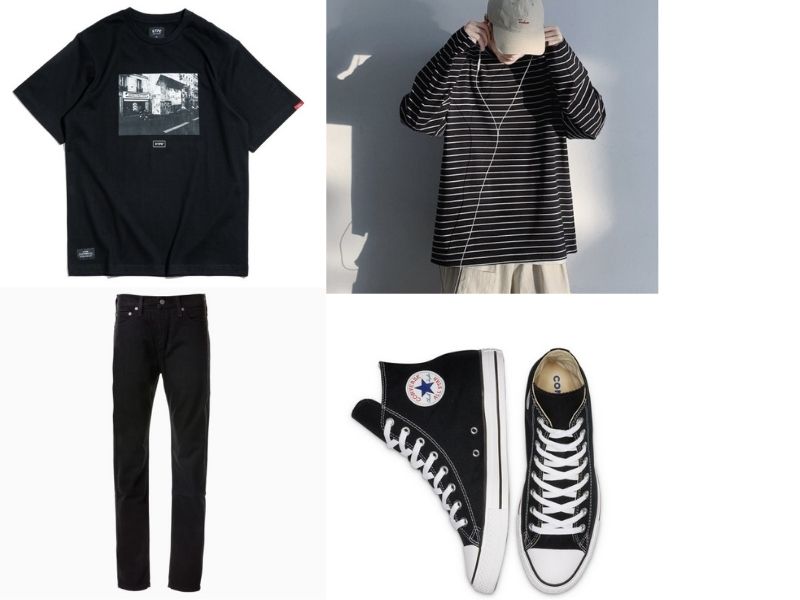 These are the most essential clothing items you'll need in your wardrobe for an archetypal e-boy outfit. A favourite combination of this TikTok aesthetic is layering a striped long-sleeved T-shirt underneath either a plain oversized black T-shirt or a graphic one. This is a modern take on the grunge movement from the '90s era while including some styling components from the skateboarding scene in the 2000s. Finish the look with a pair of light-wash jeans for an effortlessly casual vibe. If you want a more elongated silhouette, opt for your go-to black skinny jeans instead. 
Oversized Jumper + White Button-Down Shirt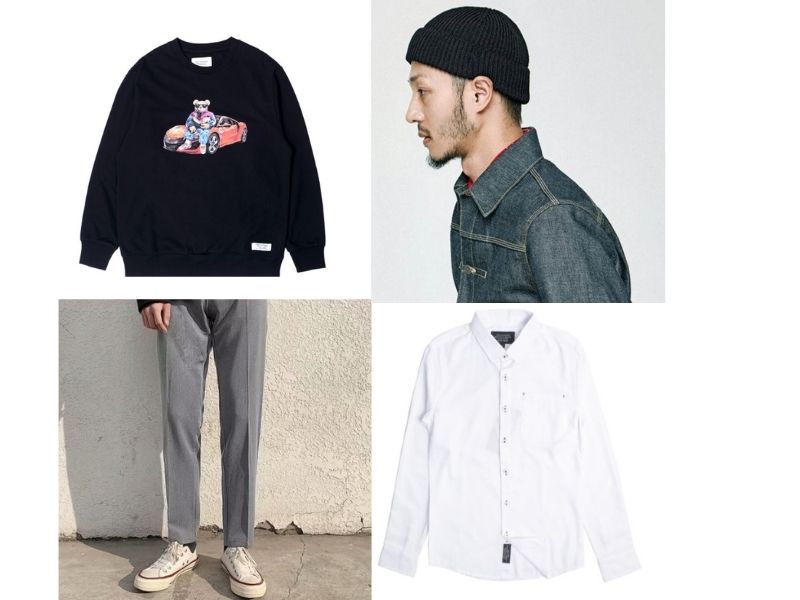 Another common combination you would often see in e-boy outfits are oversized sweaters layered over a white button-down shirt and paired with grey trousers. While the previous style leaned towards a slightly laid-back get-up, this outfit combo is all about mixing casual and formal pieces. It creates an interesting contrast by blending the streetwear and preppy styles to create a look that's unique to the aesthetic. 
Admittedly, our Malaysian weather may not be so accommodating of this cosy attire. Wearing two layers of long-sleeved clothing, especially when a heavy sweater is involved, is a recipe for a sweaty disaster. So, rather than wearing an actual button-down shirt, attach this fake collar underneath instead. This will give the same effect and you won't have to suffer from the extra warmth. Throw on a fisherman beanie to make the outfit even cooler. 
Related: How To Wear A Beanie And Still Look Cool
Vertical Striped Shirts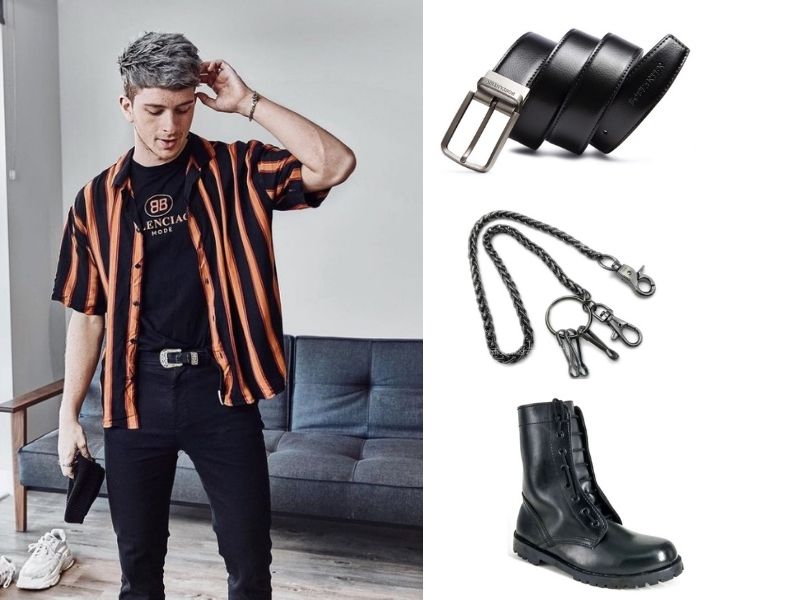 If you want to look like your (or your GF's) favourite K-pop star, then a sleek vertical striped shirt is an absolute must. It slims down and lengthens your torso, making it a flattering top for practically everyone. Plus, when paired with dark jeans and combat boots, it gives the illusion of a taller frame. With this e-boy outfit, most would choose to expose a hint of their chest by leaving the first few top buttons unbuttoned. 
This will allow you to fully experiment with your accessories and let them shine without clashing with the print. However, for those who don't feel comfortable showing that much skin, wear the shirt as loose outerwear over a black T-shirt instead. Popular colour options for these vertically striped shirts are usually burgundy, black, or burnt orange. 
Cuffed Bottoms + Ankle Socks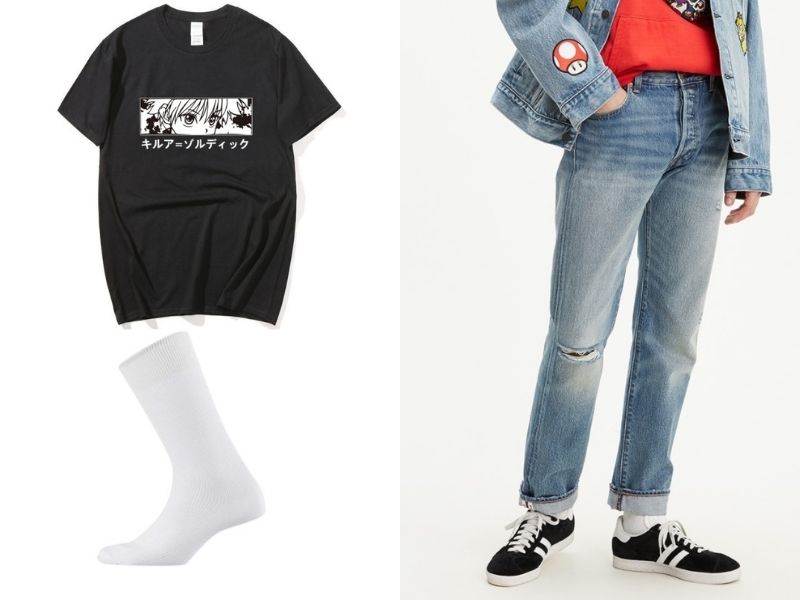 Socks can often be an overlooked accessory, especially since they're always hidden underneath our pants. Cuffing your bottoms is a simple way to show off your ankles, as well as to enhance your style. It's an interchangeable technique that goes well with a wide range of e-boy outfit combinations. Chinos, distressed denim, and baggy jeans or trousers are favoured choices for cuffed bottoms. Simply fold the hems to roughly around the mid-calves or slightly below. Then bring out your funky pair of socks (or opt for a plain and simple design) and flaunt them confidently. 
Sneakers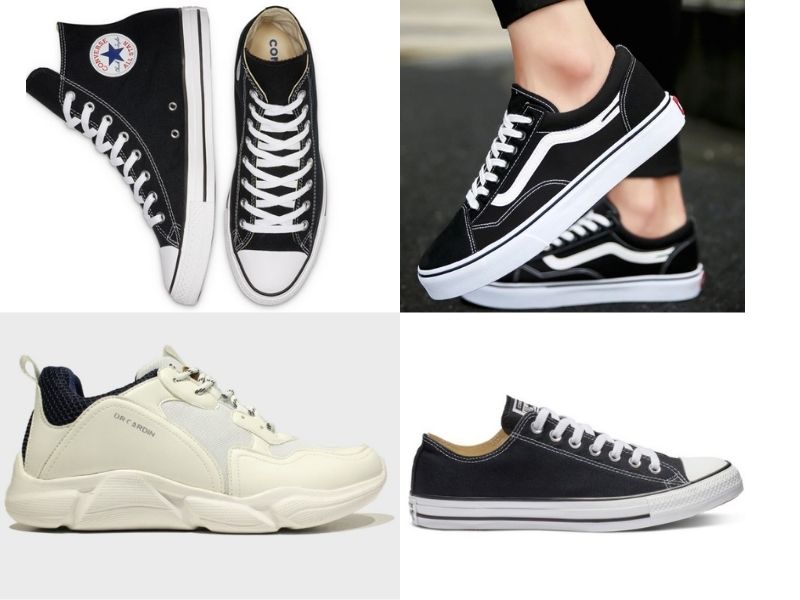 You can never go wrong with a simple black and white sneaker. They're versatile and go with practically anything in your closet. The brand favourites are usually either Converse or Vans among most e-boy outfits. Opt for the high-top Chuck Taylors to get a polished and elongated look. Otherwise, go for the low-top Chuck Taylors or Old Skool Vans sneakers, paired with plain white socks or a patterned one, depending on how bold you're feeling that day. 
Alternatively, if you want some added height with a bit of cushioning, try a pair of chunky dad sneakers. Plus, the overall bulkiness of the shoes makes it easy to elevate any outfit. Again, just remember to stick a black or white colour scheme, and you're all set. 
Accessories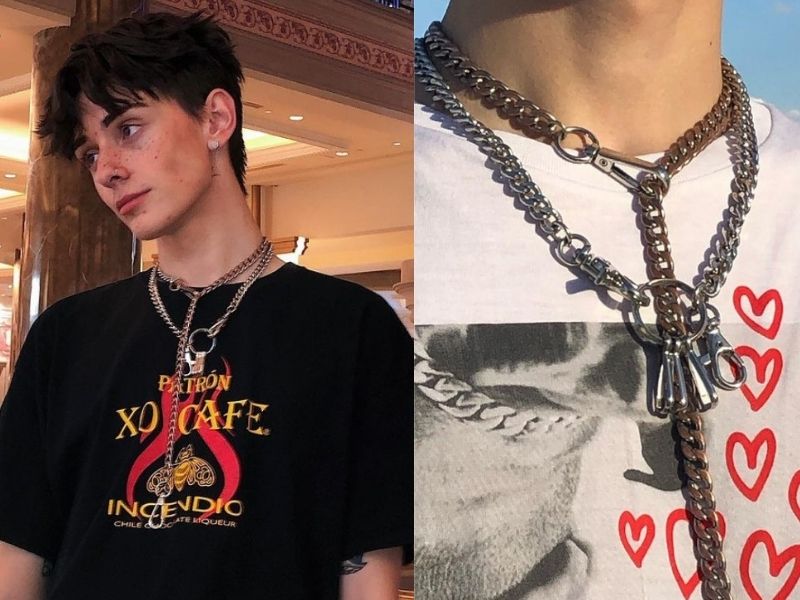 When it comes to e-boy outfits, accessorising is key—and you'll want to stock up on three things to nail the look: chain and lock necklaces in varying lengths, some dagger earrings (but just wear one!), and a stylish yet functional wallet chain. After all, have you ever seen an e-boy without any accessories? They lend a gender-neutral, androgynous feel that takes inspiration from K-pop idol groups and their excessive but cohesive jewellery. You can choose to go all out and layer different styles and lengths of necklaces. Otherwise, you can also keep it subtle with one or two of your choice necklaces. Let them sit lower than your collarbones. 
Finishing Touches: Black Nail Polish + Guy-Liner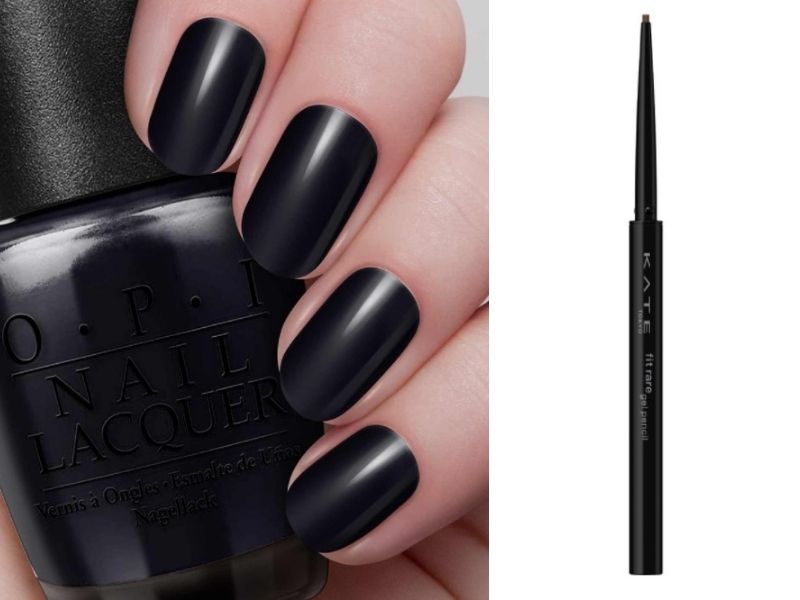 Finish off your full e-boy outfit with black nail polish to complete the rebellious modern appearance. Prep your nails for a fresh coat of dark polish with a manicure and ensure that they're neat and evenly lengthed. For extra TLC and shine, apply a layer of base coat and top coat. Regardless of whether you just paint one nail or coat all 10 fingers, wearing nail polish is a fun way to explore your sense of style and showcase your creativity. If you're not afraid to delve into the world of makeup, then try outlining your eyes with eyeliner for a smokey, defined look. 
Show Off Your E-Boy Outfits In Your Next TikTok Video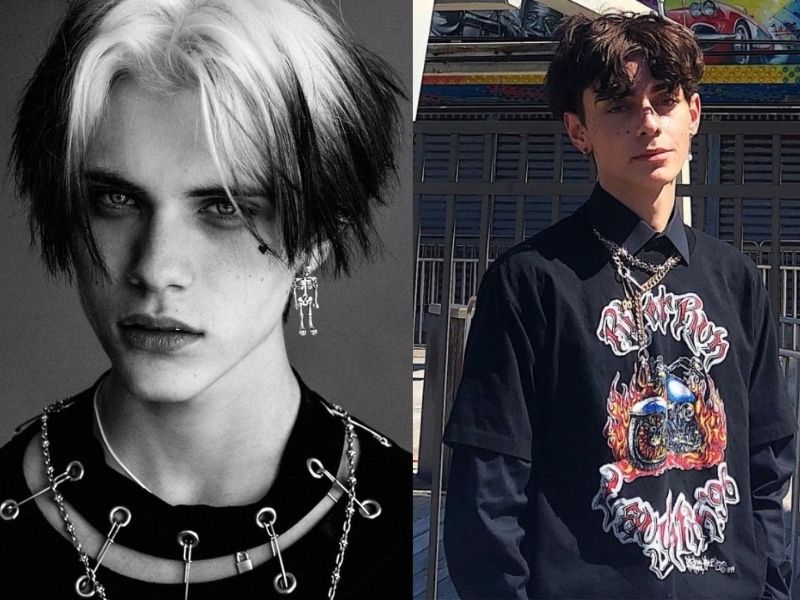 We hope this guide helped you understand the e-boy aesthetic a bit better and encourages you to go out of your style comfort zone. Now go have fun putting together your e-boy outfits to slay in your next TikTok video! For more everyday style ideas, check out our other article on casual wear essentials for men. 
Find more TikTok style aesthetics and outfit guides here.