Home workouts have never been more relevant these days. As we spend more of our time being cooped up at home, people are finding ways to move and stretch their bodies within the limited confines of their living spaces. It is a workable scenario, sure, but some may find such a workout regimen uninspiring and boring. Who can blame them? But all that can change if you have the Ring Fit Adventure for the Nintendo Switch!
What Is Ring Fit Adventure?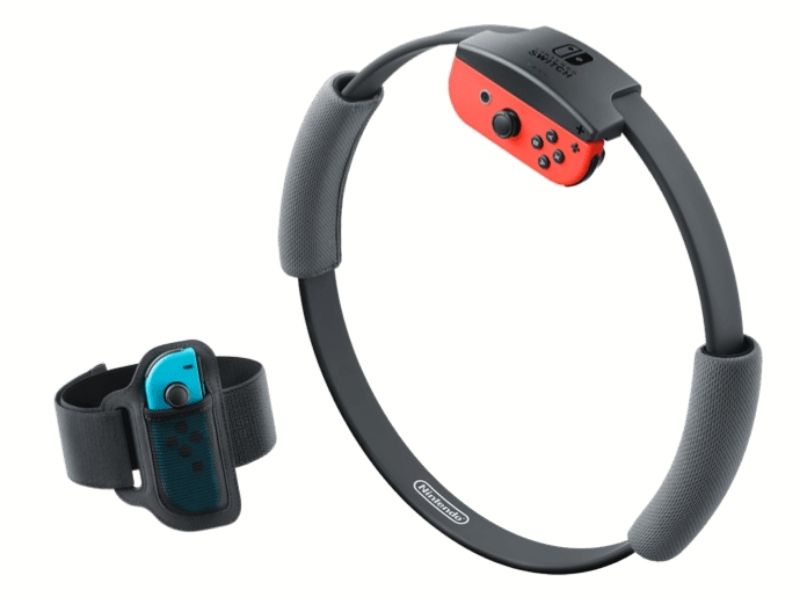 The Ring Fit Adventure for the Nintendo Switch is a fitness-oriented game. It continues Nintendo's foray into combining workout routines with video games, as seen in their earlier Wii Fit and Wii Fit U consoles. To play, you will need two accompanying accessories—namely the Ring-Con and the leg strap—which come bundled together with the game cartridge. Both the Ring-Con and leg strap have a dedicated slot meant for the Nintendo Switch's Joy-Con controllers, which will do all the motion tracking in correspondence with the game.
With the Ring-Con in your grasp and the leg strap (naturally) strapped around one of your ankles, you play the game by moving every part of your body as dictated by the game being played on TV mode while the Nintendo Switch is being docked and in tabletop mode. It should be noted that the game does not work with the Nintendo Switch Lite, which only operates in handheld mode.
You can find the Ring Fit Adventure for the Nintendo Switch going for less than RM400 in Malaysia.
Transform Your Workout With These Ring Fit Adventure Routines
Adventure Mode
Adventure Mode is the flagship feature of the game in which you explore and traverse huge fantasy worlds filled with enemies to defeat, complete with a story. Sounds like a typical game you usually play on your keyboard or controller, except that you play it entirely by performing real-life exercises! You move your character around by jogging in place, while you conjure up attacks on the enemies by doing all sorts of manoeuvres with the Ring-Con. Want to refill your health meter? Strike some yoga poses! In between, you will be required to perform movements like squats and more to operate certain transportation devices.
With over 100 levels in more than 20 worlds, Adventure Mode is guaranteed to give you a full-body workout from head to toe as you battle your way up to defeat the main boss Dragaux, a dumbell-touting, bodybuilding dragon.
Quick Play
After you are done with Adventure Mode, you can jump right into Quick Play anytime for a quick workout. Quick Play offers various challenges and 12 fun minigames that you can complete in a short time. Each of them targets a specific area of the body to work on. For example, Crate Crasher will have you squeezing the Ring-Con on your hands rapidly to blast out crates while working out your chest and upper arms. In Thigh Rider, you squeeze the Ring-Con placed in between your thighs while sitting down to control your vehicle and collect coins while avoiding bombs. This exercise works out your lower body, legs, and posture.
Quick Play is perfect for when you want to work up a quick sweat in your limited time. Its varied nature will keep you entertained throughout while you work on different areas of your body.
Rhythm Mode
Sometimes, all you need for an enjoyable workout session is some great music. In Rhythm Mode, you manoeuvre the Ring-Con to catch notes to the tunes featured in some of the most popular Nintendo Switch games such as Super Mario Odyssey, The Legend of Zelda: Breath of the Wild, and Splatoon 2. There are a total of 17 music tracks available, including the main game soundtrack.
Rhythm Mode features two workout options: Arms & Legs and Core & Legs. The exercises will have you squeeze, pull, and turn the Ring-Con while also performing squats. You rack up the scores by performing those actions in time with the music. Naturally, it gets faster and harder as you progress. By the end of each session, one thing's for sure—you will be sweating buckets!
Custom Workouts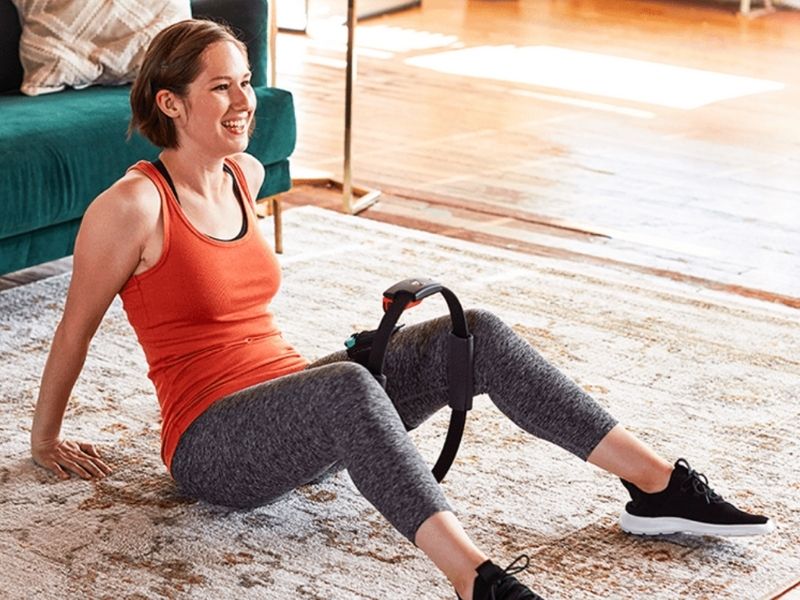 Want a more personalised and formal workout routine? You can have just that with Custom Workouts. It lets you create customisable workout routines where you can mix exercises and minigames to target specific muscle groups of your choice. You have the freedom to set up your own sessions in which you can pick and choose your activities, number of reps, and their order. On top of that, you can also customise how long (or short) you want your sessions to be. The choices are all yours to create a workout regimen that works best for you.
Multitask Mode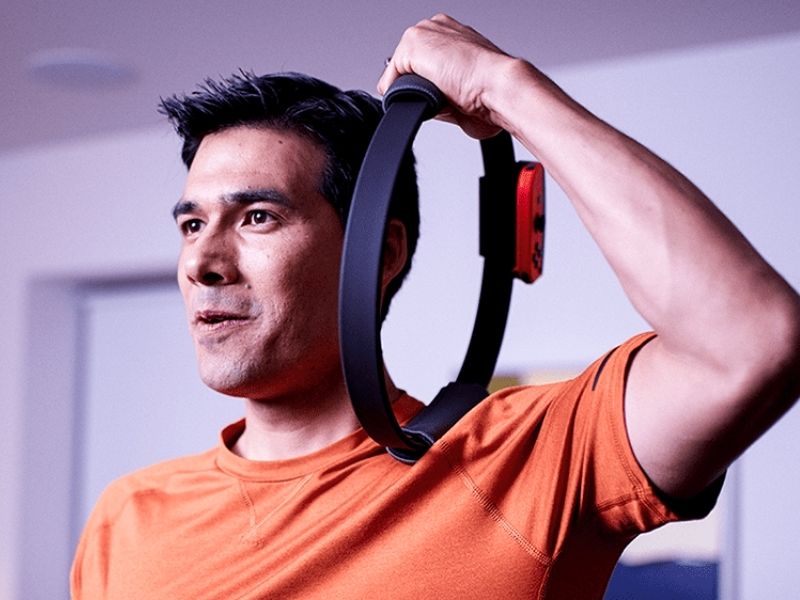 Your workout doesn't have to stop even after you have turned off the Nintendo Switch. Thanks to its Multitask Mode, you can continue pressing and pulling the Ring-Con to gain reps that you can sync with the game later on. This can be done while you are doing something, like watching the TV, where your hands are free. It's a great way to get yourself moving instead of just staying idle.
Say Goodbye To Boring Workouts With The Ring Fit Adventure For Nintendo Switch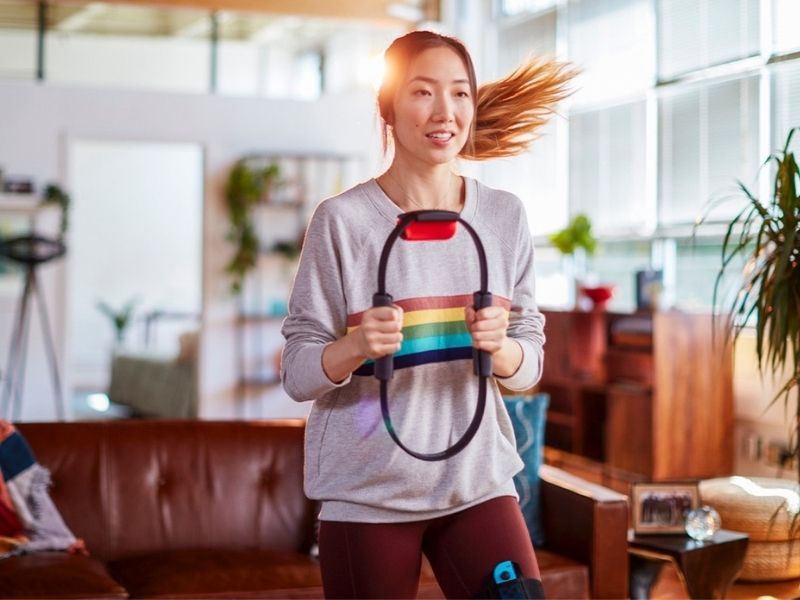 As far as home workouts go, there is nothing quite like the one-of-a-kind experiences that the Ring Fit Adventure delivers. And plus, we could all use a little fun in our lives right now. The Ring Fit Adventure puts the fun and excitement back in workout routines that have traditionally been a drab affair. It will be an upgrade in experience for fitness enthusiasts and more importantly, it could also motivate more people to get off their couch and start exercising. Now, who says video games are bad for health?
While we're on the topic of home workouts, you can also check out some of our recommended gym equipment for your home!
Check out Tech Thursday for 1-day only lowest price, unbeatable deals and extra 20% Coins Cashback every Thursday!