These past few weeks have been ridiculously hot. But then again, seeing as it's Malaysia, when is it ever not like a burning sauna? Now, as someone who dresses like it's winter and has an unhealthy obsession with jackets, the heat is bearable enough for me to endure on most days. But then July rolls around, and let's just say that even I know when to admit defeat. This is where this next summer trend comes in handy. 
Lately, we've been seeing tons of tutorials over TikTok and Instagram on how to tie a scarf as a top. The best part about this trend is that not only is it ideal for our sweltering weather, but you get to experiment with many different styles of tops in the process. Below, we've compiled five different ways you can tie your scarf tops and how to incorporate them into your outfit. 
Ways To Style Your

Scarf As

A

Top

 
Learn these styling hacks to save you from when you have nothing to wear or don't know what to wear.
The Bralette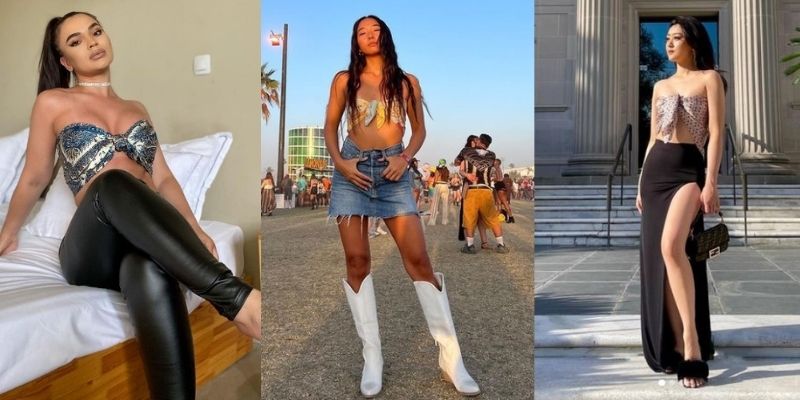 Styling your scarf as a bralette top is the perfect way to combat the tropical heat while looking sexy. And they can be a lot more versatile than you might think! From glamorous dinner date outfits to partying at music festivals, this hot girl summer trend can be styled in a variety of ways. Don't feel too comfortable with exposing a lot of skin? Then choose to layer a plain T-Shirt or sweater underneath for a modest alternative. 
To tie this top, you can fold and then wrap the scarf around your chest, tying the ends into a double knot. Alternatively, you could try tying the scarf around your strapless bra first before putting it on. 
Shop this style (outfit 1):
Shop this style (outfit 2):
Shop this style (outfit 3):
Video tutorial:
The Triangle Tube Top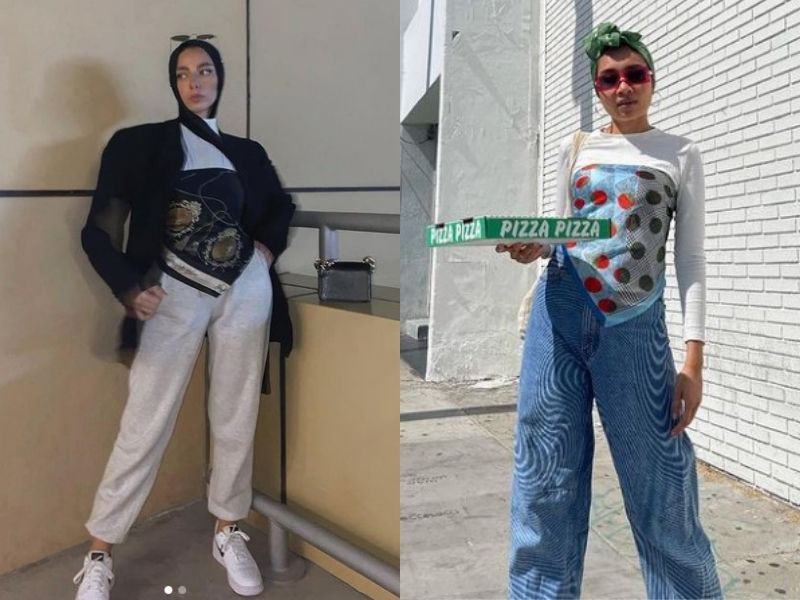 Wearing your scarf as a sleeveless top isn't only limited to summery, beach outfits. Fashion influencer Ranim Alrifai elevates her cosy pair of sweatpants by layering a scarf over her turtleneck, adding dimension to her look. Otherwise, you can also draw inspiration from Malaysian singer, Yuna, who's opted to mix prints to get a more playful look. 
Achieving this style is pretty straightforward. All you have to do is fold the scarf diagonally in half and wrap it around your torso before tying the ends at the back. And just like that, you have a brand new top in your closet! 
Shop this style (outfit 1):
Shop this style (outfit 2):
The Crossover Top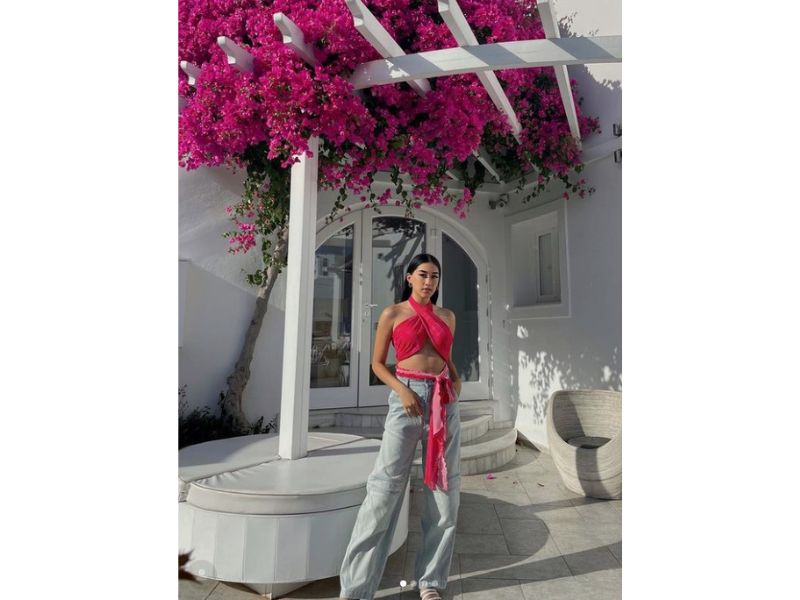 You can never go wrong with a cute scarf top and jeans combo. It's effortlessly chic while also remaining super comfortable. Though it's common to see this pairing with the classic triangle shape, the crossover neckline is another It-Girl-approved style for the 'gram. 
This look will require a longer scarf (think sarong length) so that you have enough material to work with. First, fold the scarf in half. Then start wrapping it around the back before forming a crisscross pattern in the front. Secure the scarf around the neck. 
Shop this style: 
Video tutorial:
The Halter Top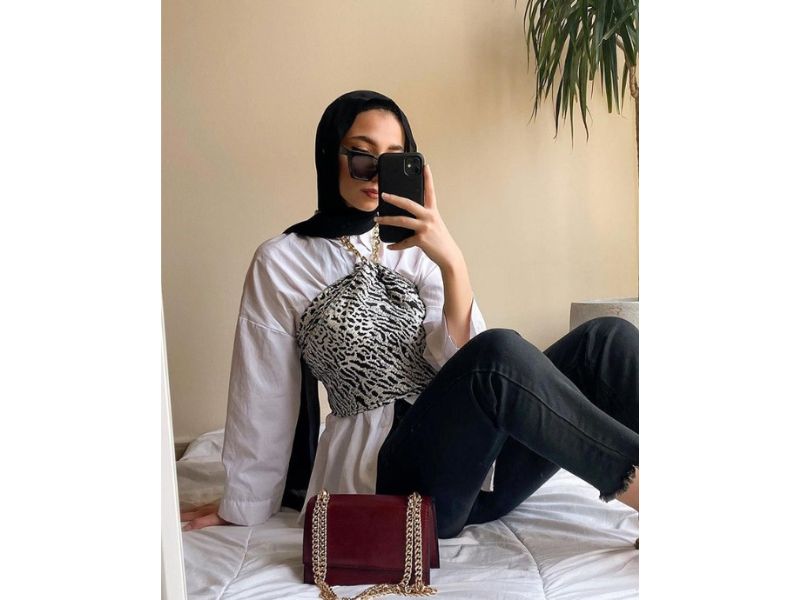 Think that the crossover method is a bit too complicated? Then you need to try this chain necklace hack! Simply tie the two ends of the scarf together and loop the chain around the knot. After that, you just need to clip it on as though you're wearing a necklace. 
Fashion-wise, we love how Ranim completely switches up her black and white outfit with a printed scarf top in a matching colour scheme. It instantly gives her ensemble a more fun touch and keeps her wardrobe basics from looking too plain.
Shop this style:
Video tutorial:
The Sleeved Top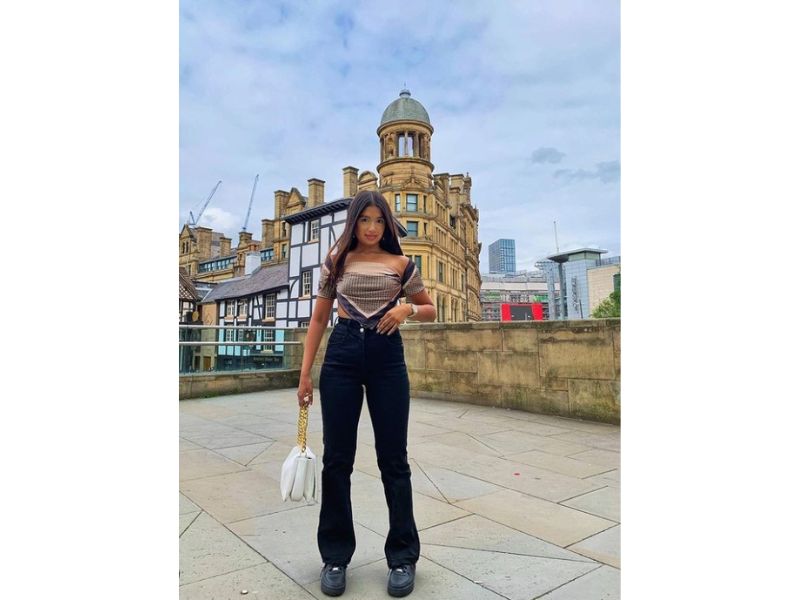 If you're not too fond of the sleeveless look and don't feel like layering, this styling option is for you! Draw inspiration from Nikita Patel, who has chosen to wear her scarf as an off-shoulder top. The capped sleeves combined with the square neckline create a delicate allure that's on-brand with the #regencycore aesthetic. 
Similar to the triangle tube top, you'll start by folding the scarf in half. After that, place the two ends underneath your arms, pull them over your shoulders, and tie them at the back. 
Shop this style:
Video tutorial:
@evelilycp

Reply to @ellacrumleyy this how I did it 🙂
Expand Your Wardrobe By Wearing Your

Scarf As

A

Top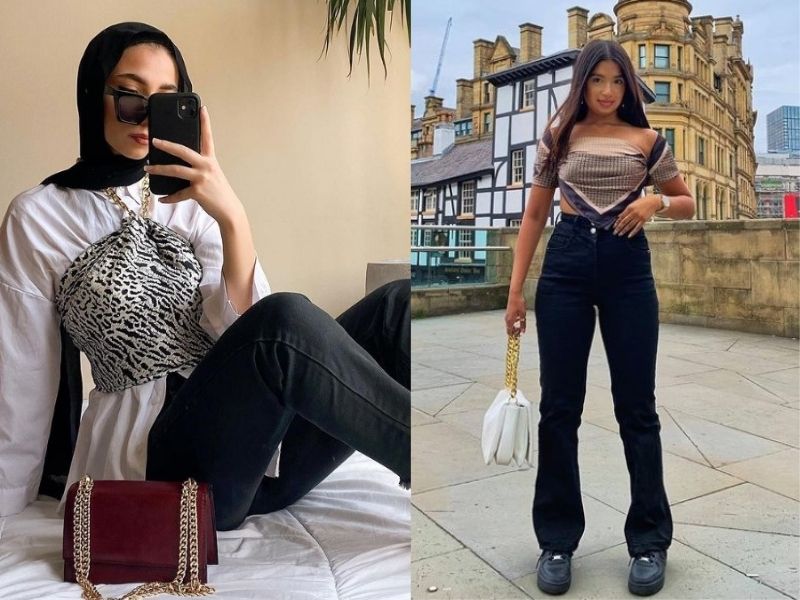 If there's anything you can learn from wearing your scarf as a top is that, sometimes, you don't need to have a cupboard packed with clothes to come up with multiple outfit combinations. All it takes are your classic essentials like blazers and sweatshirts to come into play, as they serve as the foundation blocks to build your personal style. 
That said, there's also no harm in following a trend or two in the process of exploring your individuality. Maybe you might even find a certain aesthetic that you gravitate towards to. Or if you don't know where to start, you can check out our guide on all things TikTok fashion-related to know more about the different Gen Z styles.