Looking for a low-tech way to keep the kids entertained and spend time as a family? If you have card games in mind, we like that you're going old school! Sure, it's not as vivid and exciting as mobile and video games, but they're easy on the eyes and tons of fun for children and adults to play together. In addition to hours of wholesome entertainment, playing card games may even bring the family closer together. So whether you're in the car, out on picnics, or at home, reel the family in for a fun time with these best family card games.
The

Best

Family

Card Games

For Strategic Thinking
Train probability and strategic thinking with these four best family card games.
Monopoly Deal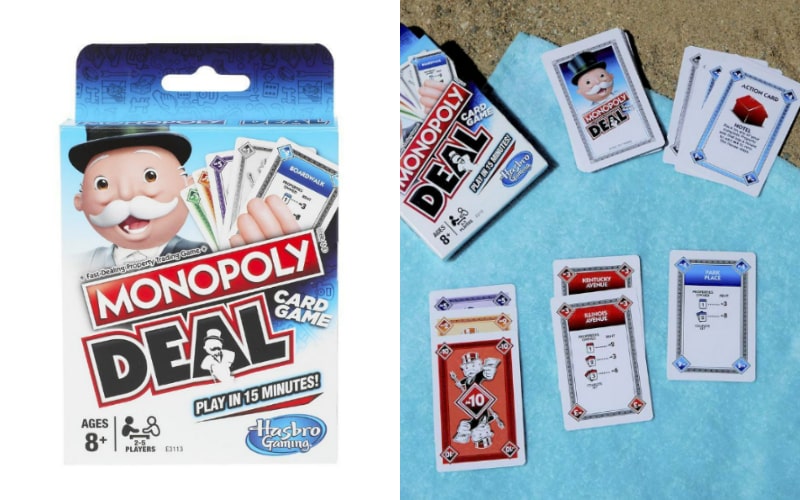 Recommended age: 8+
Number of players: 2 to 5
When it comes to the best family card games, the first one that comes to mind is Monopoly Deal. Just like the classic board game, this card version is just as tricky to win but faster to play. It takes as little as 15 minutes to complete a round, with the winner being the one who collects three sets of property cards first. Charge rent, make crafty deals – it's all part and parcel of being a property magnate in the world of Monopoly.
Exploding Kittens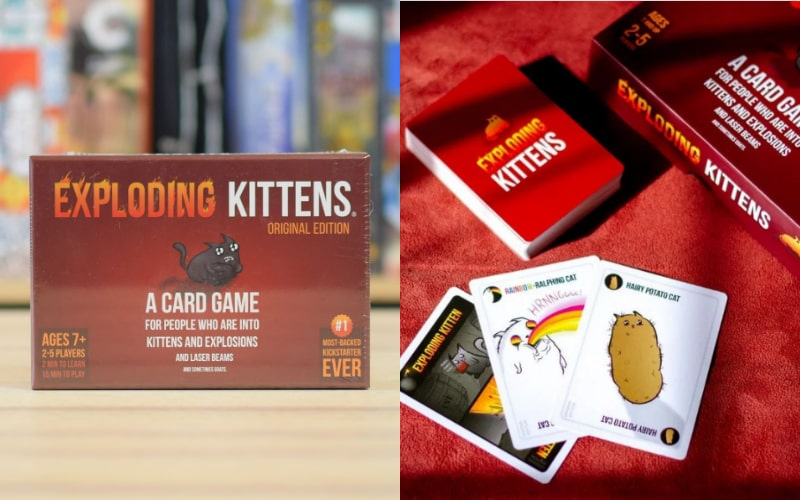 Recommended age: 7+
Number of players: 2 to 5
Despite its name, this best selling card game is not at all violent and very easy to learn. Think of it as a highly strategic, feline-powered version of Russian Roulette, where players try their best to avert the deadly Exploding Kittens. Whether you skip a turn, reshuffle the deck, or defuse a detonating cat, you'll have to do whatever it takes to not blow up.
Kantin Wars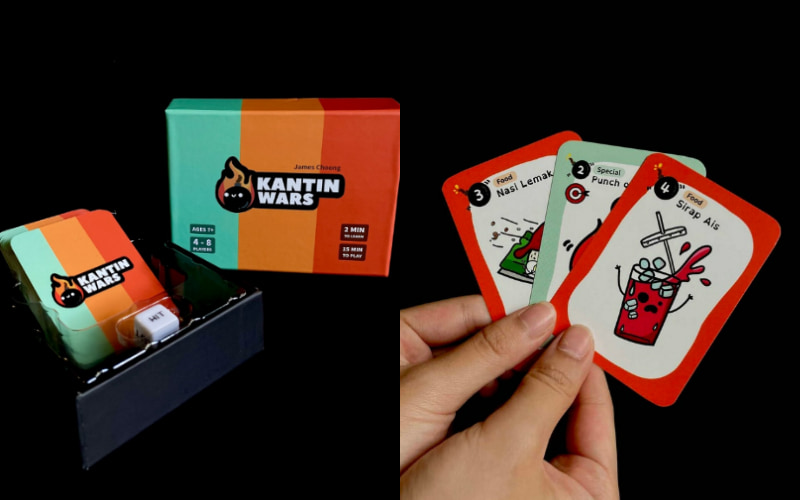 Recommended age: 7+
Number of players: 2 to 8
If your kids have been itching for a food fight, the Malaysian-made Kantin Wars is the best card game to scratch that itch without actually creating a mess. Declare war on each other by throwing various food served in school canteens. Then hone your art of war by throwing better, dodging flying food, hiding, or even washing up during the fight. It's an all-out battle until the Discipline Teacher shows up.
The Fox In The Forest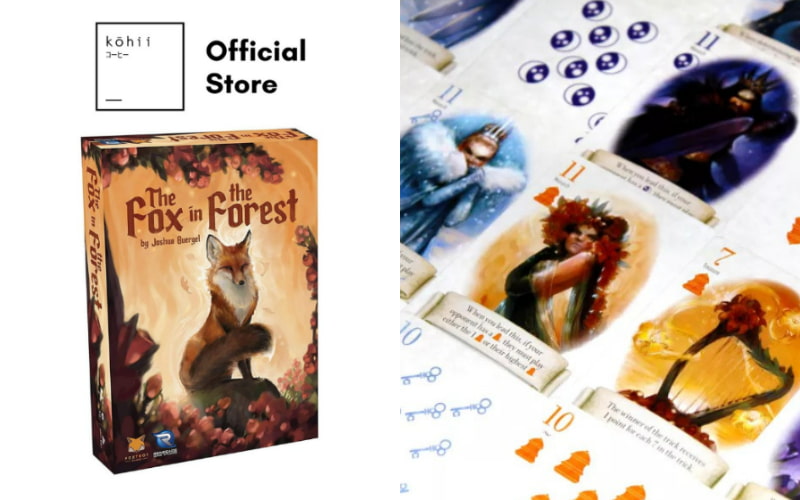 Recommended age: 10+
Number of players: 2
The Fox in the Forest is a beautifully illustrated trick-taking card game that's simple enough for beginners and kids. It's centred around the fabled plot line of a woodcutter and his daughter, who live in a village near the forest. Players use their characters' special abilities to change the trump suit or lead the game. But they'll have to win tricks in order to score points. Don't get too greedy though. Win too many tricks, and you'll fall just like the villain in every fairy tale.
The

Best

Family

Card Games

For Rapid-Fire Rounds
For a quick game in 15 minutes or less, here are the best family card games that aren't short on excitement.
UNO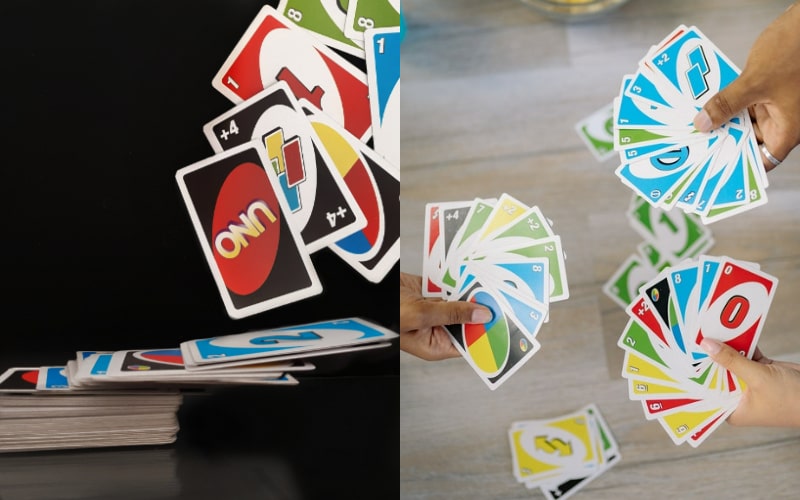 Recommended age: 7+
Number of players: 2 to 10
The classic UNO is one of the best and easiest card games for families to play. All you need to do is match the numbers and colours of the cards, and use action cards to trip up your opponents. And of course, yell 'Uno' when you're down to your last card. Master this classic, and you can venture into wackier versions like the UNO Flip and UNO All Wild.
Smack It!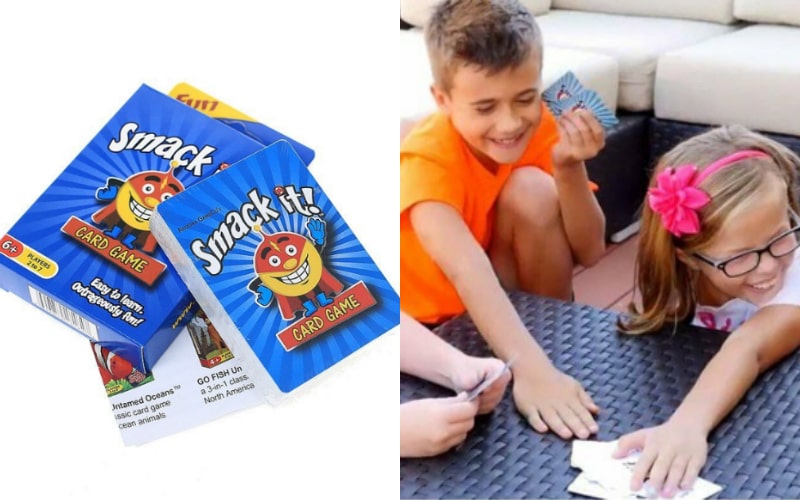 Recommended age: 6+
Number of players: 2 to 7
Can this simple deck of cards turn into a game of rowdy fun for the entire family? Absolutely! The key to being crowned the winner is to be the only person with cards remaining. To do so, players flip their cards into a central pile and battle for the pile when the Challenge or Smack It! card appears. The game goes by quick as a wink, so players will need to stay sharp.
Blink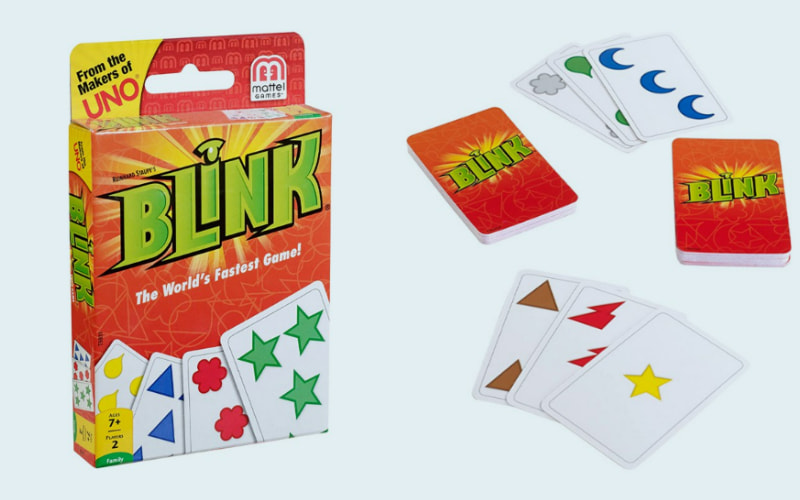 Recommended age: 7+
Number of players: 2
BLINK is a lightning-fast game that pits two players head-to-head in a race to rid themselves of their cards. It requires the players to match the shape, colour, or count on their cards to the discard piles. This straightforward gameplay makes it one of the best card games to engage younger kids, and an even better tool to train hand-eye coordination.
Taco Cat Goat Cheese Pizza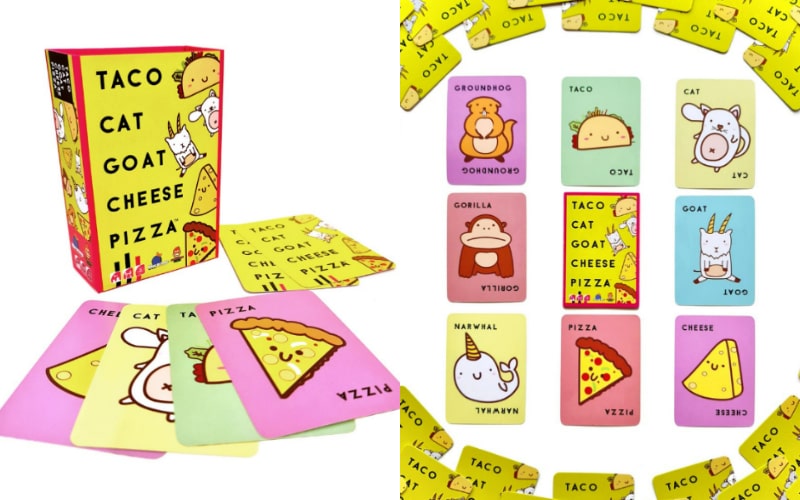 Recommended age: 8+
Number of players: 2 to 8
Bring on the hand-slapping mayhem with Taco Cat Goat Cheese Pizza. This random string of words is actually a mantra that players chant in turn as they put down a card. When the spoken word matches the card, everyone slaps their hand on the pile. The last one to do so picks up all of the cards. It won't be difficult to spot the winner – they'll have an empty draw pile and the reddest hand.
The

Best

Family

Card Games

For Guessing And Trivia
Get the conversation rolling and cognitive wheels turning with these three best interactive card games.
Do You Really Know Your Family?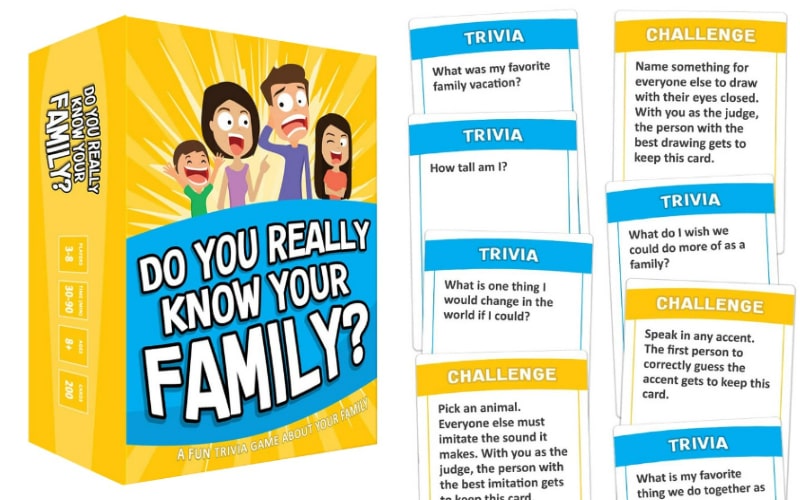 Recommended age: 8+
Number of players: 3 to 8
Tread carefully with this family card game because you'll get quizzed on how well you know your family members. You'll not just answer trivia questions about each other, you'll also compete and perform in silly challenges together. If you want to emerge victorious, you'll need to dig deep and pander to your family members!
5 Second Rule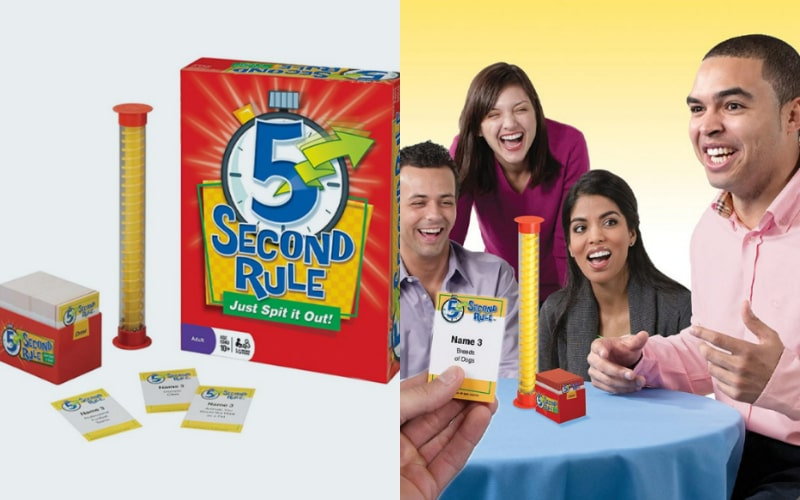 Recommended age: 10+
Number of players: 3 or more
See how family members fare under pressure with this exhilarating game. Players take turns to draw a card, read the seemingly easy category on the card, then start the timer. With only five seconds to name three things that fit the category, will you succeed or get tongue-tied?
Hedbanz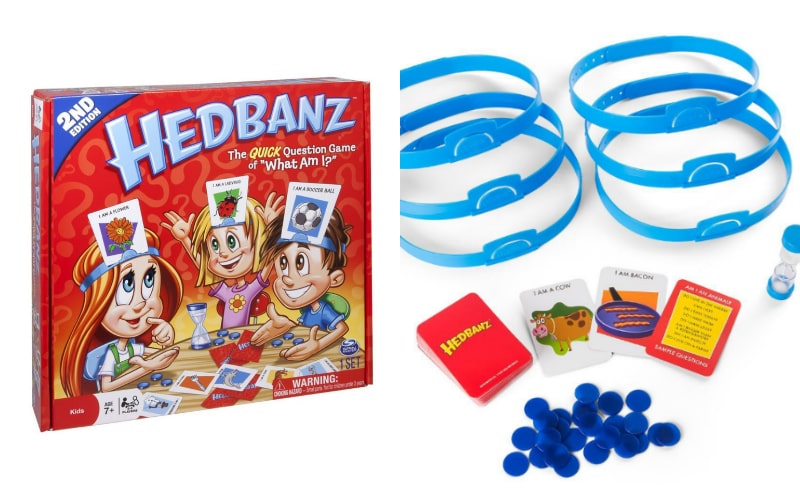 Recommended age: 7+
Number of players: 2 to 6
If you've ever played Heads Up, Hedbanz is essentially the no-tech version of it. Rather than holding up a mobile phone, each player wears a headband which holds a card for everyone else to see. When it's your turn, figure out what you are by asking other players questions before the time runs out. Part fun, part educational, this game is sure to get the kids' critical thinking and deductive reasoning going.
Let The Games Begin With These

Best

Family

Card Games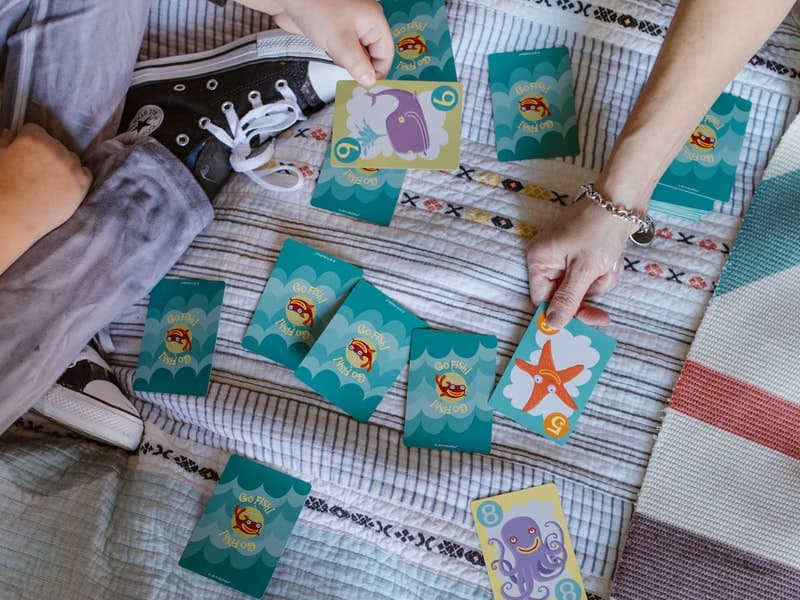 So go on, pick one of these 11 best card games, and unplug from the digital world. Then hope against hope that your kids will learn to appreciate some good old low-tech fun, just like you did when you were a child. For the kids, these games will keep boredom at bay, and help promote cognitive skills, etiquette, and sportsmanship. But for the whole family, the friendly competition and silliness of it all can help build stronger bonds. Not all games are bad, after all.
If you're considering any of these family card games or board games, make sure to swing by Kedai Buku Shopee for the latest promotions and vouchers.