Malaysia may be a relatively small force in the world of video games, but our immensely talented developers have managed to make some big marks in the industry. We are proud of all things Malaysian, so in the spirit of Merdeka, it is an apt time to shine the spotlight on some of the games that were made with our very own Malaysian touch, from the biggest blockbusters to fully Malaysian-made video games. Some of them might even take you completely by surprise!
4 Of The Biggest

Video Games Malaysians

Were Involved In Making
The Last Of Us: Part II
Yes, a Malaysian game studio was involved in the making of the critically-acclaimed The Last Of Us: Part II. Local company Passion Republic contributed concept art, graphic design, and game assets to the post-apocalyptic adventure that's widely regarded as one of the finest narrative-driven games of our generation.
Ghost Of Tsushima
The Samurai epic brings the PS4 era to a fitting end before the debut of the PS5. Loved by many for its Asian setting and gorgeous graphics, it chronicles the journey of protagonist Jin Sakai as he defends his home island Tsushima against the Mongol invasion. Passion Republic was once again involved, this time in character modelling.
Final Fantasy XV
Here is a fun one. Malaysian Wan Hazmer was one of the lead designers for Final Fantasy XV, and he even managed to fuse some elements of our very own Malaysian culture into the game! What are the odds that you will encounter roti canai, chicken rice, and a mamak stall in a Final Fantasy game?
Street Fighter V
Dutch game house Streamline Studios has the bulk of its development team based in Malaysia, comprising mostly local staff. Besides working on Final Fantasy XV, they also helped bring Street Fighter V to life by creating some of the art in the game. 
Fun fact: The Kanzuki Beach fight stage looks to be set on a tropical island in Malaysia!
6

Malaysian-Made Video Games

Worth Playing
No Straight Roads
Wan Hazmer and Daimler Dziauddin (who was involved in Street Fighter V) teamed up to form Metronomik game studio in 2017. Their first big break was No Straight Roads—an action-adventure featuring rhythm-infused third-person combat. 
It is one of the highest-profile Malaysian-made video games, and you can play it on the PC, PS4, Xbox One, and Nintendo Switch.
Bake 'n Switch
Bake 'n Switch is an original IP from Streamline Studios. It is described as a "cute, yet tough couch co-op and PvP party game" where you and your pals race against time to make dough bits out of adorable living bread creatures. Think Overcooked! and you get the idea. 
Like any couch party game, it will guarantee lots of fun and laughter. Bake 'n Switch is available on the PC, PS4, and Nintendo Switch.
Short Creepy Tales: 7PM
We have had plenty of monsters, zombies, and Japanese ghosts in the history of horror games. But what about Malaysian horror? 
Homegrown developers Cellar Vault Games introduced a taste of local horror in Short Creepy Tales: 7PM, an interactive story set in a small low-cost apartment block during the ghost month (a.k.a. Hungry Ghost Festival). It certainly sounds like a game that many of us can relate to. The best horror is the one that is closest to us.  
The Company Man
If a game that has you hitting your co-workers with a keyboard and shooting your evil bosses with emails, all with the ultimate aim of being the CEO of a company sounds like a blast, you should check out The Company Man. 
Developed by Malaysian company Forust Studio, the game comes at the right time when we are missing the sights and sounds of our offices (or not!). Now you can be a keyboard warrior in the truest sense of the word.
Mak Cun's Adventure
Who doesn't love manning a virtual food stall? We have seen plenty of such light-hearted casual games but not one with an authentic Malaysian theme, until Mak Cun's Adventure came about. 
Made by Media Prima Digital, Mak Cun's Adventure will have players whipping out all-time favourite Malaysian fare like nasi lemak, roti canai, and char koay teow while managing their very own local restaurant. It is the most Malaysian game you can play yet, and everyone can enjoy this free-to-play mobile game on their smartphone.  
Get Mak Cun's Adventure: iOS l Android
GigaBash
GigaBash is an upcoming game by Passion Republic slated for release on PC and PS4 sometime soon. It pits giant Kaijus against towering heroes in spandex battling in Japan lands (someone mentioned Ultraman?).
The humorous and wacky gameplay that does not take itself seriously looks like a total blast! Despite not having a firm release date just yet, GigaBash has already garnered a string of awards, which shows just how promising the game is. This is one Malaysia-made video game that you definitely should keep an eye out for.
Support Local By Giving These

Malaysian-Made Video Games

The Love They Deserve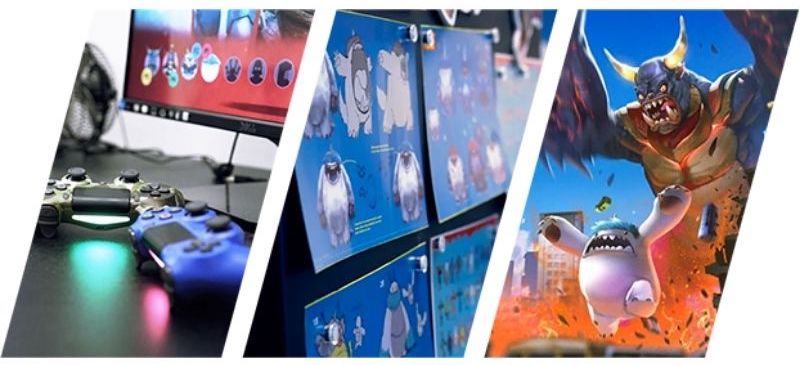 Evidently, we have plenty of top talents in the video game industry who are on par with their foreign peers. Our homegrown developers definitely deserve all the support and recognition we can give. And what better time to show our support for these Malaysian-made video games than during our nation's proudest month? #SupportLocal
Do you have any other Malaysian-made video game recommendations that you would like to give a shoutout to? Meanwhile, bask in more local goodness by checking out these best Malaysian movies to watch on Merdeka day! 
Read more Merdeka-related stories here.
Check out Tech Thursday for 1-day only lowest price, unbeatable deals, and extra 20% Coins Cashback every Thursday!