When you think of beach outfits, the first thought that comes to mind may be the typical swimwear, sunnies, and sandals combination. Sure, it's still a cute 'fit, but sometimes, you're craving for that extra bit of pizzazz to your look. If so, buckle up, because we're here to show you how to take your summer fashion to the next level. 
Beach Outfits

For

Men

&

Women

To Rock On Vacay
White Button-Up + Cropped Tank Top + Denim Shorts + Headscarf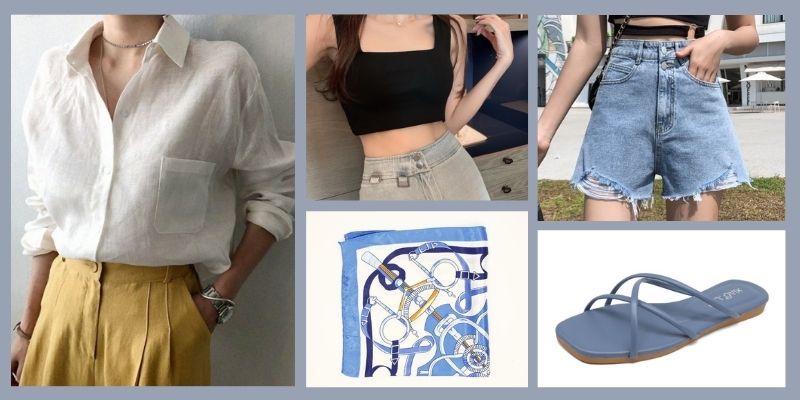 There's a reason why scarves are one of the trendiest hair accessories of the season. They're sleek, polished, and add a pop of colour to your look. Whether you prefer floral motifs or monogram designs, you can always rely on a printed satin scarf to elevate even the most basic of beach outfits for women. 
Shop this style:
Related: Butterfly Clips, Scrunchies, And Other '90s Hair Accessories That Are Back In Style
Ruffled Off-Shoulder Top + Ruffled Maxi Skirt + Mules 
Want to go all out with your beach outfit? Then bring on the fun with a bright yellow colour palette for some major soft-girl-summer vibes. With ruffled details to enhance your femininity, this gingham and daisies combination is perfect for a romantic picnic date along the seaside shore. 
Shop this style:
Smock Dresses (Mini & Maxi)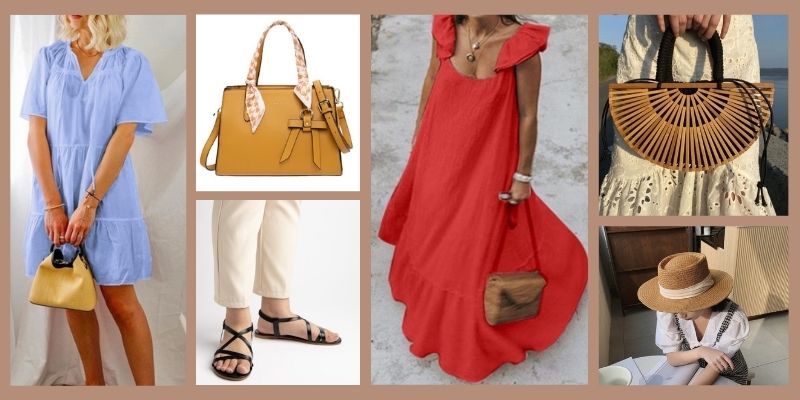 You can never go wrong with smock dresses for a reliable one-and-done summer look. Their loose and billowy nature allows for an effortless style that gives you plenty of movement to stay comfortable while still looking ultra-chic. Plus, they're also a great cover-up that you can easily throw over your bikini for extra protection against harmful UV rays. 
Shop this style (outfit 1):
Shop this style (outfit 2):
Related: From Mini To Maxi, Here Are 13 Casual Dresses From As Low As RM25
Short-Sleeve Blazer + One-piece Swimsuit + Pleated Shorts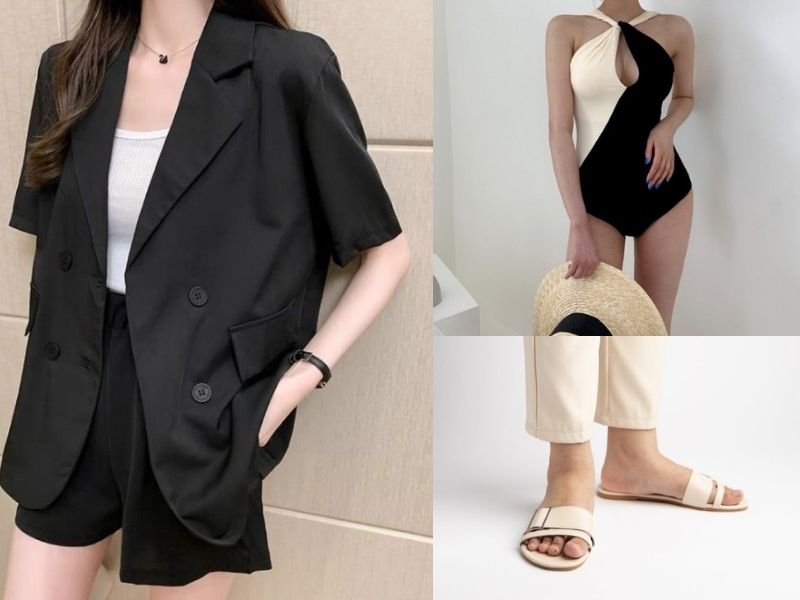 Beach outfits for women don't have to be limited to casual looks. Why not try donning a short blazer set instead for a dressier appeal? This will not only make you stand out from the crowd but will also add a more polished and structured style to your swimsuit. 
Shop this style:
Tie-Dye T-Shirt + Casual Shorts + Hat (Unisex)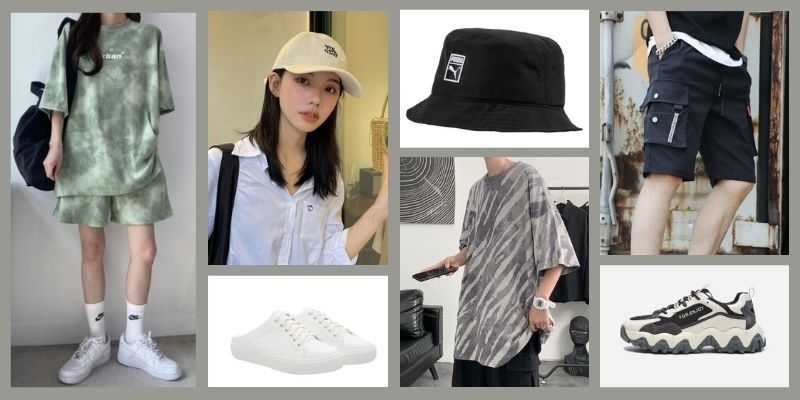 For the hypebeasts and hypebaes, this sporty, gender-neutral summer look is for you! Pair an oversized T-shirt with matching elastic shorts to stay cool and breezy in our Malaysian tropical climate. Then top it all off with your favourite hat and sneakers to complete your streetwear style. 
Shop this style (for her):
Shop this style (for him):
Related: 14 Cool Ways To Style A Bucket Hat Based On Your Personal Style
Bermuda Shorts + Tropical Shirt + Aviator Sunglasses + Fedora Hat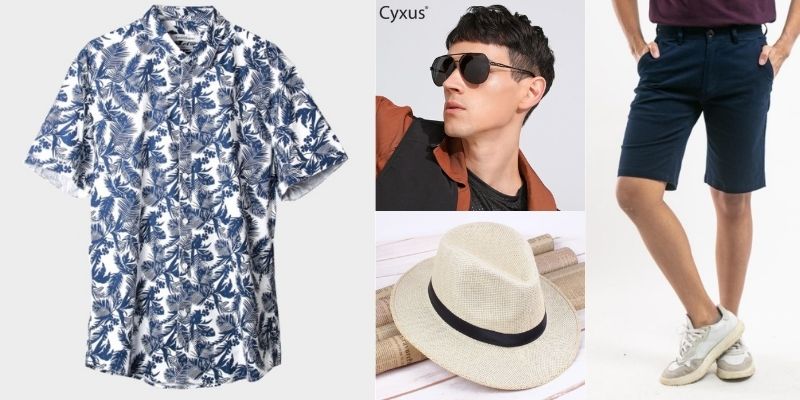 It ain't a beach outfit for men without a classic Hawaiian shirt. The vibrant prints are a surefire way to amp up the vacation mood while making a bold fashion statement that reflects your sunny personality. Meanwhile, a straw fedora hat and aviator shades will help shield your eyes from the glaring sunlight. 
Shop this style:
Bandeau Top/Dress Shirt + Linen Pants + Leather Sandals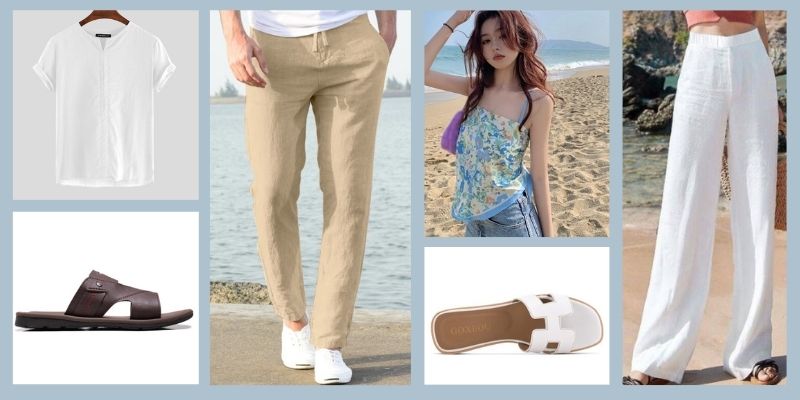 Linen is the best lightweight fabric to have in any summer style. Thanks to its sheer, breathable material and moisture-wicking properties, you won't have to worry about overheating or sweating buckets from the sweltering heat. For the gentlemen, you can opt for a full linen outfit with a basic white shirt to look clean and suave. For ladies, a sleeveless bandeau scarf top gets the #ootd, fashion influencer nod of approval. 
Shop this style (for him):
Shop this style (for her):
Look Island-Chic With These Instagrammable

Beach Outfits

For

Men

&

Women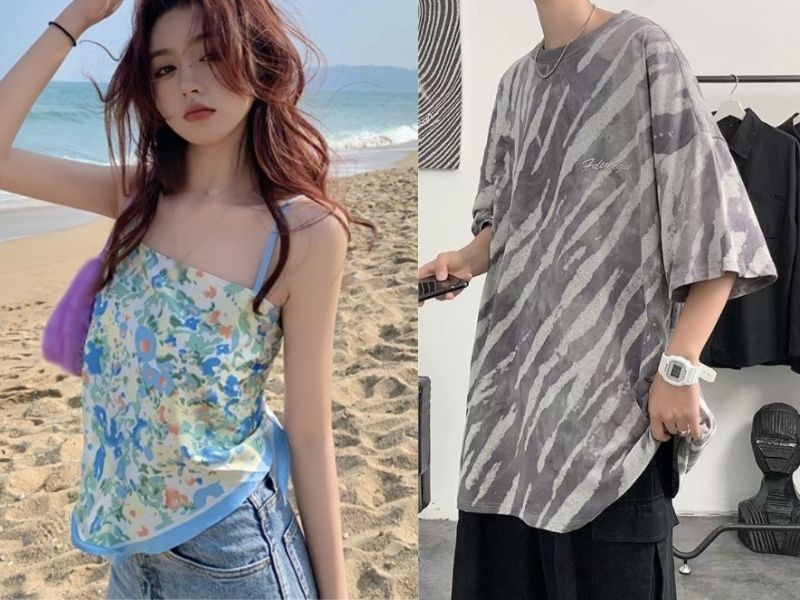 And there you have it! From your simple denim shorts and button-up to sleek linen ensembles, you now know how to style your summer fashion beyond your swimsuit and sunnies. Regardless of your personal aesthetic—sporty, feminine, casual, or dressy—we hope this list inspires you to get more creative with your beach outfits. But, before you have your fun in the sun, don't forget to find the right sunscreen for your skin type.