Just like shoes, accessories can either make or break your outfit. A simple leather belt, bedazzling jewellery, or even a sleek watch will make a world of difference to your overall appearance. But there's one category on the rise that's demanding our full attention: hair accessories, specifically those inspired by the '90s and early 2000s.  Butterfly clips, hair scrunchies, and claw clips come to mind yet?
And with "Zoom dressing" forcing us to become more creative with our sense of fashion from the waist up, there's never been a better time to experiment with different headpieces. Ahead, we round up the trendiest '90s hair accessories to add to your collection ASAP. 
Butterfly Clips

& Other '90s Hair Accessories That Are Trendy Again 
Butterfly Hair Clips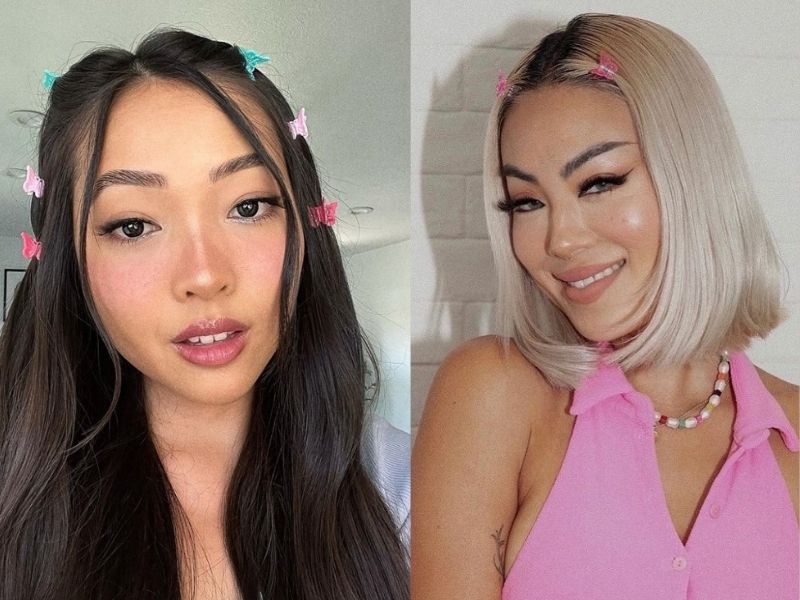 Take a trip down memory lane as we revisit the hair clips that reigned supreme during our childhood days. Butterfly clips are perhaps one of the biggest hair trends this year. Adorned on the heads of soft girls and e-girls alike, this Y2K hair accessory has become a fashion staple for many Gen Z youths. You can decorate your locks with several tiny butterfly clips for a fun and bold look as many TikTokers do. Or keep it simple with just two clips at the sides of your temple for a minimalist style. 
Mini Jaw Clips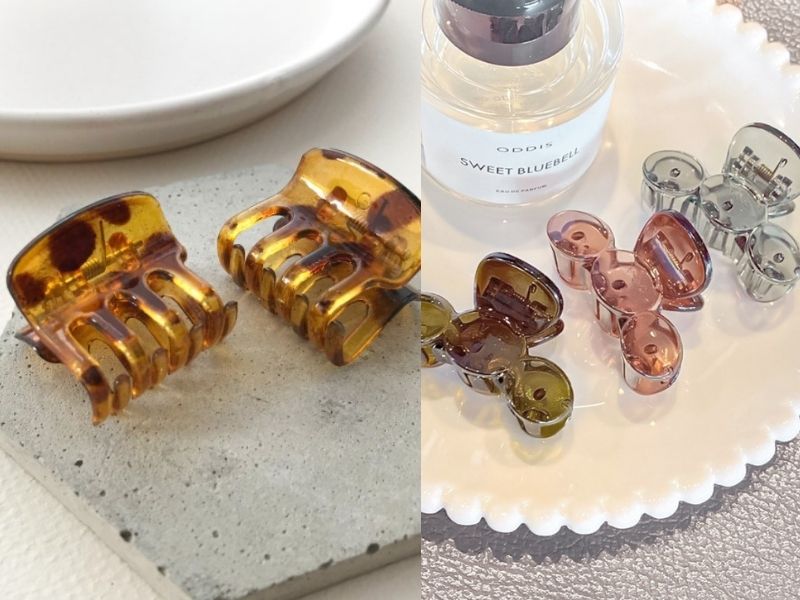 If butterflies aren't your thing, don't fret because you can still try the hair clip trend with mini jaw clips instead. This will give the same effect as butterfly clips but in a neutral-chic kind of way. Opt for ones sporting a clear colour or a tortoiseshell pattern. These designs are more versatile (and not as feminine), which will allow you to mix and match as you please. 
Matte And Metallic

Claw Clips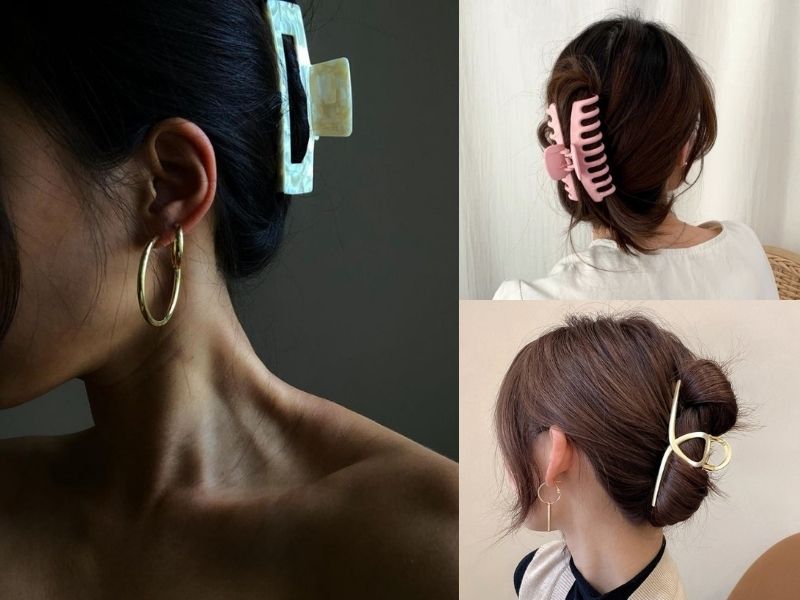 Speaking of retro hair accessories, here's another popular '90s staple. Claw clips are making a comeback better than ever before; in fact, they've been completely taking over Instagram and TikTok. And we can totally see why! From half-up hairdos to loose, messy buns, claw clips give an effortless touch to any casual outfit. To stay on-trend, choose pastel matte iterations—they're a fun way to incorporate a vibrant pop of colour into your look. Meanwhile, dainty metallic versions in gold or silver finishes offer a sleeker and more refined style. 
Hair Scrunchies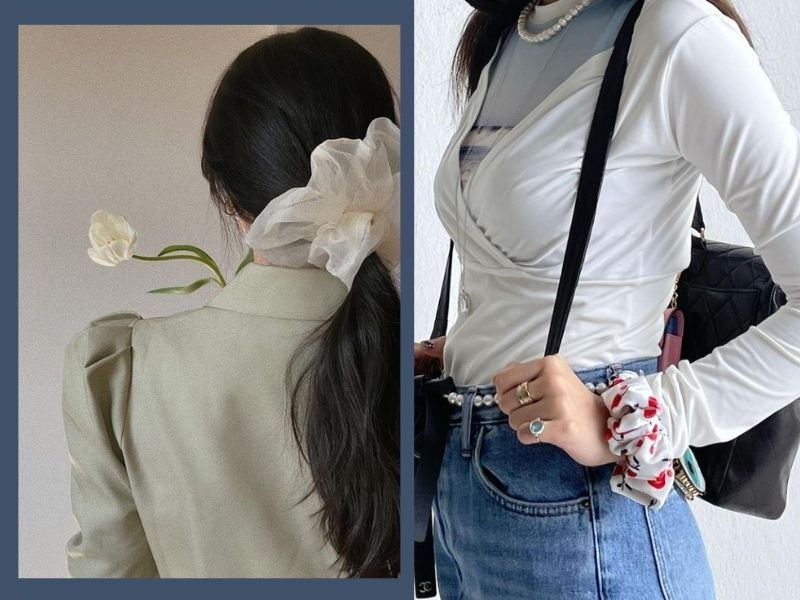 Besides claw clips, another nostalgic hair accessory that's been trending on social media is hair scrunchies. Velvet, sheer organza, printed, satin—we think it's clear to see that hair scrunchies are here to stay! Besides, they don't just look fashionable but are also a lot gentler on your precious mane as they won't tangle as much. Oh, and they make for some pretty cute makeshift bracelets too.
Beaded, Embellished, And Dramatic Hair Ties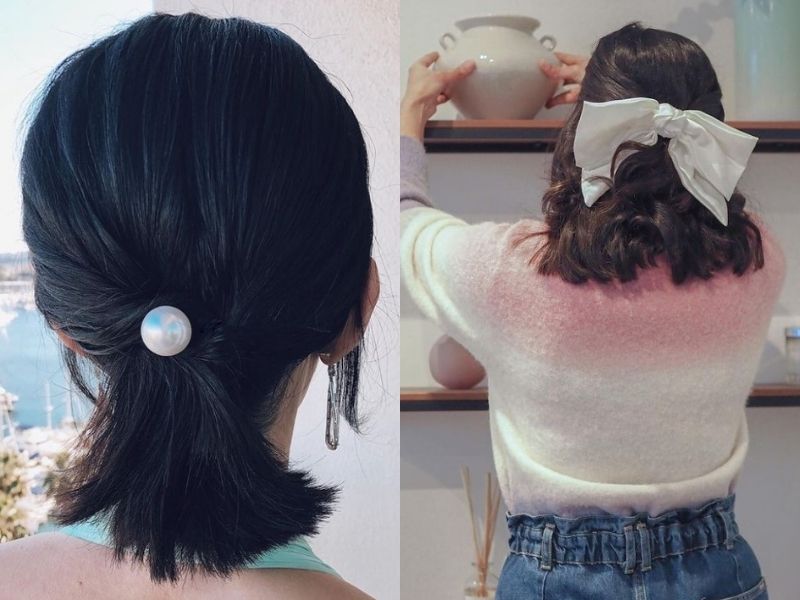 Not really into the bulkiness of hair scrunchies? That's no issue because there are plenty of hair ties that you can choose for a subtle alternative. Beaded hair ties with a single ornament (or two) are always a good idea for an elegant touch to your look. If not, you can enhance your femininity with a big hair bow while making a statement with your girly style. 
Large Hair Barrettes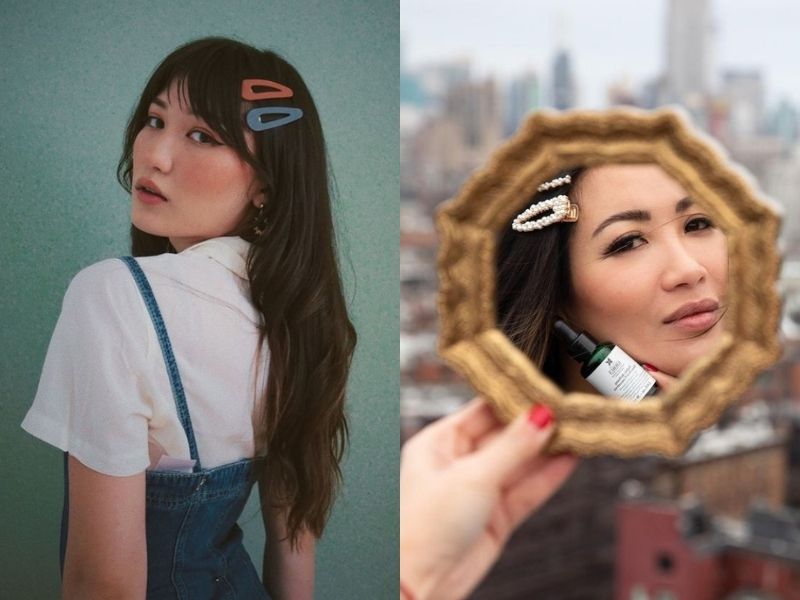 Sometimes, more is more, and that's definitely the case with hair barrettes—they only seem to be getting larger with each passing year. Whether you like them adorned in rhinestones, metallic hues, pearls, or hair barrettes in solid colours, the choice is yours but make sure to go supersized!
Bobby Pins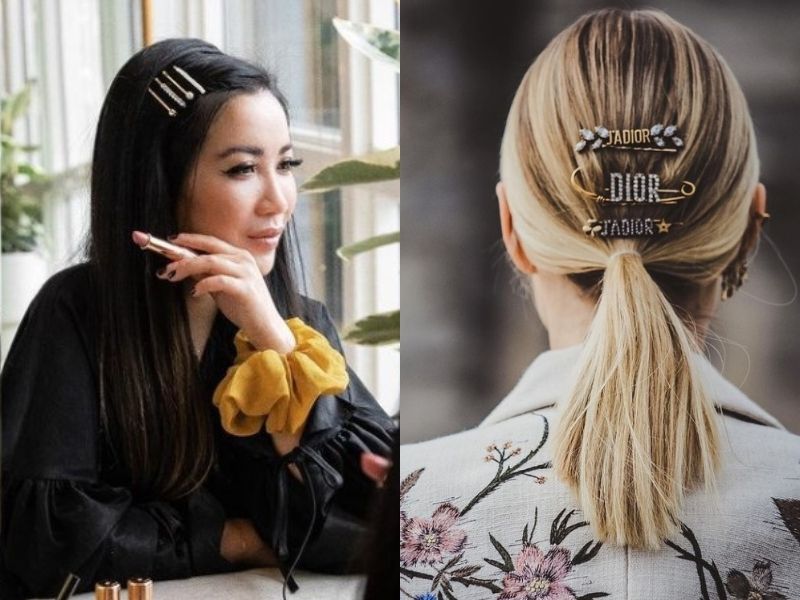 Forget about the boring black bobby pins you used to wear to school or ballet class when you were younger. Today's bobby pins come in a variety of styles that are completely Pinterest-worthy to fit 2021's standards. Logos are having a big moment, with many luxury designers jumping on board to give their take on the hair trend. Don't want to break the bank over a simple hair accessory? Then you can have fun with letter or word hairpins to emulate the logo bobby pin style. Alternatively, you could also look towards other bobby pin designs that feature elegant embellishments for a softer appeal. 
Alligator Clips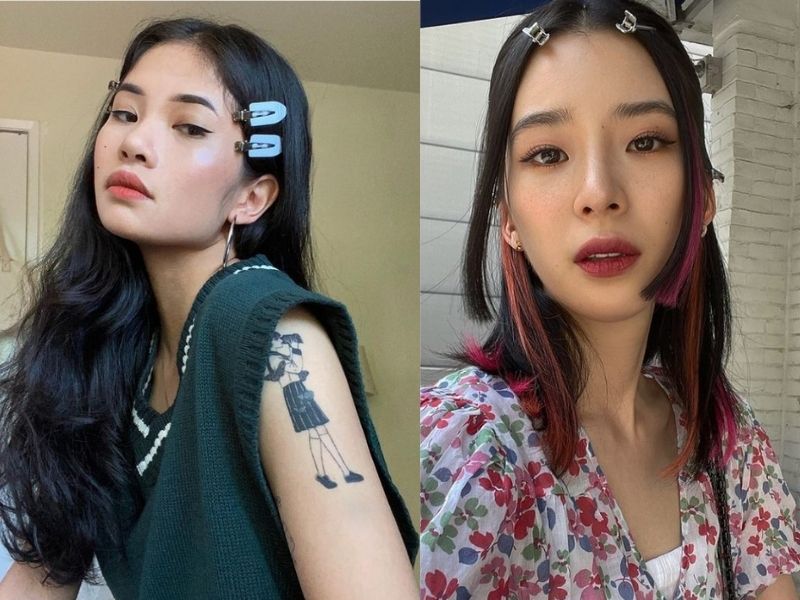 We usually associate alligator clips with hair salons when the hairstylist wants to push our locks away from our face. They're still mostly used for that purpose, but there are also other variations with modern designs that look ultra-chic and stylish.
Printed Silk And Satin Scarves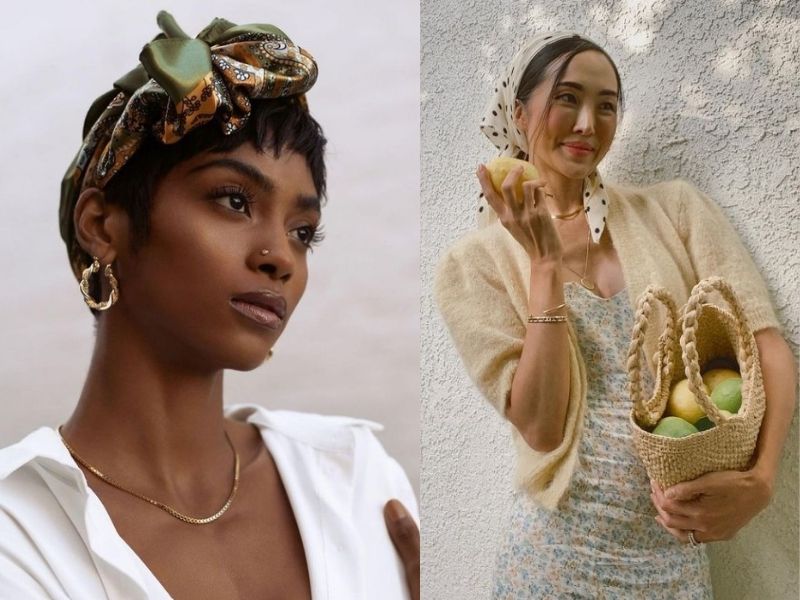 You can always rely on printed scarves to elevate any outfit. Retro prints in silk or satin material are the popular choice for many fashion enthusiasts. That said, feel free to experiment with other types of fabrics and patterns. Plus, what's great about this hair accessory is how versatile it is. It can be wrapped and tied around your ponytail or be worn as a headband or a bandana. 
Statement Bucket Hats (Furry/Crochet)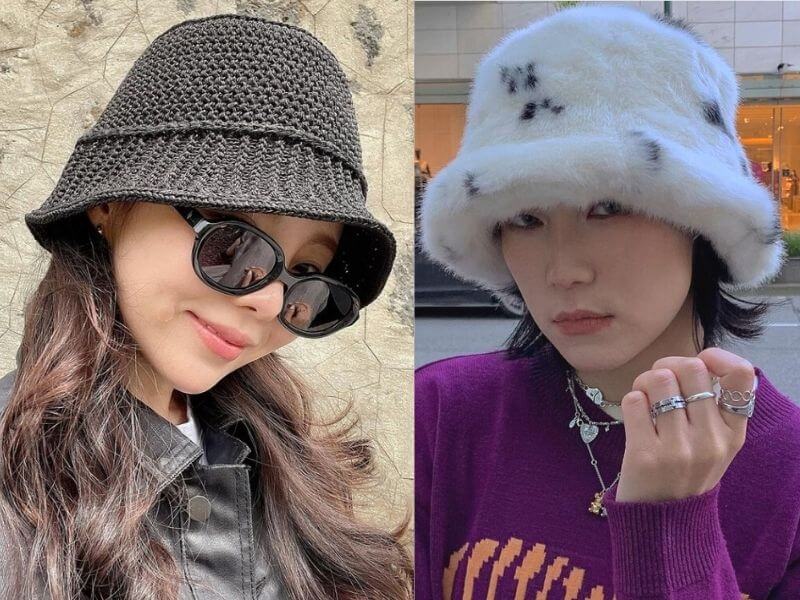 Got a bad hair day but don't feel like styling it? Then plop on the trendiest hat of the season: bucket hats. Canvas fabrics may have been the go-to option before, but these days, bucket hat designs are only getting bolder by the minute. If you're interested in mixing things up, opt for a furry bucket hat for an added flair of drama. Otherwise, combat our year-round summer heat with crochet bucket hats instead.  
Thick Headbands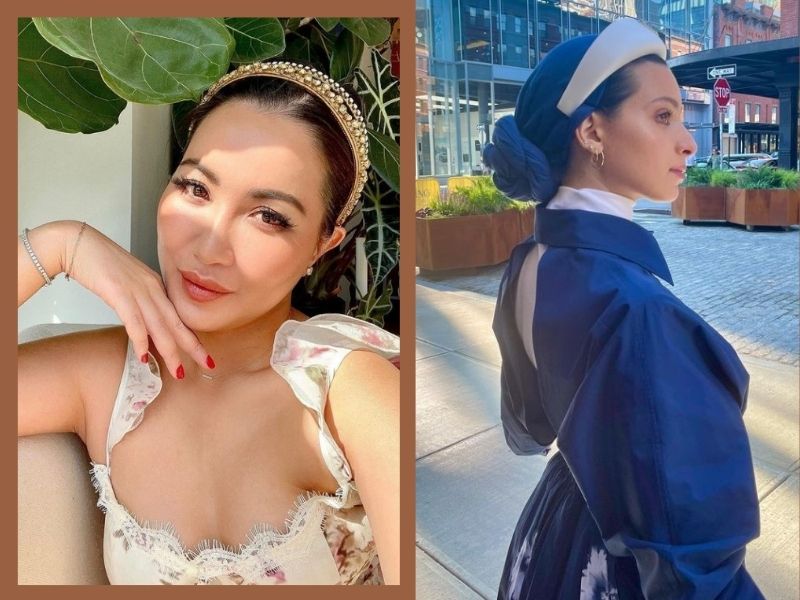 Hairbands have become the ultimate quarantine accessory that we're all using to amp up our WFH attire. They're a quick way to look polished and are super easy to pair with all sorts of outfits. Our current faves? Padded headbands with a satin or velvet finish, as they add an air of sophistication and professionalism while still appearing fashionable. Meanwhile, braided and jewelled hairbands are eye-catching options if you want something extra glamorous. 
Feel Nostalgic With

Butterfly Clips

& Other Hair Accessories From The '90s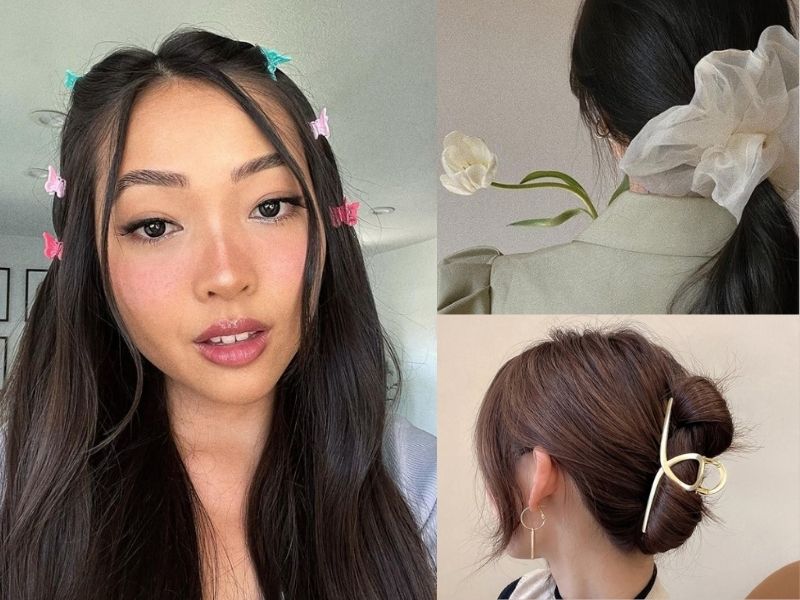 From TikTok-approved butterfly clips and hair scrunchies to WFH hairbands and practical claw clips, we hope you find a headpiece that reflects your style the best. Want to get a haircut before you style up your crowning glory with these '90s hair accessories? We dare you to try one of these trendy wolf cut or shag haircuts, or maybe even take a chance with the mullet hairstyle to go out of your fashion comfort zone.