With 76.6 million views for the hashtag #egirlaesthetic and 21.9 million views for #egirloutfit, e-girl fashion is undoubtedly one of the most popular style subcultures on TikTok. And in this article, we'll be showing you what you need (from clothing and shoes to hair and makeup) to recreate a flawless e-girl outfit. But before we get started, here's a brief introduction to the definition and origins of an e-girl. 
What Is An E-Girl?
The e-girl was initially viewed as more of a misogynistic term than a style aesthetic when it first originated in 2009. It was used to describe attractive girls with a strong online presence (especially in the gaming scene) as, to put it mildly, "flirts" looking for male attention. 
Today, the meaning is less definitive and a bit more obscure; it's no longer an insult to be called an e-girl. At one point, it even became a meme on TikTok called "The E-girl Factory"  through transformation videos—almost like a parody makeover of sorts. Since then, it's moved past its meme-ish title and became the ultimate Gen Z fashion aesthetic it is today. Okay enough history talk, let's get on with the style guide!
All The Essentials You Need To Put Together An

E-Girl Outfit
Colour Palette: Black And Dark Hues With An Optional Pop Of Colour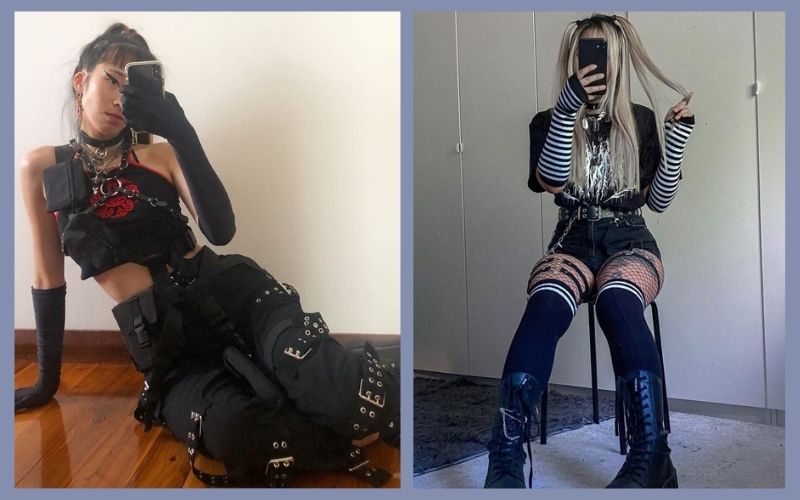 First, let's pick out your base colours for your e-girl outfit. Just like e-boys, e-girls generally tend to stick with an all-black ensemble. That said, they have no issues with incorporating hints of brighter/neon/pastel hues to break up the monotony.
Apart from the standard dark palette, there doesn't seem to be any particular set of shades that e-girls gravitate towards. You can practically choose from the entire colour wheel for your preferred combo if you so wish to. As long as you remember to keep some of the outfit components the same, you're on your way to looking like an e-girl. 
Tops: Layered Mesh Crop Tops, Graphic Tees, Oversized Sweaters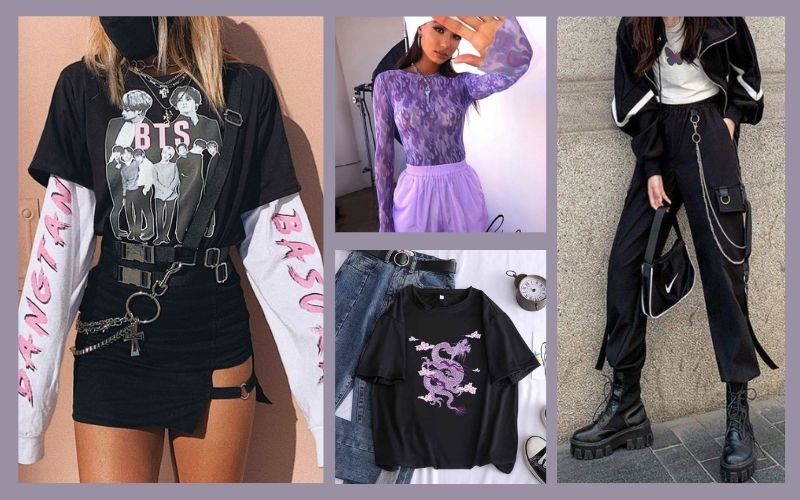 Printed mesh crop tops, oversized graphic T-shirts and loose sweaters are among the popular choices for e-girls. They're either worn individually or paired together for a unique blend of layers. A common style combo is layering a striped sweater underneath a black baggy T-shirt (plain or graphic). However, you can easily switch it up by replacing the striped sweater with a printed mesh top instead. 
To make this e-girl outfit cohesive, match the motif or colour of the top with the graphic on your T-shirt. For example, if you're wearing a purple mesh top with flames, then opt for a black T-shirt with a purple dragon print and matching purple or black cargo pants. You can also tap into your inner fangirl and sport a concert or anime logo on your graphic T-shirts and sweaters.
Related: Fashion Influencers Are Obsessed With Sweatshirts, Here Are 10 Ways To Style Them  
Bottoms: Plaid Skirts And Trousers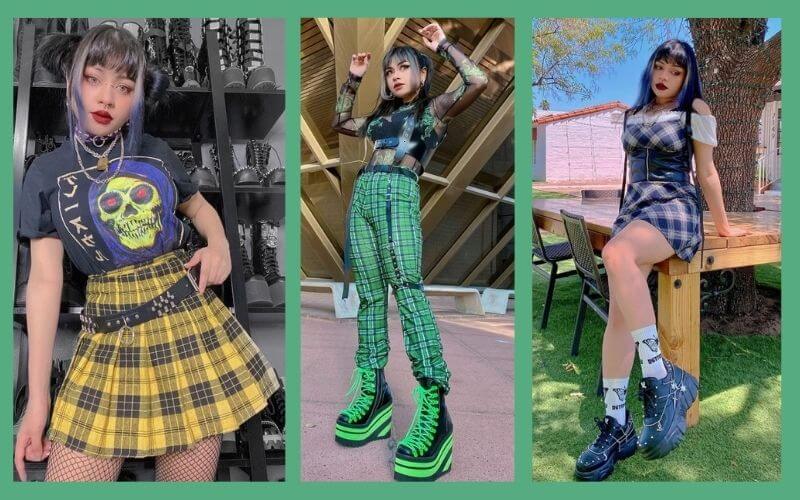 There are instances where the soft girl and e-girl aesthetics overlap. Much like soft girls, you'll usually find e-girls sporting a plaid dress or a plaid tennis skirt to complement their tops. This is where you can add a touch of femininity to the grunge/punk-inspired aesthetic but without losing its edge.
Otherwise, you'll see the preppy design on pleated pants or loose trousers instead. If you want an even bolder style, opt for neon-coloured cargo pants to make a fashion statement. Alternatively, you could rock a pair of high-waisted ripped jeans to take inspiration from the skate scene.
Shoes: Combat Boots, Chunky Sneakers, Converse Chuck Taylor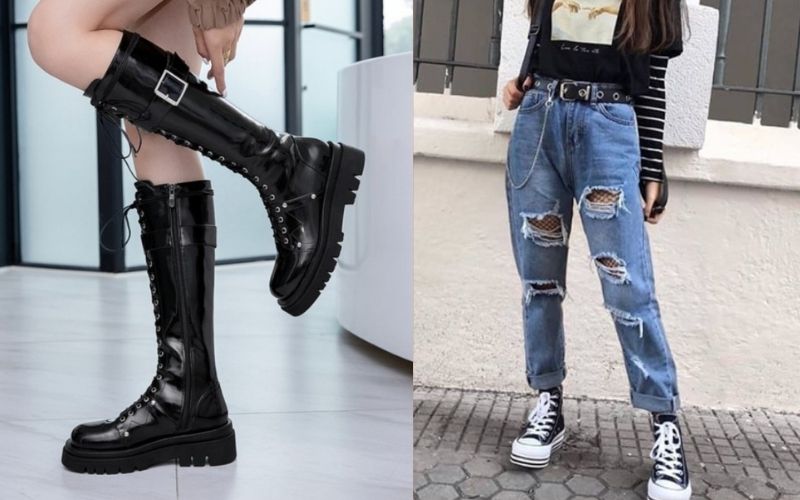 For shoes, combat boots (knee or ankle high), chunky platform sneakers, and Converse Chuck Taylor reign supreme in many e-girl outfits. Not only are they perfect for adding that extra bit of height but they instantly make any get-up look rugged—a key trait in this TikTok aesthetic. E-girls seem to favour black combat boots styled with fishnet stockings as the finishing touch to their plaid tennis skirt ensemble. Meanwhile, chunky platform sneakers are usually reserved for the more laid-back (well, laid-back as far as e-girls go) looks with jeans. 
Accessories: Corset Belts, Body Harnesses, Chokers, Belt Chains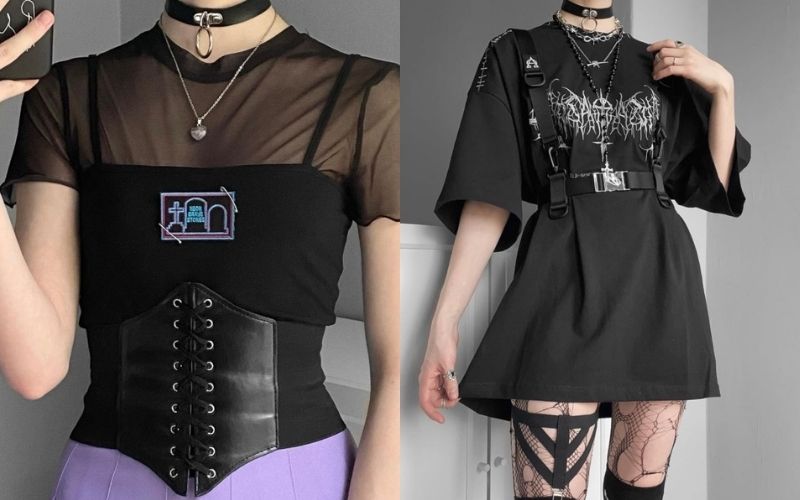 Here's where you can let your creativity shine through because e-girls did not come to play in the accessories department. Whether it's corset belts, harnesses (including leg harnesses), belt chains, stackable rings, choker necklaces, beanies, or butterfly clips; there's no shortage of choices. Though the general consensus appears to be that the bulkier the accessories, the better. And if you're daring, why not get experimental and wear them all at once? If not, you can always tone it down with just one main accessory. 
Makeup: Lots Of Blusher, Winged Eyeliner, Heart-Shaped Stamp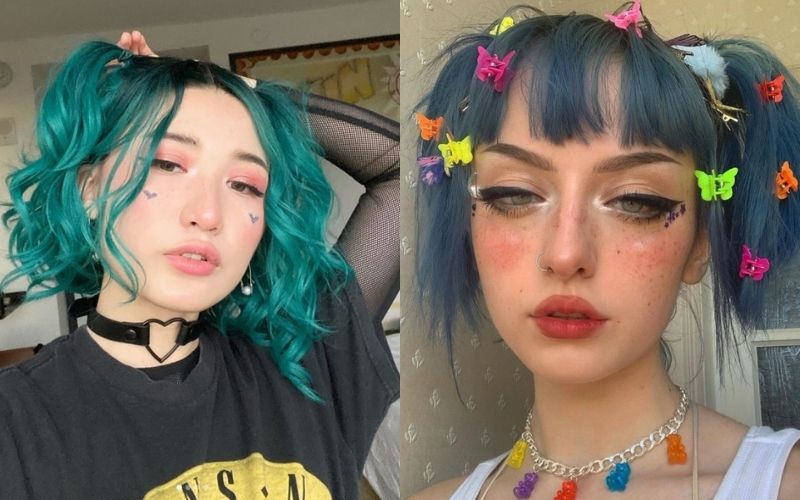 Makeup plays a major role and is one of the most distinguishable aspects of any e-girl outfit. The style is a fusion of cute and sultry. Think blush-heavy makeup reminiscent of the famous Igari (aka hangover) look mixed with thick winged eyeliner, sun-kissed freckles, and peach-pink lips. The eyeshadow, blusher, and lipstick are typically kept in monochromatic tones for an innocent, delicate appearance. 
Related: 7 Korean Makeup Tricks That Will *Instantly* Make You Look Younger
You can even use your blusher as your eyeshadow base and build the intensity however you like with additional matte or shimmer shades. Otherwise, just save the drama for the sharp, jet-black winged liner and let it do all the talking. Lightly dust some highlighter along the cheekbones, nose, and inner corners of your eyes for an ethereal yet subdued glow. Then, finish off with the iconic heart-shaped stamp pressed underneath your eyes. 
Hair: Vibrant Colours, Two-Toned Hair, Pigtails, Half-Up Hairdos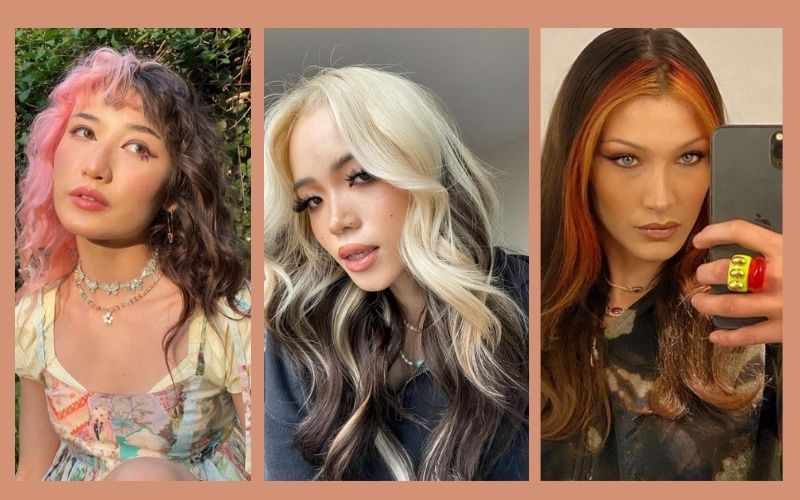 Besides hair accessories, playing around with various hair colours will take your e-girl outfit to the next level. Apart from the vibrant hues, don't be afraid to experiment with dyeing different sections of your hair too. Some e-girls prefer having a full head of coloured hair while others like to get bold with the half-and-half hair trend. But if you want to look like a quintessential e-girl, then going for the classic two-toned, face-framing coloured streaks is a must. Plus, your scalp will be thanking you for it too! For hairstyles, pigtails and half-up hairdos are the go-to choices. 
Twin With Your TikTok Besties In These Punk And Grungy

E-Girl Outfits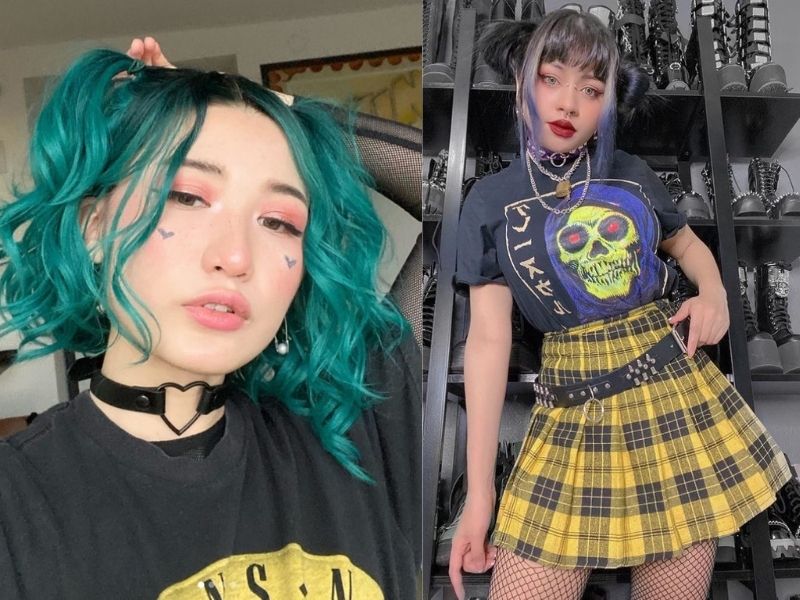 So now that you know what you need for your e-girl outfit, you can start twinning with your best friend for your next TikTok video. Or bring the BF into the loop with his own set of e-boy outfits too. Prefer a more smart casual aesthetic to represent your literary interests? Then don't forget to check out our other article on the preppy dark academia aesthetic. 
Find more TikTok style aesthetics and outfit guides here.