There's a reason why K-beauty is highly raved. In the skincare department, they're frontrunners in achieving clear, dewy skin. And as for makeup, they've got several tricks up their sleeves to look younger than they actually are. Think straighter brows, puppy-liner, peachy shadows, and fruit juice makeup. Want to switch up your makeup application to look more youthful like your K-sisters? Then here are seven techniques to learn from their innocent, wide-eyed Korean makeup looks. 
7 Tips To Learn From

Korean Makeup Looks

For A Younger Appearance 
Draw A Puppy-Liner Instead Of A Cat-Eye
Cat-eyes are the go-to liner style for a sultry look, but Korean makeup is where the puppy-dog eyes reign. To achieve this eye makeup, ensure the wing of your liner is drawn slightly downwards. Also, try to keep your eyes open while doing so. 
With this style, it's all about appearing soft and doe-eyed. So make sure the tail doesn't droop too much and keep it parallel to the inner corner of your eye. Top it off with your favourite mascara and neutral eyeshadow to make your eyes appear even wider. 
Hangover Blush & Faux Freckles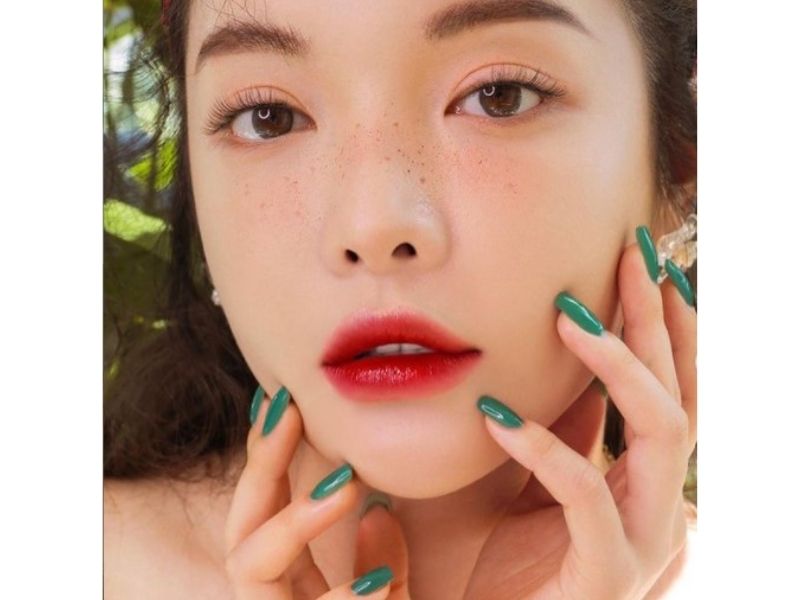 Ah yes, because nothing screams fresh-faced beauty better than sporting an Asian 'glow'. Well, with this Korean makeup look, you can leave the massive hangover behind and fake a 'natural' drunk flush instead. 
To achieve this look, sweep a rose-tinted blusher over your cheeks (just slightly under the eyes) and across the nose bridge in a 'W' shape. Then, use a waterproof brown eyeliner to dot in some faux freckles for a cuter appearance. Lastly, set with a setting spray to ensure that your freckles stay in place and to prevent smudging.
Opt for A Straight Eyebrow Shape
In most Korean makeup looks, you'd notice that they prefer straighter brows over highly-arched ones. This is because the former style lends a demure innocence that appears more youthful. Now, bear in mind that when we talk about straight eyebrows, we're not referring to those strong, blocky ones. 
The Korean straight brow is softer and favours a natural finish with light, hair-like strokes. Eyebrow cushion compacts are a popular choice for achieving this style. Their liquid texture makes it easy to create the look of real brow hair without appearing too drawn-in. 
Cry Teardrops Of Glitter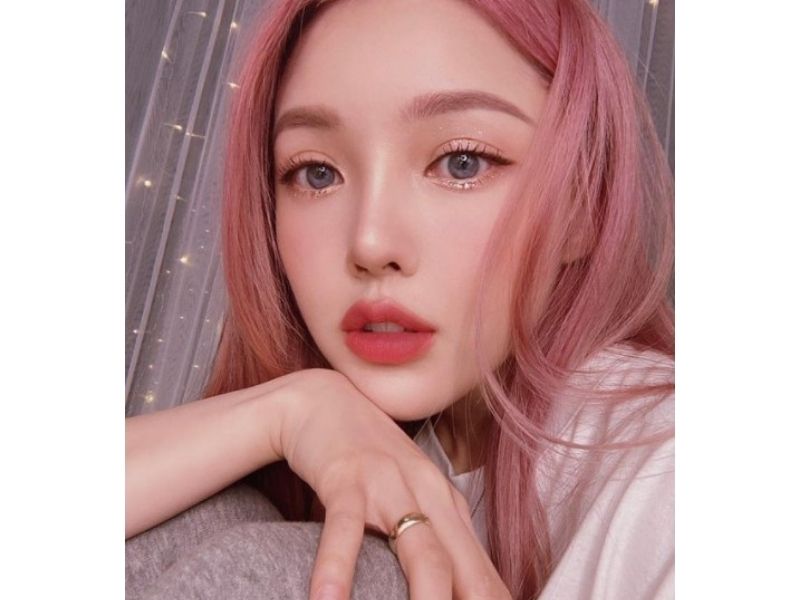 If you're thinking about the dramatic glitter styles from Euphoria then think again. In this Korean makeup look, glitter is applied subtly around the eye area for a touch of shimmer. The overall effect is to seem like you've been crying tears of glitter (instead of wasting actual tears). 
The charm of this twinkling style is its barely-there appearance. Get this look by lightly lining the glitter particles underneath your eyes or in the inner corners for a soft sheen. This will quite literally make your eyes sparkle especially when they catch the light. 
Peach-Keen Blossom Eyes
Peach-coloured tones are the go-to shades for Korean women and we can see why. They give off a feminine allure that instantly softens your features when applied correctly. 
Moreover, this hue makes it look like you've just had a good cry; a seemingly appealing trait to have in Korea. Apparently, the effect is supposed to cause men to feel more protective around you. Regardless of whether that's true or not, you can at least enjoy the sweet style along with your soft girl outfit. 
Fake Laughing Eye Bags
Don't get this confused for actual eye bags, because they are not the same. What this Korean makeup look is referring to is the little bit of fat that folds underneath your eyes when you smile. This is otherwise known as aegyo sal, which many women are willing to get plastic surgery for just to make theirs more prominent. 
Eye bags are typically darker and fall a lot lower beneath the eyelid, sometimes stopping at the sinus cavities. Meanwhile, the aegyo sal sits just below the lash line, giving a child-like puffiness. To achieve this look, apply a light highlighting shadow underneath your eyes. Then, place a darker shade below that highlighted region to add depth before blending it out. 
Look Juicy With Fruit Juice Makeup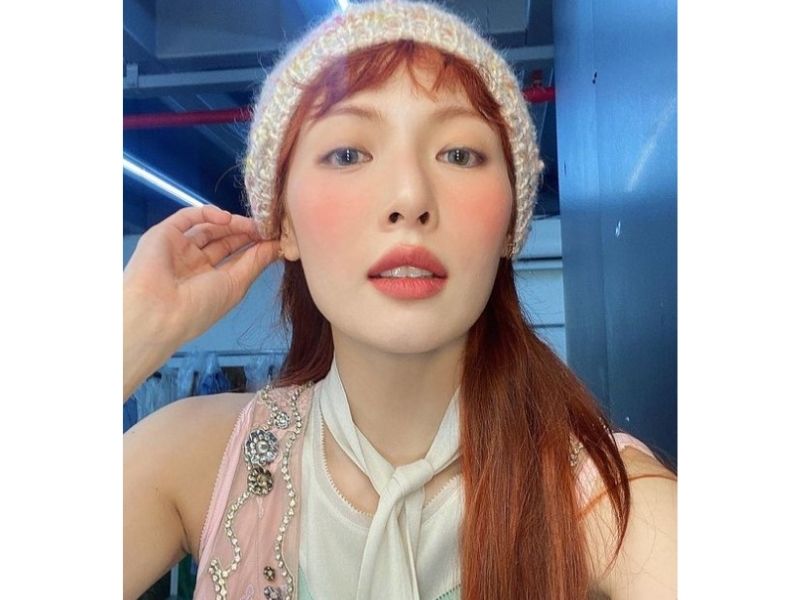 Like its namesake, this Korean aesthetic involves looking like a ripe and plump juicy fruit through bright but wearable shades. Use a vibrant fruit-coloured blush—such as peaches, strawberries, or watermelons—to coat your cheeks. Make sure to keep the colour purely within the centre of your face. 
So instead of using the draping technique (contouring using blusher), focus the blush directly on top of the apples of your cheeks. Then, blend toward the ends of your brows, forming a C-shaped curve. 
Complete the Korean makeup look with a matching tinted lip balm for a glossy finish, or keep it matte with a lip tint.
Stay Forever Young With These

Korean Makeup Looks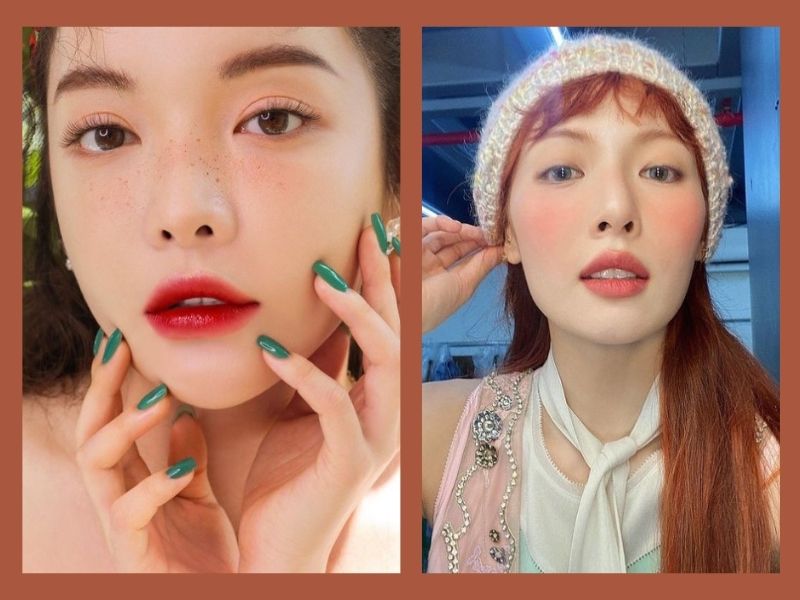 Now that you know what makeup techniques Koreans use to look fresh and youthful, which style are you going to try first? Whatever you choose, we hope you have fun experimenting! Trying to get the BF to dip his toes into the Korean Oppa style? Then don't forget to check out our other article on Korean outfits for men inspired by your favourite K-pop stars. 
Find more Korean-inspired trends here.