Porridge gets a bad rep for being a bland, boring, and unappealing food. For many, it's often associated with the sick, something you have when you're under the weather. That stereotype is misguided. When done correctly, porridge (or congee) is a tasty and nutritious meal. Plus, it's so easy to make; suitable for busy families and couples. So, if you're looking for ways to make porridge great again, read on for inspiration, which includes chicken porridge recipes, seafood porridge ideas, and more.
Tasty And Easy

Chicken Porridge Recipes

To Make
Classic Porridge 
You can't go wrong with a veritable classic like this chicken porridge recipe. Simple and delicious, it's perfect for days when you don't know what to cook or when your pantry is running low. Jasmine rice is preferred here, but any type of rice works as well. One important thing to remember when boiling porridge—patience! If you rush the process, you'll likely get clumps of uncooked rice, instead of the silky smooth result you want. 
Recipe Ingredients:
Porridge:
1 cup of jasmine rice

340g of

chicken

8 cups of

water

14g of ginger

2 green onion stalks

Cilantro

to taste
Marinade:
Chicken Porridge With Century Egg And Salted Egg
Century and salted eggs are common ingredients in porridge cooking. This dynamic duo adds a dash of saltiness and flavour to the dish, making it all the more palatable. When prepping century and salted eggs, wash them thoroughly under clean water to remove any residue or dirt. If you're afraid of over-seasoning your porridge, chop the eggs into small cubes and add them gradually as you cook and taste. 
Recipe Ingredients:
Porridge:
Dipping Sauce:
Korean Porridge
Like many Asian communities, porridge or dakjuk is popular in Korea for breakfast or as a light meal. The chicken porridge recipe has gone through multiple iterations over the years, but the classic holds a special place in the hearts of many. As with most traditional recipes, you will make fresh chicken stock from scratch. It's an added step, but the flavours and aromas are well worth it.
Recipe Ingredients:
Porridge:
Marinade / Stock:
Thai Porridge
Missing Thailand? This chicken porridge recipe lets you replicate the ubiquitous Thai dish with a handful of food staples. Traditionally, pork meatballs are used but chicken has become a suitable replacement in recent years. Don't skip the final touch; pouring poached eggs over the boiling porridge for a velvety finish. 
Recipe Ingredients:
Porridge:
Meatballs:
220g of ground chicken

2 garlic cloves

1 tsp of fish sauce

½ tsp of white pepper
Garnish:
4 eggs

2 green onions

Handful of cilantro

Handful of

fried garlic
Meatballs And

Seafood Porridge
Love seafood but also need your proteins? Give this chicken and seafood porridge recipe a go, which conveniently cooks everything in a rice cooker. Prawns and crabs are the seafood of choice here, but you can choose to replace them with clams or oysters. Useful tip: Marinate the seafood with salt and pepper to remove any unpleasant odours!
Recipe Ingredients:
Porridge:
9 cups of water

30g of dried scallops 

¼ cup of

glutinous rice

¾ cup of jasmine rice

250g of prawns

100ml of

cooking oil

400-450g of

crabs

1 ½ tsp of salt
Meatballs:
Important Tips To Perfect

Chicken Porridge Recipes
Prep the rice:

It's imperative to

rinse the rice, which helps to remove impurities and starch on the grains. Furthermore, soaking allows the rice to absorb water, giving it moisture even before it starts cooking. 

Identify your core ingredients:

Whether it's seafood, chicken, pork, or even beef, the main ingredient is the anchor of any porridge. Although it's mostly a matter of preference, knowing what you want from the start makes cooking a seamless process. 
Follow These

Chicken Porridge Recipes

To Make The Ultimate Comfort Food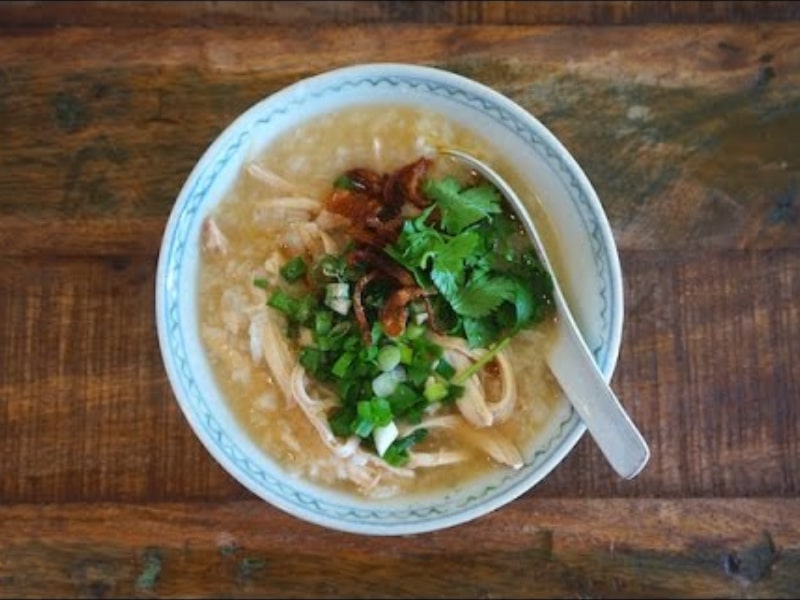 For generations, porridge has been a quintessential comfort food in many Asian cultures. The ingredients are simple and the cooking process isn't an overcomplicated affair. While it's true that porridge is the preferred "sick" people food in most households, that doesn't mean it should be boring! Whether it's seafood porridge with meatballs or chicken porridge with century and salted eggs, the recipes here are far from being uninspired, as you can expect appetising flavours in every spoonful. 
Looking for more Asian recipes to inspire you in the kitchen? Check out these easy recipes on tantalising sambals or convenient rice cooker dishes.