As Malaysians and Asians, rice is a constant commodity. Whether it's morning breakfast before the rush hour or supper at ungodly hours, rice fills us up in ways that no other ingredients can. Traditionally, rice is cooked on a stovetop, but the invention of rice cookers has made the process easier. However, the kitchen appliance can do more than just that, as proven in the following rice cooker recipes. 
From decadent desserts to practical one-pot meals, there's more to the understated rice cooker than meets the eye.
Rice Cooker Recipes

: Mains
"Claypot" Chicken Rice
Cooking "claypot" chicken rice in a rice cooker might not create the authentic charred aroma that we're familiar with, but it's a practical option during lockdown where dining out isn't encouraged. That said, don't skimp on crucial ingredients that make the dish such as lap cheong (Chinese sausage) and salted fish. 
Easy to make and substantial enough to feed the entire family, this is a one-pot recipe you can't go wrong with. 
Recipe Ingredients:
Chicken Marinade:
Sauce:
Chicken Biryani
Similar to the rice cooker claypot chicken rice recipe above, this method steams chicken and basmati rice together with herbs and spices in a heated airtight space. The result? A succulent chicken biryani meal fit for the kings. Each grain of rice is imbued with a distinct flavour that makes every bite so blissful.
Tip: Marinate the chicken for about 30 minutes beforehand. This gives the protein enough time to soak in seasoning. 
Recipe Ingredients:
Chicken Marinate:
Other Ingredients:
KFC Chicken Rice
This recipe, which took the Internet by storm a few years ago, proves that rice makes anything taste better, including fried chicken. All you have to do is put rice, soy sauce, and chicken stock into the rice cooker and top it off with two pieces of fried chicken. Once cooked, remove the bones and shred up the chicken before mixing with the rice.
To recreate a KFC-like experience, prepare a side of mashed potatoes and coleslaw. Certified finger-lickin' good!
Recipe Ingredients:
Tomato Rice
Give plain rice a lift in flavour by infusing it with tomatoes for a tangy aftertaste! You can have it on its own for a quick lunch, or serve it with rendang for a scrumptious meal. At its core, tomato rice is simple. In fact, you can make it with just tomatoes and rice. But the rice cooker recipe we're sharing here tops the dish with cashew nuts and raisins for a sweet yet savoury crunch.
Recipe Ingredients:
Macaroni And Cheese
Mac and cheese is comfort food at its finest. Just imagine a bowl of warm pasta drenched with gooey cheese… pure gastronomic bliss! Luckily, it's incredibly easy and fast to make using a rice cooker. The recipe below is a "base model", meaning it's nothing more than basic mac and cheese. If you want to play around with add-ins, try including diced chicken, garlic powder, bacon strips, or chopped broccoli florets. This rice cooker recipe doesn't get any easier and it literally takes minutes to prep!
Recipe Ingredients:
Rice Cooker Recipes

: Desserts
Japanese Cheesecake
Stressful times call for cakes to soothe our weary souls. And if you don't have access to an oven, turn to this rice cooker recipe for help. With a soufflé-like density, Japanese cheesecake is lighter in texture compared to the American version. The cake batter is simply poured into the rice cooker and begins to cook with the push of a button. No more waiting for the cake to set and the results are guaranteed to be perfect!
Recipe Ingredients:
Japanese Pancake
Quite possibly the best thing about making pancakes with a rice cooker is that it eliminates any possibility of undercooking or overcooking. Like the aforementioned cheesecake recipe, the pancake batter is left to cook and turned out onto a platter, revealing an Insta-ready golden brown surface. Serve with maple syrup, bananas, and strawberries for a hearty breakfast.
Recipe Ingredients:
Banana Cake
The unofficial snack of the coronavirus pandemic, the banana cake is now even easier to make with the following rice cooker recipe. Using naturally sweetened bananas, banana cake is a healthier alternative to other sinful delights. For a richer taste, the recipe recommends using ripe bananas. Pair the fluffy cake with a cup of coffee and tea for the perfect midday pick-me-up. 
Recipe Ingredients:
Bookmark These

Rice Cooker Recipes

For Days When You Need A Quick Meal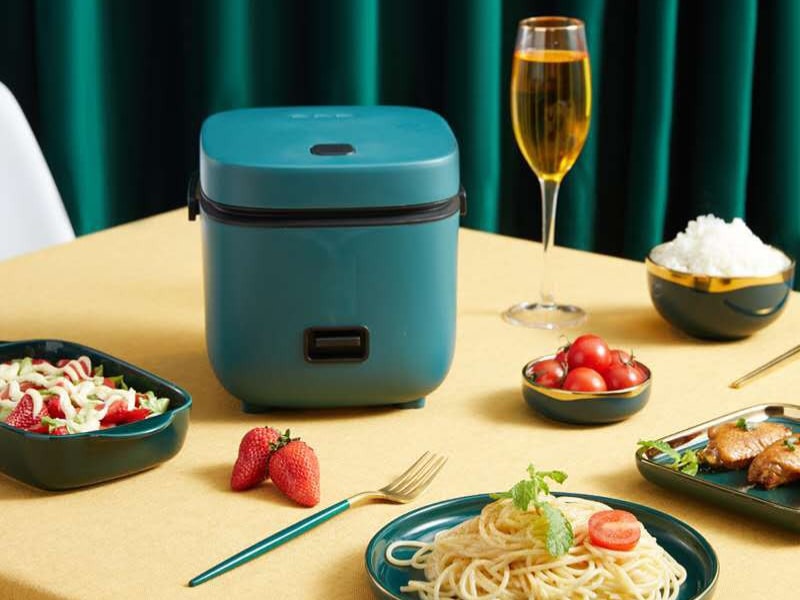 If there's one essential household appliance that everyone has in the kitchen, it's got to be a rice cooker. Although we often use it to make steaming warm rice, the recipes above show endless possibilities. From rice cooker "claypot" chicken rice to fluffy pancakes, you can practically prepare a three-course meal with the ubiquitous machine. 
Looking for more recipes that require minimal effort but yield maximum results? Here are more straightforward and simple recipes on pasta, French fries, and cakes.