You're hungry, but what can you cook when time isn't on your side? The answer? Pasta. In the manner of a culinary superhero saving you from your mealtime predicaments, the ubiquitous Italian staple boasts various shapes and sizes, flavour profiles, and endless meal possibilities. By virtue of its versatility and a myriad of easy pasta recipes available, it's considered an essential ingredient in kitchens around the world. 
With only a handful of ingredients and the following easy pasta recipes, you can easily whip out delectable pasta dishes without breaking much of a sweat. More below.
Try These

Easy Pasta Recipes

When You're Short Of Time
Creamy Tomato Pesto Chicken Pasta
Pesto is usually based on basil but a tomato-based alternative tastes just as delicious and appetising. Because of that, this easy pasta recipe allows the tanginess from sun-dried tomatoes to cut through the richness of the cream sauce, giving you a balanced flavour that's perfect for lunch or dinner. To achieve a good sear, boneless chicken breast is used for this recipe, which will lay flat on a bed of pasta to serve. 
Recipe Ingredients:
3 boneless chicken breasts

Salt and pepper 

3 cloves of garlic, chopped

1 ½ cups of heavy cream 

2 tbsp of sun-dried tomato pesto

1 tbsp of

lemon juice

¼ cup of parsley, chopped
Spanish Pasta With Roasted Red Pepper Sauce
This easy pasta recipe is best for a simple weeknight dinner in front of the TV binging your favourite Netflix series. The conventional tomato base is enriched with roasted red bell peppers for a hint of spiciness while herbs like sweet paprika and parsley work their magic to bring out the character of the dish.
Recipe Ingredients:
340g jar of roasted red bell peppers

½ cup of canned

tomato sauce

2 tbsp of

extra virgin olive oil

3 cloves of garlic, minced 

½ small onion, diced

1 tsp of sweet smoked paprika 

2 cups of

penne pasta

 

A pinch of sea salt

A pinch of black pepper

A handful of fresh parsley 
Shrimp Alfredo Pasta
Simple in nature but rich in flavour, Alfredo pasta is comfort food at its finest. Just imagine the heartwarming sauce made from a trio of butter, cream, and parmesan cheese, spreading itself over decadent fettuccine pasta… absolute gastronomic bliss! This Italian classic may seem complex at the onset, but it's actually an easy pasta recipe. Take note that the recipe above is for six, so do adjust accordingly. 
Recipe Ingredients:
1 450g of raw shrimp peeled and deveined

340g of fettuccine pasta

 

1 tbsp of olive oil

1 clove of garlic, minced 

80ml of white wine (halal-friendly: substitute with freshly squeezed juice from half a lemon)

2 cups of

whipping cream

⅓ cup of shredded parmesan cheese

½ tsp of

sea salt

or to taste

¼ tsp of paprika or to taste 

1 tbsp of chopped

parsley
Macaroni and Cheese
Ah, there's no denying the charm of a mac n' cheese dish. The quintessential American diner go-to is such an easy pasta recipe, all you need is a handful of ingredients to create your own take. Suitable for lunch, dinner, or supper, a bowl of mac n' cheese is the food equivalent of a big, warm hug with the ability to melt the coldest of hearts. Note: The recipe above is for six, so do adjust accordingly. 
 Recipe Ingredients:
Spaghetti Aglio Olio
As the name suggests, this pasta dish is nothing without two main components. Aglio (garlic) and olio (oil). From Michelin-starred restaurants to hawker centres, the aglio e olio is one of the easiest and most accessible pasta recipes to make, bar none. The simplicity of ingredients means it can be made at any time of the day without a trip to the grocery store. To take it up a notch, include chilli for a kick of heat, like this recipe.
Recipe Ingredients:
300g of

spaghetti

 

4 garlic cloves

1 red

chilli

pepper

¼ bunch of fresh parsley

⅓ cup of extra virgin olive oil

Salt

Black pepper
Curb Your Hunger With

Easy Pasta Recipes

Anytime, Anywhere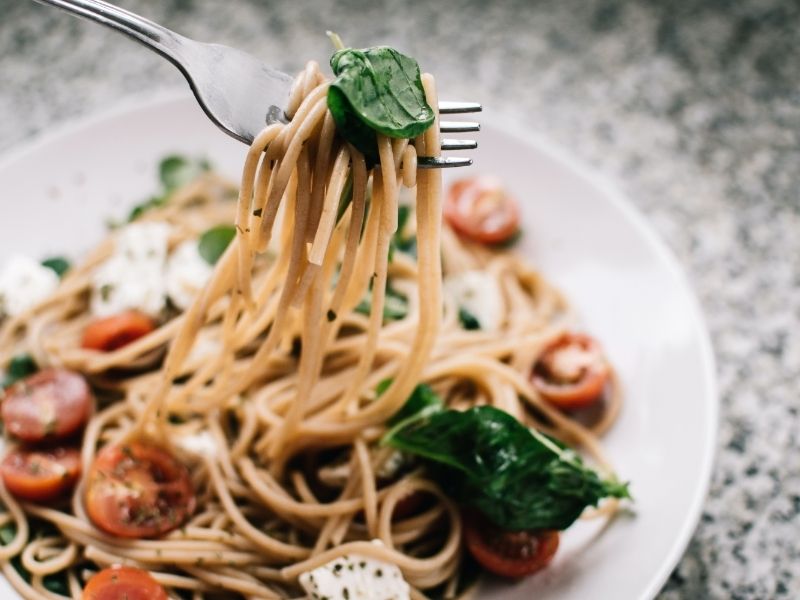 Life is complicated enough and food, in which we often find refuge, should definitely be fuss-free and comforting. The pasta embodies those qualities well. Quick to make yet still leaves enough room for culinary exploration, the aforementioned pasta recipes are easy when you're in a rush but still want a satisfying meal. Its versatility means if you're required to cook for more people, you can. All you need to do is adjust the ingredients to fit. 
Freaking out over an upcoming potluck? We've got you covered. Check out these recipes that are bound to impress.