Got invited to a party and need some potluck food ideas? Potlucks are a sure way to evenly distribute the cooking responsibility amongst all the guests, but choosing what dish you're going to bring is always a stressful affair. Don't sweat it though, because we've compiled a list of delicious recipes that everyone will love. 
Potluck Food Ideas For Appetizers To Kick-Start The Party
Hummus Dip Platter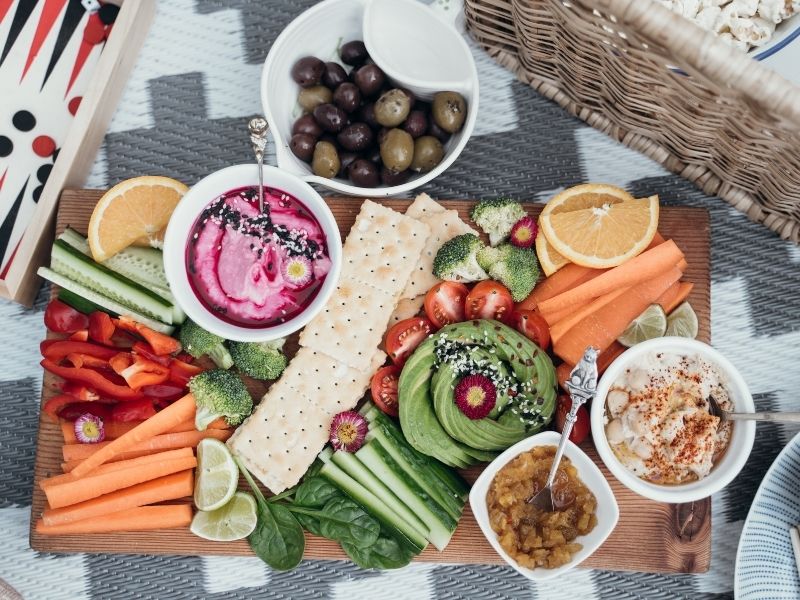 You can always rely on a simple hummus dip platter to start the night's festivities on a refreshing note. Its light and mild taste will soothe any peckish palette but won't make them too full for the main dishes. This is a great appetizer food idea to bring to a potluck, as they're easy to make in big batches for any large crowd. Simply chop up some fresh vegetables into thin slices (you can never go wrong with carrots, cucumbers, and cherry tomatoes). Arrange them on a large party platter plate alongside your hummus dip, chips, crackers, and basically whatever else you want to fill your platter with, and you're good to go! 
Party Pinwheels
These mini tortilla rolls will have your guests hooked and reaching for more. Don't let their appearance trick you because they're far less complicated than they look, and are relatively simple to make. Throw in some softened cream cheese, ranch dressing, and minced green onions for the spread mixture, followed by whatever toppings you like. They're smooth and creamy but can offer a refreshing burst of flavour too. Besides, who doesn't like wraps?
Potluck Food Ideas That Will Satisfy A Crowd
One-Pot Chicken Pasta
Pasta is a safe bet when it comes to looking for potluck food ideas. It's a simple dish that's loved by many and comes in many different variations. To make the cooking process even easier for you, one-pot pasta is the way to go. You won't have much cleaning to do afterwards nor would you have to monitor several different pans. All you have to do is put all your ingredients into one pot and cook till it's ready to serve. This cheesy chicken tomato pasta will ensure that you bring back a completely clean and empty pot once the party is over.
Air Fryer Chicken Wings
For beginner cooks who have yet to master their skills in the kitchen, don't worry, this air fryer recipe is a fail-proof potluck food idea that you can try out. Extra crispy fried chicken wings are always a successful hit at any party event. But what's even better than a perfectly crunchy chicken wing, is cooking one without the inconvenience of oil splatters from deep frying. Air frying will not only do all the cooking for you but will also reduce your use of oil significantly during the cooking process. Season your chicken wings with your preferred dressings or seasonings, pop them into the air fryer, and you're all set!
Satay
For a more localised option, you can never go wrong with our widely beloved finger food, satay. These marinated grilled chicken skewers served with their complementary sweet and tangy peanut sauce are the perfect potluck food idea for the Malaysian crowd. In fact, it's criminal if you don't have satay at a potluck party. So, if no one has suggested bringing this reliable, sure-win local snack yet, then quickly volunteer before someone else does. If you want to be rajin, you can try your hand at making your own homemade satay. Otherwise, you can go the classic route of tapau-ing –packets of this dish from your go-to mamak stall.
Chicken Curry With Potatoes
If you're looking for a heartier Malaysian potluck food idea, then chicken curry with potatoes should be one of your options. After all, it's a comfort dish that is enjoyed in practically every Malaysian home; some even have their own rendition of it! This local meal is best left for the more seasoned home cooks to handle, as it can be rather tricky to make due to its long list of ingredients. But hey, good things, especially good food, takes time. Even if there are leftovers, you can bet that there'll be volunteers who will willingly offer to pack some back to settle their future meals. So, remember to bring some food containers just in case!
Curry Puff
This is another popular finger food among Malaysians that will instantly fly off its serving plate if served at a potluck. This food idea works well as a side dish sort of snack that guests will happily munch on together with the rest of their meal. Let's be real though, we all know that nobody ever stops at just one curry puff. In which case, they also make for a rather filling treat too.
[Non-Halal] Mashed Potato Casserole 
Mashed potato is a go-to comfort side dish food that everyone enjoys, especially at a potluck. This food recipe idea is sure to be a crowd favourite, as it pairs well with almost all other potluck dishes. It has a creamy, cheesy, and buttery flavour combined with some crunchy, savoury texture; what's not to love about this dish?
Salad-Based Potluck Food Ideas To Get Your Healthy Greens 
Fruit Salad
Salads are probably the easiest recipes to make in this list of potluck food ideas. They usually don't require any cooking at all, so it's perfect for those who are afraid of heat and the stovetop fire. With fruit salads, you get a two-in-one combination, because it can be both a sweet salad and a healthy dessert.
Greek Salad
If you prefer a more savoury yet fresh and tangy salad, then a Greek salad fits the bill nicely. It's filled with fresh onions, bell peppers, cucumbers, olives, tomatoes, and feta cheese; all of which are nicely coated with a lemon herb dressing. We dare say that even people who hate salads may just come to love this healthy potluck food idea. 
Kerabu Timun Salad
Another delicious sweet and sour salad that will satisfy almost every taste bud is our local kerabu salad. It's also got a mild kick to it thanks to the spices and when it comes to flavours, we all know that spice trumps all. Even more so in salads, which are known for tasting rather bland. With this recipe, you just need six ingredients; cucumbers, shallots, dried shrimps, lime, and sambal belacan, along with some salt and sugar. It's a light dish that's subtle enough to be paired with other dishes, but also packs enough punch to be eaten on its own.
Enjoy Making These Potluck Food Recipe Ideas For The Festive Holidays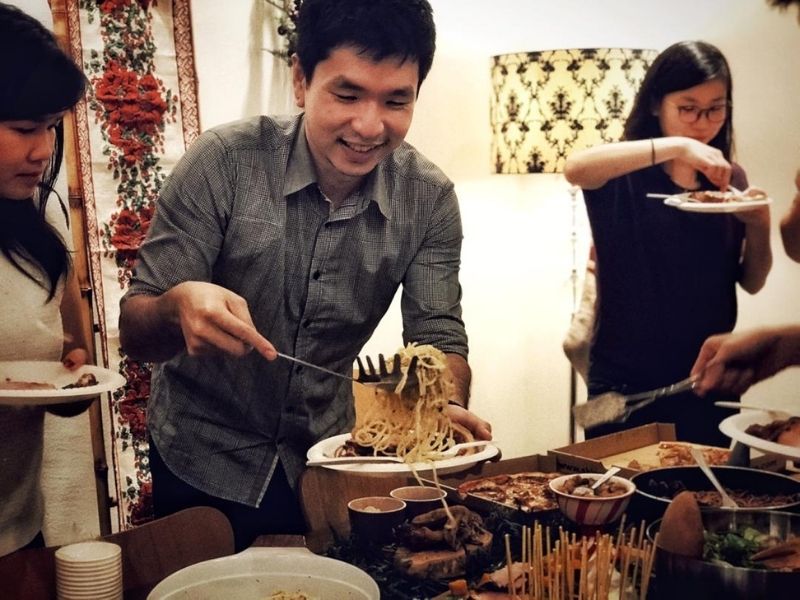 We hope this list has inspired you with some useful potluck food ideas that you can easily make for everyone to enjoy. May you have a wonderful celebration with your family and friends this year-end! Happy Holidays and continue to stay safe and healthy. Also, if you need some dessert recipes, don't forget to check out our no-bake dessert article.