Craving something sweet but are intimidated at the mere thought of using an oven? Well, here are some easy dessert recipes that require no oven baking at all. Yes, you read correctly, we're actually serious about this! From full whole cakes and pies to small, binge-worthy cookies, there are plenty of options for you to make without touching the oven. 
Easy No-Oven-Baking Dessert Recipes For Cakes
No-Bake Oreo Cheesecake
If your favourite biscuit is Oreo then this easy, no-baking dessert recipe is for you. It's creamy and velvety, but with a touch of crunchiness. Create the crust by blending together some crushed up Oreo cookies and 40g of melted unsalted butter. Shape them together using a round cake mould and then plop it in the refrigerator for 20 minutes. 
Then, prepare the rest of your ingredients for the cream filling underneath. Smooth out the mixture on top of the refrigerated crust, adding full Oreo cookies in the middle. Finish off the cake with another layer of the crushed cookie dusting and then pop it back into the fridge for around three to four hours. 
1-Minute Microwave Brownies
Just when you think it couldn't get any easier, this microwave recipe takes no-bake desserts to a whole new level. It requires only a few minutes of your time, perfect for those busy days. First, melt the butter and chocolate into the microwave for around 30 seconds. Then pour in the sugar, milk, flour, and a pinch of salt to combine them thoroughly until they're all blended together. 
After that, you just need a microwave-safe container or mug to pour your smooth, chocolaty mixture into. Line the container with parchment paper to make it easier to remove the brownie later on. Sprinkle on some extra chocolate to create the crackling effect. Pop into the microwave for a minute and 15 seconds, and you've got yourself a quick, delicious dessert that's ready to eat. 
Vanilla Sponge Cake 
Not a big fan of rich flavours? Then, this vanilla sponge cake may be better suited for your taste buds. It's sweet enough to satisfy any sugar cravings but is also subtle enough to not be overpowering like most desserts tend to be. Start off by making your cake batter separately in a glass bowl like you normally would with an oven recipe. 
Slather on butter all over the cake pan and then coat it with flour (be sure to remove any excess) before pouring in the batter. Heat up a flat bottomed wok on medium heat for about five minutes, pouring in some oil to prevent any sticking. Finally, put a small stand into the wok, place the cake pan on and seal it with the pot lid. Let it cook on low heat for 45 to 50 minutes. 
Easy No-Oven-Baking Dessert Recipes For Cookies
1-Minute Microwave Chocolate Chip Cookies
We've got another easy no-baking recipe with a classic dessert that you can just chuck into the microwave. Chocolate chip cookies are a homemade comfort snack that practically everyone has enjoyed in their childhood. You can always rely on them for a good pick-me-up on a bad day and with this recipe, you can have them ready in minutes. 
Melt your butter in the microwave till it's completely liquified. Mix in the brown sugar and milk into the melted butter before pouring in the salt, flour, and baking soda. Once it becomes doughy, roughly cut up a chocolate bar (regular chocolate chips are fine too) and add in the chunks into the dough. Form it into a proper cookie shape and then place onto the parchment paper before placing in the microwave for 1 minute and 15 seconds. After removing, let it cool for five minutes, and then it's ready to eat! 
Peanut Butter Oatmeal Cookies
If you want a "healthier option", then give these peanut butter oatmeal cookies a try. Though let's be honest, it really isn't all that healthy since it still packs a generous amount of sugar and peanut butter. Well, on the bright side, at least you'll get some fibre from your oats. 
Grab a non-stick skillet pan and set on medium heat. Put in the butter and stir until it becomes completely melted. Throw in the milk and sugar to mix, adding the cream of tartar just before it starts to boil. Get it to a roiling boil for exactly two minutes and continue stirring constantly. Take it off from the stove to add the peanut butter, vanilla extract, and half the oats. When that's nicely blended, pour in the milk and the rest of the oats. Scoop those up and place onto the parchment paper to cool for 20 to 30 minutes. 
Easy No-Oven-Baking Dessert Recipes For Pies
10-Minute Key Lime Pie
Key lime pies are another great dessert that's not too sweet and rich, offering a refreshingly tangy, citrus-like taste. This no-baking dessert recipe is super easy to make and only requires 10 minutes of actual work. Make your crust with crushed graham crackers (digestive biscuits are also okay) and melted butter, mixing them together into a bowl. Place this crust into a 9-inch, non-stick pie pan and smooth it out with your hands for a flat, even layer. 
Put it in the fridge for 30 minutes as you prepare the filling. Into another big bowl, add in cream cheese, whipping cream, condensed milk, vanilla extract, lime zest and lime juice. Blend with a mixer set on high speed for three to four minutes. Grab the crust from the fridge and spread the cream filling all over before placing it back into the fridge. You can either let it set for eight hours or leave it overnight. Decorate your pie accordingly and it's good to go!
Banoffee Pie
A sinfully sweet dessert, banoffee pie is best eaten with a cup of strong black coffee to drink on the side. Begin this easy no-baking dessert recipe by blending the digestive biscuits with a food processor until they're all crumbly before adding the melted butter. 
Smoothen out the crust evenly onto a pie pan and cool it in the fridge for 30 minutes while preparing the filling at the stove. When done, pour the filling into the pie crust and refrigerate for two hours. Whisk your whipping cream with a mixer until it thickens. Slice the bananas and coat with a drizzle of lemon juice. Remove the pie from the fridge and decorate with the sliced bananas, whipped cream and sprinkling of instant coffee. 
Enjoy Making Easy Dessert Recipes With No Oven Baking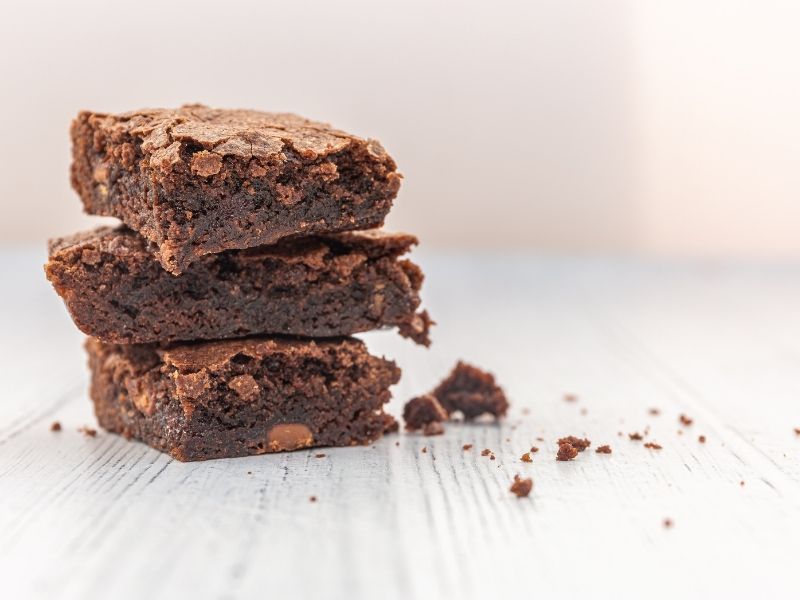 We understand that using an oven can be rather daunting, so hopefully, these easy no-baking dessert recipes will help you kickstart your baking journey. Besides, the journey itself doesn't have to be too complicated at all. Check out our other articles on simple roast chicken recipes and 3-ingredient recipes for more useful cooking tips!