For busy college students rushing to meet the mountain pile of assignment deadlines, cooking can seem like a laborious task. What is more daunting than the actual cooking itself is the long list of ingredients that you have to prepare. This can demotivate many beginners, but actually, there are many recipes with very few ingredients. So, whether it's because you're new to cooking, or you just can't find the time to cook, these 3-ingredient recipes are a good place to start! 
Easy 3-Ingredient Breakfast Recipes To Start The Day Right
1. Chia Seed Pudding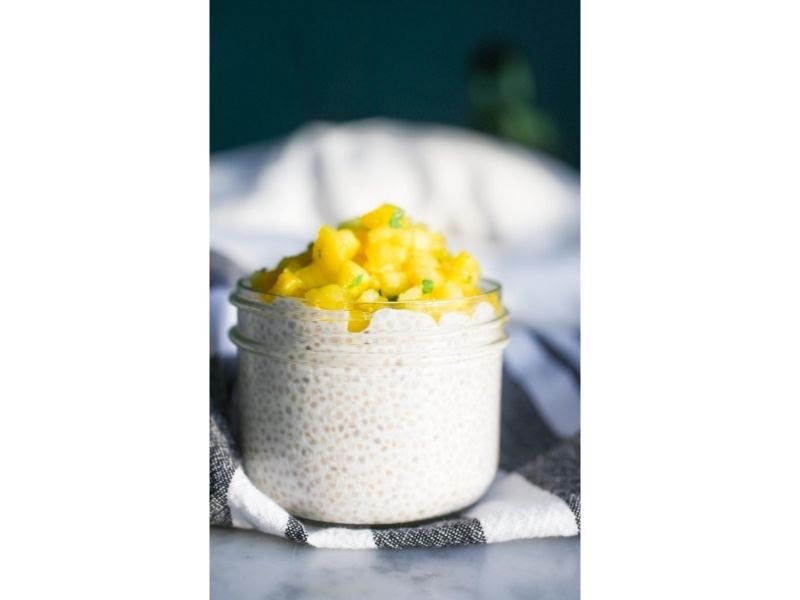 Chia seed puddings are a great 3-ingredient recipe for those who have absolutely no time to make breakfast at all. You can easily prepare this healthy meal the night before and store in the fridge till morning comes. – All you need are chia seeds, almond milk (or whatever milk of your choice), and any type of sweetener; either honey or a topping of fresh fruits. 
Recipe Instructions:
Scoop up two tablespoons of chia seeds into your clear glass

mason jar

. 

Pour in 1/2 cup of almond milk. 

Add in your choice of sweetener.

Allow the mixture to sit for a minute or two, and then mix again. 

If you notice the chia seeds clump together at the bottom of the jar, then repeat steps 5 and 6 until they're completely and evenly separated. 

Finally, seal your mason jar shut, and store in the

refrigerator

overnight. 
2. Fluffy Egg Omelette Souffle
In the mood for something a little fancier and on the warmer side? Then this 3-ingredient recipe for an egg omelette souffle will be more up your alley. It might be a slightly trickier breakfast to prepare, so it's best to reserve this dish only on days when classes start in the afternoon. 
This meal is light and buttery, perfect for those who are not fond of heavy flavours that tend to come from most egg-based breakfast recipes. For this, just grab two eggs, salt, and butter. 
Recipe Instructions:
Crack open the

fresh eggs

in a

bowl

. 

Separate the egg white from the egg yolk using an

egg separator.

 

Next, with your

measuring spoon

, sprinkle a ¼ teaspoon of salt onto the egg yolks. 

Whisk

the egg yolks and salt until you get a smooth mixture. 

Then, with the same whisk (or you can use an

electric mixer

(available on

augienb.my

) if you prefer), mix the egg whites till it becomes white and frothy, but don't overmix.

Add in the yolks, and mix.

Once they're entirely blended together bring out your

non-stick pan

(available on

littlehomes.os

), and set it on low heat. 

Slather on some

butter

or

cooking oil

all over the pan.

Pour the egg mixture into the pan.

Smoothen out any lumps.

Close the pan with a lid, and let it sit for around three to four minutes on low heat.

Once the bottom of the egg is nicely browned and cooked, fold in half.
3-Ingredient Vegetarian Lunch Recipe That's Light And Satisfying
3. Baked Grilled Cheese Pesto Sandwiches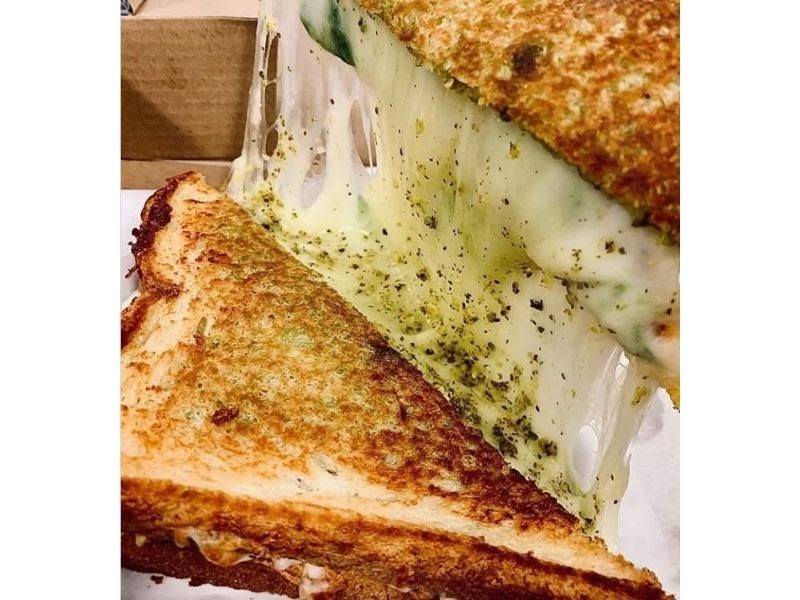 Sandwiches are a fail-safe option that anyone can fall back on. They're easy to make, and very rarely do they ever disappoint. If you're looking for the vegetarian alternative to a ham and cheese combo, then give this baked grilled cheese pesto sandwich a try! 
Admittedly, this 3-ingredient recipe has an extra step with the three tablespoons of softened butter, as it keeps the bread's edges from getting burned. Otherwise, all you need are eight slices of whole wheat bread, eight slices of cheddar cheese or Swiss Cheese, and a quarter cup of pesto (available on sanglafoods) sauce.
Recipe Ingredients:
Preheat the oven to 218 C.

Spread butter to just one side of every slice of bread.

Add a slice of cheese on top of the non-buttered bread half, followed by a tablespoon of pesto, and the second slice of cheese. Then, finish off with the buttered bread slice,  with the butter side facing upwards.

Place the sandwiches on a

baking tray

, and pop them into the oven to bake for 4 minutes.

Remove the tray from the oven before bumping up the heat to 232 C. With a large

spatula

, turn the sandwiches over to the other side.

Let it bake for another 3-4 minutes.

Once the bread slices become a beautiful golden brown and toasted on both sides, and the cheese is fully melted, they're ready to be served. 
Dinner Recipe With 3 Ingredients (Paleo And Low-Carb)
4. Chicken Thighs With Pear And Cauliflower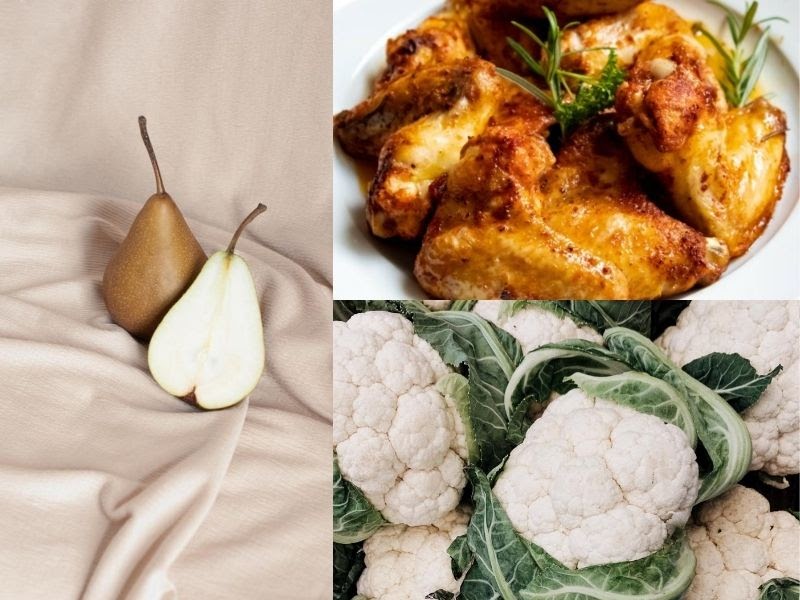 This 3-ingredient recipe will be especially handy for those of you who are on a paleo or low-carb diet. It's got your necessary protein, vegetables, and fruit all in one single meal. You'll also have a complementary blend of sweet and savoury flavours; a combination you can never go wrong with! For this recipe, you will need three large chicken thighs, one cauliflower head, and one full pear. You'll also need an oven. 
Recipe Instructions:
Preheat the oven to 204 C. 

Use an

oven-safe skillet

, and have it warmed to medium heat on a stove.

Place the chicken down on its skin side, letting it simmer till the skin becomes slightly crunchy, and the fat starts to melt. 

After three minutes, add the cauliflower and pear to skillet, and toss for an even coating.

Transfer the skillet into your

oven

to roast for 15 minutes. 

Overturn the chicken and roast again for another 10 minutes.
Your meal is ready to be served when the chicken is fully cooked with no hints of pink, and the cauliflower and pear are tender. 
3-Ingredient Dessert Recipe For Those With A Sweet Tooth
5. No-Bake Chocolate Cake
There's no better way to end the meal than with a sinful, sugary treat.  Cakes have long been a common favourite among many. However, the tedious methods of baking can be an off-putting obstacle to learning how to make your favourite chocolate cake. Well, no sweat, because this 3-ingredient chocolate cake recipe is here to lighten the load. What's more, no oven is involved! Your required ingredients are 28 Oreo cookies, a tablespoon of baking powder, and a cup of milk. 
Recipe Instructions:
Remove the cream filling from the Oreo cookies, and put aside.

Place your black cookie parts into a

ziplock bag

(available on

snek_kingdom

).

Smash the cookie bits by hand (using a

blender

is fine, and less painstaking too). 

After the cookies are completely smashed to a powder, pour them into a bowl. 

Pour in the teaspoon of baking powder and mix. 

Add the cup of milk (245ml) and the cream filling into the ingredients. 

Whisk till well-combined and mixture takes on a smooth, velvety consistency.

Drizzle a large

cooking pot

(available on

ccyy2626

) with cooking oil and lay down some

baking paper

in it. 

Pour the Oreo mixture into the pot.

Grab another thin pan to place over the cooking stove. Then, put the cooking pot with the Oreo mixture on top. This will ensure that the temperature on top of the stove is well distributed. 

Let it rest on low heat for 40 to 50 minutes.

Once it's dry (use a

toothpick

to poke through the cake to check for stickiness), your cake is completed!
Enjoy Learning Simple 3-Ingredient Recipes For More Home-Cooked Meals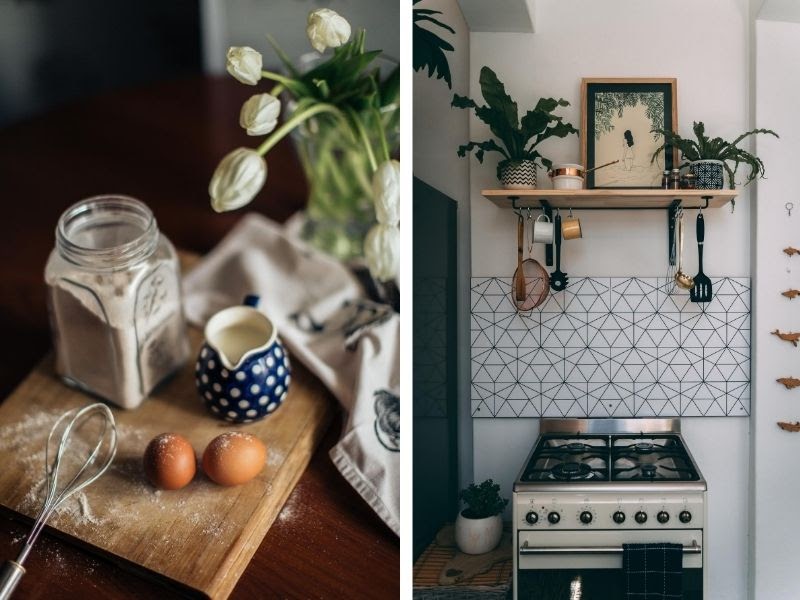 Preparing homemade meals can be challenging. So, it's best to start small with 3-ingredient recipes. It will not only save you much needed time, but your wallet will thank you too! Remember, you're not necessarily going to nail your very first attempt, and that's okay. If cooking came easy, we'd all be the next Gordan Ramsay by now. Just take your time to master the basic recipes from this list instead, and you're off to a good start!