Everyone has days when they just don't have the energy to whip up an elaborate meal. It can be especially difficult for working parents, because who wants to do more work after coming home from the office? The good news is that you can still cook a perfectly nutritious and delicious dish without resorting to takeaway meals. Try out these four simple roast chicken recipes for a scrumptious healthy home-cooked meal that the whole family is sure to enjoy!
Simple But Delicious Roast Chicken Recipes That The Kids Will Adore
1. Air Fryer Whole Chicken
Are you a busy mom who would like to whip a wholesome meal, but doesn't have an oven? Fret not, we've got you covered. This simple air fryer roast chicken recipe provides the best solution to that problem! 
An air fryer can easily produce that desired crispy skin and succulent meat without much effort. All you need is your fresh whole chicken, your seasoning of choice, and herbs. Then, you can just put in your seasoned chicken into the air fryer to do all the work. Plus, it doesn't turn your kitchen into a sauna!
Ingredients:
Recipe Instructions:
Mix your seasonings with the avocado oil for a paste texture. 

Brush the paste all over the chicken.

Use a

cooking spray

to give a good spritz to your air fryer basket.

Place the chicken in the air fryer basket with the breast side facing down. 

Let it cook for about 50 minutes at 182 C. 

After that, flip it over and cook for another 10 minutes.
2. Lemon And Thyme Simple Roast Chicken Recipe
https://www.youtube.com/watch?v=AHqukHsGfM4
Shopping for ingredients can be a troublesome chore. Take the extra weight off your shoulders with this simple lemon and thyme roast chicken recipe. Most of the ingredients on this list are things you would most likely already have in your fridge. This meal will definitely be a hit with your kids due to its comforting taste. It's not too overpowering, but still packs a ton of flavour. 
Ingredients:
Stuffing:
2 lemon wedges

1 teaspoon of fresh or dried rosemary

1 whole garlic (cut in half)
Recipe Instructions:
Set your oven's temperature to around 176C.

Throw in your melted butter, pureed garlic, Italian seasoning, rosemary, paprika, salt, and black pepper into the lemon juice. Mix together.

Cut the other two remaining lemons into wedges.

Sprinkle rosemary over the lemon wedges. 

Halve the full head of garlic.

Stuff the rosemary-coated lemon wedges and the garlic halves into the cleaned cavity of the chicken.

Put your clean chicken into a

large ziplock bag

(available from

buysmart8

) , and pour the marinade over the chicken.

Seal the ziplock bag and give it a few shakes to fully coat the chicken.

Place the ziplock bag with the chicken into the

refrigerator

and let the chicken marinate for two hours.

After that, take the chicken out and place it on a

roasting pan

. Place the roasting pan into a preheated oven and roast for 60 minutes.

Add the roasted garlic and herb seasoning to the chicken juices and baste. Roast in the oven for another 30 minutes

Once done, take it out of the oven and let it sit for 15 minutes before serving. 
3. Simple Tandoori Roast Chicken Thighs Recipe
If you're craving for something with a hint of spice but amazing flavour, then this simple roast tandoori chicken recipe might be more up your alley. As long as you have the ingredients, it's really easy to prepare the marinade. For super busy moms who want to skip the marination process, a ready-to-use tandoori paste will work just fine too. 
Recipe Ingredients:
Marinade:
Recipe Instructions:
Chop up the chicken into large chunks with the bone in, and take out the skin.

Make a few slashes with a knife in the thickest part of the meat.

Scoop the yoghurt into a

cloth cooking bag

(available from

xhh95d.my

) to strain the liquid till it stops. 

Mix together all the marinade ingredients in a bowl, and slather it all over the chicken.

Leave it to marinate for at least three hours (you can also leave it overnight).

Set the oven temperature to about 200C.

Cover your baking tray with

aluminium foil

, and place your chicken on the tray.

Cook for 15 minutes.

Flip the chicken over, and let it roast for another 20 minutes till the edges become charred.
4. Roast Chicken Thighs With Asian Glaze Sauce
Asian style recipes can be incredibly intimidating due to its intricate methods. Thankfully, you won't have to worry about that with this simple Asian style roast chicken recipe. It's a dish that will satisfy any sweet and savoury craving. What's especially great about this meal is that it requires no marination (because really, who has the time for that)!
Recipe Ingredients:
Recipe Instructions:
Place a large

skillet

over medium heat and add one tablespoon of olive oil.

Put in the chicken and sprinkle with salt and pepper.

Cook for three minutes on each side until browned. Then, set it aside on a plate.

Put all glaze ingredients into the skillet.

Whisk

together and let it boil over medium heat for one to two minutes till the sauce thickens.

Place the chicken back into the skillet and coat both sides with the glaze. 

Sprinkle on

sesame seeds

and chopped green onions.
Enjoy A Healthy And Hearty Dinner With These Simple Roast Chicken Recipes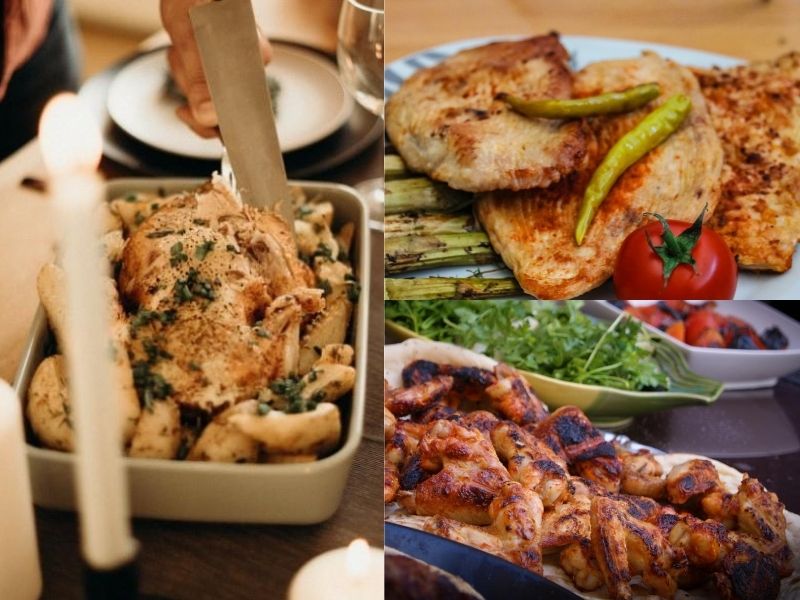 Life is too short to toil away in the kitchen instead of spending time with family. If you keep to basic recipes that don't require a lot of prepping and long hours of marination, then you gain precious time with the little ones.  Of course, the recipes above will still provide the nutrients your entire family needs (just pair with vegetables and bread/potatoes) and satisfy the fussy palate of the kids too. Happy cooking!