If you don't find yourself doing those assignments pretty last minute, late into the night, are you even a college or uni student? Let's admit that these are also the times that the hankering for sweets starts coming on really strong. Enter microwave mug cakes. With just a microwave-safe mug and a few simple ingredients, you can easily make your own delicious mini-cakes at home to satisfy your sweet tooth and boost your energy levels for long study hours!
Basic Microwave Mug Cake Recipes To Try At Home
Vanilla Microwave Mug Cake
For something ultra-easy, it really doesn't get more basic than a vanilla mug cake. The recipe below even incorporates some sprinkles for that celebratory feel, but you can skip them if you just want something to stop your tears from falling as you study for finals (just kidding). All you need in terms of utensils are measuring spoons and a microwave-safe mug (available on kidstore.os).

Recipe Ingredients

How to make:

In your mug, whisk together flour, sugar, and baking powder until well-combined.

Add in the milk, oil, and vanilla and mix until the mixture is smooth. Add sprinkles if desired and stir.

Microwave for roughly 45 seconds – 1 minute, or until firm to the touch. Timing varies according to the

microwave oven

, so to be safe, stop and check your mug at the 30-second and 45-second mark so that you don't overcook.

Once ready, it's time to eat! Add ice-cream or frosting on top if you want an extra-sweet dessert. 
Fudgey Chocolate Microwave Mug Cake Recipe
What kind of life would it be without chocolate? If chocolate is the love of your life, this microwave chocolate mug cake is probably going to be your best friend. Ready in less than five minutes, this recipe calls for a secret ingredient — chocolate chips, for that extra fudgy taste! You'll also need a measuring cup or a kitchen scale for some of the ingredients. 
Recipe Ingredients

How to make: 
In a

bowl

, mix the flour, sugar, cocoa powder, salt, and baking powder together.

Add the milk, coffee, vanilla, and oil to the dry mixture.

Whisk

together until the batter is smooth.

Pour batter into a large microwave-safe coffee mug and sprinkle the semi-sweet chocolate chips on top. 

Microwave for about 85 seconds. Like the first recipe, the cooking time varies depending on your microwave, so check in every 15-seconds once you reach the 70-second mark. Enjoy on its own or with ice cream.
Slightly Fancy But Still Easy Mug Cake Recipes 
What's that? You don't want the basic stuff? Yeah okay, we hear you. Sometimes we all just need something different without heading out to a cafe. Here are three options that are indulgent (definitely not for those on a diet) but easy.  
Milo KitKat Microwave Mug Cake
Recipe ingredients

How to make:

Empty Milo sachets into your mug, and then add the egg. Whisk until smooth.

Add flour, sugar, and cooking oil and combine well. 

Add chopped KitKat pieces on top of the batter.

Microwave for 1.5 minutes to 2 minutes, depending on your microwave.
Simple Mug Cake Nutella
Recipe Ingredients

How to make:

1. Mix dry ingredients together in a mug until thoroughly combined.
Add all wet ingredients except Nutella and mix well until a smooth batter is formed.

Drop Nutella into the middle of the batter. Microwave for around 1 minute until the cake is cooked. (Optional) Sift

icing sugar

on top for a nice aesthetic. 
Yummy Eggless Peanut Butter Mug Cake
Recipe Ingredients:

How to make:

1. Mix dry ingredients together in a mug until thoroughly combined.
Add peanut butter and milk to dry ingredients. Mix well until a smooth, thick batter is formed.

Add chocolate chips to the top of the batter and fluff slightly to distribute. Microwave for around 1.5 minutes (90 seconds) until the cake is cooked (keep checking every 30 seconds to be safe). 
Have A Microwave Mug Cake Party With Your Friends!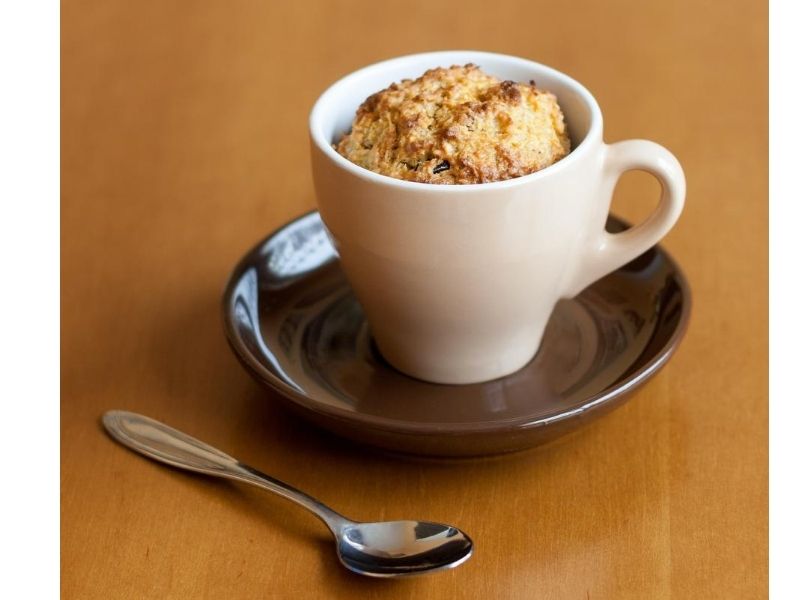 Microwave mug cakes may be easy to whip up in the middle of the night, but that doesn't mean it always has to be a solo affair. Invite your friends or dorm mates to join you and enjoy a sweet sugar rush together! For a cafe-like experience, pair your mug cakes with cups of coffee or tea. Oh, and while you're here, why not also check out some easy three-ingredient recipes you can use for your main meals? Enjoy!