When the phrase "comfort food" is brought up during heated gastronomic discussions, French fries tend to appear pretty often. Crispy on the outside and soft on the inside, the fast-food staple pairs well with burgers, sandwiches, and various proteins. What's more, they're also delicious on their own and as a result—highly addictive. Their ubiquitous presence is seen everywhere, from the glitzy Michelin-starred restaurant to the humble mamak joint located down the street, French fries will never fail you. The best part, though? With some basic ingredients and French fries recipes at hand, you can easily make them at home. 
So, we know you're on the verge of salivating so we won't hold you any longer. Below you'll find recipes for some of the most popular types of French fries right now. From waffle to crinkle cut, find one (or two) that catches your eye and fry away!
Follow These

French Fries Recipes

For A Crispy Side That Complements Any Meal 
Standard Cut Fries
Identical to what you'd get at fast-food restaurants, the standard cut is the most common type of French fries. However, this French fries recipe is anything but ordinary. By using chilli powder to coat the French fries, you'll get a slight kick that cuts through the greasiness of the fries, adding a new flavour dimension in each bite. Maris Piper potatoes are used here, which lends golden skin and creamy white flesh perfect for a bowl of finger-licking fries.
Recipe Ingredients:
4 large Maris Piper potatoes

A bowl of cold water

Oil

for frying

½ tsp of chilli powder

½ tsp of

salt
Shoestring Fries 
Also known as matchstick fries, shoestring fries are strings of finely sliced and deep-fried potato strips. Due to their thinness, they require less oil and take literally minutes to cook, making this French fries recipe perfect when you desperately need a snack in a jiffy!  Whether you make them old school with a cooking pot or skip the oil altogether via an air fryer, rest assured the results will be so crunchy that you'll be craving for more in no time.
Recipe Ingredients:
Waffle Fries 
Biting into a waffle fry is like biting into a crunchy biscuit—except that it's fluffy, savoury, and terribly addictive. Relatively larger as compared to other styles of French fries, the waffle fries are distinguished by their signature shape that's achieved by putting the potatoes through a mandoline slicer. The video above shows a no-fuss French fries recipe that consists of making the waffles fries and tangy sour cream dipping sauce as an appetising condiment. Enjoy!
Recipe Ingredients:
1-2 large russet potatoes

2-3 cups of

grapeseed oil

for frying

¾ cup of grapeseed oil for the

sauce

1 egg yolk

1 tsp of

dijon mustard

2 tbsp of cold water

1 tbsp of salt

1 tsp of white wine

vinegar

(optional)

Herbs & spices

such as chopped oregano or rosemary for garnishing
Curly Fries
Out of all the French fries recipes in this list, this one sticks out like a sore thumb—in a good way. Using a spiralizer, the potatoes are looped in such a way that they look like tiny roller coaster tracks. Even though the ingredients are very much the same, curly fries somehow taste better than normal french fries. Call it placebo or selective bias, but there's no denying the whimsical charm of the curly fries. In terms of seasoning, paprika or cayenne pepper always does the trick.
Recipe Ingredients:
4 medium russet potatoes

1 cup of water

1 tsp of garlic powder

½ cup of

flour

2 tbsp of paprika

2 tsp of salt

1 tsp of cayenne pepper

1 tsp of

onion powder
Sweet Potato Fries
In recent times, sweet potato fries have been giving normal fries a run for their money. Take a look at the menu at your favourite restaurants and you'll likely find sweet potato fries sitting side-by-side with normal fries. We totally understand why this is happening, though. The sweetness from the potatoes gives a slight tart not found in conventional French fries. Combine that with super crispy skin and you'll get the ultimate snack for any occasion! Oh, and this French fries recipe utilises an oven instead of a fryer, so there's less grease.
Recipe Ingredients:
2 tbsp of oil

2 tbsp of

cornstarch

¼ tsp of garlic powder

½ tsp of paprika

2 medium-large sweet potatoes

Salt and black pepper to taste 
Steak Fries
If there was an urban slang to describe steak fries, that would be thicc. No, really, steak fries are chunkier than standard french fries because they're essentially thick wedges of potatoes fried or roasted to crispy perfection. On the inside, creamy-textured flesh awaits your every bite. Besides, their versatility lets you pair them with burgers or steaks. Otherwise, you can serve them with dipping sauces such as guacamole, salsa, or plain ol' ketchup. Follow this French fries recipe to create your own take on steak fries.
Recipe Ingredients:

4-5 medium russet potatoes, cut into wedges

½ tsp of onion powder

3 tbsp of oil

1 tsp of salt

1 tsp of paprika

½ tsp of

cumin

½ tsp of garlic powder

¼ tsp of black pepper
Garlic Fries
Garlic. The tiny and flavour-packing wizard of the culinary world. It's easy to buy, store, and incorporate into a wide variety of dishes. Yes, including fries! As you can see from the French fries recipe above, all you have to do is crunch a few cloves of garlic and toss them with a mixture of oil, parsley, salt, and pepper. Once done, coat the fries and you're set! If you wish, top the dish with grated parmesan cheese for a wholesome finish. A word of caution: you might need some mints after this. 
Recipe Ingredients:
2-3 medium potatoes

6 garlic cloves

2 tbsp of parsley 

5 tbsp of oil

Salt and pepper to taste
We Hope You're Hungry After Going Through These

French Fries Recipes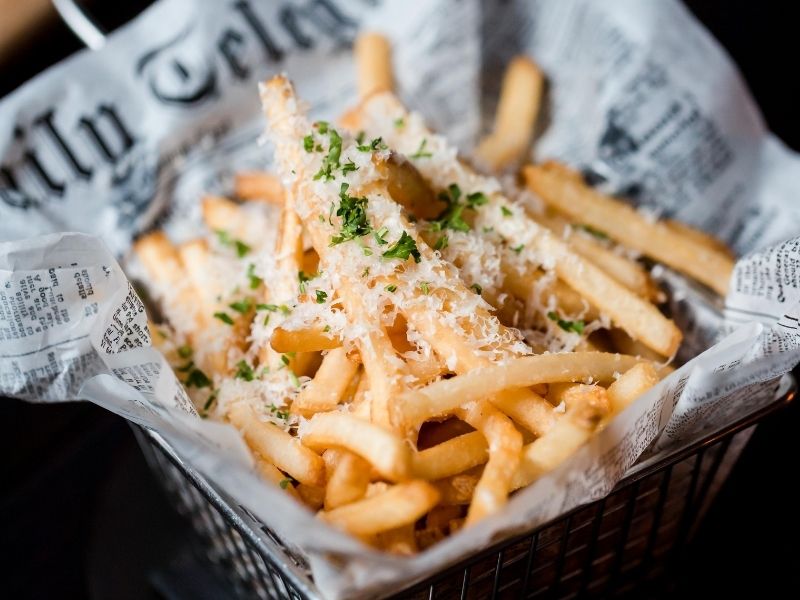 Now that you know the different types of French fries you can make at home, it's time to get cracking! There's no excuse to not make your own fries because it's really that easy. The recipes above require fewer than 10 ingredients, and it's likely you already have those ingredients in your refrigerator and kitchen shelves. In addition to French fries, did you know you can also use an air fryer to grill a salmon fillet? Here are more ways to create culinary masterpieces with an air fryer.