There isn't a condiment that screams Malaysian like the humble sambal. For some, the sambal is a must-have for every meal because without it, they feel a void that's irreplaceable by other concoctions. Oddly enough, for something that tastes so complex, sambal recipes aren't particularly complicated. 
Sure, you may need a few tries to nail the flavour down, but everyone can start with just a handful of ingredients. 
Beginner-Friendly Sambal Recipes

To Try Making At Home 
Sambal Belacan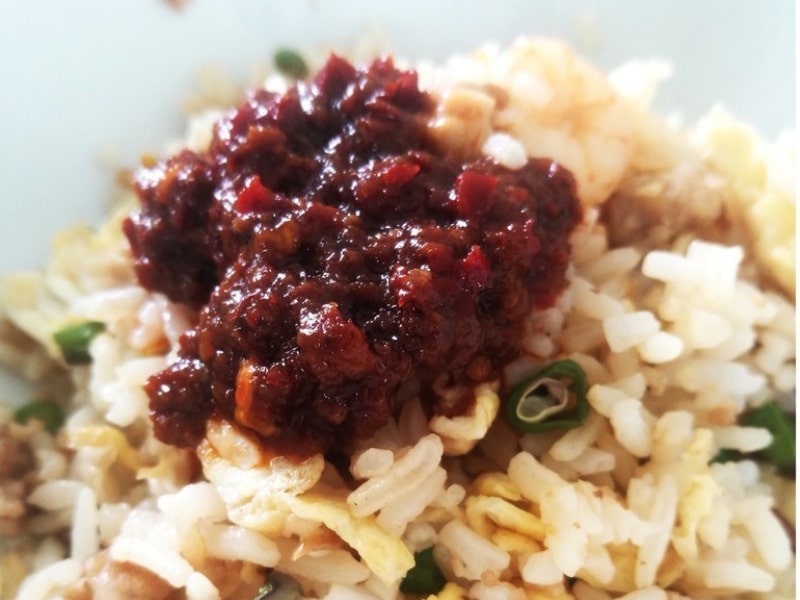 Sambal belacan is the marriage of two dynamic components: chilli and shrimp paste aka belacan. That said, not all chillies are suitable for this sambal recipe. Opt for bird's eye chilli (cili padi as we know it) or Thai chilli; both give the condiment a potent and spicy kick. Fair warning: the seeds are especially fiery, so remove them for less intense heat. Alternatively, you can add calamansi juice for a tangy finish.
You probably already know what this lip-smacking paste goes well with; nasi lemak, fried noodles, prawn noodles, and so much more.
Recipe Ingredients:
20-25g of fresh bird's eye chilli or Thai chilli, sliced and deseeded

1 tbsp of

belacan

 

1 tbsp of

calamansi juice

Salt and sugar to taste
Preparation Method: 
Clean the chillies with running

water

, then slice them into strips.

Warm up the

belacan

in a pan for several minutes. 

Transfer chillies to a mortar together with the

belacan

and start pounding until you get a paste-like consistency.

When done, transfer to a bowl and add calamansi juice, salt and sugar to taste. 
Sambal Tumis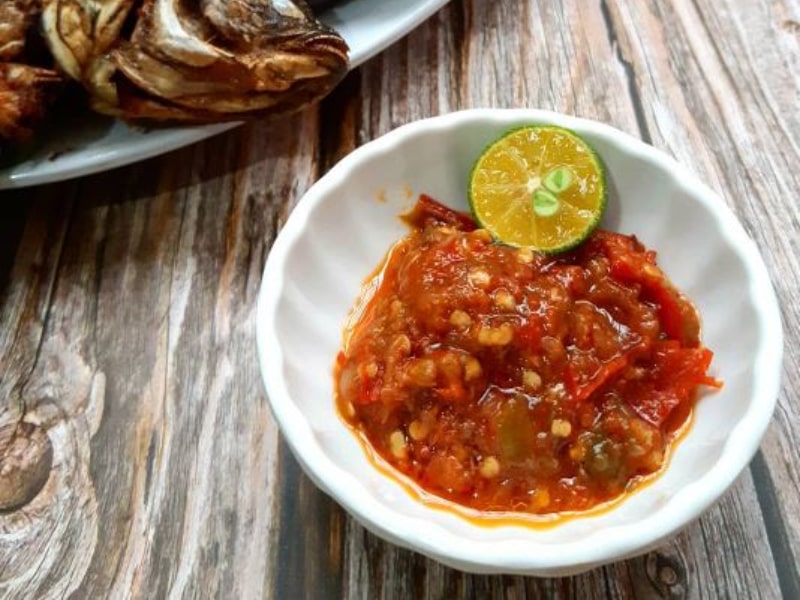 Sambal tumis and sambal belacan are almost identical, albeit with a minor difference. The former requires a lengthier time because it involves a slow stirring process, whereas the latter is much quicker to whip up. Due to a longer cooking time, we recommend cooking a bigger batch. Fresh sambal tumis can last up to a week in the refrigerator and up to three months in the freezer. 
A versatile paste, this sambal tumis recipe is tasty as a standalone dipping sauce or a base ingredient for Malaysian favourites like sambal sotong and sambal udang petai.
Recipe Ingredients:
Preparation Method:
Blend garlic, shallots, dried chilli, and red chilli in a

food processor

or

blender

until smooth. Add water if the paste seems dry.

In a hot

wok

, heat oil and add in paste.

Turn heat to low and simmer the paste until it thickens to a dark red hue.

Add

salt and sugar

to taste.
Sambal Kicap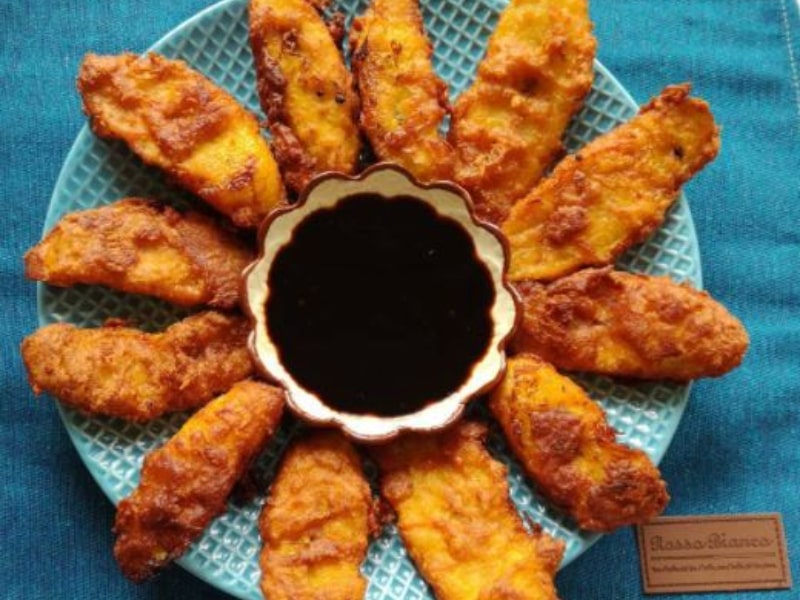 What makes sambal kicap unique is that it pairs extremely well with fruits, specifically guava and pickled mangoes. The result is a mishmash of tartness and spiciness that will send your taste buds into overdrive. In Johor, sambal kicap is often used as a dipping sauce for fried banana fritters, giving the crunchy finger food a savoury aftertaste.
If you're thinking of how to make sambal kicap, you're in luck because it's so easy.
Recipe Ingredients:
3 red chillies, sliced and deseeded

1 bird's eye chilli, sliced and deseeded

2 garlic cloves

2 tbsp of

thick soy sauce

1 tsp of

lime juice

Salt to taste
Preparation Method:
Blend red chillies, bird's eye chilli, and garlic.

Transfer to a

saucer

and mix with soy sauce. 

Include lime juice and salt.
Sambal Hijau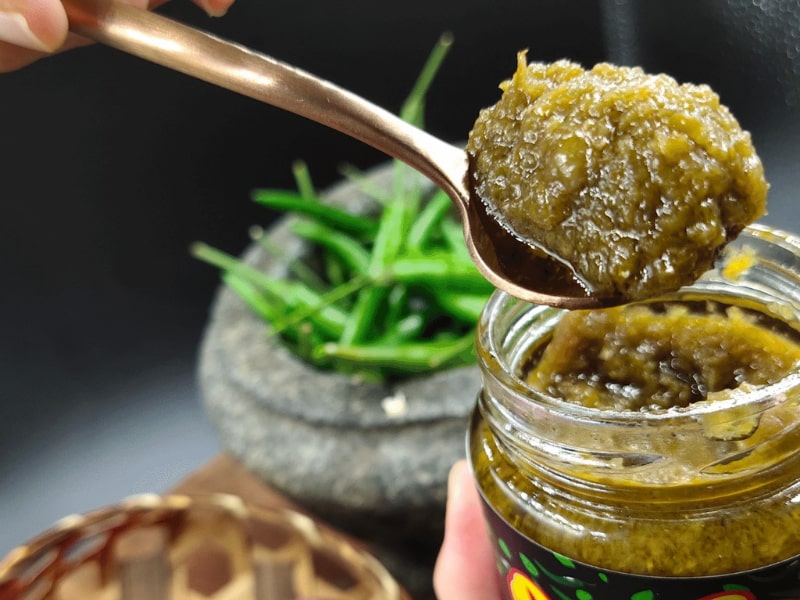 A traditional Indonesian condiment, sambal hijau gets its name from the green bird's eye chillies and green tomatoes used. There's also lemongrass involved, so it's vastly different from Malaysian sambals. However, the spiciness is certainly on par with what we're used to. Like most sambal recipes, elders believe a pestle and mortar is better at bringing out the flavours. But if you prefer to skip the vigorous process, a blender works just fine.
Enjoy sambal hijau over fried chicken or fish in true Indonesian fashion. Otherwise, stir fry it with long beans or eggplant for a palatable side dish over rice. Here's how to make sambal hijau from scratch.
Recipe Ingredients:
4 long green chillies, cut into thirds

2 green bird's eye chillies, deseeded 

3 shallots

2 lemongrass, thinly sliced

2

kaffir lime leaves

, shredded 

Oil for frying

Salt and sugar to taste
Preparation Method:
Coarsely blend the chillies, shallots, lemongrass, and kaffir lime leaves.

Add blended ingredients in a hot wok with oil.

Cook until it smells aromatic, for about five to eight minutes.

Salt and sugar to taste. 
Sambal Ikan Bilis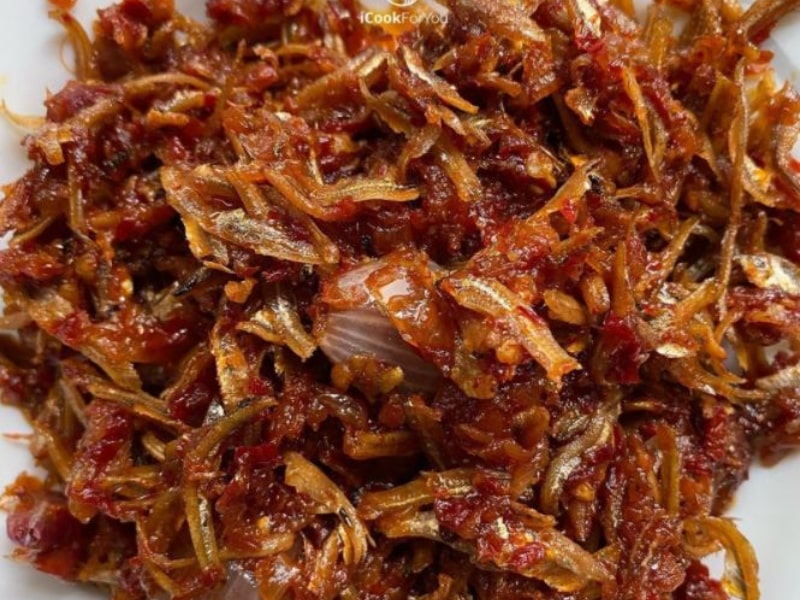 Ikan bilis or anchovies are a ubiquitous ingredient in the culinary world most commonly used for making soup stock. But their funky umami flavour works well with sambal too. The humble fish—which is packed with fatty acids and Vitamin D—gives a soft bite that doesn't overpower the spiciness of the sambal, but yet still obvious enough for you to notice the textural shift. 
There are two common ways to enjoy this effortless anchovy sambal recipe; on its own or lightly saute with peanuts. Both are great in their own right. 
Recipe Ingredients:
50g of dried anchovies, peeled and rinsed

8-10 dried red chillies 

3 cloves of garlic

1 tsp of salt

3 shallots

1 tbsp of palm sugar

Oil for frying the anchovies

1 tsp of

tamarind paste

Water
Preparation Method:
Prepare the sambal paste by blending the chillies, garlic, onion, and shallots. Set aside when done.

Fry anchovies over hot oil in a

pan

or wok. Take them out when they're crispy and golden brown.

With the same work, fry the sambal paste and pour in just enough water for it to simmer.

When sambal paste thickens, include the fried anchovies, tamarind paste, salt, and sugar. 

Let it simmer for a while longer under low heat. Then serve.
Sambal Oelek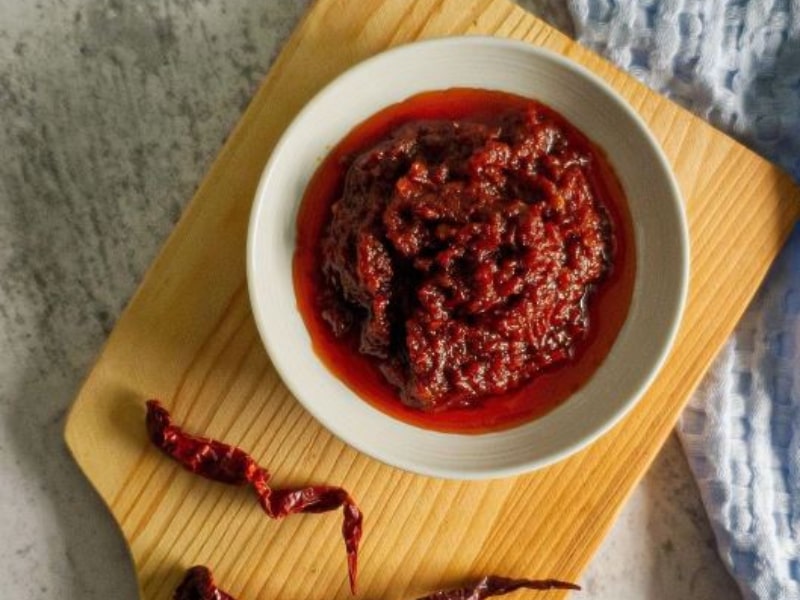 Another sambal recipe native to Indonesia, the sambal oelek is spicy with obvious tangy tasting notes thanks to the usage of vinegar in the mix. There's also ginger in there as well, giving the finished paste an aromatic smell. It's good as a condiment and is also good as an ingredient in cooked foods. 
Like most sambals, it has a long shelf life of up to three months in the freezer. Just pour it into a glass jar or a container and seal it tight with cling film. To defrost, you can either warm it up in a pot or pop it in the microwave oven between three and five minutes. 
Recipe Ingredients:
5 bird's eye chillies, sliced and deseeded

2 tbsp of rice vinegar

Sugar and salt to taste
Preparation Method:
Add all ingredients into a food processor to grind until paste-like texture. If you prefer to keep things authentic, use a pestle and mortar instead.

Strain any excess liquid with a fine

mesh strainer

.

Serve immediately.
Give Your Meals A Spicy Kick With These

Sambal Recipes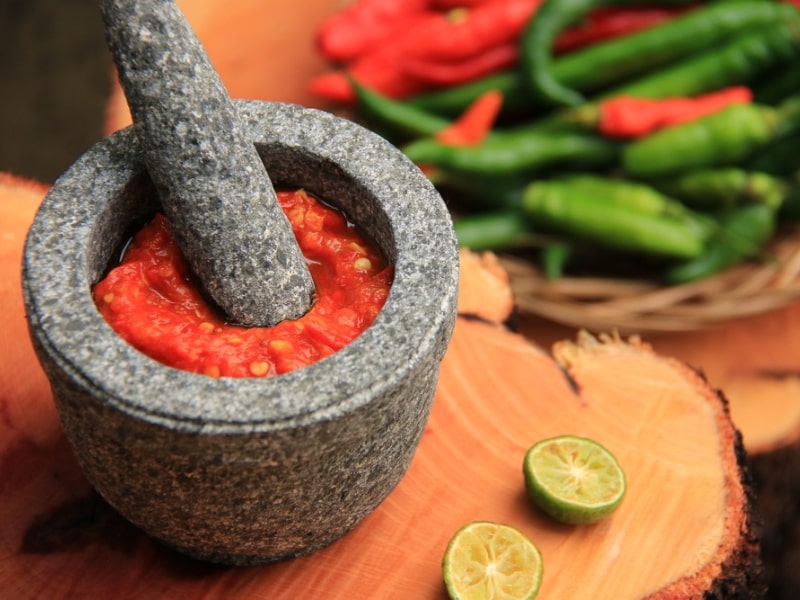 It's no secret that we love sambal. So much that it's a staple condiment for every meal, whether it's early morning breakfast or supper under the moonlight. Spicy, sweet, and tangy, it's an amalgamate of flavours that Malaysians can't live without. If you ever need to remember how to make sambal, bookmark and refer to this list of sambal recipes for reference!
What other delicacy is as synonymous with Malaysia as sambal? Durians, of course! But do you know how to differentiate them and most importantly, how to pick one? We cover that and more in this exhaustive guide.