Pleated miniskirts (or tennis skirts) have been taking over our social media feed lately. From Instagram to TikTok, trust that you'll scroll past a fashion blogger or Gen Z gal wearing one from time to time.  While it's not everyone's cup of tea, it's actually more versatile than you think and can be worn in more ways than just a part of an athleisure or schoolgirl look. Interested to take on the trend and need some styling tips? Ahead, we've compiled 11 pleated skirt outfit ideas so you'll know what to wear it with! 
11 Ways To Style Your

Pleated Skirt Outfit

 
As A Cropped Blazer Set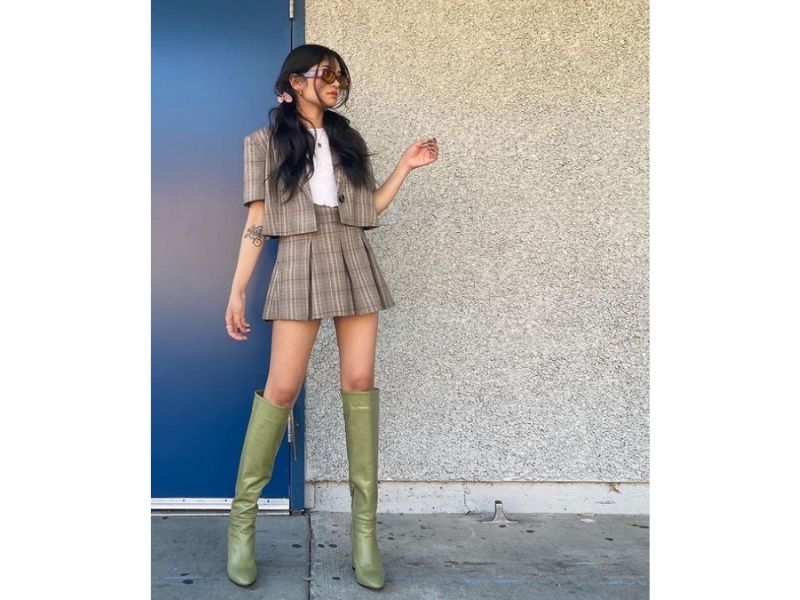 A matching set is a foolproof way to styling your pleated skirt outfit. It instantly makes you look put together with zero effort involved. Plus, you can take the set apart and wear each piece on its own. This way, you can fully maximise your wardrobe without constantly shopping for new clothes (#savemoney). If you don't have a matching set, simply choose an outerwear with the same pattern and colour to coordinate your skirt with. 
Shop this style: 
Dark Academia Layers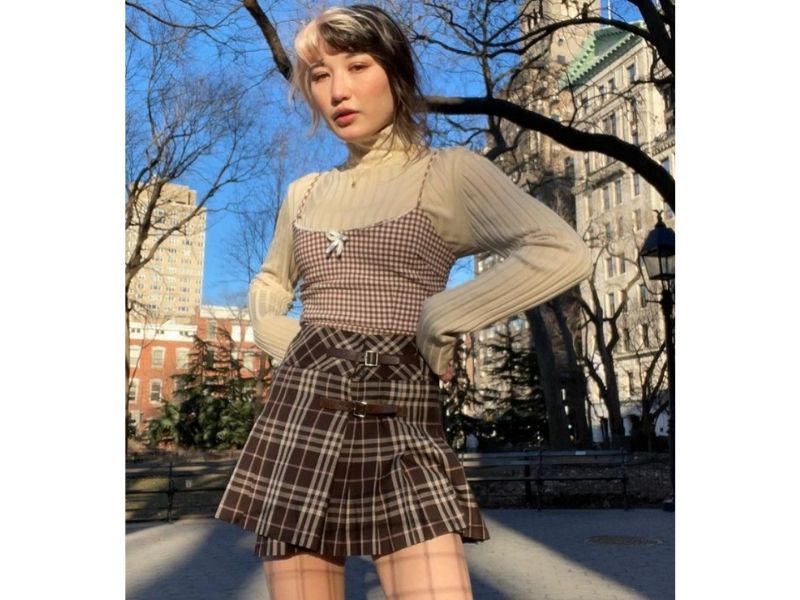 Ashley from @best.dressed takes layering to the next level by using her mini bodycon dress as a top. She keeps this dark academia look cohesive by mixing similar prints—gingham and plaid—and coordinating them in a similar colour scheme. Admittedly, stuffing in that many layers can be quite the challenge (and at worst you could end up looking bulky). So if this is too much of a hassle, just replace the dress with a camisole or tank top instead. 
Shop this style: 
The "Rich Gal" Cardigan Combo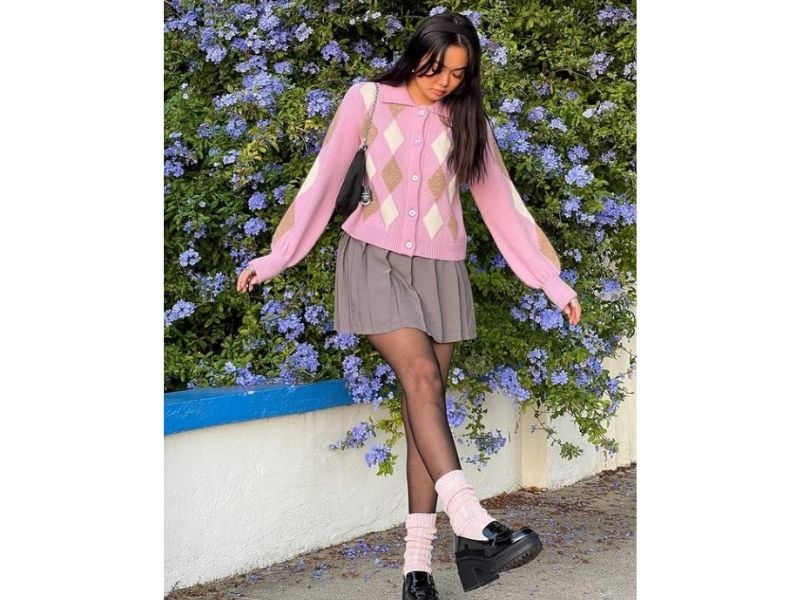 There's always one character in every high school drama series that's constantly dressed to the nines. Hint: They're usually the snobby rich girls or the secretly nice girl who's in league with said snobby rich girls and eventually stands up to them. Whether it's a Netflix original or a Korean drama, you'll most likely see these characters sporting a pleated skirt-and-cardigan outfit combo. 
Shop this style:
Related: How To Style Cardigans For Women: 9 Outfit Ideas To Copy RN
The Printed Sweater Vest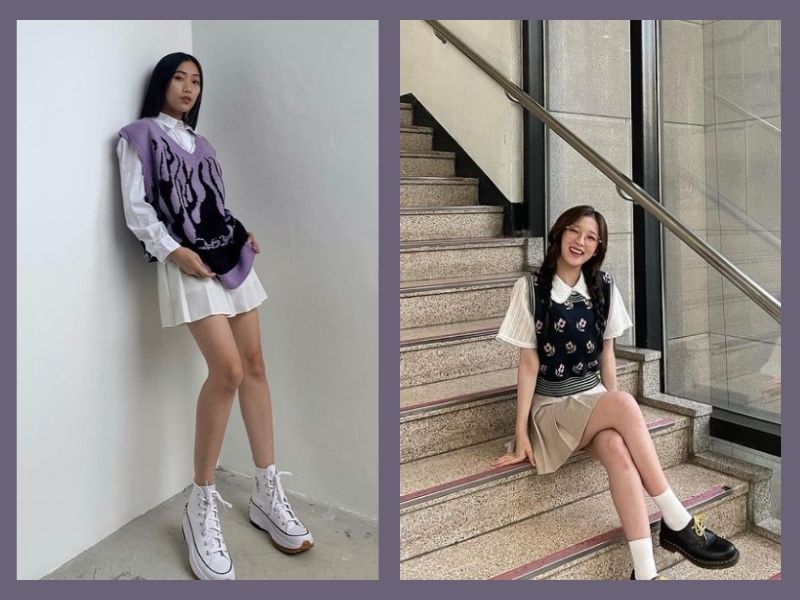 Plain or argyle sweater vests paired together with pleated miniskirts are nothing new. But since the revival of this preppy layering top, we now have way more exciting options to choose from. Plus, a stylish printed sweater vest will instantly take your college-girl style from basic to chic. 
Related: Sweater Vests Are Trending, Here Are 8 Ways To Style The Knitwear
Shop this style (tennis skirt outfit 1):
Shop this style (tennis skirt outfit 2): 
Modern Preppy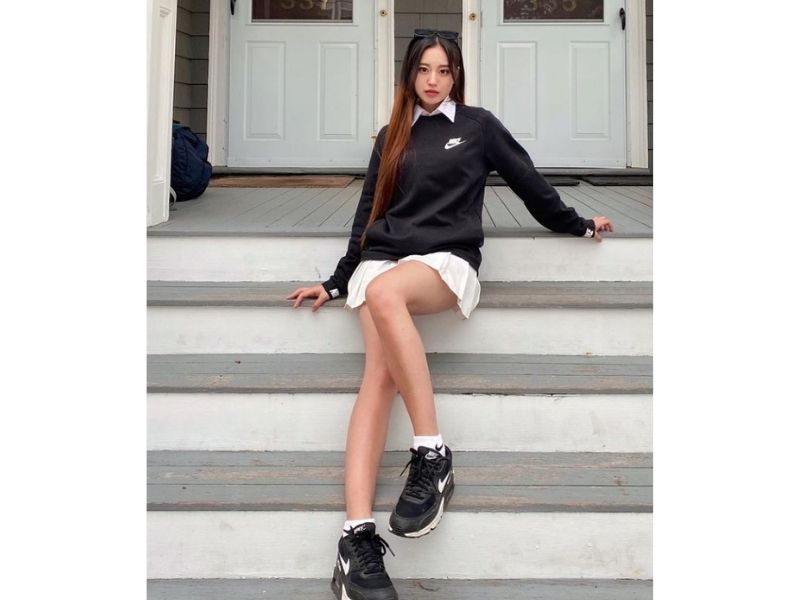 Besides printed sweater vests, there's another way to modernise your preppy pleated skirt outfit: sweatshirts. This loungewear piece is 2021's ultimate fashion staple thanks to its effortless charm and comfortable fit. And many Instagrammers have been loving this combination of pairing something feminine with pieces that are more tomboy-ish. 
Shop this style:
Monochromatic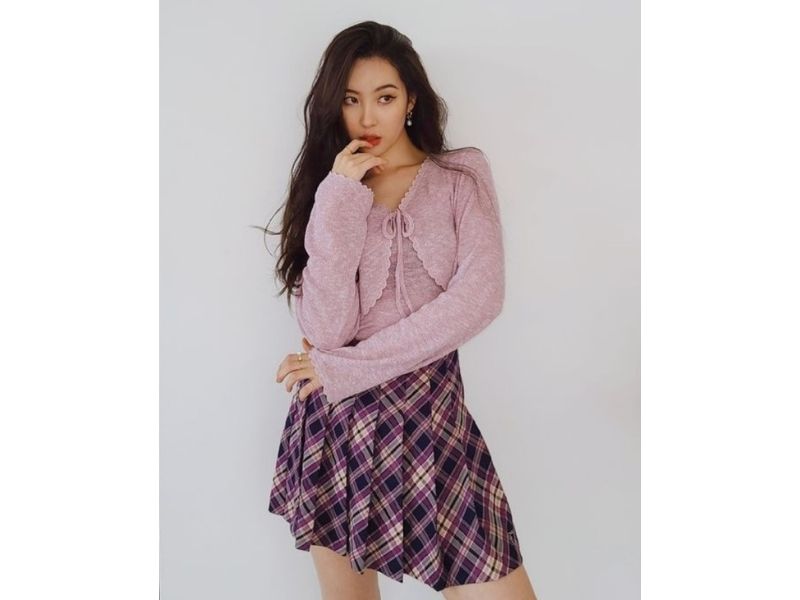 There's nothing more satisfying or aesthetically pleasing than a colour-coordinated, monochromatic moment. Here's how to do it. Simply pick a pleated skirt in your preferred hue and then choose a top (or a tank plus cardigan combo) in a lighter shade.
Shop this style:
The OG

Tennis Skirt Outfit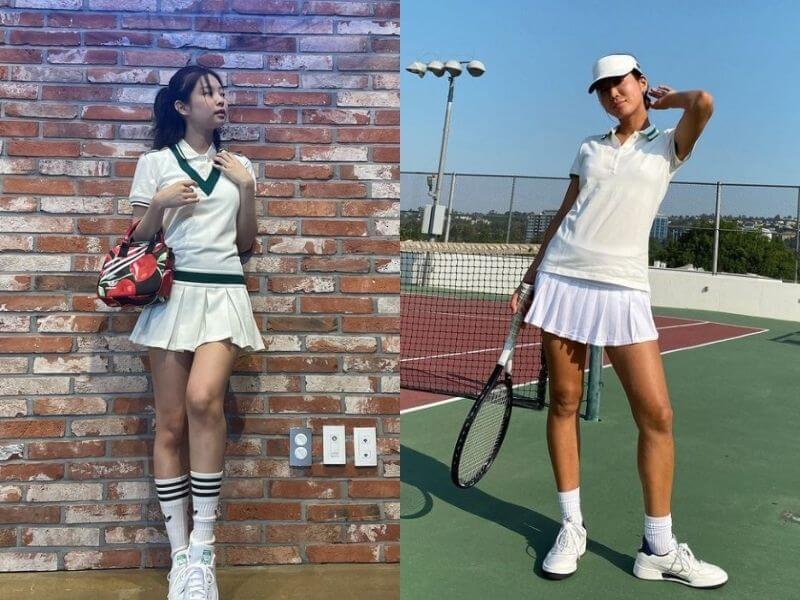 Honestly, even the original tennis skirt outfit is a whole look that's cool again. Now, whether you play the sport or not is a completely different (and totally unrelated) matter. Fashion is fashion, so feel free to rock this athletic all-white ensemble without shame. 
Shop this style:
The Androgynous Half-Pleated Skirt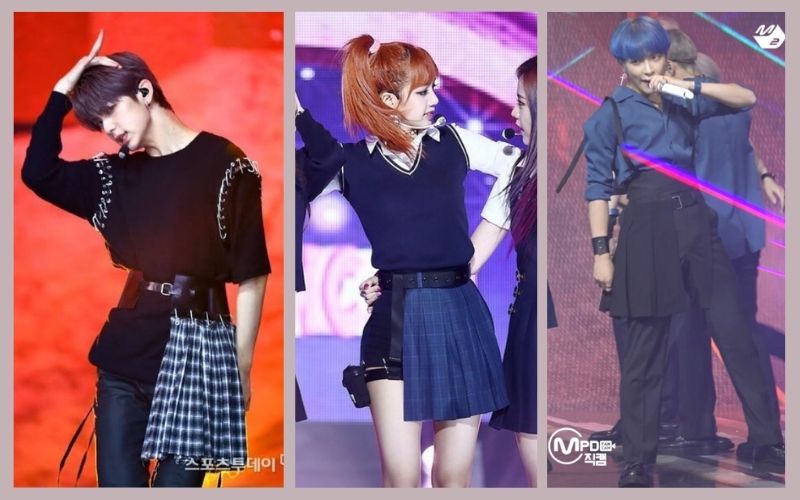 K-pop has shown time and time again that fashion truly has no gender. The half-pleated skirt is a popular clothing piece that's made its rounds in both girl groups and boy groups. Who could ever forget Blackpink Lisa's utilitarian-esque uniform in the group's 'As If It's Your Last' music video? With guys, TXT Soobin's 'Can't You See Me ' and Ateez Hongjoong's 'Inception' eras have left fans swooning with their impeccable 'fits.
Shop Soobin's half pleated skirt outfit:
Shop Lisa's half pleated skirt outfit:
Shop Hongjoong's half pleated skirt outfit:
The Soft Girl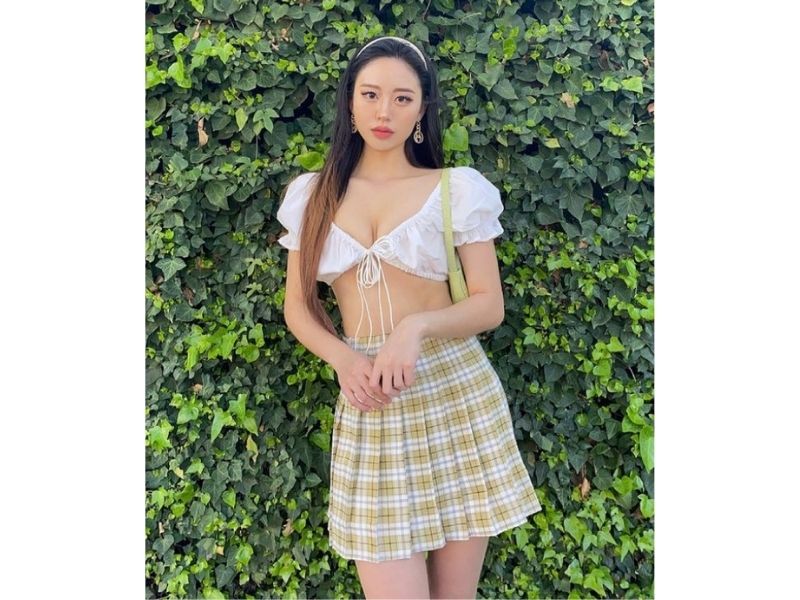 We can't have an outfit guide for tennis skirts without featuring a look from the soft girl aesthetic. Crop tops and pastel or plaid skirts are practically the fashion uniform for this TikTok style. 
Shop this style:
The E-Girl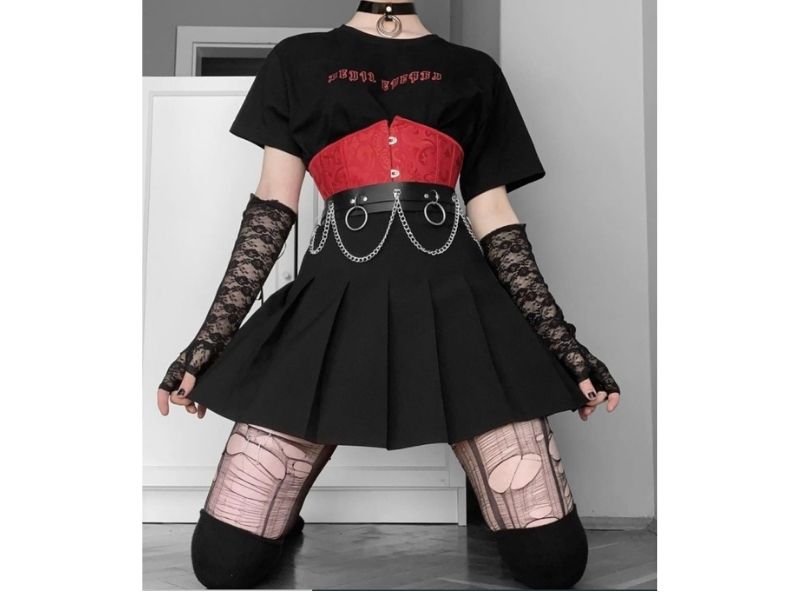 The e-girl style is another TikTok aesthetic where pleated skirts are worn to death. Despite that, there's no lack of creativity with the styling options for this subculture. Think outfit combos that include simple graphic T-shirts, all the way to elaborate bustier or corset tops! 
Shop this style: 
The Anime Girl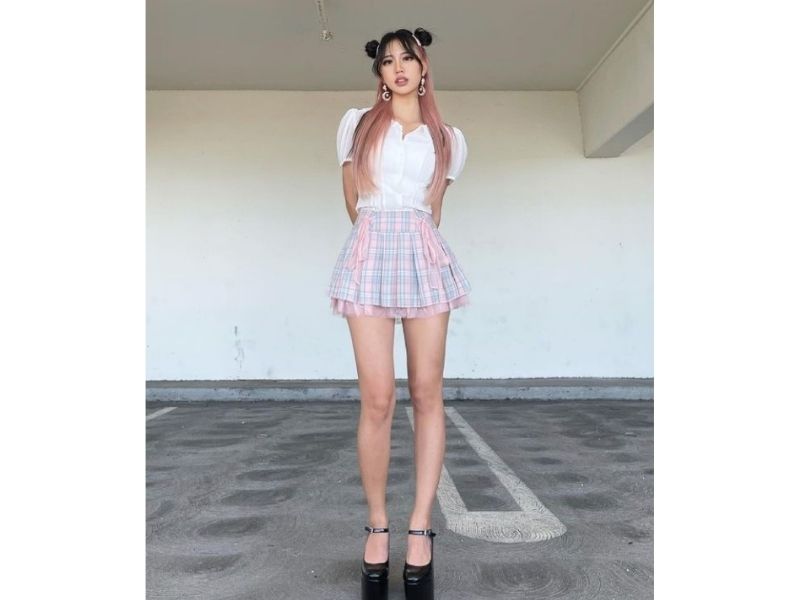 Love anime? Then channel your inner weeb with this anime-inspired pleated skirt outfit. If you have a favourite character in mind, feel free to recreate their look with your own style interpretation. Tie your hair up in two space buns and let your curtain bangs frame your face for that extra cute factor. 
Shop this style: 
Choose Your Fashion Fighter From These

Pleated Skirt Outfits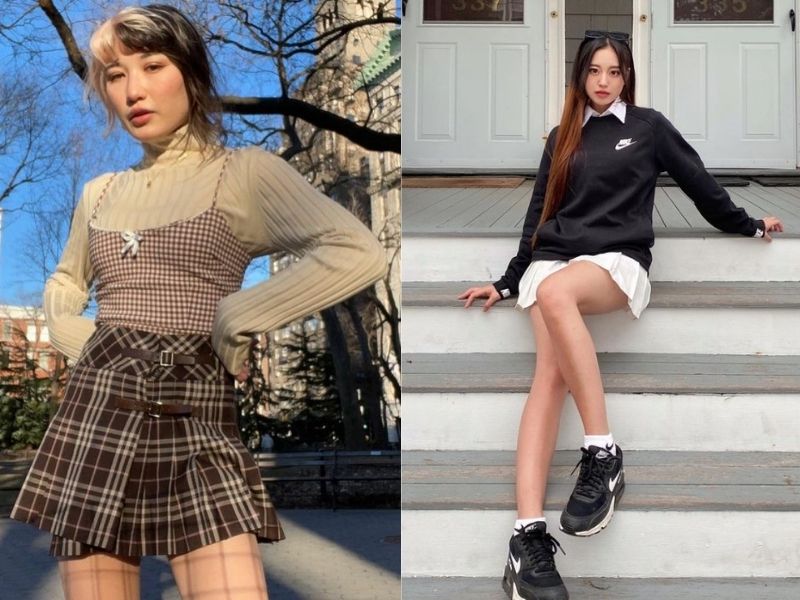 Whether for work, school, an actual tennis match, or that casual grocery run, there are endless ways to incorporate a tennis skirt outfit into your everyday wardrobe! Skirts not really your thing? Then seek comfort from the various #ootds you can create with our style guide on wearing mom jeans.