While there's no denying that skinny jeans can make you look long and lean, they can also be extremely uncomfortable at times. Enter mom jeans with their forgiving, baggy silhouettes to become our new revamped version of sweatpants. They're the kind of jeans that you can easily throw on without having to struggle squeezing into them. That's a major plus in 2021, considering how comfort and style are going hand in hand more than ever before. Whether you're looking to dress them up or down, here are eight mom jeans outfit ideas that range from casual looks to dressier #ootds.
Casual

Mom Jeans Outfits

 
Basic White Tee + Mom Jeans + White Sneakers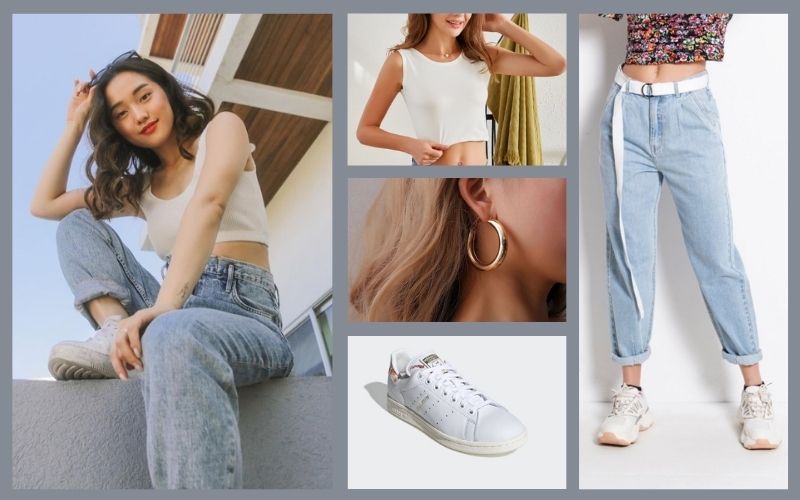 When in doubt, you can always rely on the trusty ol' white T-shirt, jeans, and white sneakers combination to wear on lazy days. It's a fail-proof mom jeans outfit that screams off-duty model chic; great for an all-around effortless look. 
Instead of wearing your standard short-sleeved T-shirt though, opt for a sleeveless crop top to transform this classic style from basic to Instagram influencer-approved. Add on some gold jewellery like hoop earrings and tie your hair up in a sleek low bun to complete the look. 
White T-Shirt + Cropped Sweater Vest + Mom Jeans + Mini Bag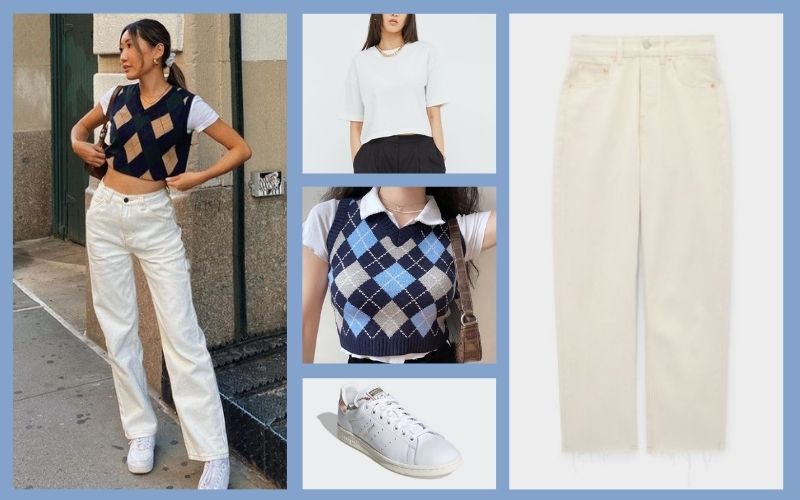 Sweater vests don't have to be styled in a stereotypical preppy manner with plaid mini skirts and collared white shirts. They can also be dressed down with mom jeans for a laid-back outfit. Go for cream-coloured mom jeans to brighten up the look. 
Then pair it together with a cropped argyle-printed sweater vest and layer over a white crop top. Tie your hair up in a loose, low ponytail with your favourite hair scrunchie and sling a mini bag over your shoulder to finish off this cool-girl ensemble. 
Oversized Flannel + Mom Jeans + Combat Boots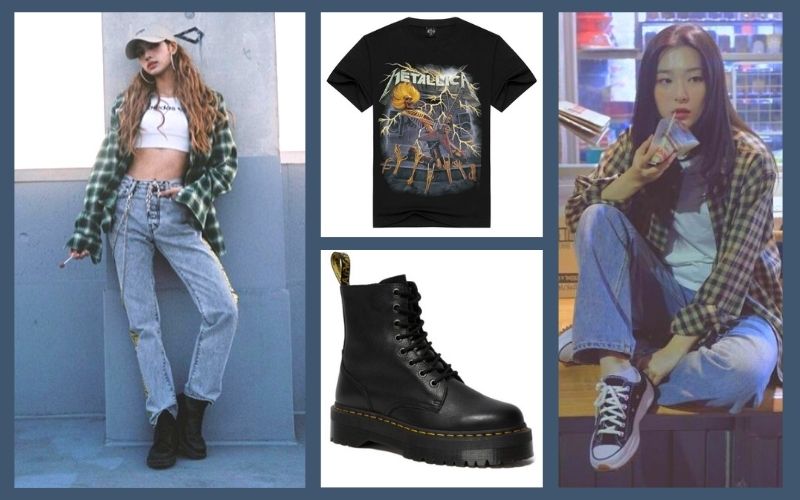 The '90s will never ever go out of style. If anything, it's almost always on-trend, with mom jeans being a prime example. So, it's only right to pay homage to the retro era with this '90s grunge-inspired mom jeans outfit. Pair an oversized flannel with your favourite graphic tee and throw on a matching beanie if you want to stay true to the slouchy aesthetic. 
Otherwise, you could opt for a more minimalist approach by taking inspiration from the casual everyday attire of Blackpink's Lisa and Red Velvet's Seulgi. For shoes, chuck on some combat boots to stomp around confidently in, while getting a height boost. 
Cropped Cardigan + Mom Jeans  + Hair Clips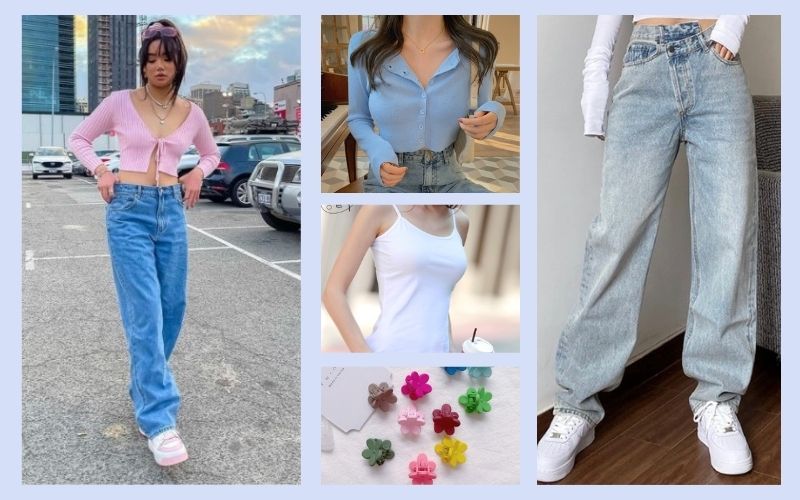 Cardigans are all the rage this year, so why not tap into your feminine side with this soft girl mom jeans outfit? Cinch in the waist with a cropped cardigan to balance out the bagginess of the jeans. By playing with these proportions, it allows you to create the illusion of an hourglass figure. 
Make sure the hem of your cardigan stops just above the waistline to elongate your legs even further. Finally, no soft girl aesthetic would be complete without hair accessories. So, adorn your lustrous tresses with some colourful hair clips to amp up the cuteness of this TikTok style. 
Dressy

Mom Jeans Outfits
Blazer + Mom Jeans + Heels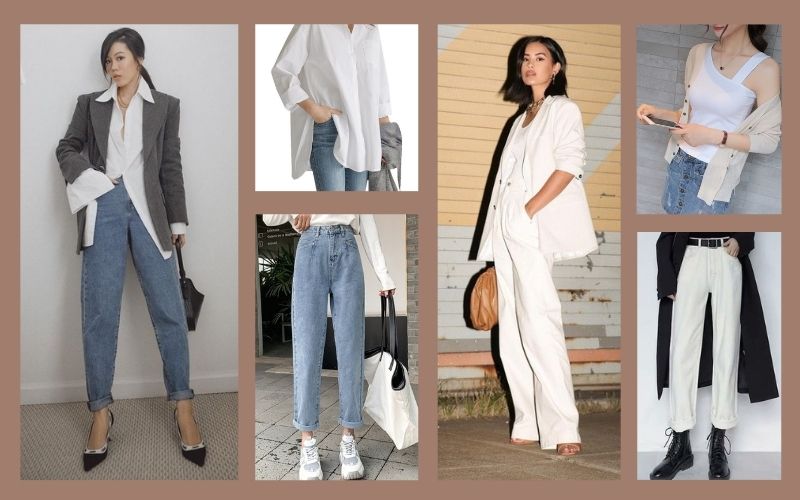 Smarten up your mom jeans outfit with a powerful blazer to achieve a sophisticated blend of professional elegance and street style-chic. Simply throw on an oversized grey blazer and tuck in one side of your white button-down while letting the other half hang loose to get the fashion blogger effect. 
Alternatively, you could also opt for a full monochromatic look for a sleek style that can easily take you from day to night. Thrown on some comfortable yet stylish strappy heels to offset the oversized fits for added polish and height. 
Sheer Puffy Sleeve Blouse + Mom Jeans + Pumps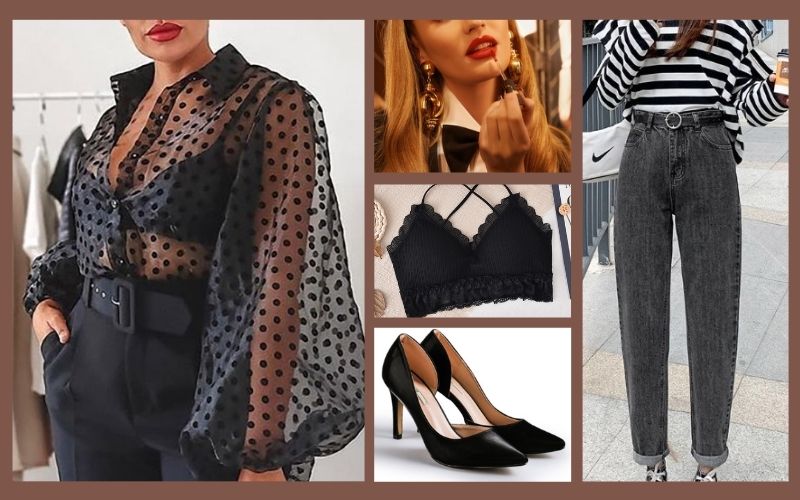 Think that mom jeans are only limited to casual and smart-casual styles? Well, think again, because you can dress up your baggy denim bottoms for date night with this sexy mom jeans outfit. This pairing consists of a black, sheer puffy sleeve blouse along with a matching bralette, and black mom jeans to exude your sultry charisma.
Cuff your mom jeans to show off your high-heeled pumps and to tie the whole look in together. Coat your lips with a bold red lip for an impactful finishing touch to this sensual number. 
Turtleneck + Mom Jeans + Ankle Boots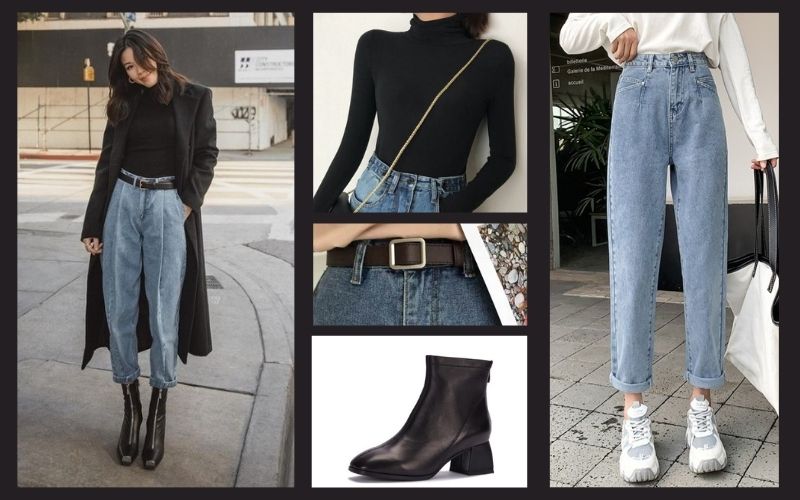 Every main character is seen with some sort of turtleneck combination. So get ready to be the female lead in your own real-life Korean drama with this classy mom jeans outfit. With this look, less is more, so keep it simple with a basic black turtleneck and let your #bossbabe get-up do all the talking. Accessorise minimally with a thin leather belt and throw on a pair of black ankle boots to let people know that you mean business. 
You can choose to layer a long blazer coat for a more dramatic look. But let's be real, that's not going to be very practical in our Malaysian weather. In which case, you're better off without the extra outerwear. Otherwise, you could swap your long-sleeved turtleneck with a sleeveless one instead for when you do want to wear that additional layer. 
PJ Top/Button-Down Shirt + Mom Jeans + Loafers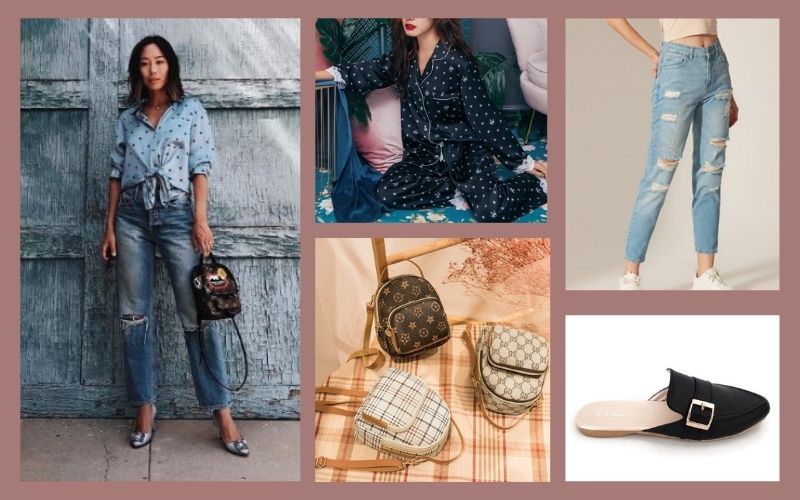 This final mom jeans outfit is perfect for those who work in the creative field where the dress code is less strict. And even more so for WFH days where we just can't be bothered to change out of our pyjamas.
Glamorise your sleepwear with a satin, long-sleeved pyjama top and swap out your PJ bottoms for a tapered pair of ripped mom jeans to look Zoom-call ready. Need to head out for a quick run of errands? Slide into some slip-on loafers for a polished yet comfortable style and you're good to go. 
Stay Cute And Stylish With These

Mom Jeans Outfits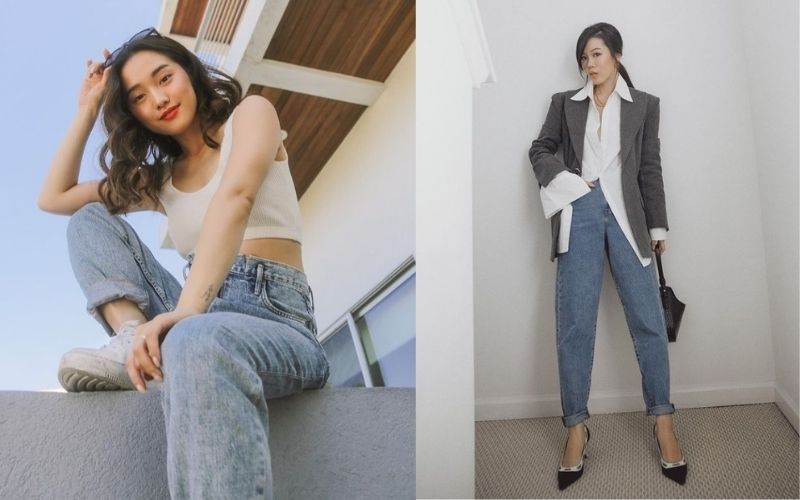 We hope this guide has given you plenty of ideas on ways to style your mom jeans outfits. Or if you haven't hopped on the trend, we hope you're inspired to try out this '90s retro style. Want to know more about other fashion and beauty trends? Then don't forget to check out our other articles like how to style cardigans and bold eye makeup looks to wear with your face mask.