With the new normal of wearing face masks becoming part of our routine, how we do our makeup is also changing. It's now better to go with a light base with very minimal foundation. Not to mention, lipsticks and highlighters are almost completely out of the equation as the bottom half of our face is always fully covered anyway. That leaves us with just our eyes to express our creativity with. So, why not get a little experimental? Here are six bold eye makeup looks to flaunt with confidence for your next trip to the grocery store. 
Bold Eye Makeup Looks

To Wear With Your Face Mask
Neon Graphic Eyeliner
Getting bored with your usual winged eyeliner? Then the graphic eyeliner trend is the way to go. This eye makeup look is all about getting creative with how you draw your eyeliner. From using different coloured eyeliner pens to drawing varying dots, lines, or shapes. There are all sorts of ways to personalise your graphic eyeliner to fit a style that suits you (or your face mask design) perfectly. If you're not using any eyeshadow, then choose a vibrant, neon colour to make your eyeliner pop even more. 
Warm Glossy Lids
Dewy skin has been an ongoing look and one that'll never be fully out of style. After all, who doesn't like to look like they're glowing from within? However, apart from your intensive skincare routine or eye-blinding highlighters, this glass skin-like complexion can also be achieved on the lids in place of your mask-covered face. For a neutral, 'your eyes but better' effect, use taupe-coloured shadows to add definition to the crease. Then, apply a dollop of clear gloss or petroleum jelly over the lids and diffuse it with a crease brush. If you want a little more pizzazz to this eye makeup look, then feel free to play around with other vibrant colours, such as hot pink, sky blue, or lime green, for a fun and cheerful look. 
'80s-Inspired Glam Rock
The '80s have never been shy about being flamboyantly expressive. Be it in fashion, hair, or beauty, you can always rely on the '80s to go big or go home, so why not take inspo from this era? For your face mask-friendly eye makeup look, you'd want to pack in the most vivid, colourful hues to let your eyes do all the talking. Think shades like electric pinks, blues, purples, yellows, or oranges to use for your striking eyeshadows. Blend three different colours for an eclectic look. But if you're afraid of colour-clashing or don't like the look of three bright eyeshadows, then focus on just one statement-making shade for something neater yet distinct. 
Rhinestone

Eye Makeup Look
Shine bright like a diamond and let your eyes sparkle with this Euphoria-inspired style. Adding a touch (or a lot) of rhinestone embellishments is an easy way to play up any eye makeup look. As long as you have the right type of glue and a pair of tweezers, you should be good to go. If that's too much of a hassle, then you can opt for a simple set of face rhinestone stickers instead. Plus, you're less likely to make a mess since you won't be needing to apply them with glue. Have fun with the placement of the rhinestones according to how heavily or minimally bedazzled you want to look. 
Coloured Mascara
Not a big fan of eyeshadow or eyeliner? Well, don't worry, because you can still amp up your eye makeup look by switching out your trusty black mascaras for more colourful options like burgundy, green, or even '90s-inspired blue lashes. Keep your base light so that your accented lashes will stand out even more. Alternatively, you can choose to experiment with contrasting colours or go full monochrome by matching your eyeshadow to your coloured mascara for a bolder look. Or you could also colour-coordinate your liner with your mascara for a subtle, yet cohesive blend. Opt for brighter hues on days when you want to make a statement. Otherwise, stick to darker shades for your everyday wear. 
Glitter

Eye Makeup Look
Besides the rhinestone face jewellery, glitter is a girl's best friend in any makeup kit. You can never go wrong with an eye-catching, pop of shimmer on the lids. It instantly brightens up your eyes with a dash of glamour that'll be hard to look away from. Glitter comes in all forms of textures and finishes for a variety of styles. Cream or liquid eyeshadows are great for a sheer hint of sparkle while pressed pigments with larger glitter particles will give you that head-turning shine. Use the glitter on its own over a bare lid for a wearable sheen or apply as an eyeshadow topper to finish off your eye makeup look.
Get Creative With Your

Eye Makeup Looks

To Express Your Fun Personality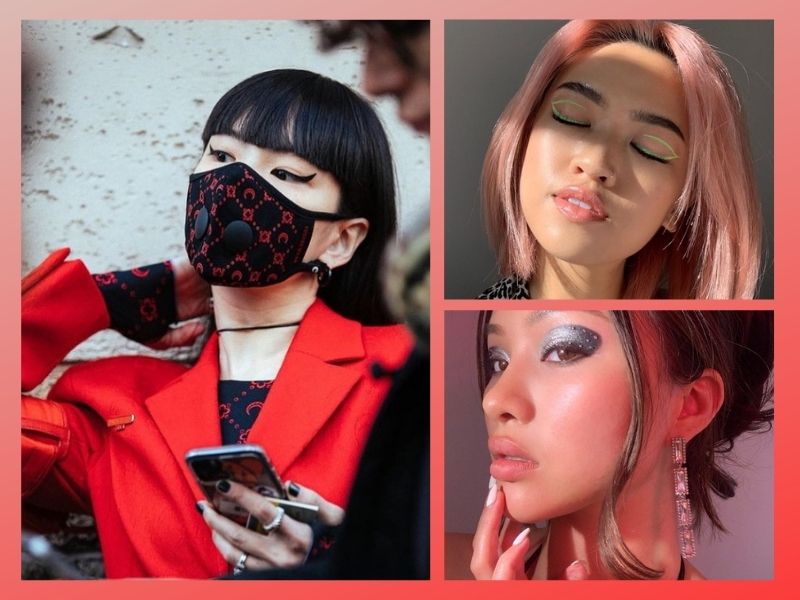 Life's too short for boring and stale makeup, even with half of your face covered, so we hope this list has inspired you to experiment with fresh new looks to pair with your face mask. Plus, because you don't have to spend as much time on the rest of your face makeup, you can now focus on putting your best self forward through all your eye makeup looks instead. Whether it's mastering a smokey eye or doing something different for date night, don't be afraid to step out of your comfort zone and just enjoy the learning process. Have fun!