Contrary to what Instagram pictures tell you, making bread isn't exactly an easy feat. Many recipes consist of multiple steps (kneading, proofing, etc.) and ingredients. Besides, you also need the right equipment and ingredients (including lots of patience) to succeed. Rounds of trial and error are expected too. Enter the bread maker. If you love warm golden-brown bread without having to go through laborious projects, there's a machine readily available to do the work for you. And bread makers today don't just make bread. They can even churn out delicious cakes and jams! Here are some of the best bread makers you can buy right now.
Up Your Baking Game With The

Best Bread Makers

In The Market
Panasonic Bread Maker 13 Preset Programs SD-P104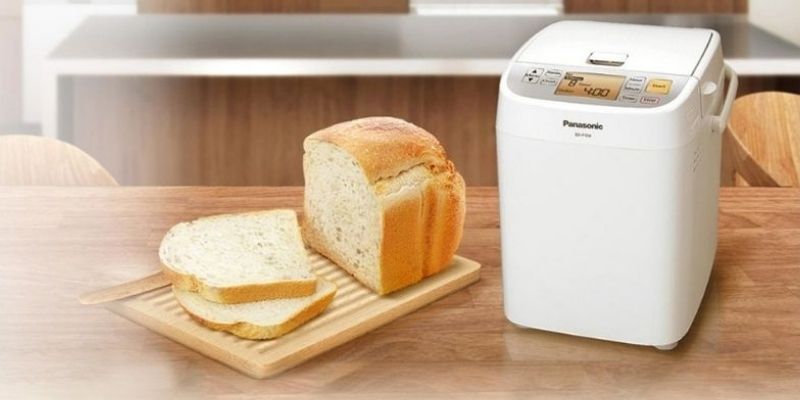 The best bread maker is one that automates baking processes with the switch of a button, and the SD-P104 does just that. Made by Japanese electronics maker Panasonic, it boasts a myriad of capabilities like mixing, kneading, proofing, and baking bread according to your desired taste.  To achieve oven-fresh bread, it has a temperature sensor for easy monitoring and a built-in yeast and raisin nut dispenser should you require some flavouring for your bread. There are over 10 types of recipes ranging from whole wheat bread and pizza dough to chocolate, so it's likely you'll find one that tickles your fancy.
Tesco Bread Maker BM1333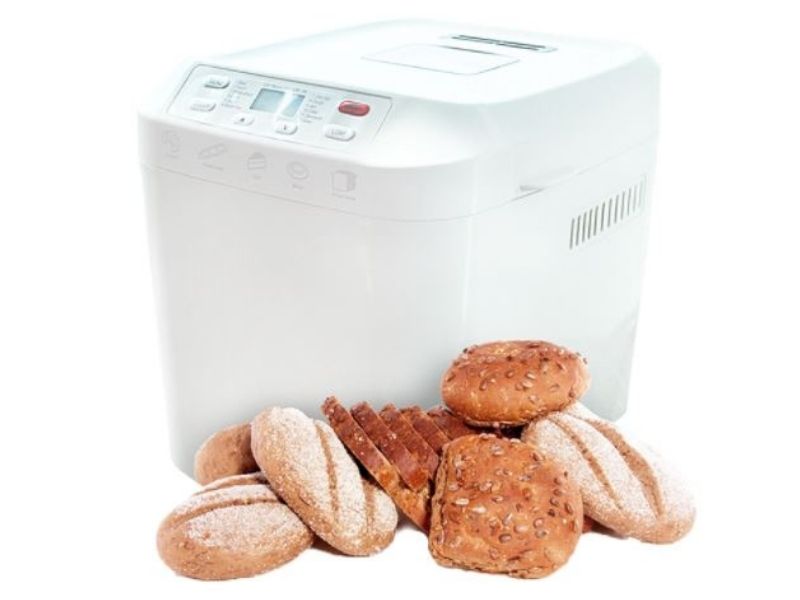 Did you know that British supermarket chain Tesco makes some of the best affordable bread makers in the market? The BM1333, for instance, comes equipped with intuitive traits. It automatically shuts down after being left idle for longer than 10 minutes and has a warmer to keep bread soft and fluffy. Additionally, there are 12 digital programmes for different baking needs. You get a complimentary recipe book with each BM1333 bread maker, containing step-by-step instructions for making garlic bread, banana bread, and even doughnuts!
Russell Taylors Bread Maker BM-10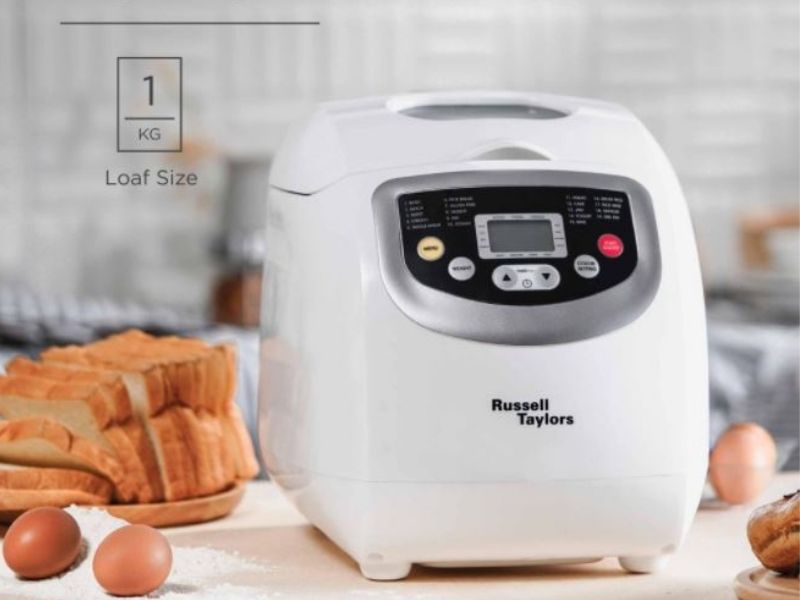 Kitchen appliance brand Russell Taylors' extensive array of electronics includes the BM-10 bread maker. With a 1kg capacity, you can easily bake a sizable bread loaf and have the crust tailored to your liking with a three-setting function. The removable pot is also non-stick so you don't have to worry about any difficulties with cleaning off residues. Presets-wise, 19 individualised settings are readily available to bake staples like pastries and bread, but it doesn't stop there. The BM-10 makes yoghurt and jam as well, which are perfect condiments for a slice of toast. Undoubtedly, these features solidify the BM-10 as one of the best bread makers money can buy. 
Khind Bread Maker BM750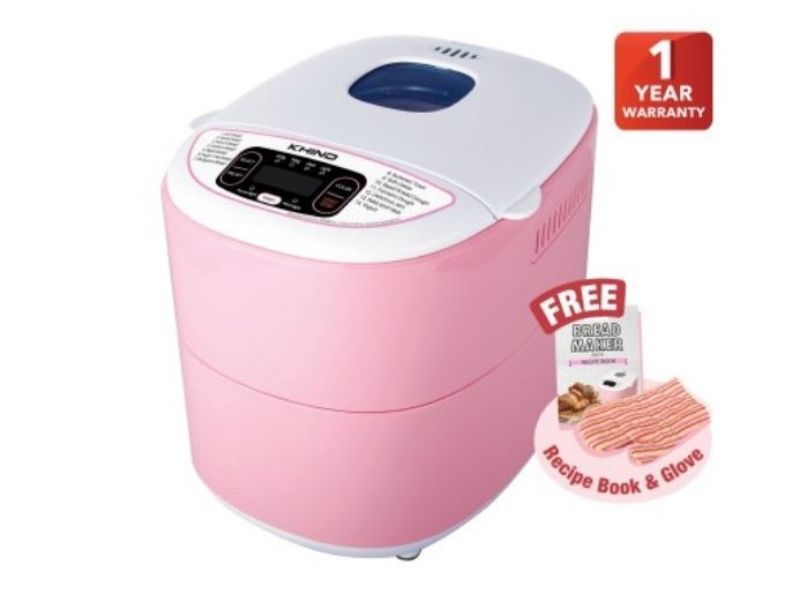 A hallmark feature of the Khind Bread Maker BM750 is its durable ceramic-coated cast aluminium bread barrel and stirrer, guaranteeing a safe and seamless baking experience. In terms of loaf sizes, you can choose between 750g and 800g when baking from the 14 available presets, which includes sugar-free bread, graham bread, and buttered toast. This Khind appliance goes against the conventional dull tones of most bread makers with an eye-catching pink hue, turning it into a colourful addition to your kitchen tabletop.
PerySmith 2.0LB Bread Maker X Bossman Kaden BK2000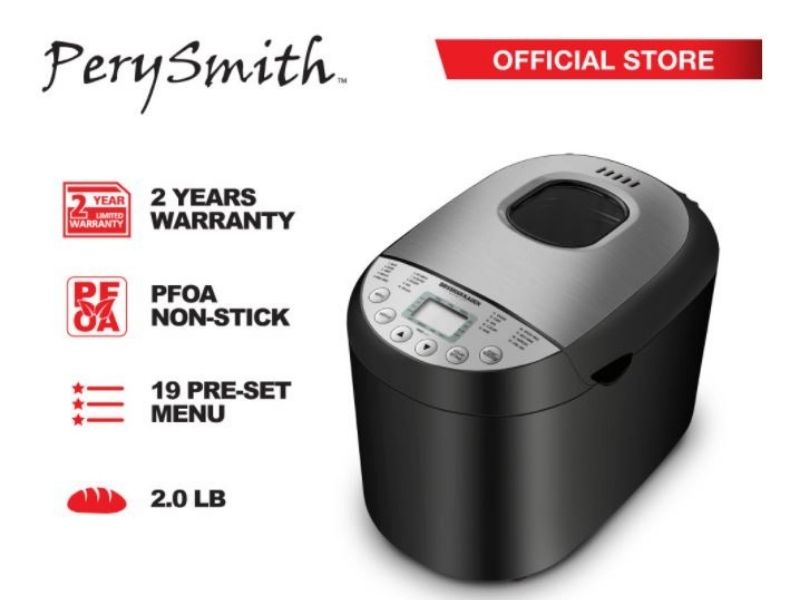 A collaborative effort between PerySmith and Japanese brand Bossman Kaden, the BK2000 fuses technologies from both companies to create what they hope is the best bread maker at the moment. On the outside, you'll find sleek grey-black paint covering the body in a matte finish. Inside is where the BK2000 shines. With 19 presets, three crust levels, and three loaf size selections, it offers you plenty of breadmaking options. You don't have to worry about overworking the machine too since it's smart enough to prevent overheating thanks to multi-layer insulations. The BK2000 comes with a two-year warranty, so you can bake to your heart's content without worries. 
Trio TBM-111 Bread Maker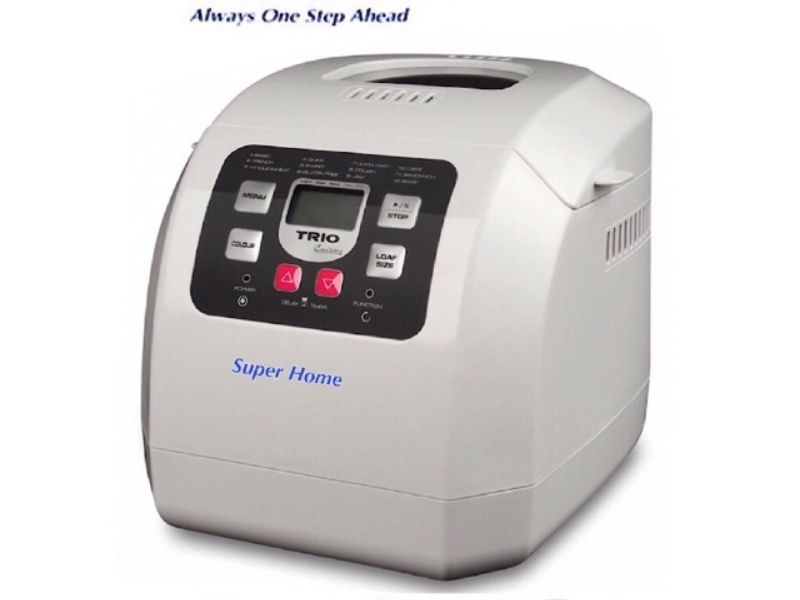 Easy to use and comes with all the necessary features to create mouthwatering baked goods, the TBM-111 by Trio ticks all the right boxes when it comes to providing a no-frills and affordable approach to express baking. Which makes it one of the best bread makers money can buy. It comes with 12 presets and a loaf size of up to 900g. A detachable non-stick inner pot makes for easy cleaning, while a large viewing window lets you peek at the action inside. Each TBM-111 comes with a measuring cup, a measuring spoon, and a hook—all the necessary tools to start baking!
From Bread To Cakes, Create Aromatic Baked Goods With The

Best Bread Makers

You Can Buy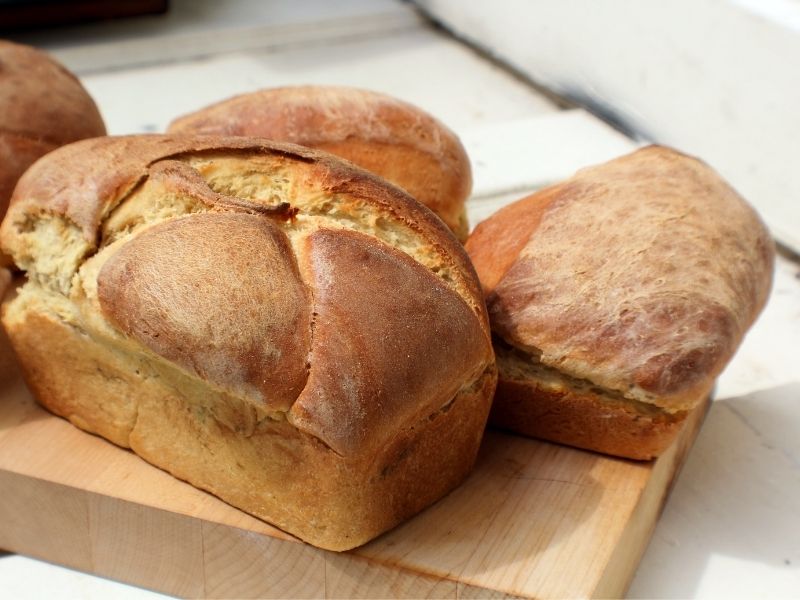 Homemade bread is delicious, but not everyone has the time to wait for a ball of dough to rise. After all, you already have your hands full with work and life obligations, especially during this time. Thankfully, the best bread makers can do all the heavy lifting for you. Get your baking supplies ready and you'll soon be churning out delicious bread and pastries in no time! Perhaps you have a sweet tooth and aren't keen on the prospect of baking? Well, you're in luck. These dessert recipes don't require any baking. Yes, no oven required at all.