Here's a no brainer: your dog loves treats. Think of all the times you rewarded them with treats for being a good doggo, likely they wagged their tail so profusely it could drop off any second. But even more, dogs love treats that taste and look like human food. Cookies, doughnuts, cakes… they love them all. So, to take things up a notch, we've listed a bunch of homemade dog treats for you to try out!
Rest assured that only natural and dog-friendly ingredients are used, with all the essential nutrients your dog needs for healthy growth and development. No matter your dog's size, these recipes will have them salivating in no time!
Note: Before trying out any of the recipes below, we encourage you to consult with a veterinarian for any dietary concerns, especially if your dog is allergic to certain foods.
Replace Store-Bought Snacks With These

Homemade Dog Treats

 
Peanut Butter Cookies
Your dog loves the way a delicate peanut butter cookie disintegrates in their mouth as much as you do! Cookies are some of the most popular homemade dog treats right now, and this recipe combines the savouriness of peanut butter with fluffy whole wheat flour while honey provides a tinge of sweetness. These cookies are great to make in bulk as they stay good in the fridge for up to two months in an airtight container. So, don't be afraid to make a whole bunch of them if needed! Finally, you can customise them in any cute shapes and sizes you want with a cookie cutter.
Recipe Ingredients:
2 ½ cups of whole wheat flour

1 tsp of

baking powder

 

1 scoop of peanut butter (note: make sure it's xylitol free)

2 tbsp of honey

1 egg
Strawberry Mini Doughnuts
They look exactly like the ones that you buy at Krispy Kreme! These homemade dog treats are cute as a button and make brilliant gifts for the dog lovers you know. Using fresh strawberry puree, coconut oil, and bananas as the main ingredients of the recipe, the finished goods are sweet and decadent. While optional, you can top the doughnuts with coconut flakes and chia seeds for an added touch of finesse. Who says dog treats have to look plain and boring?
Recipe Ingredients:
1

egg

1 tbsp coconut oil

2 tbsp of honey

¼ cup of strawberry puree

½ ripe banana

¾ cup all-purpose flour blend

1 tsp of baking powder

½ tsp of

cinnamon powder
V-Day Macarons
Valentine's Day may be over and done with but showing love to your furry companion never stops, and what better way to do it than with a box of fancy macarons? The French pastry has had a resurgence of popularity in recent years, but it's not too late for your dog to jump on the trend. By swapping out sugar with wholesome ingredients like chicken broth and organic beetroot juice, this homemade dog treat guarantees a scrumptious good time without the calories!
Recipe Ingredients:
½ cup of flour

1 large egg

1 tbsp of chicken broth

3 tbsp of beetroot juice

2 tbsp of peanut butter
Oatmeal And Cinnamon Ice Cream
You scream for ice cream, and so does your dog (except for chocolate ones, of course)! Through this homemade dog treats recipe, you can reward your dog for being a good boi with a serving of creamy oatmeal and cinnamon ice cream. Did you know cinnamon is good for dogs? Besides, the spice is abundant in anti-inflammatory properties, which is great for relieving muscle soreness. Perfect for a hot day, this recipe is easy to replicate (only four ingredients needed) and packs enough nutritional value for a cooling and yummy treat. 
Recipe Ingredients:
1 ripe banana

¾ cup of cooked oatmeal

1 tsp of cinnamon 

1 cup of natural low-fat plain

yoghurt
Pumpkin Pie
Rich in potassium, iron, and Vitamin C, pumpkin is widely considered to be a superfood for both humans and dogs. And there's no better way for your dog to savour pumpkin than in a glorious pie form! That said, this homemade dog treat is anything but conventional as the base of the pie is made from oats! Set inside an oven using bite-sized pie dishes, the pies are baked to achieve a crispy-yet-gooey finish.
Recipe Ingredients:
Egg

1 cup of oats

1 can of plain pumpkin puree
Reward Your Pet With

Homemade Dog Treats

That Are Fun To Make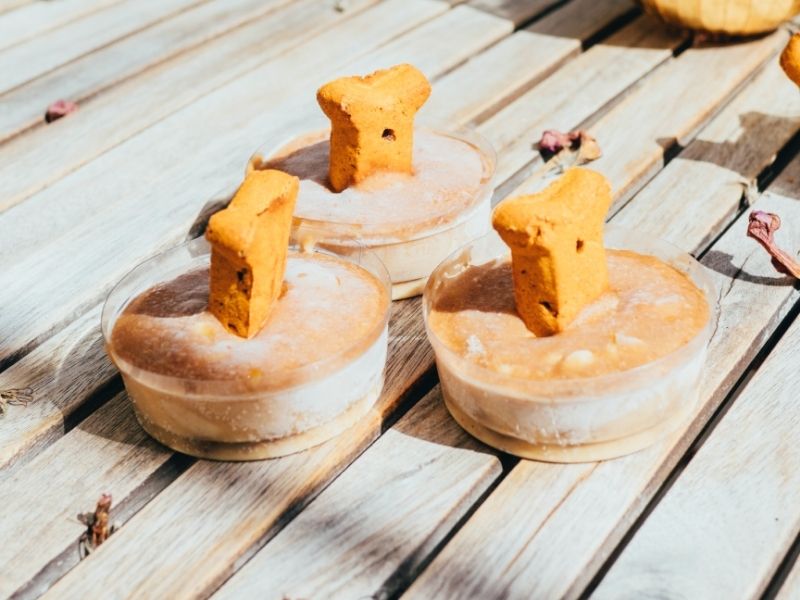 Although ready-made dog treats are convenient, there's nothing quite like creating something from scratch for your dog. After all, they've been nothing but loyal and obedient to you, so why not reward them with snacks made with good quality ingredients and most importantly, love! Trust us, you'll enjoy making the aforementioned homemade dog treats as much as your dog will enjoy wolfing them down! What's also great about the recipes above is that you can reuse some of the ingredients for your breakfast, so go ahead and try them out! 
Meanwhile, if you're a cat owner, here are some of the best types of wet food for your feline friend.