We're not going to lie, job interviews can be quite an intimidating experience. Being questioned by someone you've never met before and knowing your answers will determine whether you've passed or not is stressful. Even if your insides feel all knotted up (which is completely normal by the way), that doesn't mean you can't look confident on the outside. Dressing to impress is a crucial step when preparing for any big interview. 
First impressions count and that means you need to dress the part if you want to secure the position as a potential candidate for your next dream job. Yes, even if your interview is on Zoom, the same rules apply. Besides, going into the interview well-dressed can even boost your confidence and calm your nerves. So, if you're still deciding on what to wear to an interview (be it for a corporate or creative setting), here are some outfit suggestions to help you out. 
What To Wear To A Corporate Job Interview
Formal Pants/Skirt Suits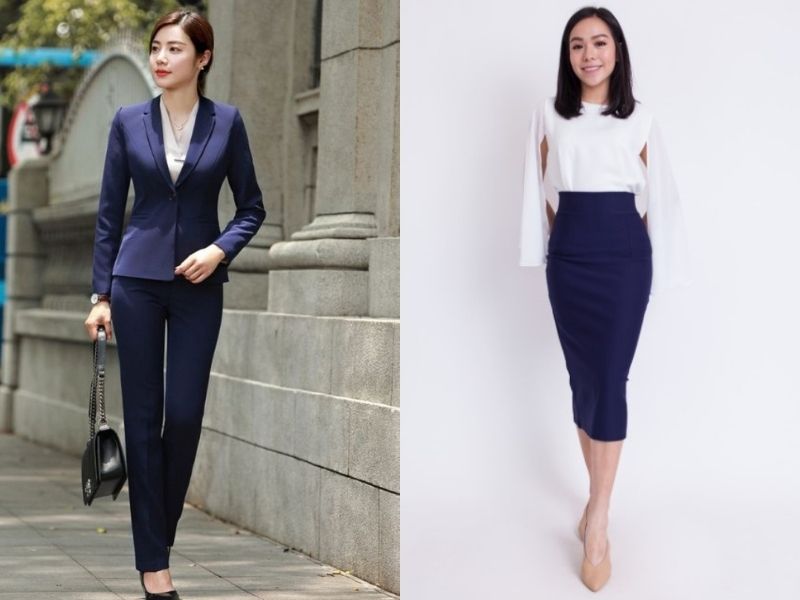 Suits are a fail-safe outfit combination you can always rely on, especially when you don't know what to wear to an interview. They instantly make you look professional and show that you mean business the moment you walk into the room. Opting for a navy blue blazer will allow you to add a hint of colour while sticking to the formal dress code. Pair your blazer with a matching pencil skirt or dress pants and a white button-down shirt for a cohesive look. Try to look for structured fits that taper closely to your silhouette, because while oversized clothing may be the trend, they can be viewed as sloppy in a corporate setting. Wear them with a sleek pair of black pumps and a leather tote bag to complete the look. 
Business Dresses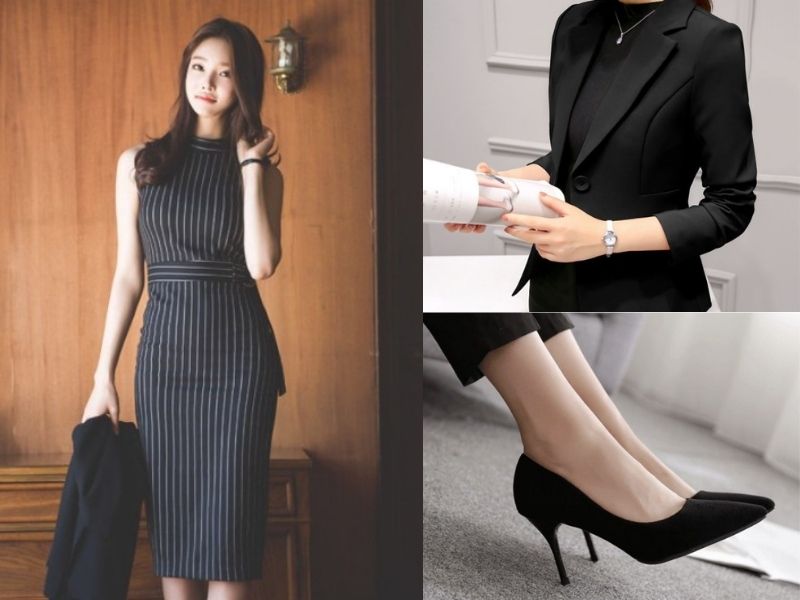 If the mere thought of just putting together an outfit and deciding what to wear to an interview is distracting you from your mental preparation, then opt for a business dress instead. Business dresses are a quick way to look elegant and polished without having to put much effort into it. This is a no-brainer, but your business dress shouldn't be overly revealing and should also have an appropriate length and neckline. 
Look for office-ready dresses that fit securely (but not to the point where it's too tight) around the waist and with a length that hits just below the knees. As for the necklines, opt for crew necks or a very subtle V-neck. A high neckline that only shows your neck and a hint of collarbones would be a safe bet for your formal attire. Ideally, the dress shouldn't be sleeveless, but even if it is, you can always just wear a blazer over it and keep it on throughout the interview. 
What To Wear To A Creative Job Interview

 
Midi Dresses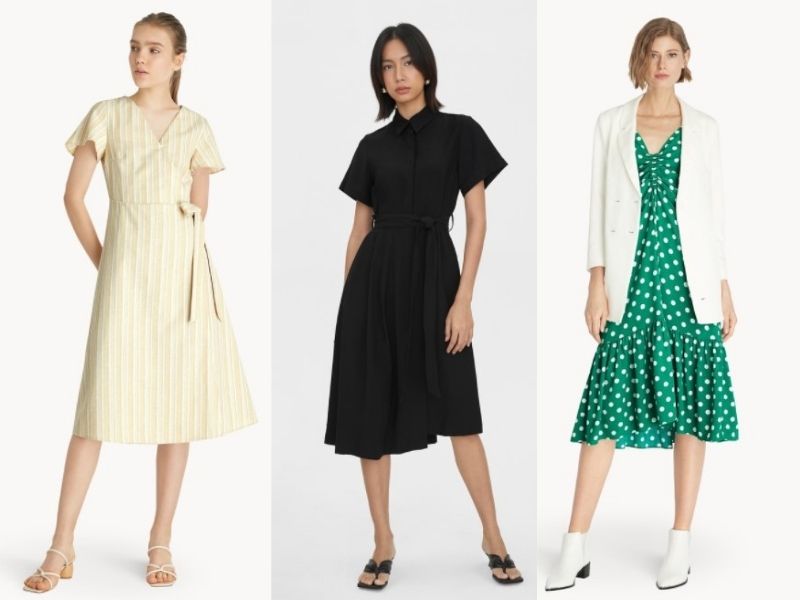 Just because you're going for an interview in a more casual and creative setting does not mean you're allowed to show up in jeans and a T-shirt (no, really, please don't do that). A general rule of thumb for knowing what to wear to an interview is that it's always better to overdress than to underdress. While you're not required to be decked out in a full suit, you still need to maintain a level of professionalism all the same. Midi dresses are an easy way to look chic yet sharp and clean. 
Since the dress code is not as strict, feel free to utilise prints in your interview outfit. Just make sure that they're not too loud or over-the-top to the point where it's distracting. Save the animal prints for the weekends and keep it subdued with stripes or polka dots, or experiment with different structured fits, such as this belted pleat dress. Throw on a pair of pointed flats to stay neat but comfortable.
Add Pops Of Colour/Patterns To Traditional Formal Attire
You don't have to give up your formal suits if that's what you prefer to wear to an interview. After all, a good suit can make you feel like an ultimate #girlboss. And besides, there's nothing like having that added flair of confidence to help you combat your nerves. You can easily jazz up your traditional corporate attire by swapping your neutrals with more vibrant (but not blinding) colours instead. 
If you're hesitant about going in with a coloured suit, then a safer option would be to opt for a checkered blazer and pants with a relaxed fit. Checks are always on-trend and provide an interesting touch to your outfit, all while ensuring the attention of the interviewer remains on you. Even if you're interviewing for a creative role, it's still not advisable to pair a T-shirt and sneakers with your blazer suit. Stick with your formal blouses and close-toed heels or loafers and you won't have any problems. 
Sweater Vest With A Puffy-Sleeved Shirt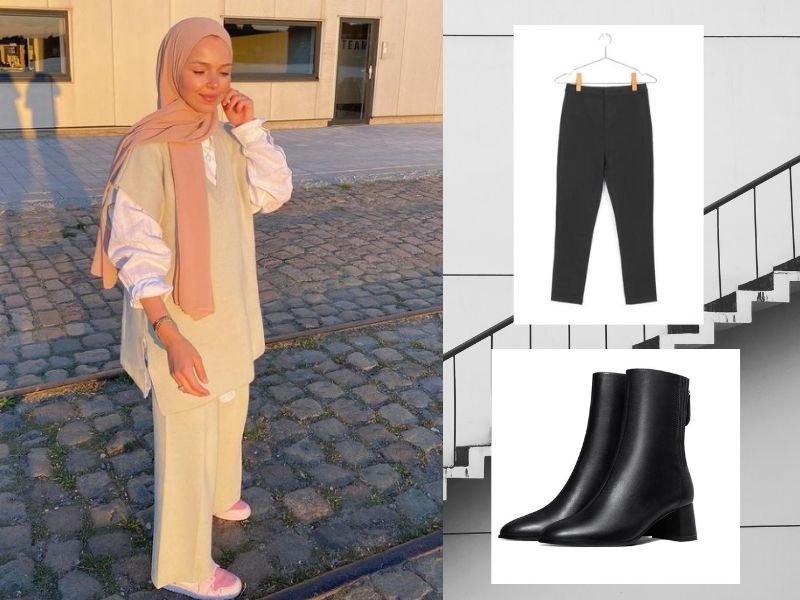 Sweater vests were all the rage last year in 2020 and they're still here to stay in 2021 too. They give off a sophisticated, preppy feel to any outfit, making them the perfect wardrobe piece for an interview in the creative field. On knowing how and what to wear the sweater vest with for an interview, you can never go wrong with a classic white button-down shirt. It's a reliable styling option that just works every time and the go-to uniform for sweater vests. To prevent it from looking too student-like, pick a button-down with accented (but also lowkey), puffy or balloon sleeves to create a point of interest to your outfit. Then balance out your top-heavy attire with a simple pair of black skinny pants and boots to round up your fashionable ensemble. 
What To Wear To Any Interview

: Makeup & Hair
Keep your makeup light, simple, and natural. Now's not the time to be doing the most nor going full glam, unless the job you're applying for is within the makeup industry. Choose a neutral palette filled with matte shades and stay clear of any glitter, shimmer, or pastel-coloured shades to look professional and presentable. If you've got any tattoos, make sure to take the necessary steps needed to conceal them properly (or wear long-sleeved clothing to cover them up). As for styling your hair, you can choose to leave it down as long as it's neat and tidy. Alternatively, you could tie it up in a sleek ponytail or bun.
Dress To Impress With These Professional Outfits In Your Next Job Interview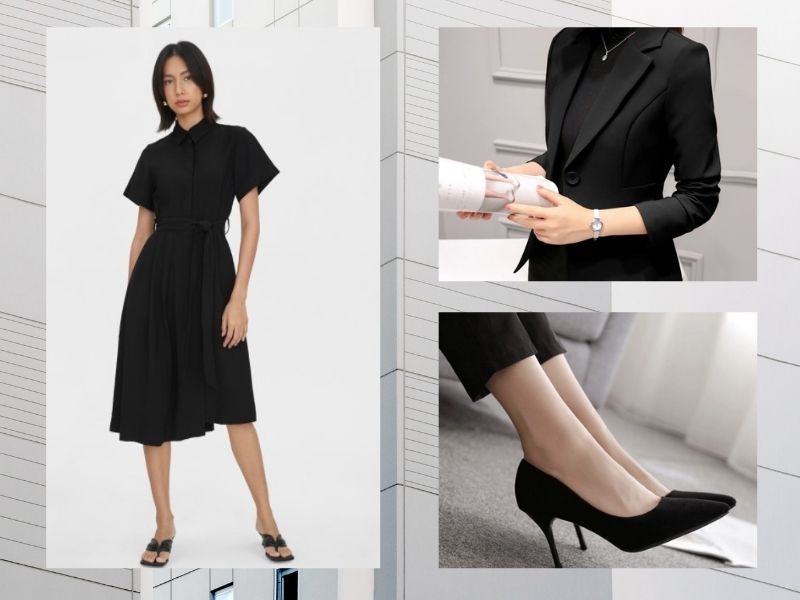 Knowing what to wear to an interview is a nerve-racking struggle, so we hope these outfit ideas provided you with useful tips to look professional in both corporate and creative industries. With that being said, your outfit can only take you so far and it's important to do your research before heading into any job interview. Making a good impression is only the first step, but how you keep it is entirely dependent on how well-prepared you are. If you're looking for Muslimah alternatives, then don't forget to check out our other article on Muslimah formal attire as well. Congratulations on landing the interview and all the best!