The school holidays are coming up and as parents, there'll be one looming thought in the back of your mind: How do you keep the kids busy at home? If you're thinking of engaging your children with some creative projects but don't know where to start, you've come to the right place. Below, we round up some quick and easy crafts for kids that they can make using everyday items you probably already have lying around the house. Best part is, these fun crafts don't require any special tools and will make for a great family-bonding activity! 
Quick And

Easy Crafts For Kids

To Make At Home
Paper Plate Dream Catchers 
Dream catchers are quite complicated DIY projects (even for adults!), but this kid-friendly version using paper plates is something anyone can make. You'll only need some essential stationery supplies and a few additional decorative items, depending on the design. Once done, you can hang it up above your kid's bed to chase any bad dreams away! 
Supplies you'll need: 
Glowing Firefly Bottle
If your child is already a fan of glow-in-the-dark stickers, they'll probably love this easy craft for kids too. The main item you'll need? A recycled carbonated drink bottle—preferably one that's in the colour green (such as 7UP) to resemble a glowing firefly. Of course, don't forget the final touch after completing the craft by sticking a glow stick in the bottle!
Supplies you'll need: 
Crescent-Tailed Kite
Instead of making a regular kite, get your kiddos to learn how to make a traditional Malaysian wau that's shaped like a crescent! The household item you'll need to make this easy craft for kids is the sticks from a good old coconut broom, otherwise humbly known to us as the penyapu lidi. Even if you don't have one lying around the house, you could easily get one online or at a sundry shop in your neighbourhood.
Supplies you'll need: 
Dragonfly Clothespin Magnet
Got an oversupply of clothespins hanging around in the laundry room? Let your kids get creative and turn them into dragonfly magnets that'll be useful for putting up notes and reminders on your fridge! Ensure they're the wooden type of clothes pegs, so your little ones can use markers to colour in their designs. PS: This easy craft for kids involves the use of a hot glue gun so make sure you're there to supervise them.
Supplies you'll need: 
Fire-Breathing Paper Roll Dragon
Here's one good way to recycle those cylindrical cardboard tubes from toilet rolls after you're done with them. For this DIY project, all you need is a few simple craft supplies but the result is a really fun toy that will be loved by toddlers and preschoolers alike. That's because when they blow from one end of the tube, it'll look like the dragons are breathing fire! Tip: Don't glue any crepe paper on the bottom of the tube because gravity won't allow it to move when you blow into it.
Supplies you'll need: 
Paper Lunch Bag Puppets
Don't want to hoard or bin all the brown paper lunch bags you've accumulated from takeaways but not sure what to do with them either? Then this easy craft for kids is the perfect way to utilise them! With just a few basic supplies, you can help your child create various animal puppets out of those reusable paper lunch bags. Take cues from popular children's YouTube channel, Ryan's World, and you're good to go. You can even create a reindeer puppet when the festive season rolls around.
Supplies you'll need: 
Egg Carton Turtles
Never thought there was ever a use for egg cartons? Now you can save them for this easy craft for the kids to make when they're feeling bored at home. While there are several types of animals that you can create out of the egg cartons, this DIY tutorial focuses on adorable little turtles using just one individual section of the carton. You can also utilise the entire row of the egg carton to make a caterpillar!
Supplies you'll need: 
School Holidays Are No Longer Boring With These

Easy Crafts For Kids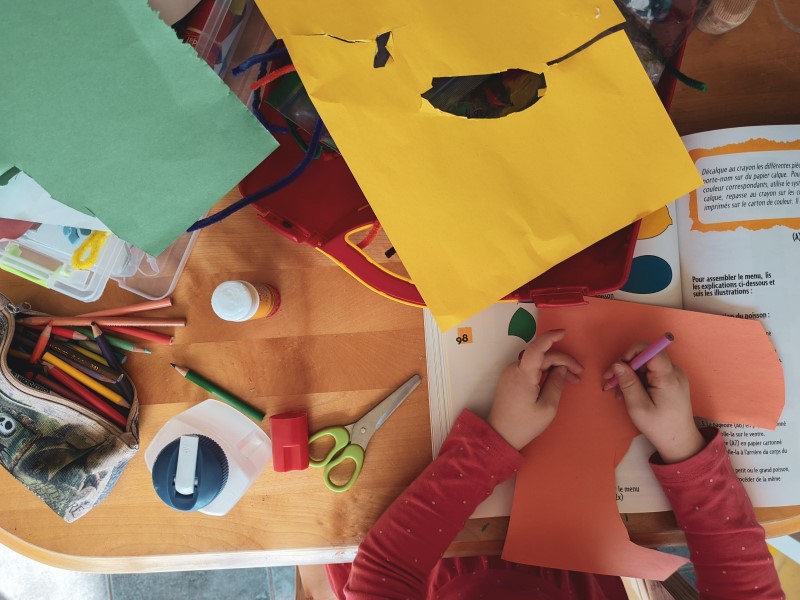 With these quick and easy crafts for kids as your source of inspiration for the school holidays, your children will definitely be keeping busy for hours on end. Plus, you don't have to go the extra mile to get fancy supplies because (almost) everything you need already exists in your home. Now that's a great way to bond with your children and spend a little creative time together! For more ways to keep your kids entertained, check out these fun learning games and indoor activities.