Getting ready and glammed up for a date night out with beau can be a huge challenge. So many options to choose from with so little time! It doesn't particularly help when almost every beauty tutorial features ten different types of brushes and shadow just to create a cut crease. If you're looking to get all dolled up in a flash, then these five simple makeup looks for dinner are worth giving a try!
Simple Makeup For Dinner That Requires Minimal  Effort
1. Natural And Simple "No-Makeup" Makeup  For Outdoor Dinners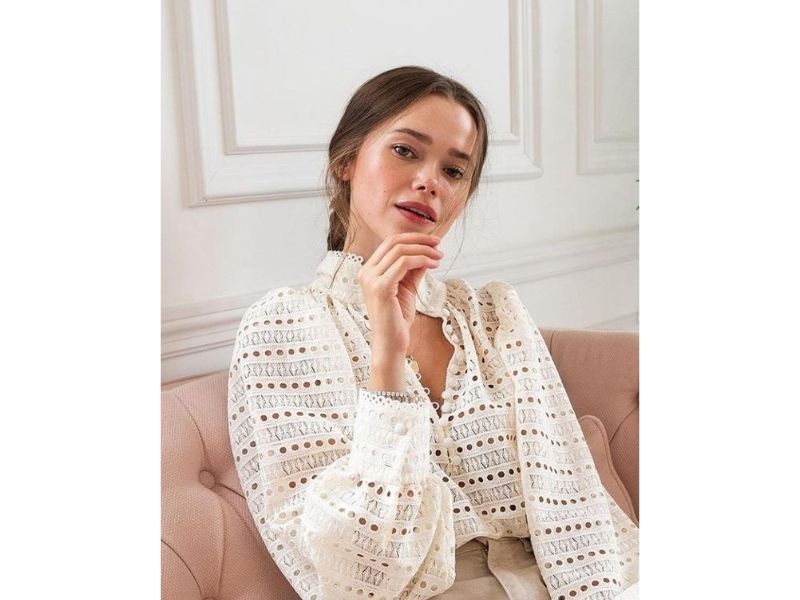 You don't necessarily need to pack on a ton of product to look your best flawless self, because letting your natural beauty shine through is better than all the trendy makeup styles combined. Besides, if you're having a good skin day, that's all the more reason to flaunt it! This simple makeup is perfect for a picnic dinner, or any other casual date, as it's lightweight and breathable but still very chic. 
To achieve this look, prime your face with a spritz of rosewater

, and follow up with your favourite

moisturizer

to get that healthy, glowy effect. 

For those with dark circles, try opting for a warmer shade of

concealer

as your first layer before going in with a lighter shade.

Brush up your brow hairs with a spoolie to create some texture, fill them with a brow pencil, and set them in place with a brow gel.
Next, from your eyeshadow palette pick a flattering blush pink shade to blend all over the crease of your eyes and the lids.
Skip the eyeliner, because your fluttery eyelashes are the key to this look. Once, you've curled them with an eyelash curler, start applying mascara to the other outer lashes for a cat-eye effect.
Prep your lips with a lip scrub to exfoliate any dry, flaky skin, and allow that to sit.
Then, grab your trusty bronzer to sculpt those cheekbones, jaws, and forehead.
Apply a cream blush (or any other blush is fine) to your cheeks and blend into the skin.
Highlight your usual areas (cheekbones, nose, chin, nose, and inner corners of your eye) with a powder highlighter.
Set and mattify the face with a face powder.
Finally, finish off the look with a rhubarb shade lipstick.
2. Monochrome Makeup For A Sweet And Simple Dinner Date Look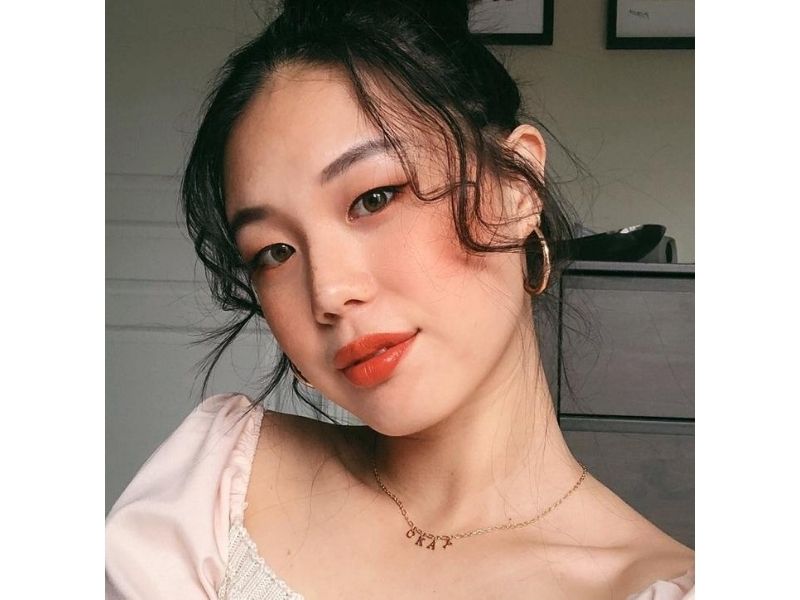 Another great simple makeup look for dinner is the monochrome style, where your eyes, cheeks, and lips match perfectly with the same shades. A neutral warm-toned colour like a peachy orange is a great base for a fresh and flirty monochromatic look. A rule of thumb to finding the right shade of peach-orange is to follow your skin tone. If your skin tone is fair, then go for a softer peach shade. Likewise, if your skin tone runs towards the deeper side, then opt for darker colours of peach. Easy right?
Dot on a light layer of

foundation

. Proceed to blend it into the skin with a makeup brush. Follow up with your choice of concealer to conceal spots.

Fill in the natural shape of your eyebrows with a brow pencil.

From your

peach eyeshadow palette

, apply a soft peach shade onto your eyelids and blend with your fingers. 

Take a light orange colour to layer on top of your lids. Blend with a

fluffy brush

.

Next, pack on a shimmery rose gold shadow onto the centre of your lids to make the eyes pop. 

Lightly apply the same light orange shadow onto your waterline. 

Use a

brown pencil liner

to outline your eyes. 

Grab a

felt-tip eyeliner

to draw a thin line on the outer corners of your eyes. Follow the curvature of your eye and then slightly tilt your pen upwards. 

Make your winged liner thicker to your desired fullness. If you make a mistake, use your fingernail to clean up the bottom of the wing to make it sharper.

Pop on your favourite

fake eyelashes

if you want to make your eyes look fuller and wider. You can skip this step to keep things more natural.

Use a cool-toned bronzer to give your nose a subtle contour, and apply a touch of highlighter on the nose. 

Take another clementine or

tangerine blush

 to brush onto your cheeks. 

Complete the look with a matching liquid lipstick shade. Gently dot the product on your lips before blending it out with your finger. 
3.  Simple Smokey-Eye Makeup For A Candle-Lit Dinner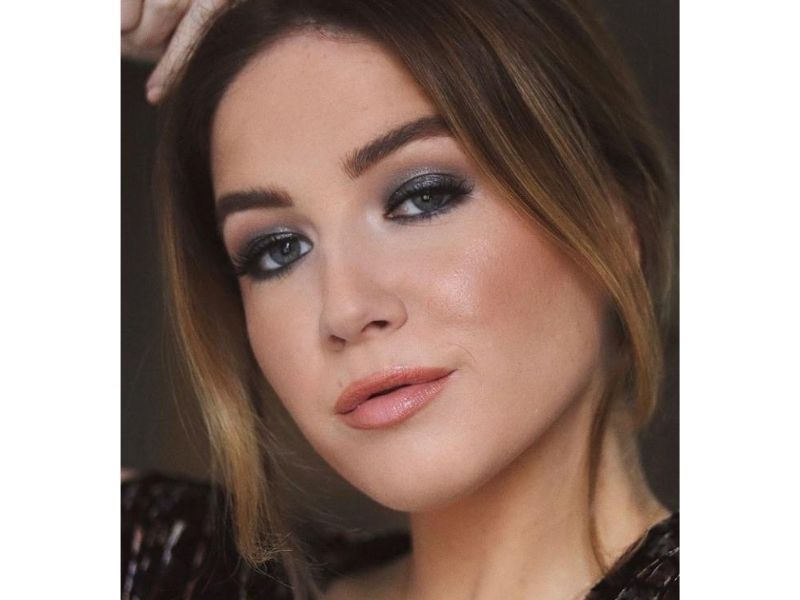 The easiest way to achieve a  simple but sexy smokey-eye makeup for a fancy dinner date is by using cream eyeshadow rather than powder. They allow for a more precise application, and you won't have to worry about any shadow fallout. Just be sure to blend, blend, and blend till there are absolutely no harsh lines left. Plus, all you need are two eyeshadows (yes, it's that simple) to achieve this style! 
Tip: Keep your base plain with a neutral contour, blush, and lip gloss to let your eyes be the star of the show.
For a matte smokey eye
Apply your dark

cream eyeshadow pencil

onto the outer corner of your eyelid. 

Then start blending the shadow with a

synthetic eyeshadow brush

. 

Once the product is set and nicely blended, you can take the leftover colour from the brush, and sweep it into the crease for the transition shade. 

To intensify the pigment, start dotting on another layer of the cream shadow. Repeat the blending process.

Take another light vanilla-coloured cream shadow, draw it onto the back of your hand, and pick up the product with your brush. 

Distribute the shadow onto the inner section of the eyes. You can reapply your dark shadow if you feel like some of the intensity has been lost or leave it as it is. 

Instead of drawing on the dark shadow into your lower lash line, pick up the product with your brush and blend for a softer appearance. 

Apply your mascara and you're good to go!
For a shimmer smokey-eye
If you want an eye look with a bit more pizazz, this cream shadow technique still applies. Just opt for a dark shadow with a hint of shimmer instead of a matte one.

Bring the shadow across the entire eyelid.

Take a sheer,

glitter liquid eyeshadow

to the back of your hand. Pick the product up from with your finger, and gently press it onto the centre of the lid. 

Brush the dark eyeshadow onto the lower lash line. 
4. Impress With A Simple Red Lip Makeup For Dinner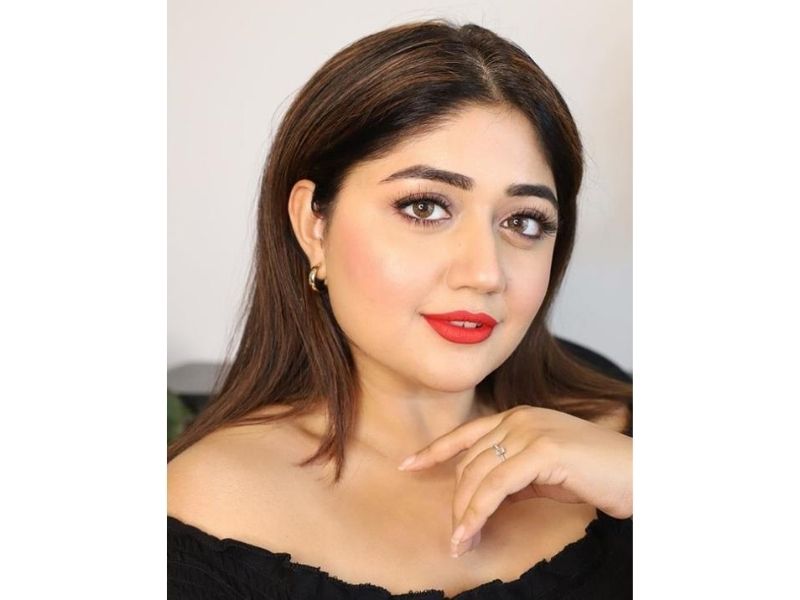 The red lip is the most timeless cosmetic staple that every woman has in her makeup bag. It's a colour with many different variations to flatter every single skin tone, so there's bound to be a perfect shade for you. Red lipsticks are also appropriate for all settings, and you can easily transition this simple makeup for dinner from a day at the office to your date night out.
Prime your lips with a moisturising lip balm.

Spritz on some hydrating

setting spray

.

Apply a

strobing luminizer cream

all over your face and neck to create a glowy base underneath your foundation. 

Blend your medium-coverage liquid foundation with a brush. Cover your dark circles and other pigmentation with a concealer. 

Use a luminous highlighter on the high points of your face.

Powder your face to take away any excess oils and lock the makeup in place. Be sure to especially powder the jawline and mouth area, as this stops the lipstick from bleeding.

Brush up your brow hairs up for a fluffy, feathery effect. Then fill in the sparse areas with a pencil. Brush it once more to set them in place. 

Shape the face with a bronzer.

Take that same bronzer shade and sweep it over the eyes. Put on mascara such as the 

L'Oreal Lash Paradise mascara

. 

Remove your lip balm, along with any dry, flaky bits. 

Define your lips with a

lip liner

, especially around the centre to make the lips fuller. Then colour your entire lip with the same lip liner for a strong base. 

Finish off with an orange-red lipstick (such as

Maybelline Color Sensational Liquid Matte Lipstick-01-To The Fullest

)

. 

Re-powder the face and set with a setting spray. 
5. Simple And Sultry Plum Makeup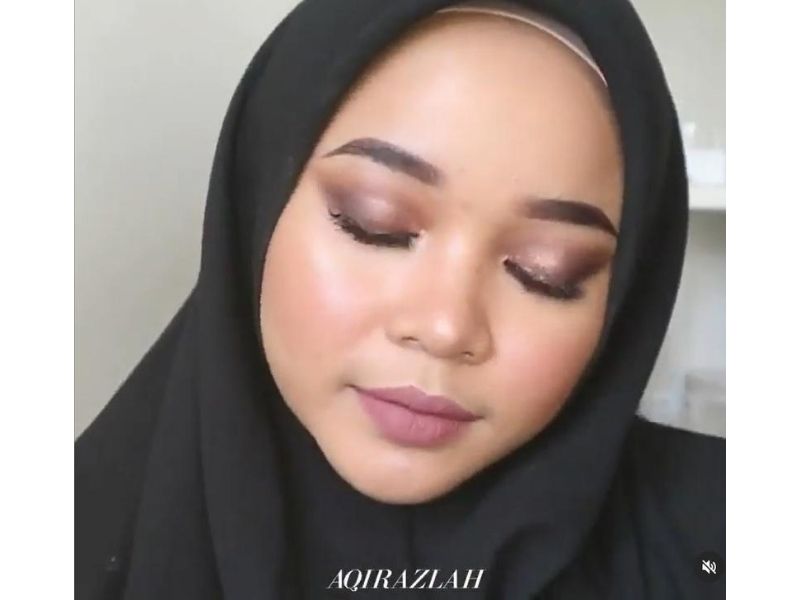 If you don't want your typical run-of-the-mill black smokey-eye, but still want something dark and dramatic, then try a rich, plum eyeshadow shade instead. This gives a subtle hint of colour while maintaining sexy and sultry undertones. 
Prime your face with a moisturiser.

Blend your foundation in with a

beauty blender

. Set with

Rimmel face powder

.

Fill your brows with an eyebrow pencil.

Lay down an orange-pink eyeshadow shade and blend into the crease.

Next, pack on the

burgundy plum shade

into the outer section of the eyes, and sheer out the colour into the crease and lower lash line.

Take an eyeliner pencil to define waterline. 

Place a rose gold shimmer shade on to the inner portion of your eyelids. 

Apply mascara on your upper and lower lashes. 

Chisel the cheekbones and nose with a contour, and highlight the high points of your face.

Apply a

sweet pink blusher

onto the apples of your cheeks. 

Complete with a

neutral nude tan liquid lipstick.
Keep Your Dinner Date Makeup Easy And Simple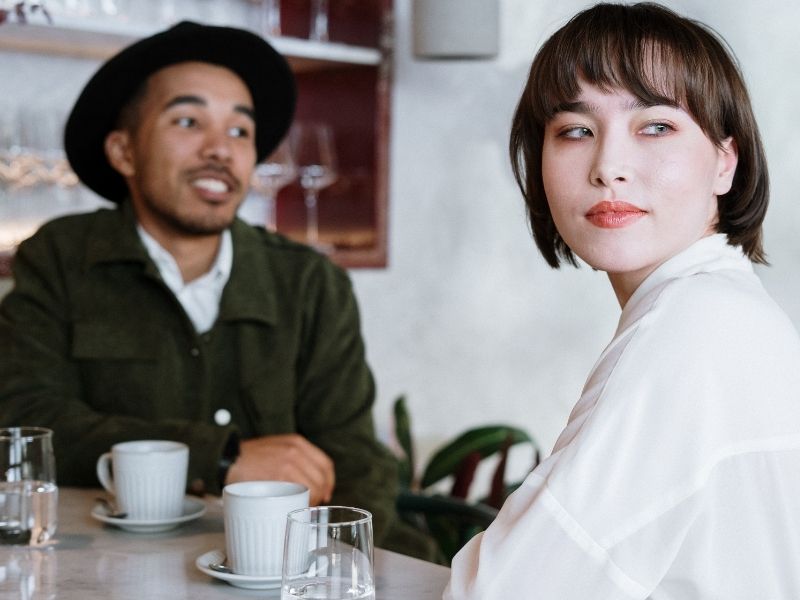 We hope this guide was helpful in showing you the different simple but stunning makeup styles you can wear for dinner. Whether it's natural, classy, or glam, rock these looks with confidence on the next date with your boyfriend, and he's sure to feel like the luckiest guy in the world once he lays his eyes on you! Plus, that Instagram selfie is going to look amazing too. Oh, in case you're in need of workwear ideas to wear from day to date night, check out these versatile smart casual outfit ideas too!