Playing pretend can be a helpful yet fun way for your kids to learn new things. Even more so nowadays, as children's toys have become more diversified. They can range from the purely entertaining to educational. If your child is interested in all things culinary, then start them out with proper cooking toys for kids! 
Best Cooking Toys For Kids Who Love Playing The Part Of The Chef
1. Simulation Big Size Kitchen Play Set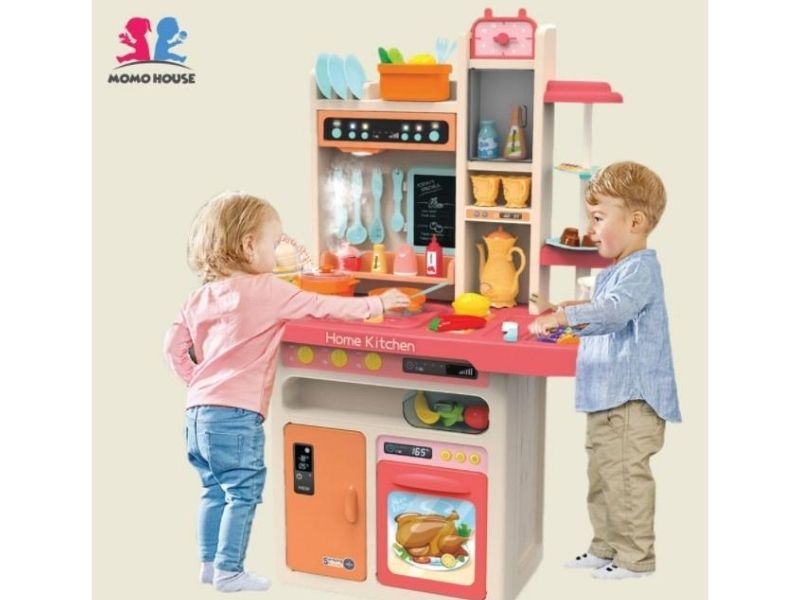 Your child is not old enough to start handling an actual stove or other kitchen appliances due to safety. This is why an elaborate large simulation kitchen play set (available from miyome_shop) is one of the best cooking toys available for kids. It's got all sorts of cool, but realistic, sound effects; allowing your child to fully immerse themselves in the experience. Your little one will feel as though they are actually steaming eggs and vegetables or cutting up fruits, making it a fun experience for them. There's even kitchen ventilator music for them to enjoy some catchy tunes as they cook. 
To fully capture the restaurant vibe, the handwritten board will give your child absolute control over customising their menu. Additionally, with the circulation water tap, you can teach your child about the importance of hygiene. After all, you'll be the one "eating" their food, so your kids had better wash those ingredients! The playset is made out of non-toxic materials without any sharp edges to ensure that it's completely kid-friendly. 
2. Children's Toy Kitchen Set Or Trolley (My Little Pony, Frozen, & Hello Kitty Edition)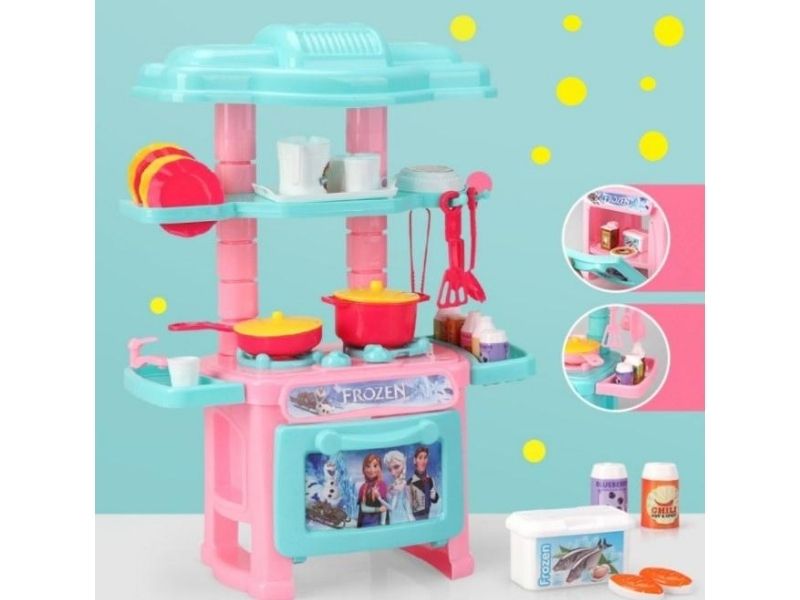 What better way to surprise your little chef than with a kitchen set (available from blessedbeestore) centred around their favourite characters! If your child is a big Disney princess fan, then the Elsa and Anna set will be their new beloved pretend play toy. Otherwise, there are also two more options with My Little Pony and Hello Kitty for cartoon animal lovers. 
The set has different compartments to stack up plates, cups, along with other utensils, and a big oven door for baking. This cooking toy for kids will enhance your child's organisational skills as they familiarise themselves with sorting items into each compartment. 
3. Cutting Kitchen Foods Toy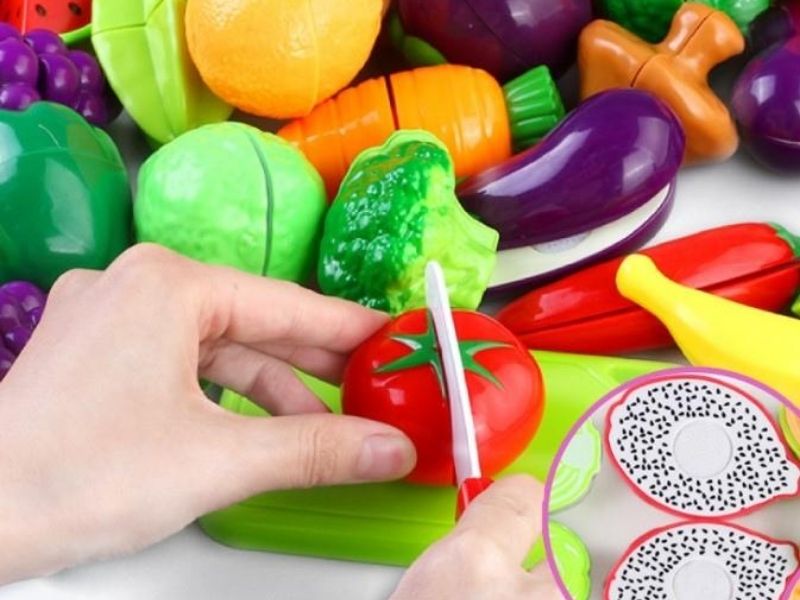 Trying to teach your child about different fruits and vegetables? Then this food cutting toy (available from  t_toy.my) is the one to choose. With 30 ABS eco-friendly pieces to play with, your child would already know several food types in a short amount of time! The bright colours will instantly capture their attention and are useful for quick item recognition. 
The cutting motion is great for training their concentration, as well as building their arm strength. Plus, with a safe plastic toy knife, you won't have to worry about them accidentally nicking themselves. So, they can have fun chopping away at this cooking toy for kids without any risks! 
4. Tableware Cooking Set Toy For Kids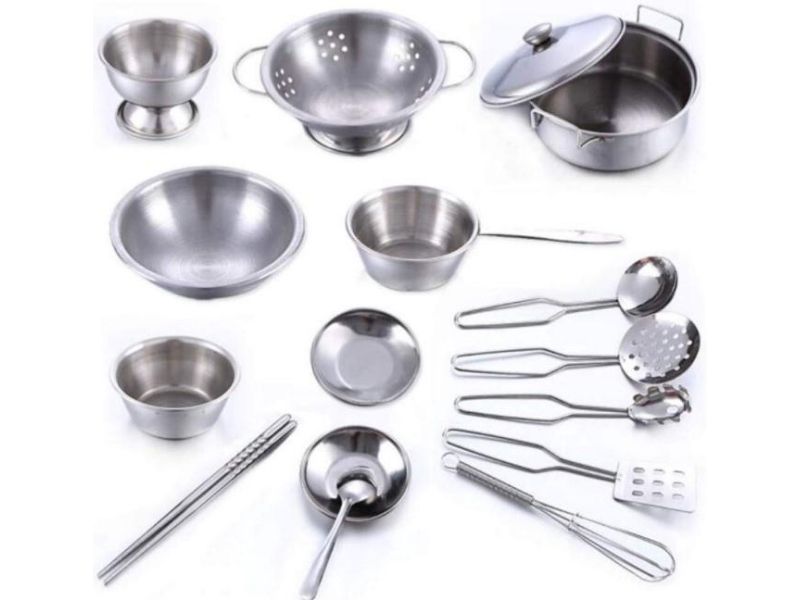 The 16-piece kitchen tableware kit (available from gzt1.my) is made out of stainless steel to replicate real-life cookware! With their anti-corrosion, durable material, these toys are set to last for a good while. The design is suitable for young toddlers aged three and above. With this cooking toy for kids, your little one will soon develop proper counting skills and improve their hands-on ability. Though, if your kid prefers something with a little more colour, then opt for this 23-piece set (available at colaxi1.my) instead. 
5. Portable Suitcase Cooking Toy For Kids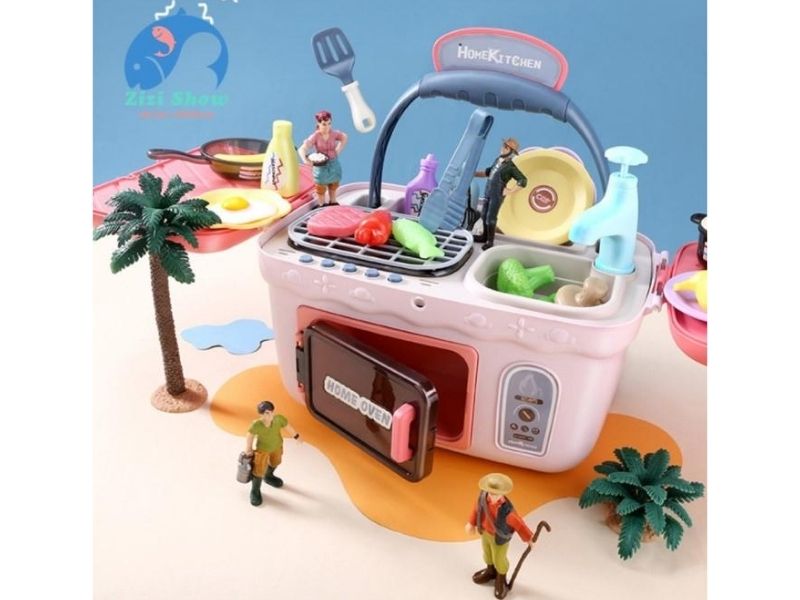 This compact portable cooking suitcase (available from zirui123.my) is suitable for those long balik kampung trips during the holiday season. It's super easy to pack, as you can stuff all the cooking utensils into one big container. So, your kid will be able to keep things neat and tidy. Plus, the additional handle makes it convenient to carry. This kitchen playset has a microwave oven, stove, and sink, along with "food" pieces. 
What makes this cooking play pretend especially fun is the barbeque food feature. Once the toy food has been placed on the grill, the colour will change. It gives a natural simmering effect that your kid will love. There's nothing more satisfying than seeing a successful cooking transformation! 
6. Cooking/Baking Playset With Apron And Mittens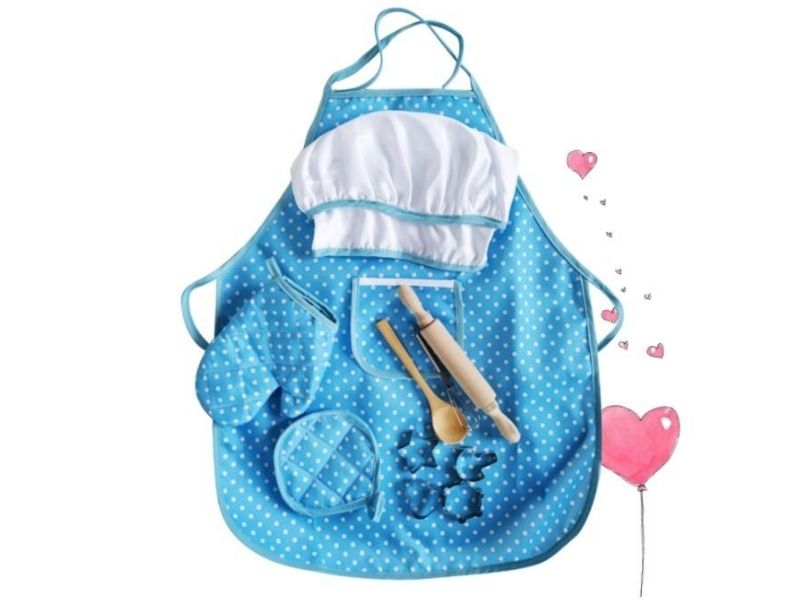 No chef is complete without their standard chef's hat, apron, and oven mitts. So, your little one needs these for the most realistic experience! This kit comes with the full set attire (available from bofeng.my), together with other baking utensils. There are 11 pieces in total, including four different shaped cookie cutters, a wooden rolling pin and spoon, and a whisk. 
Each item has been safety tested and approved for three-year-olds and older to play with. They're also all made of washable cotton, BPA-free plastic, as well as other low-maintenance materials. This outfit combined with their other cooking toys for kids will help your child fit right into the role of the chef seamlessly. 
Encourage Your Children's Penchant For Imagination With The Right Cooking Toys For Kids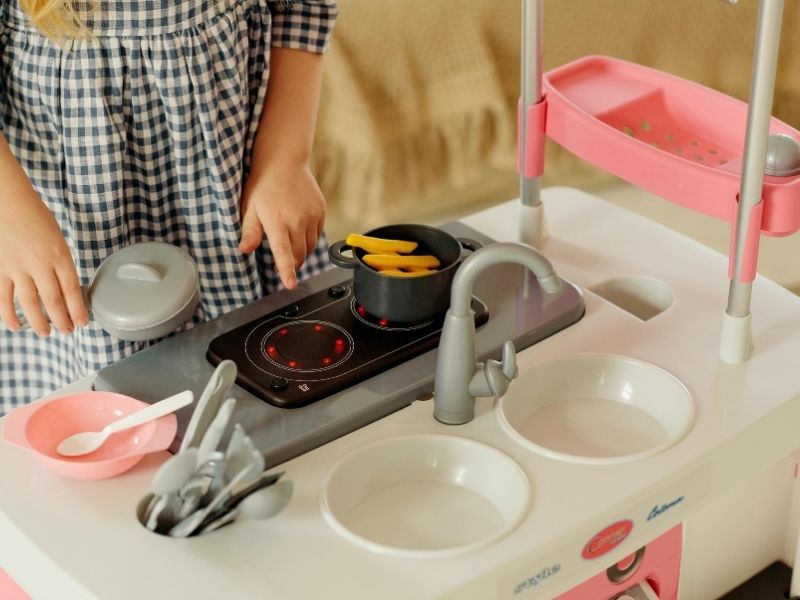 Your kid's extensive imagination is a great tool for learning. Cooking toys for kids are particularly handy for improving vocabulary and communication skills. By exposing them to a new kitchen "tool" each day, you're adding on to their list of known words. This will help them have a better grasp of explaining their thought processes. 
Furthermore, it instils a sense of self-independence and confidence, as they have complete control over their play kitchen. That means they're solely in charge of arranging and keeping their belongings clean, thereby improving their level of responsibility. However, at the end of the day, all that matters is that your kid has fun as they learn!