You must be Patrick Star himself and living under a rock if you haven't heard of Blackpink. Having debuted in 2016 with hit song Boombayah, the girls shot to fame almost instantly and maintained their high ever since. Breathtaking visuals (I mean, c'mon, look at them) and bop-worthy songs aside, even their fashion has taken centre stage. Here's our round-up of Blackpink's best outfits, from airport fashion to their performance looks. 
Blackpink

Everyday

Outfits
Lisa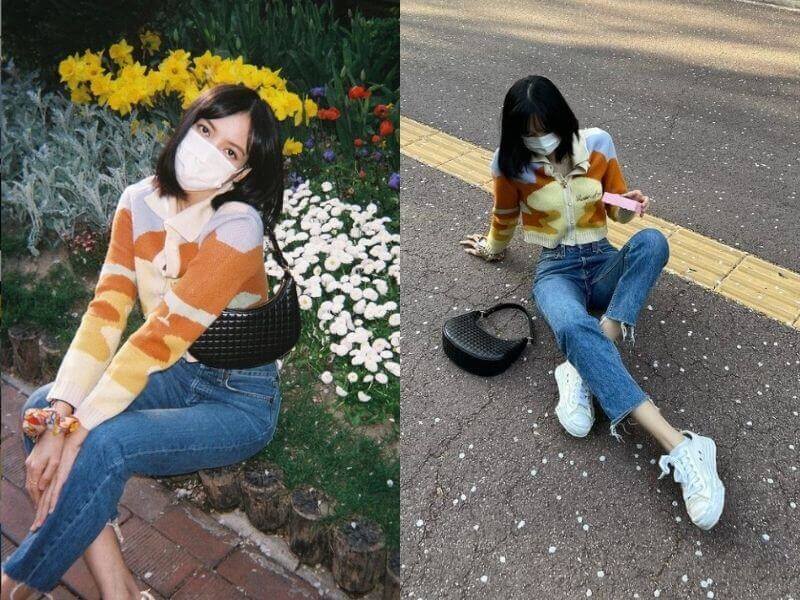 When she's not capturing hearts with her killer choreography and irresistible stage presence, Blackpink Lisa's everyday outfits are a bit more laid back. You can almost always find her in a pair of denim jeans—both skinny and baggy—along with sneakers to stay chic and comfortable. 
She combined these signature wardrobe staples with a printed cropped cardigan and mini shoulder bag during a recent special 'date' with co-member Jisoo.  It's a simple outfit that you can recreate for the perfect college girlfriend aesthetic. 
Shop this style:
Jennie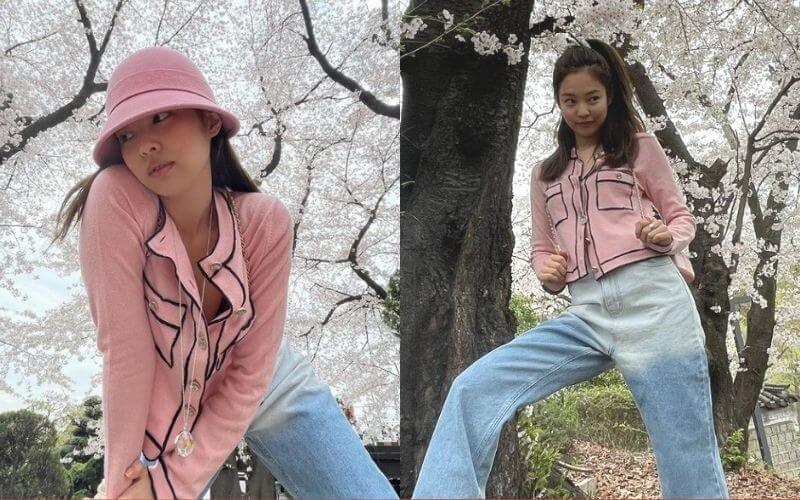 In every K-pop group, there's always that one member who practically exudes expensive fashion energy, and for Blackpink, it's Jennie. Dubbed as the "Human Chanel" by fans, she's constantly serving us looks after iconic looks all over her Instagram feed. Unless you're a luxury Chanel queen yourself, this Blackpink Jennie outfit can be easily replicated without breaking the bank. 
All you need is a light pink cardigan, a pair of baggy jeans, and white sneakers. For accessories, sling on a bubblegum pink mini backpack and tie your hair back with a ribbon hairtie. Bucket hats are trending right now, so take a page from Jennie's look and coordinate your headpiece with your cardigan.  
Shop this style: 
 

Rosé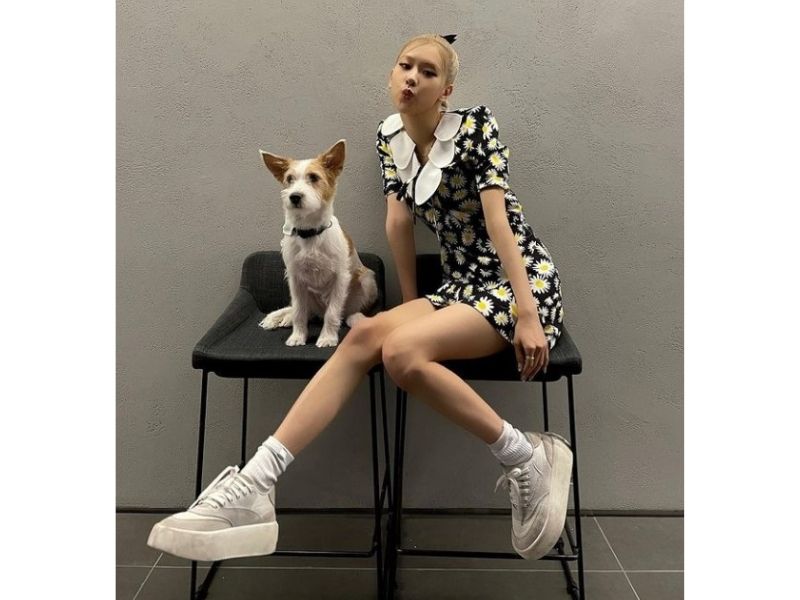 Blackpink Rosé's off-duty outfits alternate between one-piece dresses, matching sets, and athleisure with hints of formal wear thrown in every now and then. If we were to describe her personal style, it'd be a mix of tomboy and soft girl but with a polished air. 
Look ultra-sweet like Rosé with a similar daisy dress to reflect your cheerful and bubbly personality. Got a bad hair day? That's nothing a top-knot secured with a dainty black bow can't fix. For shoes, chuck on some white platform sneakers to add a few extra centimetres to your height. 
Shop this style:
Jisoo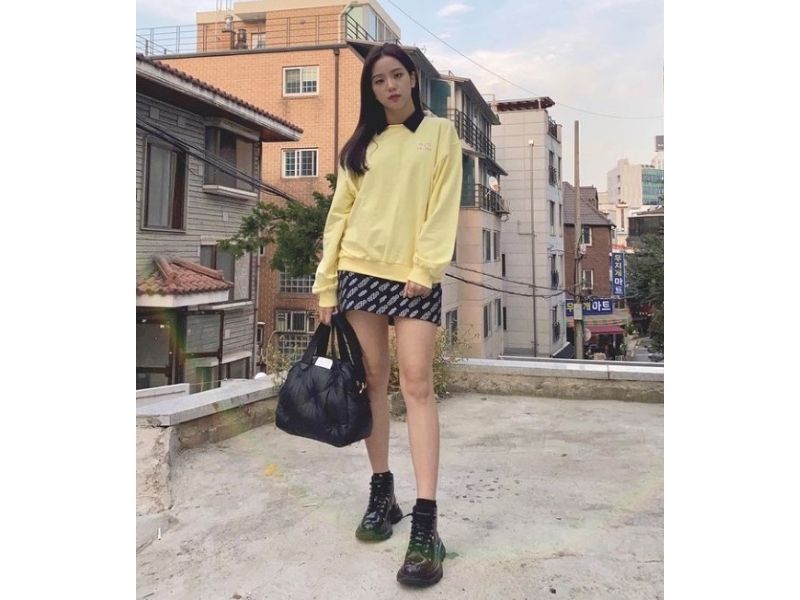 Jisoo's style leans towards semi-casual with a ladylike allure. Though she's frequently seen in skirts and dresses, sometimes she likes to add a bit of edge to her everyday looks too. 
In this outfit combo, the Blackpink singer sports a loose sweatshirt pulled over a black button-up shirt. Tip: To copy her look minus an extra layer, simply attach a fake collar. Then, instead of a tennis skirt, go for a printed mini skirt, as seen on Jisoo, to add a bold touch to your otherwise academic-inspired get-up. Finish off with chunky black sneakers to complete the look. 
Shop this style:
Blackpink Airport Fashion

 
Lisa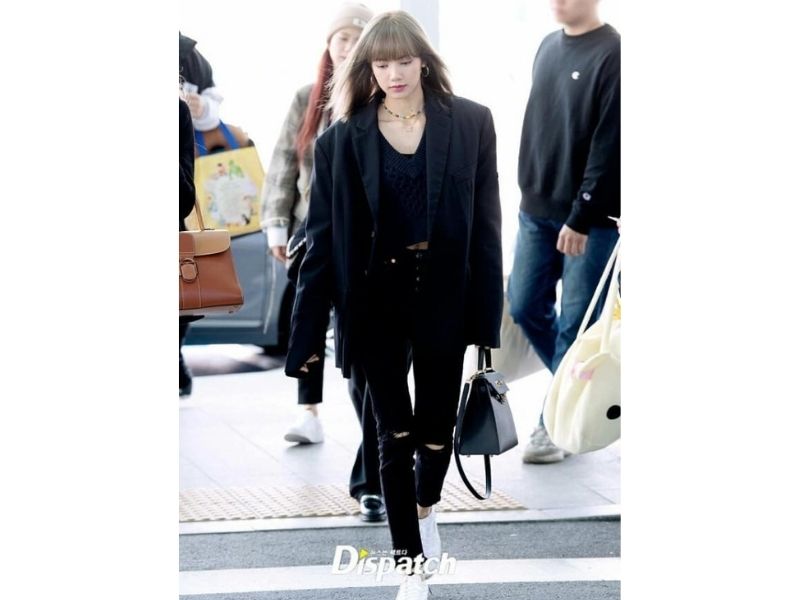 Lisa likes rocking an all-black ensemble as much as the rest of us. It's sleek, polished, and most importantly, makes you appear at least two sizes smaller than you are. In this airport fashion look, the Blackpink star pairs an oversized, boxy blazer (opt from the men's section to get a larger fit) thrown over a black cropped sweater and high-waisted black skinny jeans. With some classic low-top white sneakers to round up the outfit, she's ready to transform the airport halls into her personal runway. 
Shop this style: 
Jennie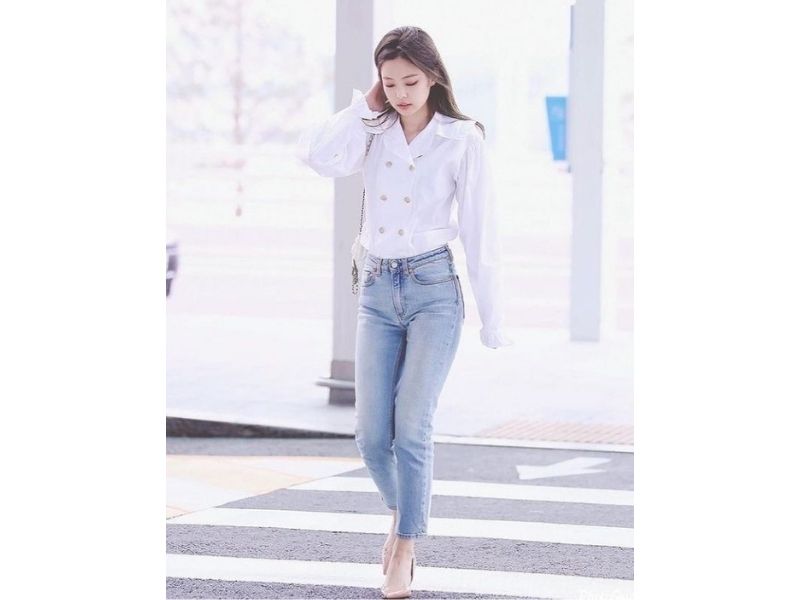 Most of Blackpink's airport fashion (or any K-pop idol's really) typically leans towards the casual side. But sometimes they like to take things up a notch as seen with Jennie's elegant take on the white top-and-jeans combo. 
Fun fact: This stunning number was what kickstarted her "Human Chanel" title, perfectly capturing the picture of grace and class. Her white double-breasted blouse is styled with nude pumps and straight-legged jeans which further enhances her lithe silhouette.
Shop this style:
Rosé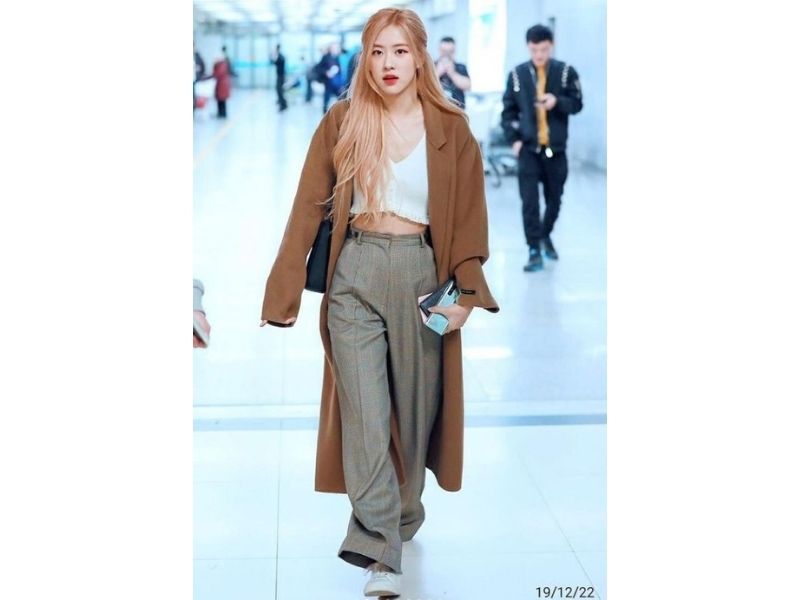 Take inspiration from Blackpink Rosé's airport fashion and channel your dark academia aesthetic by copying this look. Elongate your figure with a long coat and pair it with wide-leg pleated dress pants to embrace the dark, preppy style. Don't want to look too formal and studious? Then opt for a white crop top and sneakers to replace your button-up shirt and oxfords. 
Shop this style: 
 

Jisoo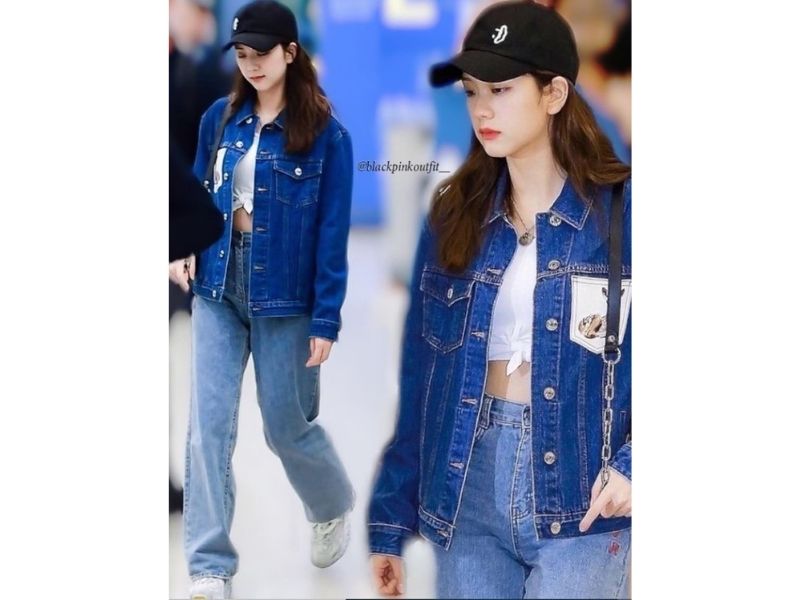 When in doubt, always go for a denim-on-denim ensemble. Blackpink Jisoo rocked this casual airport fashion outfit that looks cool yet cosy enough to endure a long flight on the way home. Steal her look by reaching for a loose denim jacket to match with baggy jeans for a more gender-neutral or streetwear-inspired style. 
Shop this style:
Blackpink

Performance

Outfits (Lovesick Girls Era/Solo Activities)
Lisa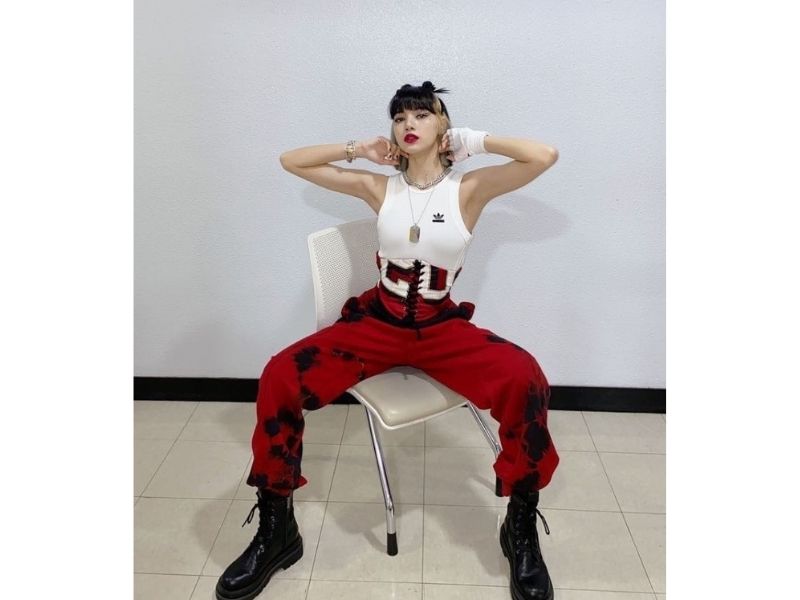 Offstage, she's an animated young woman with a bright, childlike personality. Onstage, she's a charismatic performer whom no one can peel their eyes away from. And in this outfit, Blackpink Lisa is slaying us all with her fierce combination of pretty and savage. 
To copy this look, simply put on a white ribbed tank top, red cargo pants, and black combat boots to tap into your inner bad girl. Don't forget to cinch in the waist with a corset waist belt if you want an accurate style recreation. 
Shop this style:
Jennie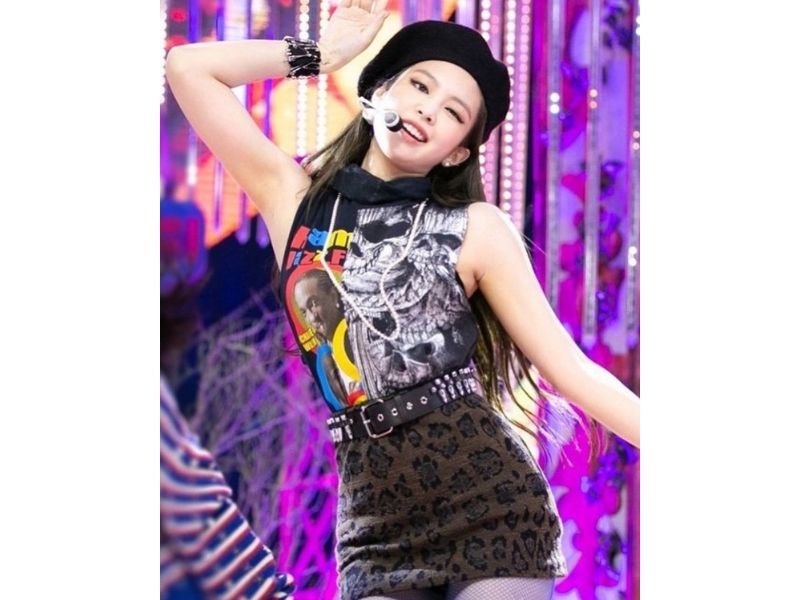 Jennie blends a hint of haute couture with punk-rock sexy in this fatal performance outfit. With a sleeveless graphic T-shirt, a leopard print mini skirt, and fishnet stockings, this style will leave your ex hopelessly lovesick. Add a sophisticated touch to your look with a black beret, pearl earrings, and a long pearl necklace. 
Shop this style:
Rosé
Rosé made her first solo debut this year in early March with her title track On The Ground.  And apart from breaking records and topping charts, she's also killing it in her outfit game. We're obsessed with the Blackpink main vocalist's crochet outfit from her SBS Inkigayo stage. If you can't get an exact replica, try going for a similar style with a floral mini skirt instead. Throw on a cropped denim jacket and black combat boots for the finishing touch. 
Shop this style:
 

Jisoo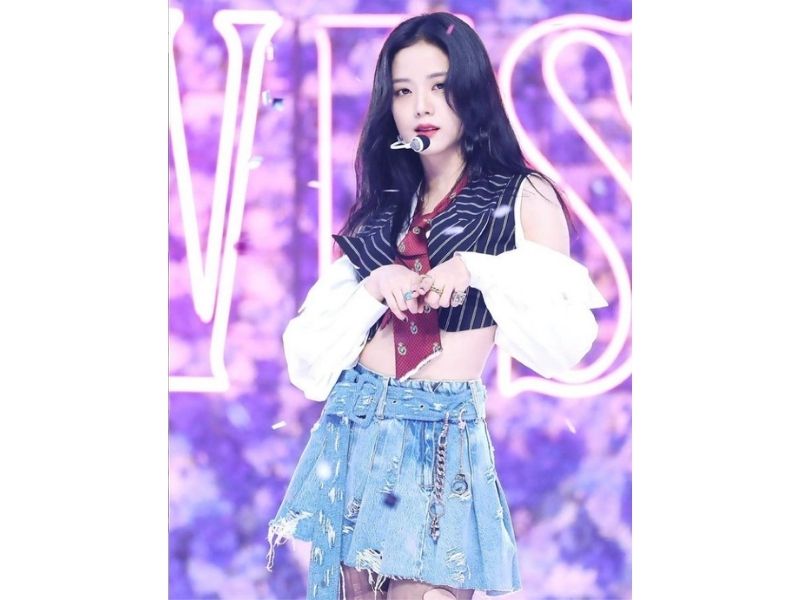 Even on stage with her sultry outfits, Jisoo remains poised and elegant as ever. Her MBC Show Music Core stage mixes elements of formal attire in a deconstructed manner. She's got a white button-down worn off-shoulder with a slim-fit vest layered over and a tie hanging loosely around her neck. This is paired with a Y2K pleated denim skirt and ripped sheer stockings. And you know what? It works! 
Shop this style: 
Blackpink Performance Outfits (Pink Venom)
Lisa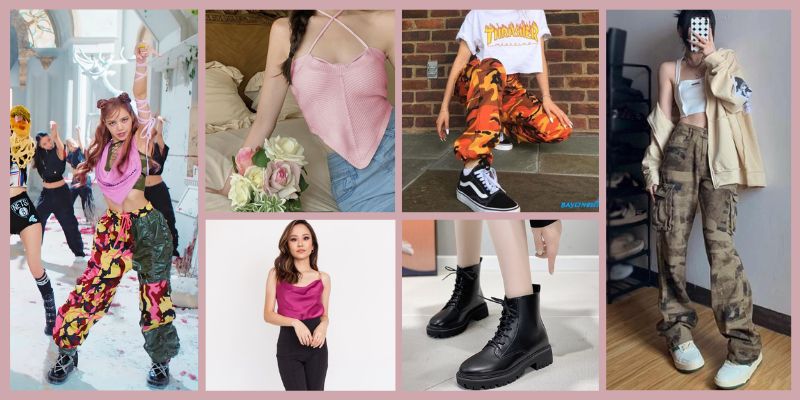 Lisa is dripping with swagger in this cool, street-style aesthetic. The combination of her Alexander Wang halter top paired with the colour-blocked camo pants from Sicko Cartel creates a striking outfit that leaves a lasting impression. 
Shop this style:
Jennie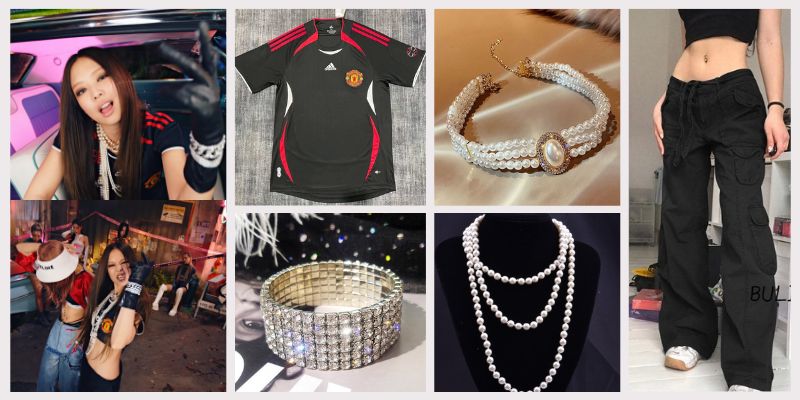 Jennie's sporty outfit in Pink Venom went viral even amongst football fans, who were quick to notice her customised Manchester United jersey. She's elevated her look by layering a couple of pearl necklaces and rhinestone bracelets for extra glitz and glamour. 
Shop this style:
Rosé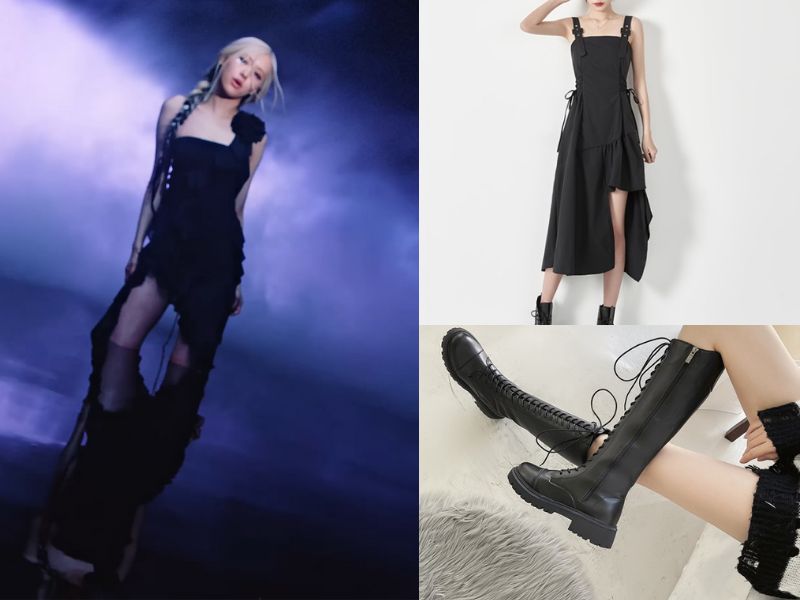 Forget about your classic little black dress because Rosé is giving major #gothcore vibes in this stunning asymmetrical piece from Fanci. To contrast the feminine ruffled details of the dress, we recommend completing the look with a pair of calf-high, lace-up boots. 
Shop this style:
Jisoo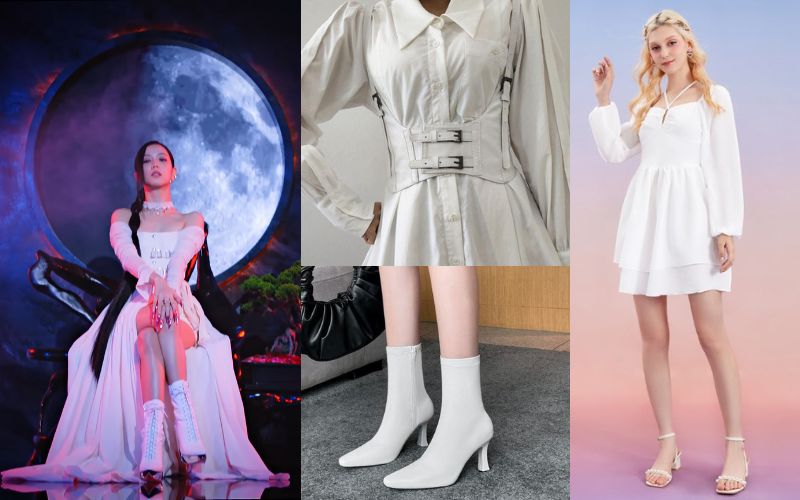 Jisoo proves that it is possible to look elegant and edgy in an all-white ensemble. To make her outfit more wearable, simply swap out the maxi slit skit for a mini off-shoulder dress instead. Then cinch in the waist with a matching corset belt for a more rugged touch to this ethereal get-up. 
Shop this style: 
Look Pretty, Pretty Savage With These

Blackpink Outfits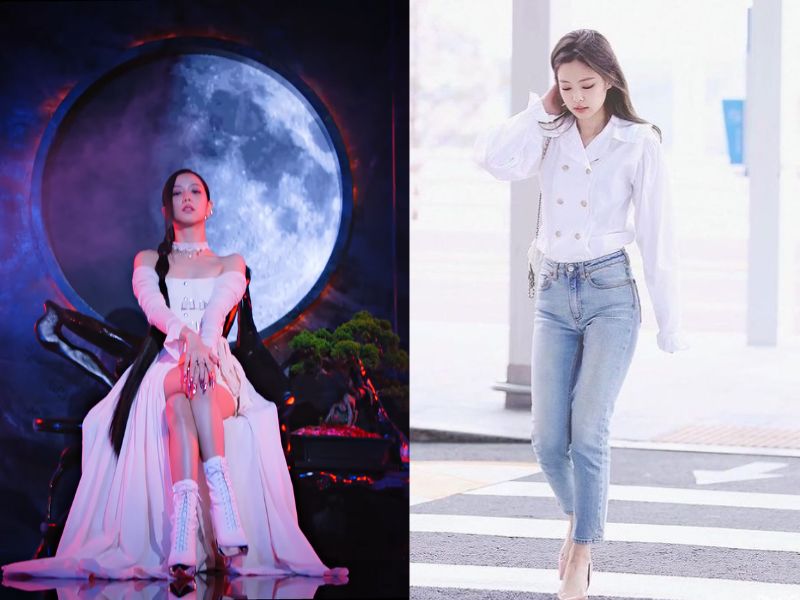 Blinks, it's time to rejoice, because you just might get the chance to see Blackpink in your area soon! Their Born Pink world tour has officially been confirmed and is set to kick off this year in October in Seoul, Korea. Meanwhile, Malaysian fans can look forward to seeing the girls live next on March 4, 2023. 
But before then, we hope you have fun recreating these Blackpink-inspired outfits while putting your own spin on them. You can also try these bold Korean eye makeup looks to complement your Blackpink airport fashion looks.