So apparently low-rise jeans are back in style. Oh, how I've rued this day. As someone with a measly height of 5'1 (158cm), I have to admit that I'm not particularly keen on this Y2K trend. I'm already short enough as it is, and low-rise bottoms can tend to exaggerate my petite stature even further. That said, I also believe that almost any clothing piece can be rectified with the right styling techniques. If you're interested in re-introducing the low-rise waistband back into your closet, then here are nine outfit ideas you might want to try. 
What Goes Well With Low-Rise Jeans?
A Cropped Button-Up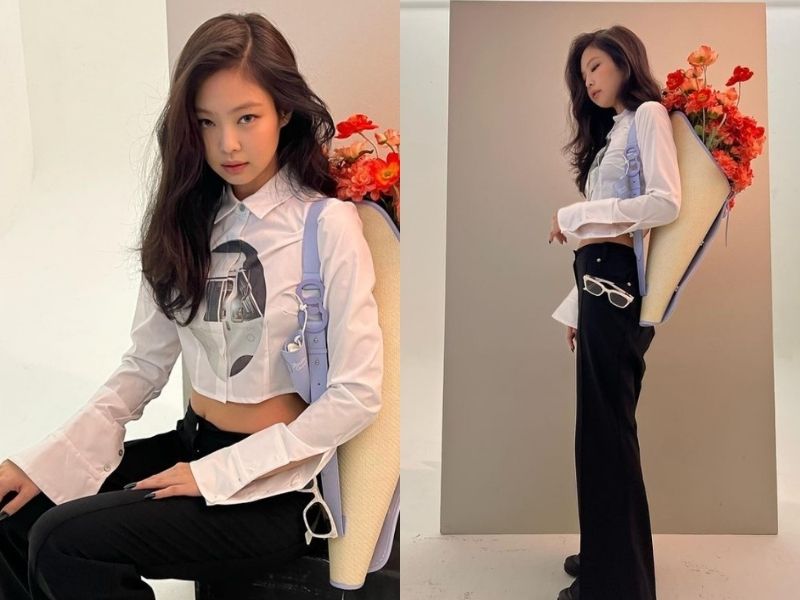 Kickstarting our list on a strong note is Blackpink's Jennie with this elegant and chic number. She's given her low-waisted jeans a slightly more polished yet edgy look by styling them with a cropped button-up shirt. The simple black and white colour palette is also a great choice in maintaining her sophisticated vibe.
Shop this style:
The Y2K Aesthetic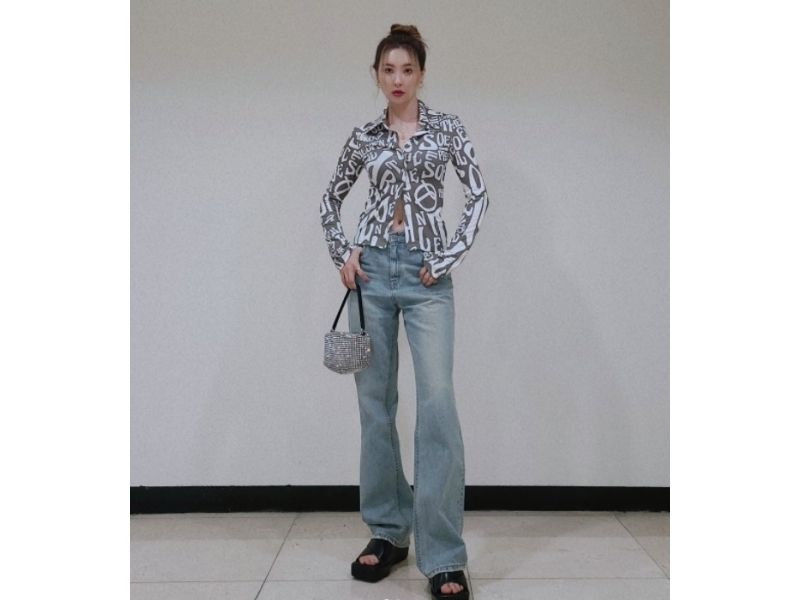 Sunmi hit us with the ultimate throwback outfit during her You Can't Sit With Us comeback. The combination of her faded low-waisted jeans, platform slippers, and a mini sling bag is peak Y2K style. The solo singer mentioned how even though she lived through the early 2000s, she couldn't exactly embrace the aesthetic. "I didn't dress like this back then because I was only 7. I mean, HELLO?" If you were the same, now's your chance to have fun with the trend. 
Shop this style:
Related: Y2K Fashion: 15 Items You Need To Nail The Early 2000s Aesthetic In 2021
Monochromatic Colours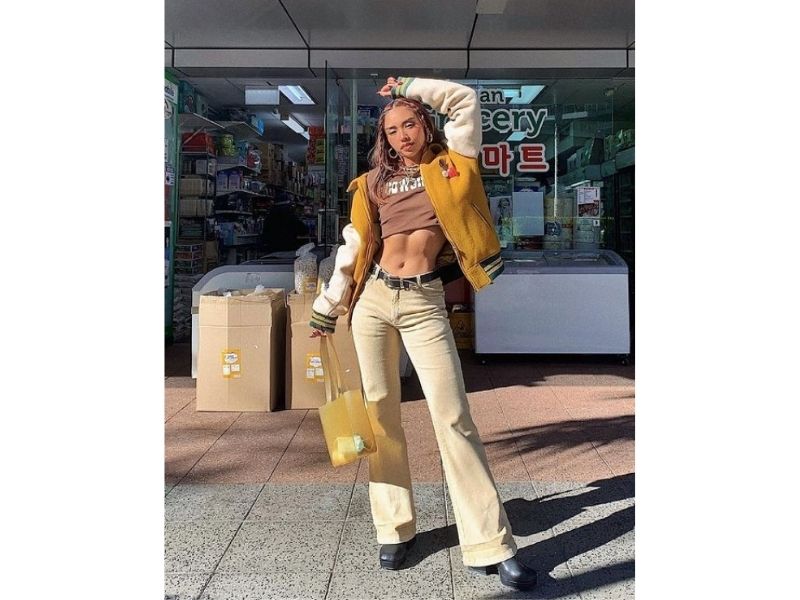 For all you TikTok scrollers, you've probably seen this cowgirl top completely dominate fashion Tiktok (#fashiontok) at one point. Model and beauty YouTuber, Rachel Tyler, styles hers with a pair of boot-cut low-waisted jeans, flaunting her toned abs while staying on-trend. She's also opted for a tonal monochromatic look with her jacket and pants for an even cooler style. 
Shop this style:
An Oversized Hoodie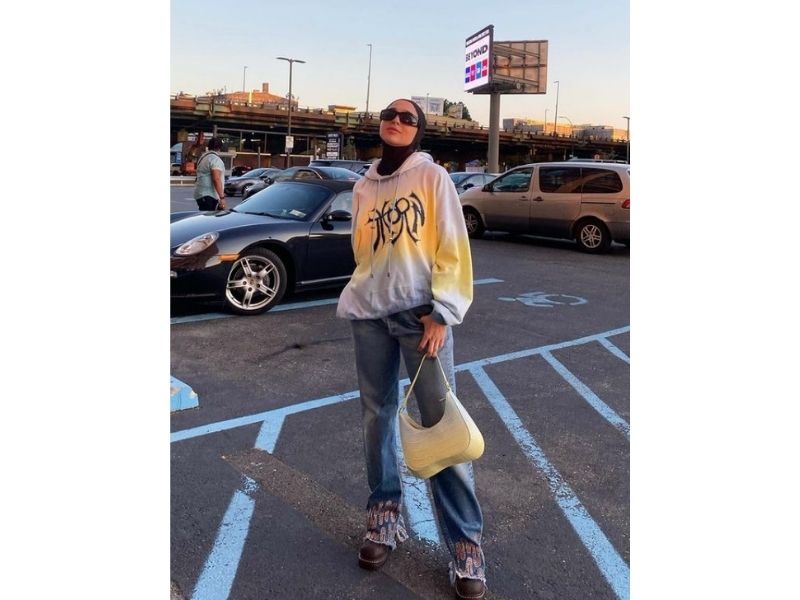 Don't feel comfortable bearing too much skin? Don't fret, because you can also rock the low-rise trend modestly too. Maria Alia looks effortlessly cool with this casual hoodie and matching handbag get-up. Make sure the hem of the hoodie falls a little past the waistband of your jeans to keep the proportions of your outfit balanced. 
Shop this style:
A Chunky Cardigan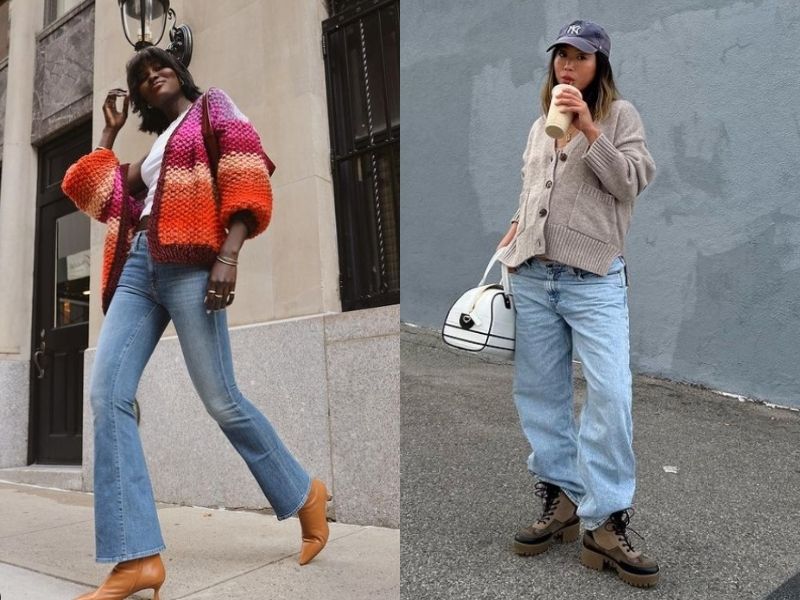 Honestly, is there anything a cardigan doesn't look good with? Aimee Song is certainly proving that theory as she welcomes pregnancy by throwing on this loose knitwear piece over her baby bump. Meanwhile, Amy Julliette Lefévre transforms the basic white T-shirt and jeans combo with a more vibrant outerwear. 
Shop this style (outfit 1):
Shop this style (outfit 2):
Related: Styling Cardigans Tips For Women: 9 Outfit Ideas To Copy RN
Blazers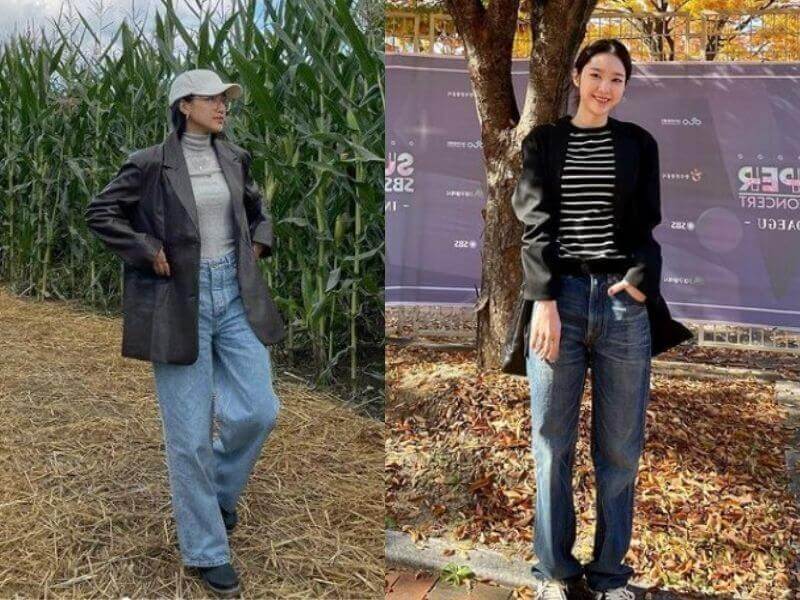 If you work in the creative field, this look is bound to be your new go-to uniform. A blazer is always a reliable option to smarten up any casual ensemble. It just instantly adds a sense of professionalism to your outfit while remaining trendy and fashionable. 
Shop this style (outfit 1):
Shop this style (outfit 2):
Midi Dresses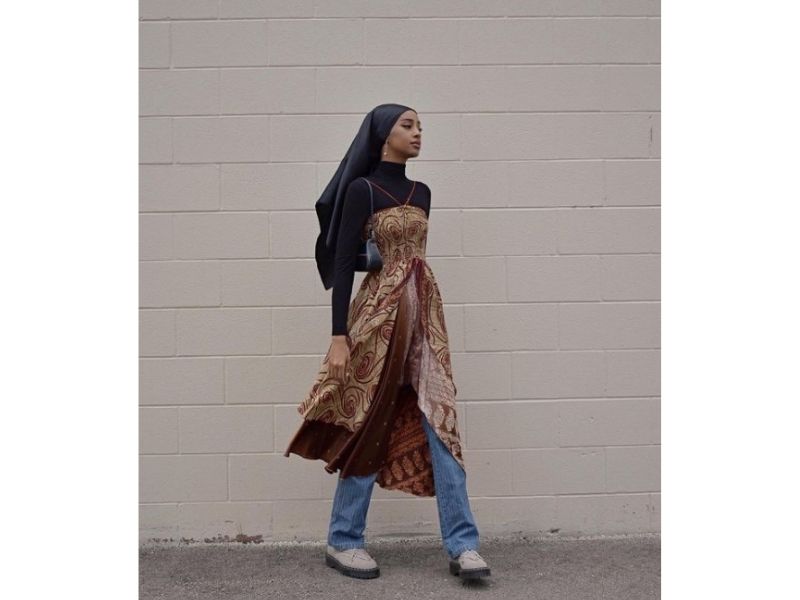 You can also opt to not show off your low-rise waistband by concealing it completely with a midi dress. Admittedly, wearing dresses over jeans can seem quite daunting. So, take cues from Hodan Yousuf to take your layering game to the next level.
Shop this style:
Take A Chance With This Denim Trend & Give These L

ow-Rise Jeans

Outfits A Try 
Now that you know how to style low-waisted jeans, have you been convinced to try this denim trend? If you're still not a huge fan of these bottoms, then maybe the tapered mom jeans silhouette will be closer to your liking. Otherwise, be sure to also check out our style guide on how to wear baggy jeans.