If the sweatpants and mom jeans trends are any indications, it's that looser-fitting bottoms aren't going away any time soon. And we're certainly not complaining! Who misses wasting five minutes just to squeeze into their pants? Skinny jeans who? We don't know her, because this ultra-comfy '90s trend is taking over. Here are seven wide-leg baggy jeans outfit ideas to inspire your new street style casual looks. 
Wide-Leg

Baggy Jeans Outfit

Ideas For Women 
With A Cowl Neck Camisole Top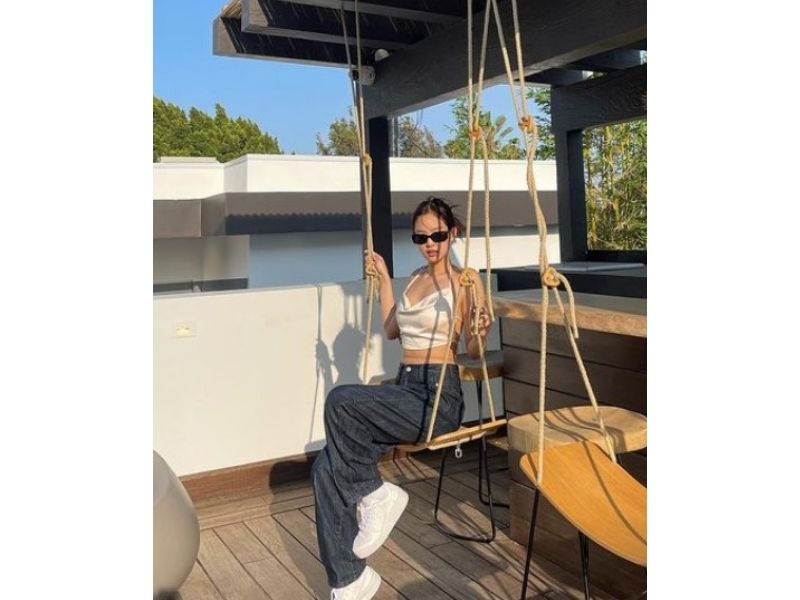 When in doubt, style your baggy jeans outfit with a fitted camisole top. It brings attention to your tiny waist and balances out the excess fabric of the pants. Blackpink Jennie gives her look a simple Y2K touch with her hair tied up in a claw clip and elongated rectangular shades. We especially love the cowl neckline that accentuates her decolletage in an elegant yet sexy way. 
Shop this style:
Related: Y2K Fashion: 15 Items You Need To Nail The Early 2000s Aesthetic In 2021
With An Oversized Shirt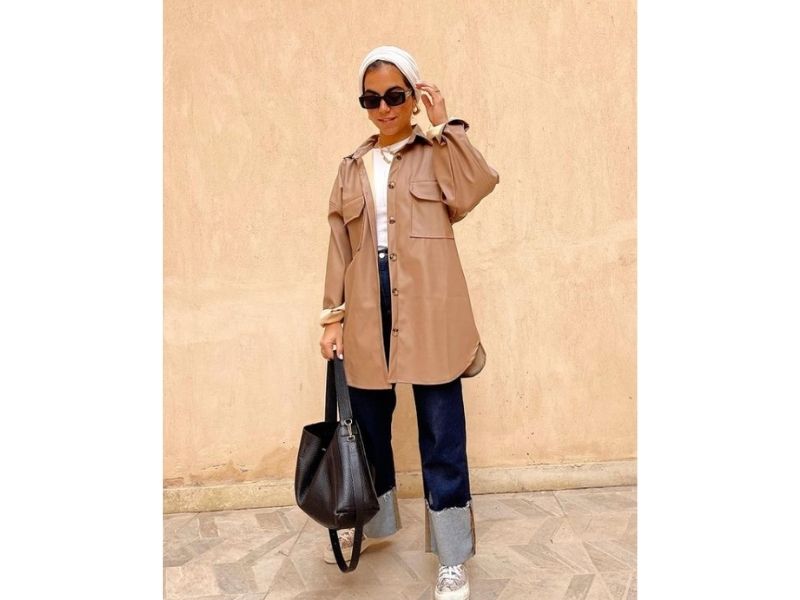 Throw on your best oversized shirt for a more modest spin on the baggy jeans trend. Fashion influencer, Farah Emera, looks especially chic in a leather variation of the button-up look. It instantly elevates the outfit from basic to cool-girl vibes. 
Shop this style:
With A Bucket Hat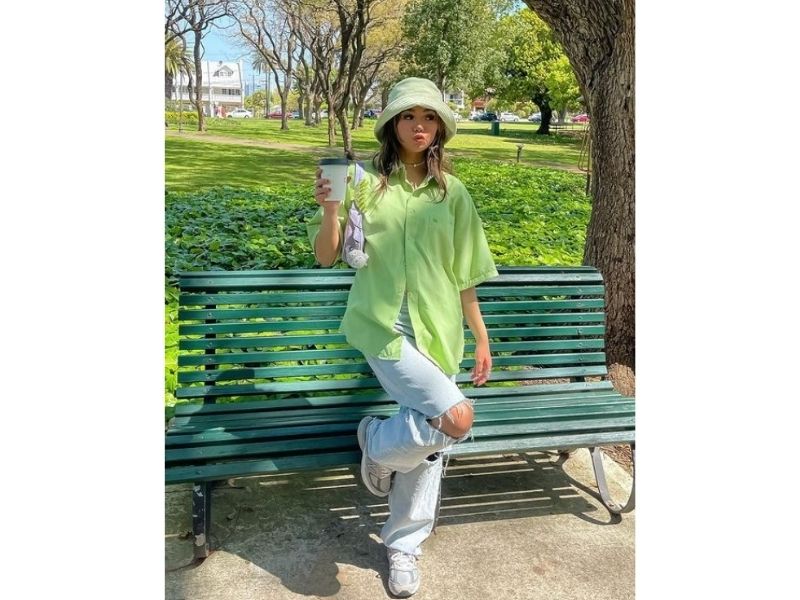 Draw inspiration from Alyssa Lee and add a pop of colour to your everyday style with this ultra-bright green combination. Think a monochromatic look is a bit too full-on for you? Then do as Alyssa has done and match your hat with the colour of your top instead. And if your shirt is on the looser side, leave the last two or three buttons unbuttoned for an elongated effect. 
Shop this style:
Related: 14 Cool Ways To Style A Bucket Hat Based On Your Personal Style
With A Mesh Top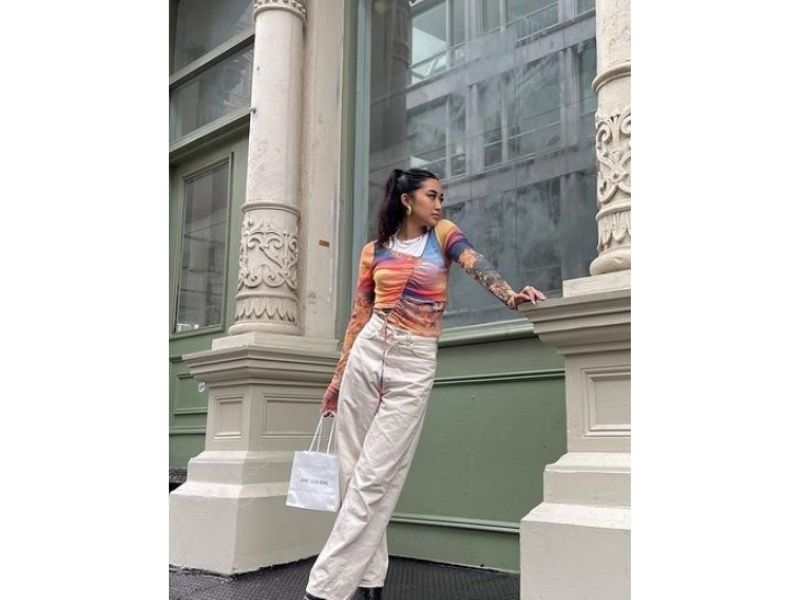 You can never go wrong with a pair of white wide-leg jeans for a clean outfit. Fashion YouTuber, Cassie Masangkay, from duo ToThe9s, mixes sophistication and boldness by layering her ruched-up mesh blouse over her ribbed tank top. She's also got her hair tied up in a high ponytail to let the eye-catching orange and blue tie-dye print shine.  
Shop this style:
Wide-Leg

Baggy Jeans Outfit

Ideas For Men 
With A Button-Up Sweater Vest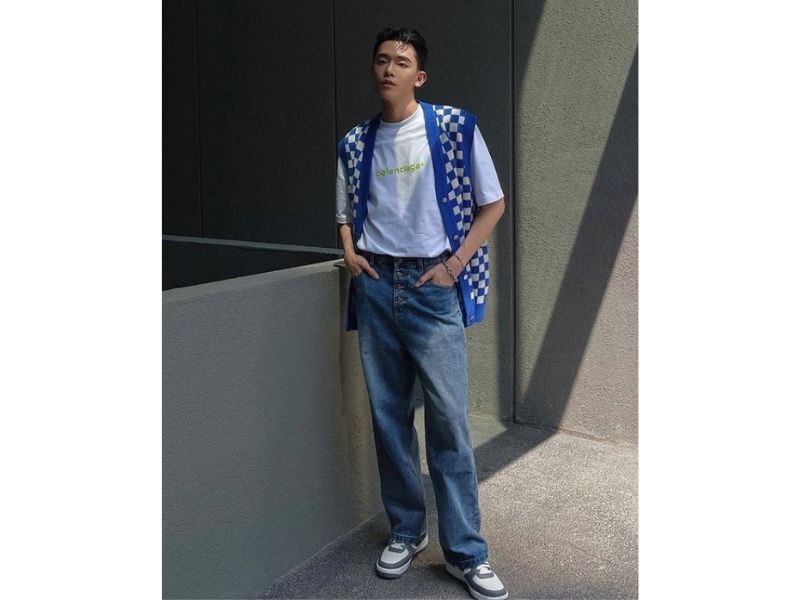 Fellas, it doesn't take much to take your basic white top and baggy jeans outfit to the next level. Sweater vests were a big trend of 2021 that's going to be just as prominent in 2022! Not a big fan of wearing layers? Then a lightweight button-up sweater vest might be a better option for you. You can easily throw it over your T-shirt as you would with any outerwear but without suffering from the extra heat. 
Shop this style:
Related: Sweater Vests Are Trending, Here Are 8 Ways To Style The Knitwear
With A Sweatshirt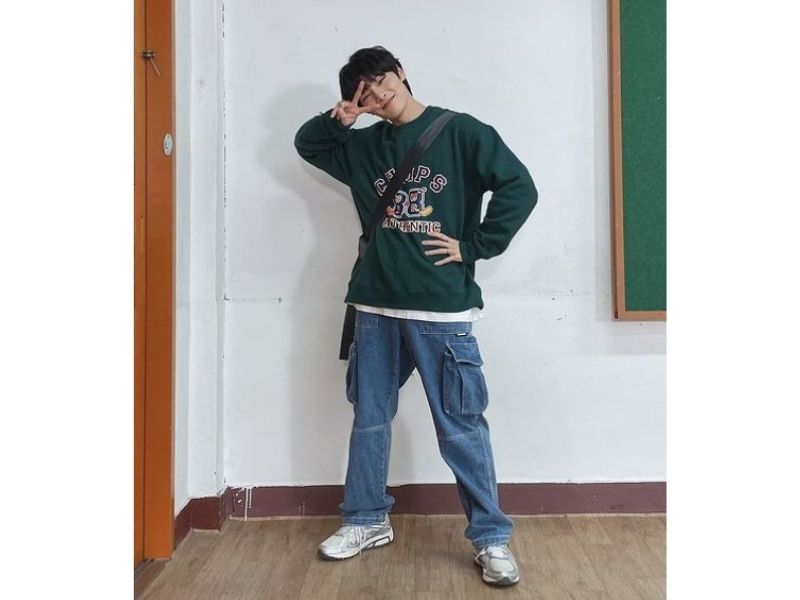 Nothing is more effortlessly cool than a slouchy sweatshirt and baggy jeans outfit pairing. Stray Kids' I.N. has opted for a cargo-designed iteration of this loose denim trend—perfect for showcasing his boyish youthful charm with a hint of street style swagger. 
Shop this style:
Related: Fashion Influencers Are Obsessed With Sweatshirts, Here Are 10 Ways To Style Them
With A Varsity Jacket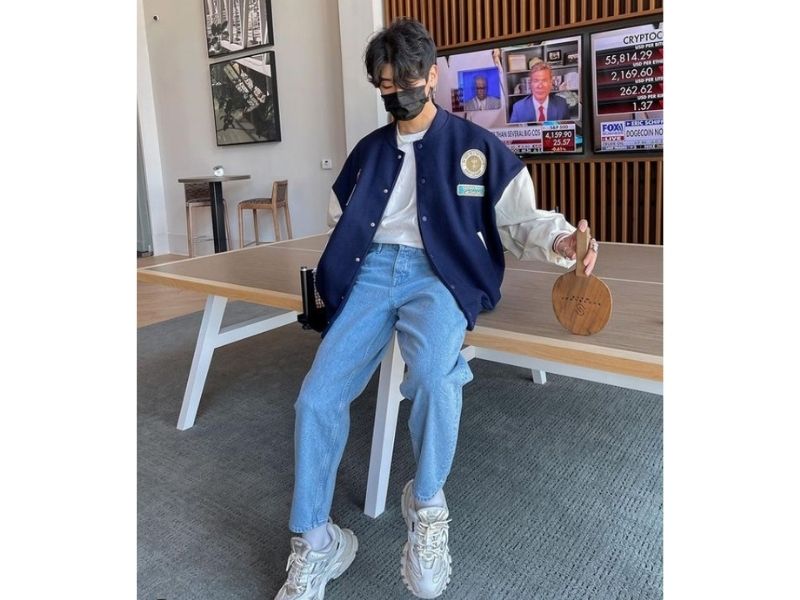 With the resurgence of sweater vests and sweatshirts, it's clear to see that college-inspired trends are here to stay! And coming right up is the preppy varsity jacket that's been making its rounds on social media. There are many different ways to wear a sporty jacket, but sometimes, all you need is a trusty wardrobe staple like your go-to pair of baggy jeans to complete your outfit. 
Shop this style:
Stay Cool & Comfy With These

Wide-Leg

Baggy Jeans Outfits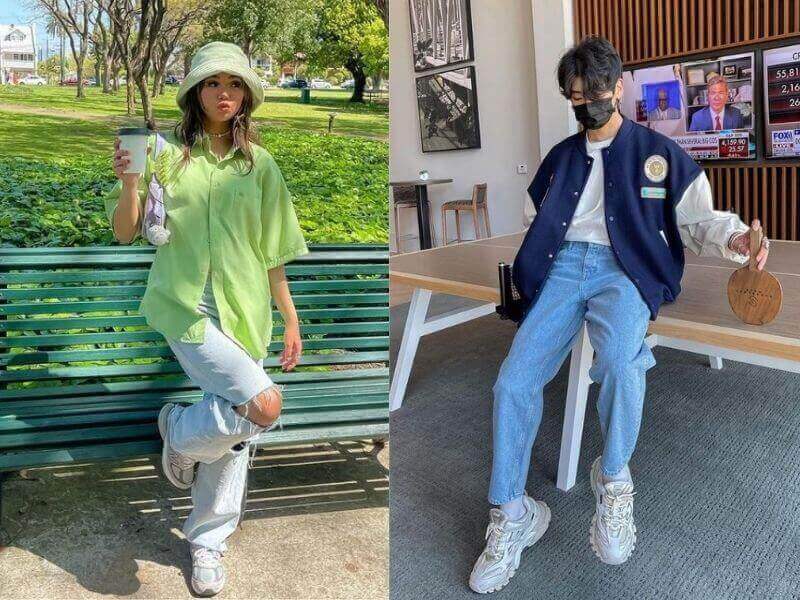 Wearing jeans no longer has to be such an uncomfortable experience as proven by these stylish wide-leg baggy jeans outfits. Want to give you look a subtle K-pop twist? Then you might want to check out these 13 Converse Run Star Hike outfit ideas and add the unisex sneakers into your shoe collection. Otherwise, the e-girl and e-boy aesthetic might be a better fashion match for you if you prefer a bolder style. Don't forget to head on over to Style By Shopee for more trendy fashion updates!