Planning to revamp and redecorate your daughter's bedroom but don't know where to start? You've come to the right place! Whether your little girl (or preteen daughter) loves feminine touches, bold designs, or gender-neutral themes, keep scrolling for 13 kids' bedroom ideas for girls that she will absolutely adore.
Chic & Adorable

Kids' Bedroom Ideas For Girls

 
Pretty In Pink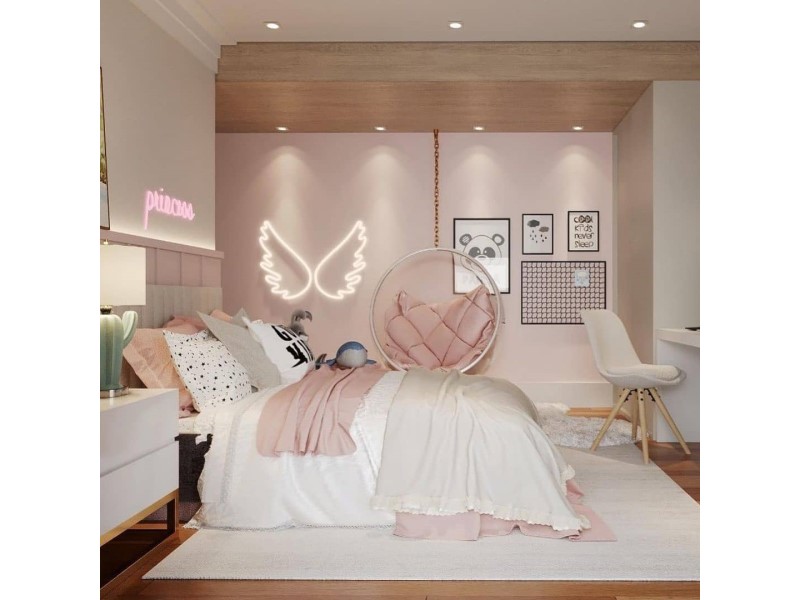 If your daughter's favourite hue is the colour pink, you'll find plenty of pink bedroom decor inspirations online. This millennial pink bedroom, however, caught our attention with its clever use of the hue without being over-the-top or tacky. Copy this aesthetic by sprinkling the colour sparingly on cushion covers, throws, and cute neon signs. 
Mirror Image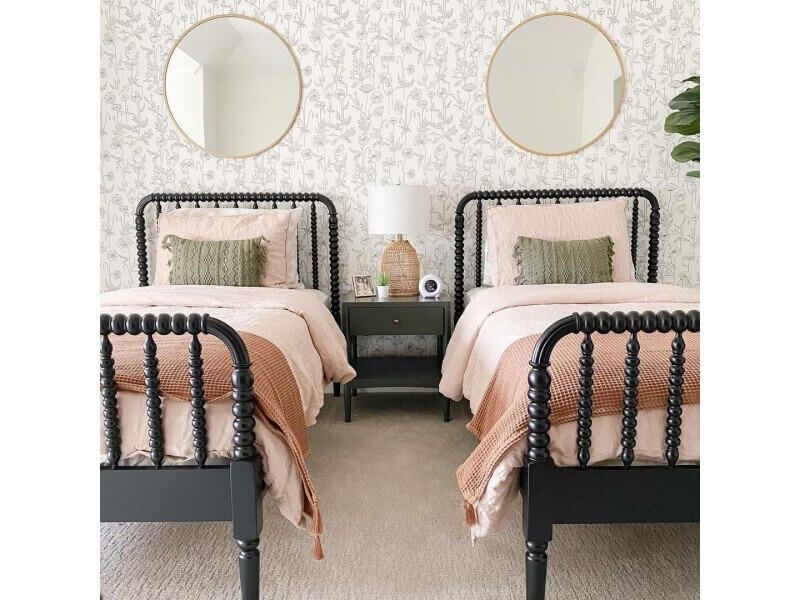 Got two girls sharing the same room? Then double up the fun with this literal take on a mirror image design. Get the same bed frames, bed sheets, pillows, and blankets, (bonus: get a similar round mirror here). Then, place them in an identical arrangement. It'll actually save you the headache of figuring out how to harmonise various designs into one space.
Scandi-Inspired Monochrome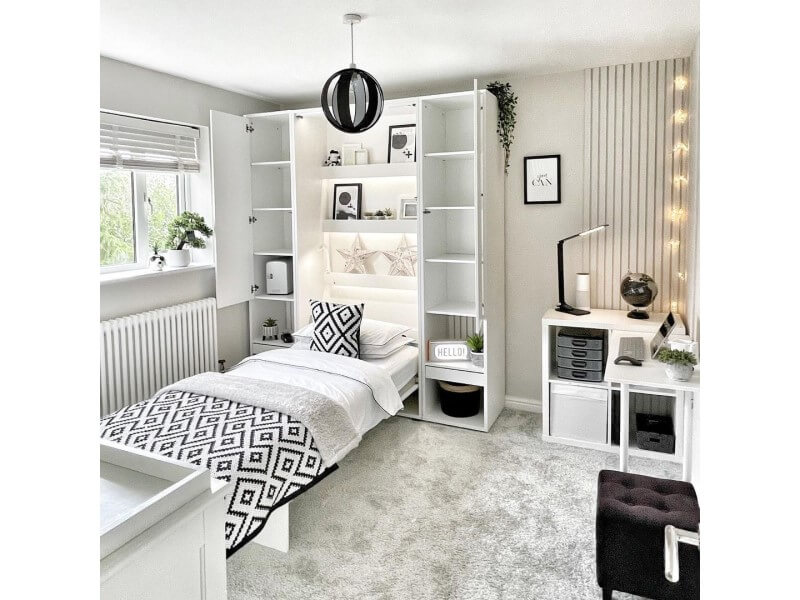 When it comes to kids' bedroom ideas for girls, you don't always have to go for soft, pastel hues. This clean and streamlined Scandinavian-inspired design is a gender-neutral room that's great for girls who loathe anything too girlie. It's easy to style too; just get all the furniture in white, with hints of black finishing for a cohesive monochrome look.
Accent Wall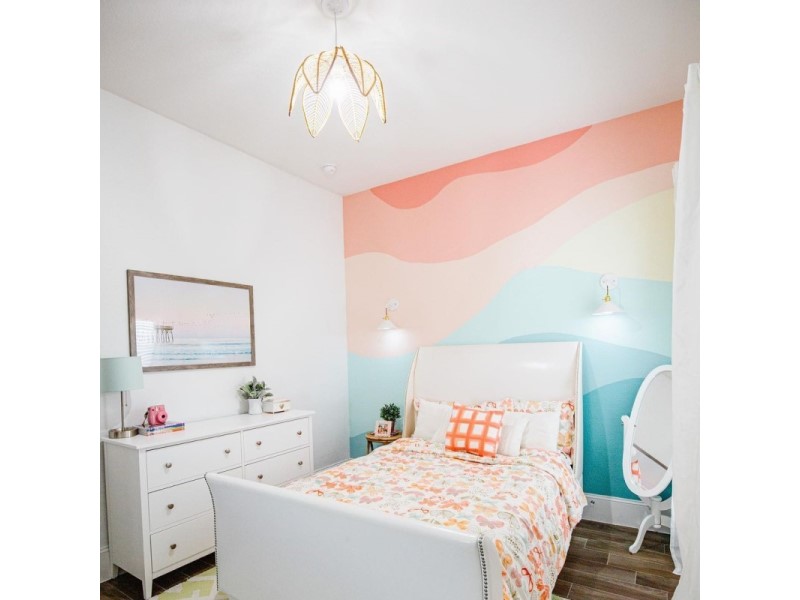 Like keeping the walls white but still crave some colour? Then having a vibrant accent wall will help brighten an otherwise plain bedroom. It's a home improvement project that you can even DIY, with the help of some paint, creativity, and (if you're confident) your daughter's art direction!
Dreamy Lights & Pastel Hues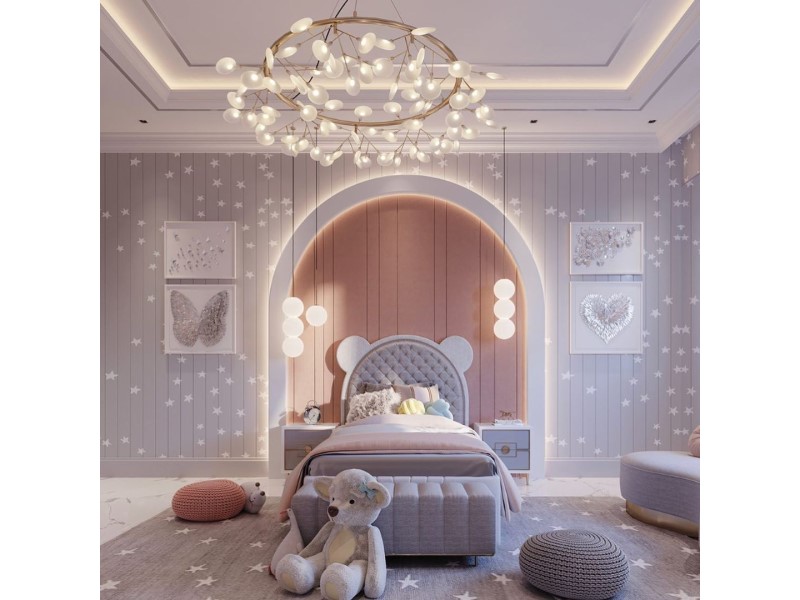 If your daughter dreams of having a fairytale-inspired bedroom, here's the formula: pastel hues, soft furnishing, and lots of lighting. From ceiling lights to wall lights and especially fairy lights, throw them all in, along with plush rugs, her favourite soft toys, and a sweet violet wall colour.
Spring Florals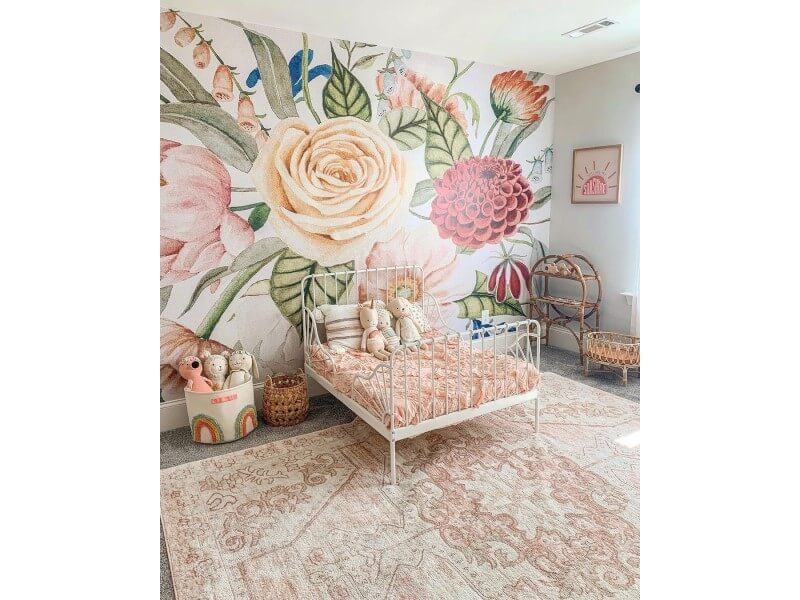 For girls who love flowers, here's an idea: why not try a floral-adorned feature wall? To really make a statement, go big with the blooms in a punchy spring palette. Otherwise, a quieter rendition with smaller-sized petals will bring her just as much joy. 
Playful Patterns & Cheerful Colours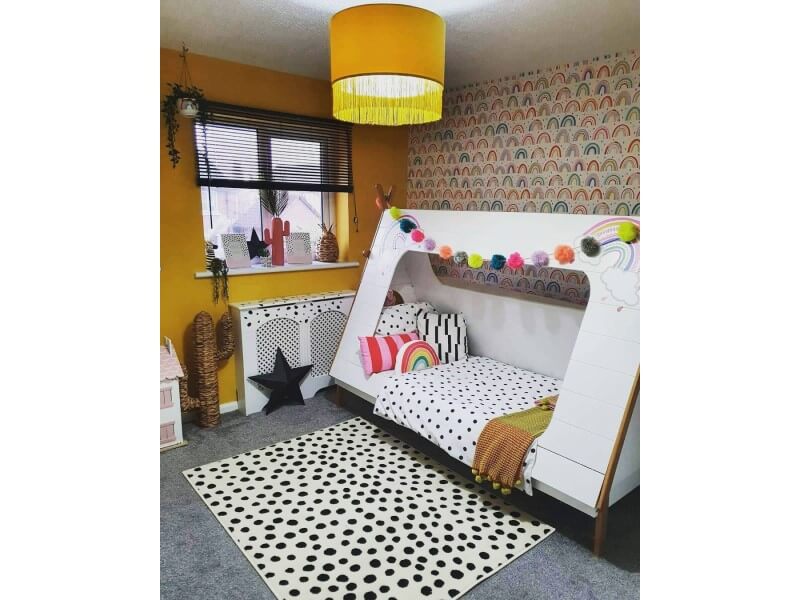 Want something bold, not boring? Then try mixing different patterns, colours, and textures. Take this vibrant bedroom for instance, which combines polka dot bedding with a matching rug, striped pillow cases, pom pom decor, and a fringed light fixture, all against a bright yellow wall and rainbow print wallpaper. It's a juxtaposition that works! 
Fun Phrases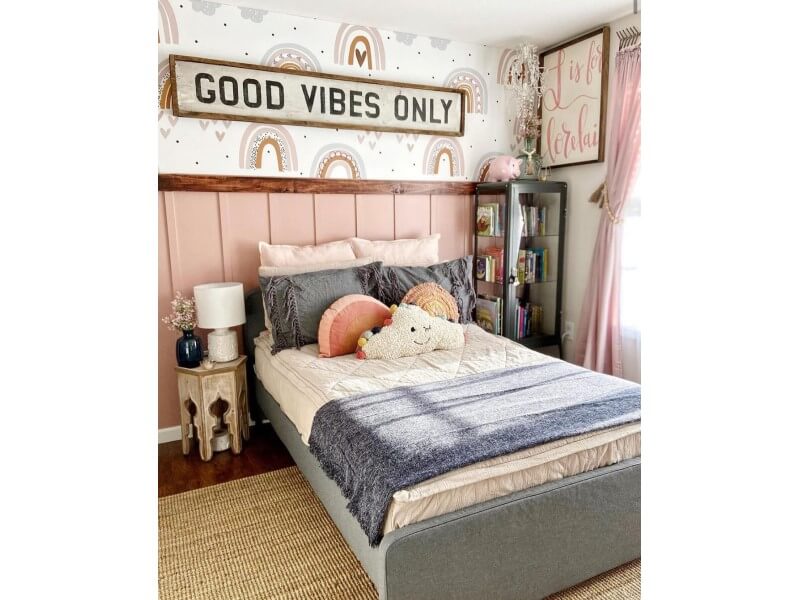 Another way to inject some playfulness into your little one's bedroom is by hanging up some wall art in the form of fun phrases and positive mantras. Think posters that read "good vibes only" and happy quotes that come in a rainbow palette for an extra cheery ambience. A custom name print is a good kids' bedroom idea for girls too. 
Black & White (Plus Her Favourite Colour)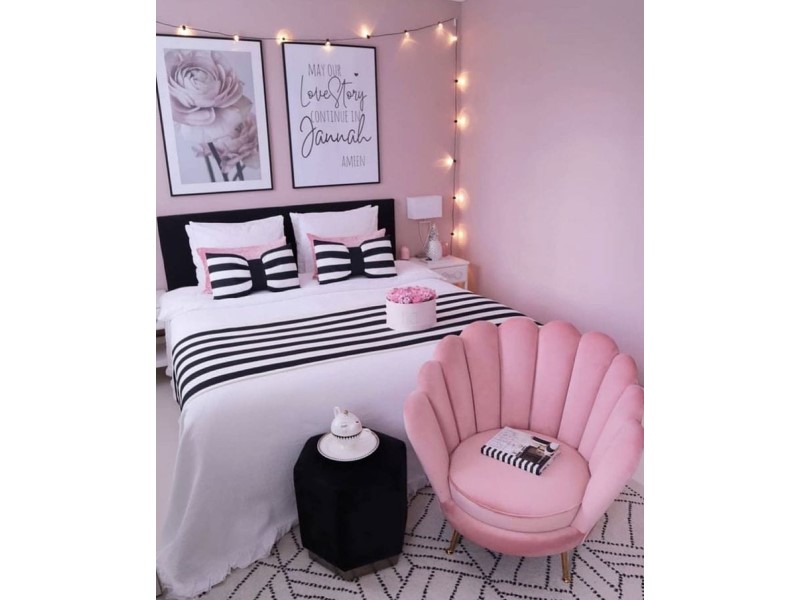 Is your little girl turning into a teen in the next few years? Then you might want to redecorate her room to be a bit more sophisticated and grown-up. An easy way to do so is by adding a dash of her favourite hue (which you can switch up as she grows up) into a timeless black and white theme. 
Bohemian Touches
Another semi-grown-up theme that's easy to work with? A classic bohemian combo of white and earthy hues, plus a plethora of textures and natural elements. Think linen sheets, crochet cushion covers with tassels, bamboo lamps, wooden or rattan furniture, and more. Add some indoor plants too for extra life! 
Little Princess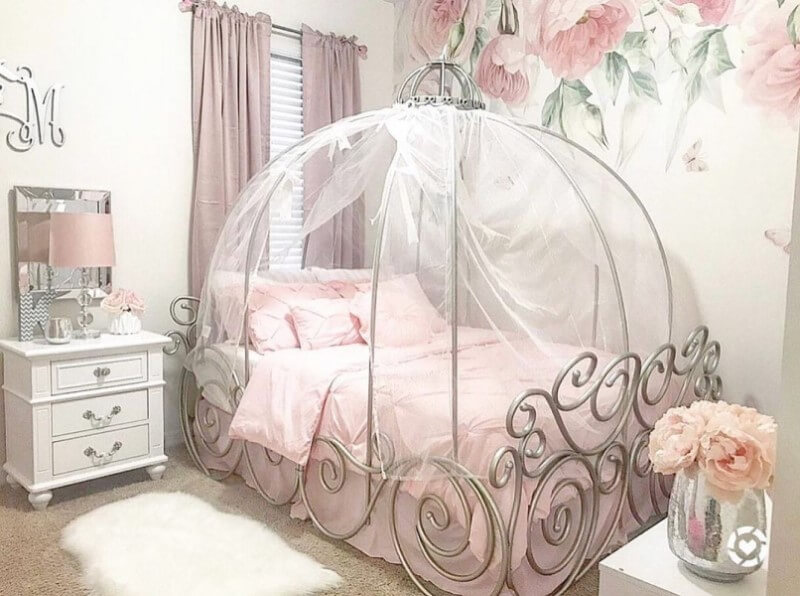 If she loves Disney princesses and dreams of living like one in real life, this kids' bedroom idea for girls will make her wishes come true. Some key items to replicate this little princess room are baby pink sheets, a metallic iron bar bed frame, and a pretty canopy netting that'll also keep mozzies out while she sleeps.
Light & Neutral Tones 
For a unisex appeal, this light and airy kids' room utilises a few neutral tones that are easy on the eyes. The feature wall displays a nature-inspired mural with the same hues repeated on other furniture, such as the swivel chair and storage cabinets. 
Lush Greenery Wall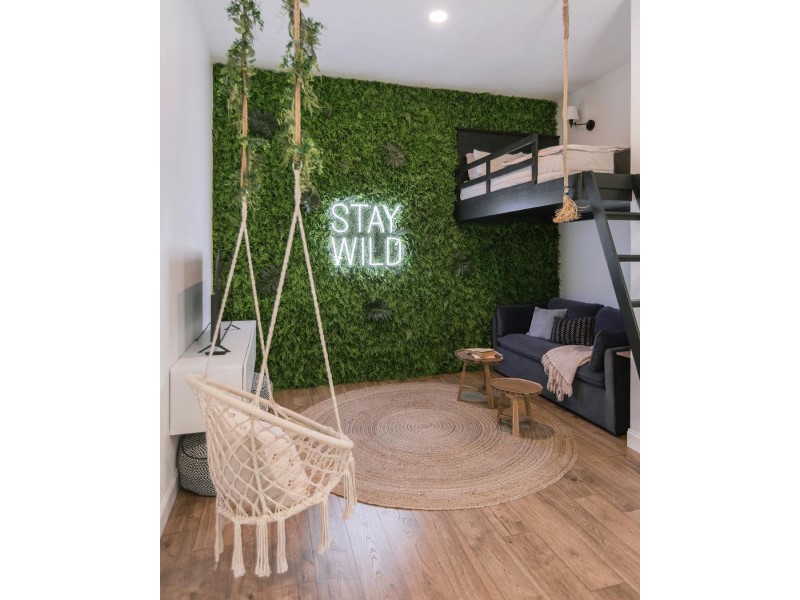 Just because space is limited, doesn't mean she can't have a cool bedroom. Opt for a loft bed so she has more floor space to hang out at during the day. Next, furnish the feature wall with lush greenery, then add neon lights, a hammock chair or sofa, and a jute rug. It'll be a room she'll continue to love even in her teenage years! 
Your Daughter Will Adore These Fun & Creative

Kids' Bedroom Ideas For Girls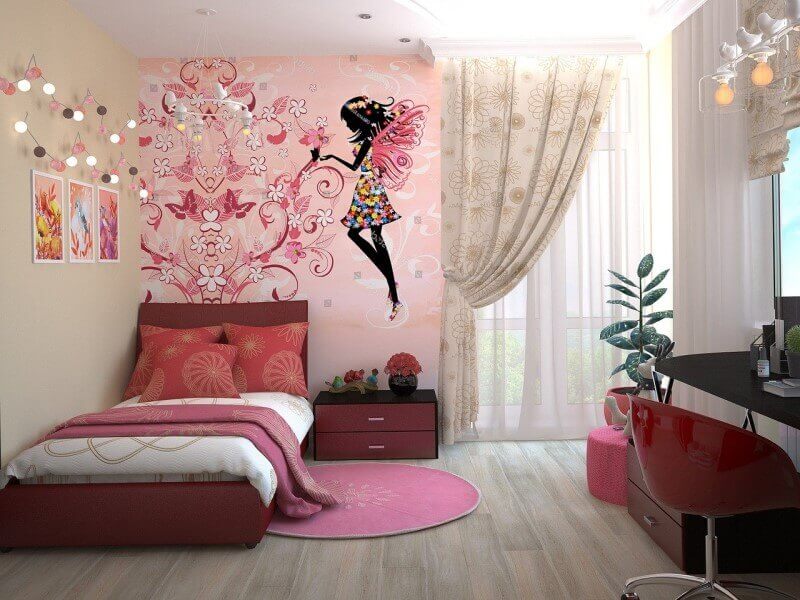 With the right theme, furniture, and colour scheme that reflect your daughter's personality, you'll be able to craft the perfect bedroom for her. See anything that might strike your daughter's fancy on this list of kids' bedroom ideas for girls? Then be sure to bookmark it for future reference! Once you're done, maybe consider doing up the kids' study room or nursery next?