Thinking of creating a dedicated study area for your kids at home? Whether you've got a whole room to spare or only a small study nook in an area of the house, there are plenty of ways to design and organise a homework station for your little ones. From must-have furniture to smart storage solutions and decor tips, here are 10 kids' study room ideas that will inspire and motivate your children.
Useful Tips & Fun Design

Ideas

For Your

Kids' Study Room
Invest In A Good Desk And Swivel Chair 
First things first, you'll need to add a sturdy desk to the room. Opt for a simple study table or one that comes with a built-in bookshelf so they have easy access to their books and other belongings. Not much space? Try a floating desk that you could fold away when not in use.
Next, accompany the desk with a comfy swivel chair that's the right size and height for your child. This will encourage good posture while allowing them to sit comfortably for longer periods. Go for this ergonomic mesh chair or a cushioned nordic design for a luxe look. 
Related: 5 Best Ergonomic Chair Recommendations For The Ultimate Comfort & Support
Have The Workstation Face Natural Light (And Include A Reading Lamp)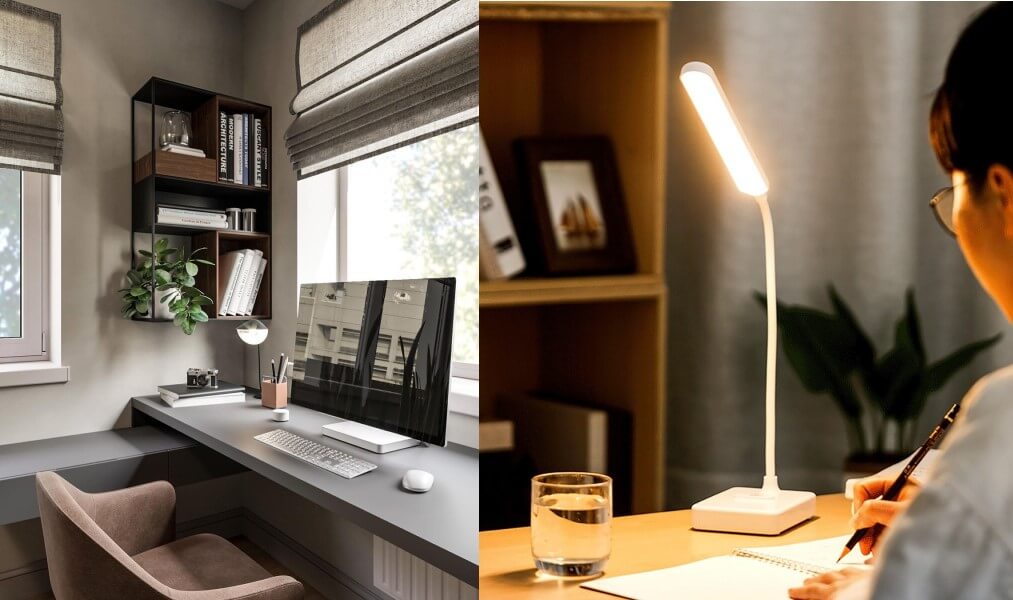 If there's a window in the room, place the desk facing it so your child gets plenty of natural light. This helps them focus better and if there's a view of nature outside, that's an added bonus! 
Also, be sure to add a reading light that will lessen the strain on their eyes. Some good table lamp options include this LED desk lamp or this multifunctional LED ring light. Both come with three brightness levels—natural, white, and warm light—to protect your little one's vision. 
Make Use Of Vertical Space For Storage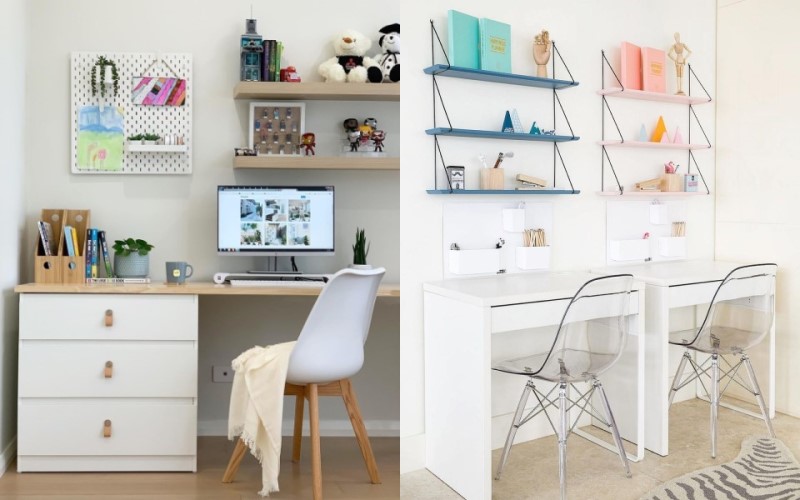 If floor space is limited in your kids' study room, a good idea is to utilise vertical space. You can mount file holders, storage baskets, floating shelves, and racks onto the wall. Don't forget pegboard shelves too, which are great for organising various school supplies with the addition of trays, containers, and hooks.
Create A Cosy Reading Nook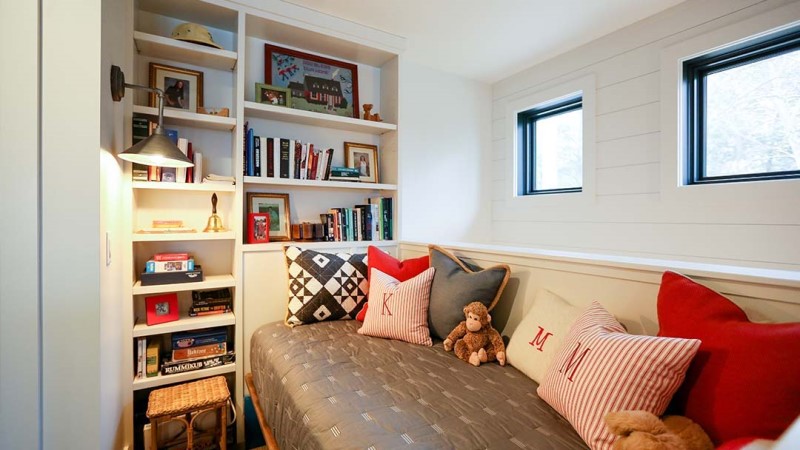 A cosy reading corner is always a welcome idea in a kids' study room, so create one with a few basic pieces of furniture. First off, a multi-tier bookshelf is a must for storing their favourite novels or comic books. Secondly, for seating, get creative with a daybed or beanbags, and add loads of pillows and a throw for extra snuggles. 
Add A Hammock Chair And Cushions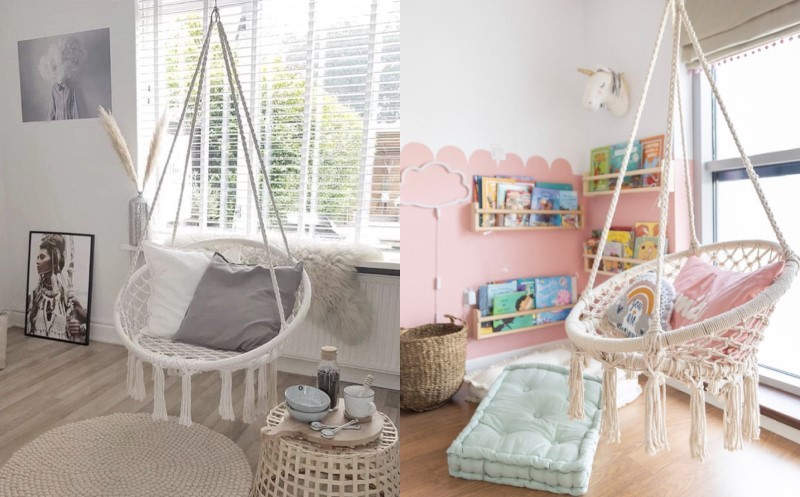 To amp up the cool factor, make your child's study space even cosier with the addition of a suspended hammock chair and fill it with some plush cushions. Underneath it, you can place a rug or floor pillows for more relaxed seating. This makes it an inviting spot for them to catch a quick break from studying. 
Keep Stationery Well-Organised With Smart Storage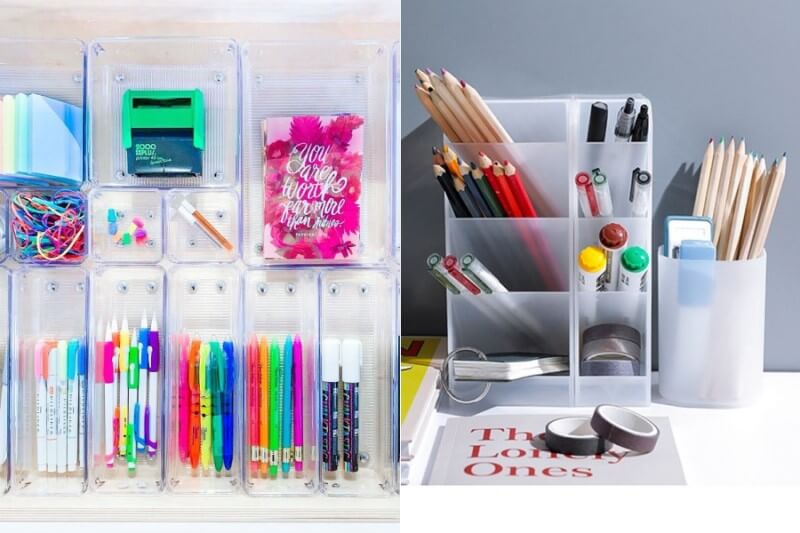 A clutter-free space is more conducive for studying. So tidy up all your kids' stationery and writing utensils by keeping them organised with smart storage solutions. For example, this stationery holder keeps everything neatly in place thanks to its multiple compartments. 
Meanwhile, storage bins and baskets are great for housing knick-knacks so they don't clutter the desk. Consider a multi-purpose three-tier rolling cart too, for additional storage that's easy to move about in the room. 
Make Space For A Creative Zone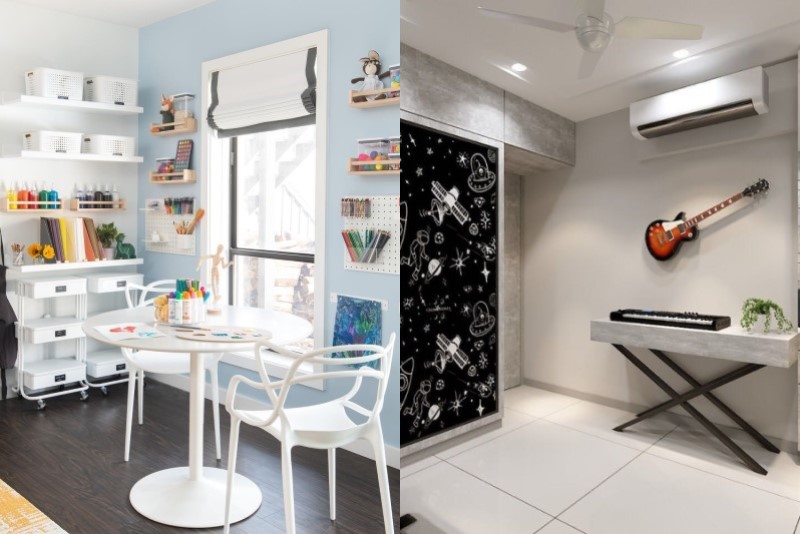 To inspire creativity and bright new ideas, your kids' study room could have a corner dedicated to all things arts and crafts. This is where they can work on DIY projects while having their art supplies within close reach. Other great additions to this area include a wooden easel for them to paint, or this double-sided whiteboard and blackboard for them to doodle on.
Alternatively, if your child loves music, you can place some musical instruments in this creative zone. Think guitars, keyboards and pianos, drums and percussions, or other instruments they're keen on picking up. 
Incorporate Colour On Walls Or Furniture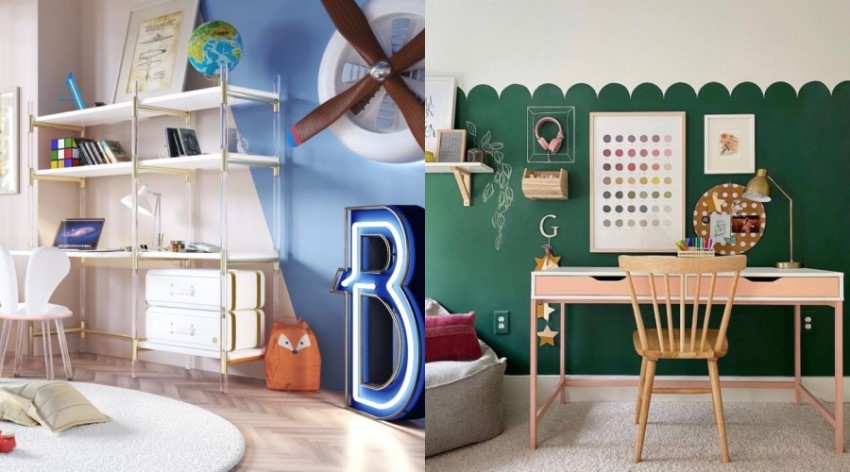 Bright hues stimulate the brain, and this is especially helpful for younger children to learn better. Hence, injecting some colour onto the wall or furniture of your kids' study room is a good idea. For reference, blue has soothing effects, green helps improve focus, red encourages creativity, and orange is a mood-booster. 
Hang Up Motivational Quotes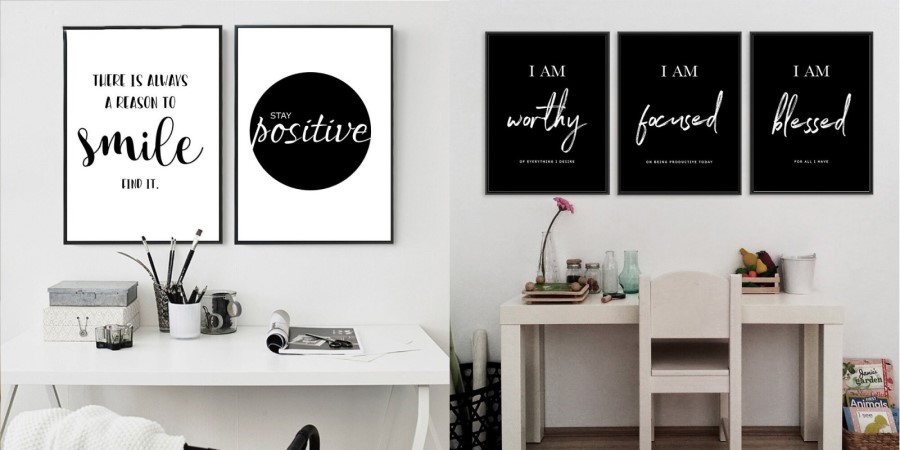 You may not be able to supervise them doing their homework 24/7, which is why having motivational quotes up on the wall is a great way to help the kids feel driven on their own. Try these black-and-white posters that will inspire positivity every day, or these feel-good wall art reminders of how #blessed they are!
Introduce Indoor Plants To Reduce Stress And Boost Productivity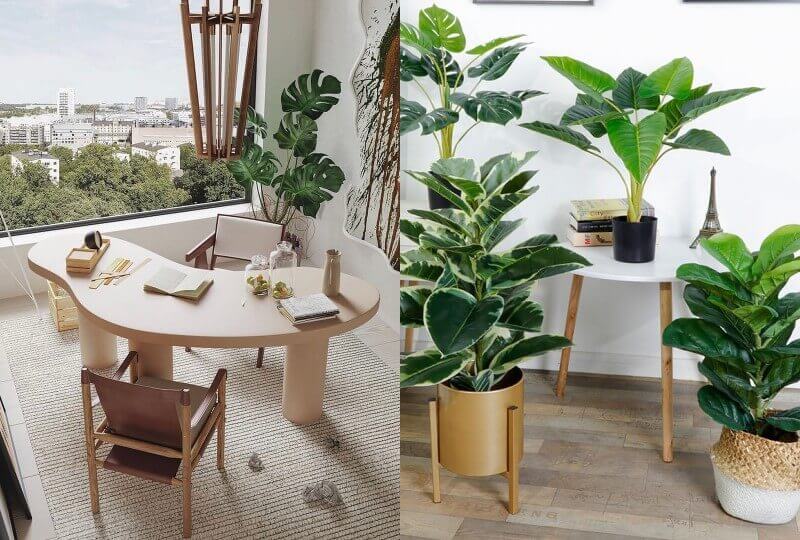 Besides enhancing the aesthetic of the study room, plants can also improve your child's overall well-being and learning ability. After all, studies have shown that indoor plants reduce stress, improve air quality, as well as boost productivity, creativity, and concentration. 
No time to take care of a real plant? You can either opt for low-maintenance cacti or artificial flowers and plants instead. This one offers a few hipster indoor plants in various heights, from the popular monstera deliciosa to the fiddle-leaf fig.
Related: Taking Care Of Your Cactus: Do's & Don'ts To Keep It Healthy And Happy
Design A Fun And Functional

Kids' Study Room

With These

Ideas
There are lots of ways to spruce up your kids' study room and these ideas presented are just some of them. No matter how you decide to decorate and design their study space, remember to incorporate an element of fun to keep their spirits high! Got a newborn arriving soon? Here are 15 decor tips for a cosy baby room.