Colourful lanterns, talks under a starry night, and of course, slices of tasty mooncake! Anchored in history and folklore, the Mid-Autumn Festival is a joyous occasion as friends and family get together to catch up over the indispensable dessert. For this year, instead of buying mooncakes from hotels and restaurants, why not try making some yourself? Trust us; it's fun and only requires a handful of ingredients. Here's our guide on how to make mooncakes (including a delectable snow skin mooncake recipe).
How To Make Mooncakes

With These Easy Recipes
Lotus Mooncake With Salted Egg
It can't get any more authentic than a lotus mooncake with savoury salted eggs! Enjoyed by people from all walks of life, generation after generation, this treat consists of a thick lotus seed paste encased by thin moist skin. But perhaps what brings this mooncake to the next level is the inclusion of a whole salted egg yolk. When cooked, the egg becomes soft and crumbly, adding a slight umami flavour profile to the overall dessert.
Don't forget to use a mooncake mould to create unique designs for your creations! Watch the video above on how to make a lotus mooncake with salted egg, and bookmark the recipe list below for reference. 
Recipe Ingredients: 
Lotus Seed Filling:
Skin:
150g golden syrup

50g sunflower oil

½ tsp

lye water

220g of all-purpose flour

Cornstarch

for dusting
Egg Wash:
Others:
Traditional Mooncake With Red Bean Paste
Besides lotus, red bean is another commonly used filling in mooncakes. Also a staple element in Japanese and Korean-styled desserts, red bean paste is sweet with a distinctive graininess that resembles a bread spread. This recipe by renowned Internet-famous professional chef Joshua Weissman is simple and straightforward, letting the mooncake shine with good quality ingredients.  
The omission of salted egg yolks here results in a sweeter creation. Hence, adjust the volume of sugar if you'd like your cakes less sweet!
Recipe Ingredients:
Red Bean Filling:
Lotus Seed Filling:
320g dried lotus seed

200g powdered sugar

250g

oil
Skin: 
Five-Nut Mooncake
A five-nut mooncake takes the traditional mooncake recipe and elevates it with a bunch of nutritious add-ons. In this case, you'll require pine nuts, pumpkin seeds, walnuts, and more. Although the recipe is extensive, the nutty and savoury notes of the mooncake will make it worth your while. But of course, you can choose to omit certain ingredients if you so please!
Recipe Ingredients:
Filling:
45g walnuts
45g peanuts
40g black and white sesames
40g pine nuts
40g pumpkin seeds
40g sunflower seeds
30g candied citrus peel
60g candied pineapple
75 glutinous rice
40g rose syrup
30g honey
20g oil
10g sesame oil
25g sugar
4g salt
2g Szechuan peppercorn powder
20-30g water
Skin:
75g honey
35g oil
10g lye water
1g salt
150g cake flour
Shanghai Mooncake With Taro Filling
The outer layer of a Shanghai mooncake is crisp and crumbly. The texture is almost biscuit-like and has a strong, unmistakable buttery taste to it. As traditions dictate, Shanghai mooncake is usually filled with lotus seed paste and salted egg yolk. However, this recipe opts for a modern approach, using sweet and succulent taro as the star ingredient. That said, salted egg yolk remains a key component to counter-off the sweetness of the taro.
When thinking about how to make a Shanghai mooncake's crusty pastry, butter is the key! So make sure you have adequate amounts of it when prepping the dough. Coconut oil works too, but some might find the aroma too overpowering.
Recipe Ingredients:
Taro Filling:
Skin:
Others:
Pandan Jelly Mooncake
If you don't have an oven or just aren't keen on the prep work that comes with conventional mooncake making, give this agar-agar recipe a go. What's more, this jelly mooncake uses all-natural ingredients to recreate the look and feel of its traditional equivalents. For example, the "salted egg yolk" is made using carrot while the filling is a mash-up of coconut milk and pandan leaves. 
And yes, you'll still get the same photogenic layers when cutting through it, provided that you use special moulding trays meant for agar-agar mooncakes.
Recipe Ingredients:
"Egg Yolk" Mix:
Filling:
3 tbsp sugar

1 tsp a

gar-agar

powder

½ tsp jelly powder

250ml water

70ml coconut milk

1 piece pandan leaf
Skin:
3 tbsp sugar

1 tsp

agar-agar

powder

½ tsp jelly powder

3 pieces pandan leaves

250ml water

60ml coconut milk 
Snow Skin Mooncake With Custard Filling
Quite possibly the most popular non-bake mooncake, snow skin mooncakes get their smooth texture and distinct fragrance from cooked glutinous rice flour. The ingredients also give the skin a chewy and soft bite. Snow skin mooncakes come with embossed motifs like traditional ones, but mostly in pleasing pastel colours. 
Resembling a colour wheel, there are countless possibilities of snow skin mooncake variations. It's all a matter of how you choose to make the mooncake. Any natural or synthetic flavourings can be added to the mixture. Otherwise, go with the flour's natural off-white shade as depicted in this snow skin mooncake recipe. 
Recipe Ingredients:
Skin: 
Filling:
Mung Bean Mooncake
Mung beans are delicious legumes known for their health benefits, and this mooncake recipe uses a whole bunch of them as the base. After soaking the mung beans overnight, you'll need to cook them to create a thick paste, which is then mixed with butter, salt, sugar, and honey for flavour. The rest of the recipe is easy. Pour the paste into a mooncake presser and firmly press down on a chopping board for the mooncakes to release.
Recipe Ingredients:
200g mung beans
300g water
56g unsalted butter
100g sugar
63g honey

¼

tsp salt
How To Gift Mooncakes To Friends And Family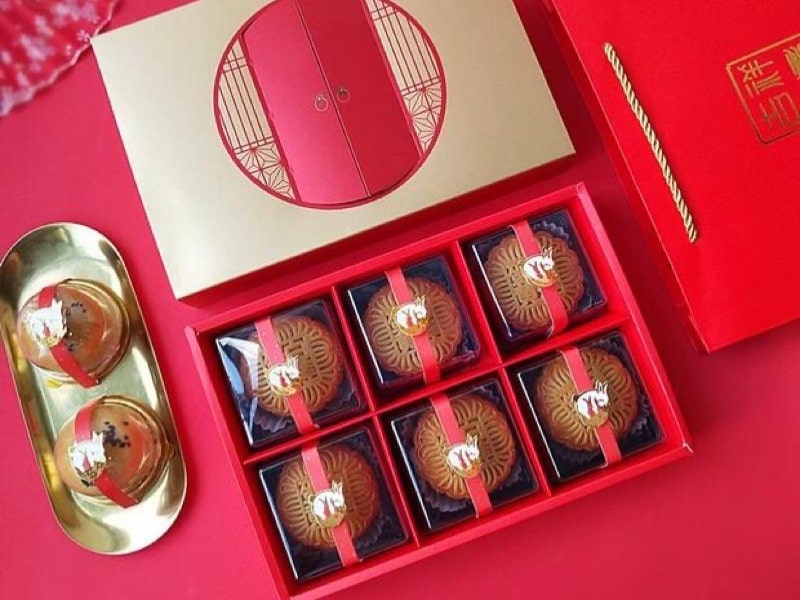 Now that you know how to make mooncakes, the next thing you need is a presentable box if you plan to gift some to your loved ones! There are a few ways to go about this. You can choose a rustic pull-out drawer that has a surprise element to it, or ones with separate compartments for a neat and Instagram-ready aesthetic. 
As a final touch, put it all together in a sturdy gift bag. And you don't have to go with the usual brown renditions either. There is a myriad of colours, designs, materials, and handle types to choose from. Just pick one that suits your gift and the receiver best!
This Mid-Autumn Festival, Follow These Recipes On

How To Make Mooncakes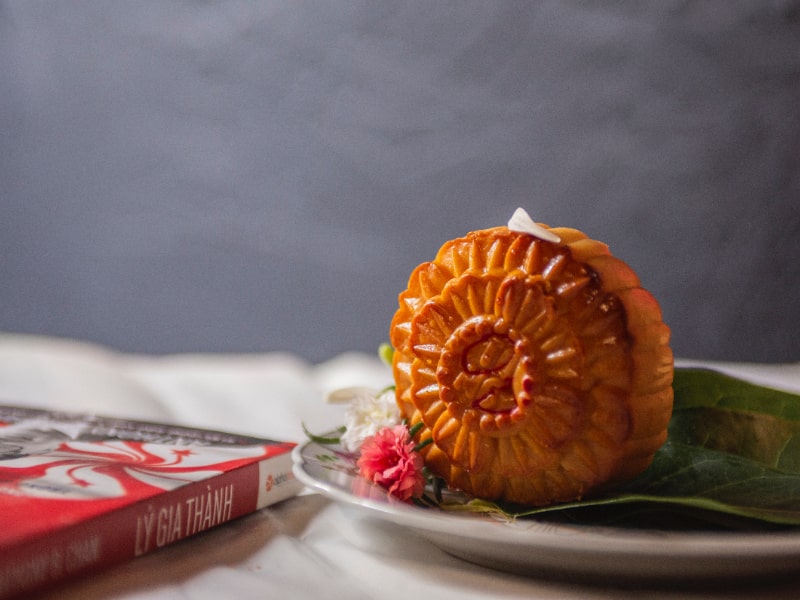 We hope you're excited about the Mid-Autumn Festival this year! It might be a smaller affair this time due to the pandemic, but it's still a celebration worth having nonetheless—since you now know how to make mooncakes and snow skin mooncakes from the recipes above! Prefer to buy ready-made options?Check out our curated list of the best mooncakes in Malaysia. And if you have little ones, get them hands-on with these fun lantern tutorials.