Things can get a little tricky when it comes to decorating a boys' bedroom. Do you give in to his requests for superhero-adorned everything? Or do you disregard his ideas for something more refined and timeless? Believe it or not, there are ways to meet in the middle, and these 13 cool and sophisticated boys' bedroom ideas are a prime example.
Cool

Boys' Bedroom Ideas

& Themes To Adopt For Your Son's Space 
Plane And Simple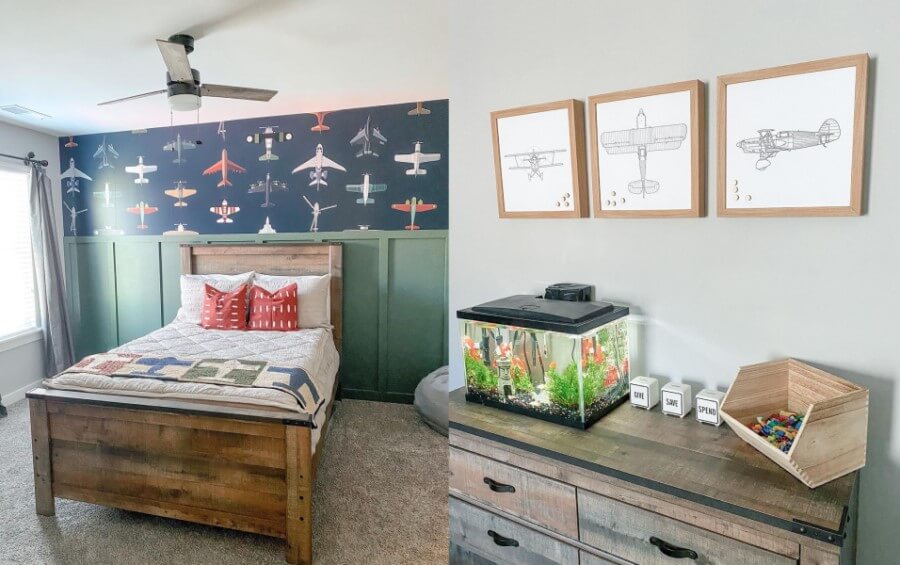 Is your son passionate about all things aviation? Then this simple boys' bedroom idea will thrill him. Reserve half the wall height for an airplane wallpaper and repeat the motif subtly on things like bedding and photo prints. Consider a shelf to display his favourite airplane toys, or even a 3D airplane window sticker for an in-plane atmosphere! 
Camping And Adventure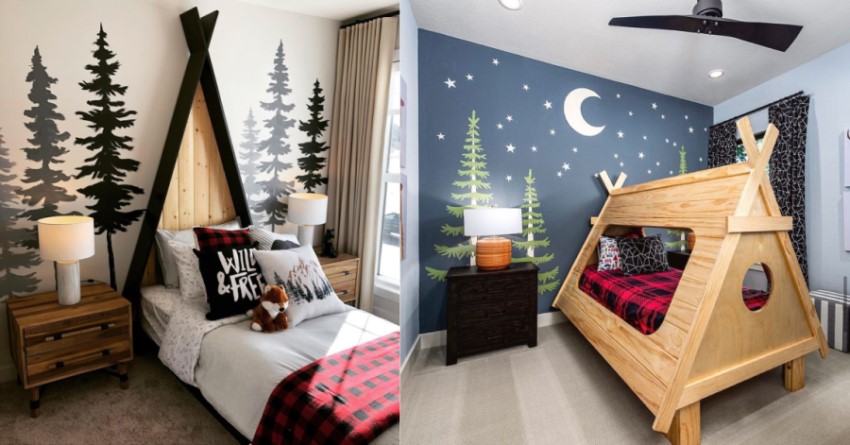 If your kid loves adventure and the great outdoors, try a cosy camping-inspired bedroom with a woodlands ambience. Things you'll need to pull this off: Wooden furniture including a tent-like headboard or bed frame, forest wall decor, plaid patterned bedding, and complementing cushion covers.
Double Ceiling Duplex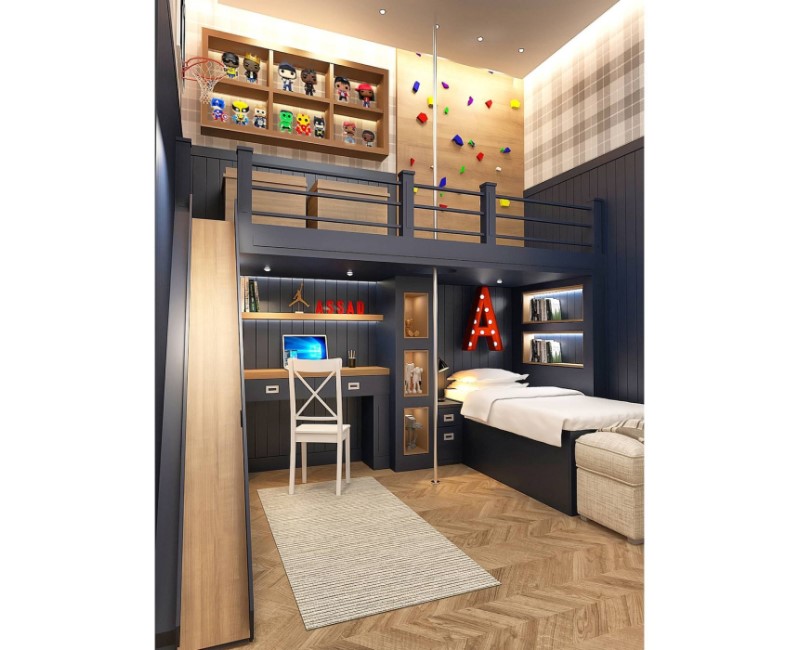 Got plenty of vertical space to work with? How about transforming his bedroom into a fun indoor 'playground'? Just split the room into two areas, and use the bottom section for sleeping and studying. Meanwhile, the top could function as an activity zone by installing some climbing rocks on the wall, a slide, a basketball net, a pole, and more.
Outer Space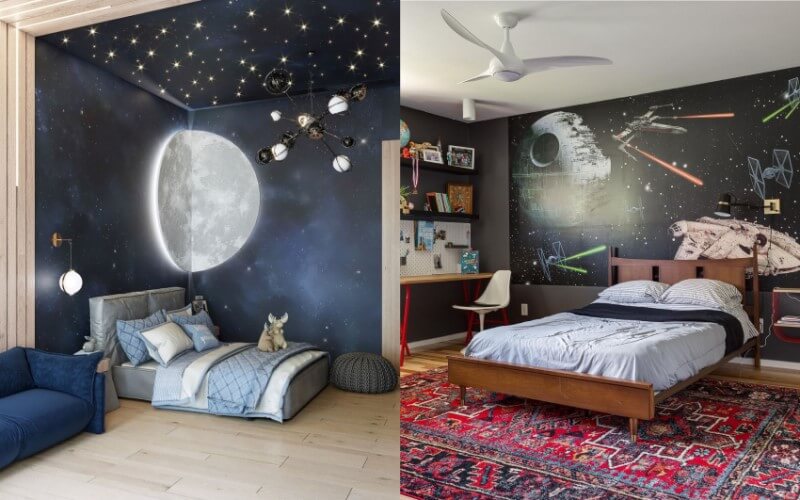 Is your son often fascinated by the vast universe and dreams of heading to space one day? Then this is the perfect boys' bedroom idea for him! An intergalactic wallpaper peppered with the milky way and constellations will fit right into his room, along with cool light fixtures that resemble stars, planets, or even astronauts. 
Slam Dunk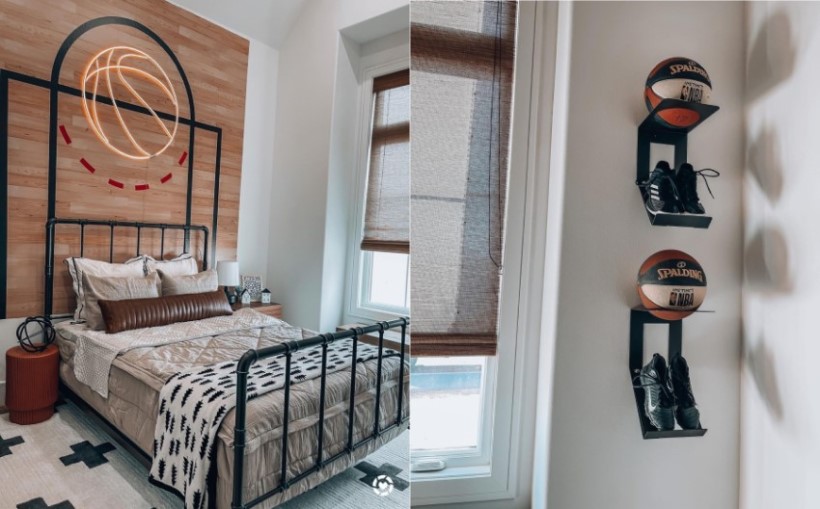 This creative bedroom design is for sporty kids who particularly enjoy playing basketball! The feature wall is the main highlight here, resembling a hardwood basketball court with a cool basketball neon light sign. Other nice touches to replicate are the wall shelves to hold and display balls and basketball shoes. 
Muted Tones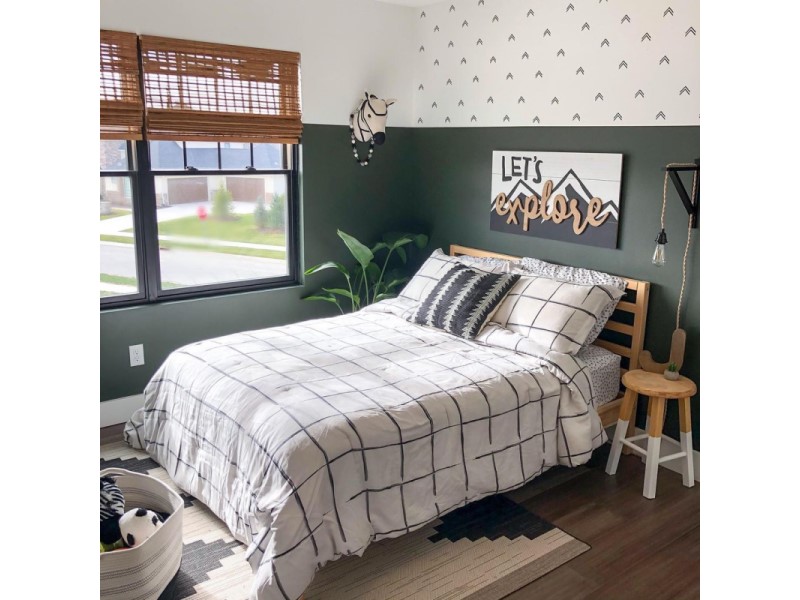 For a calming space to relax in, avoid busy prints and loud colours. Instead, a palette of muted tones will do the trick. Take cues from this bedroom design by using a combo of white, a subdued green hue, and neutral tones. Patterns and lines—whether applied on bedroom furniture, bedding, or rugs—are kept clean and minimal too. 
World Map Wall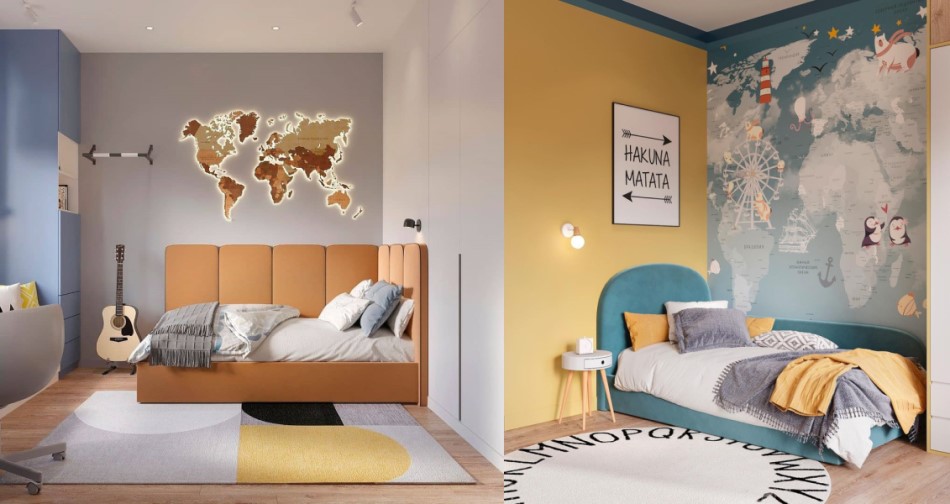 Soon-to-be globe-trotters will appreciate having a world map as their bedroom backdrop. Choose from either a stick-and-peel vinyl sticker, multi-panel poster, or large wallpaper. No matter which style you pick, ensure the room's colour scheme pairs well for a cohesive look. Feel free to add other travel-related items to fit the theme (like this cool floating globe).
Sophisticated Superhero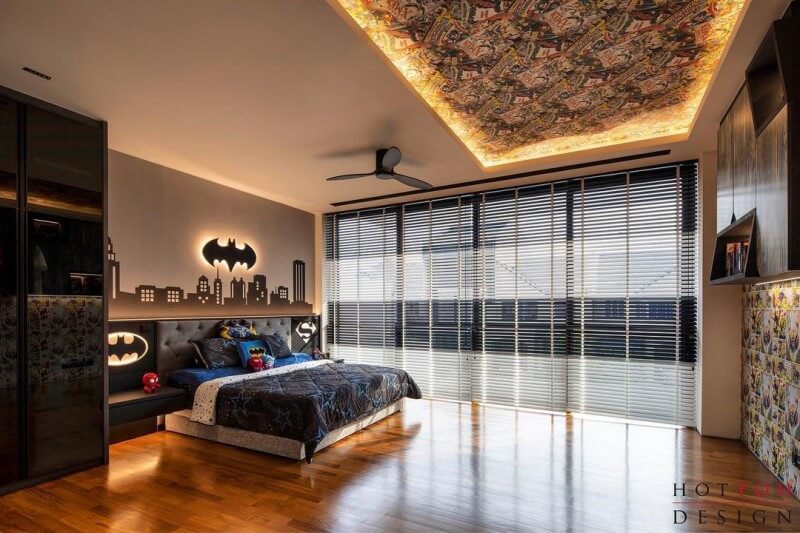 Just because your son wants a superhero-themed room doesn't mean it has to end up looking tacky. A tasteful way to decorate his room is to have subtle accents that are easy to swap out when he outgrows them. In this bedroom's case, there's a Batman LED wall lamp placed above a generic cityscape wallpaper, a couple of Avengers soft toys, and hints of comic strip furnishing. 
Dino Land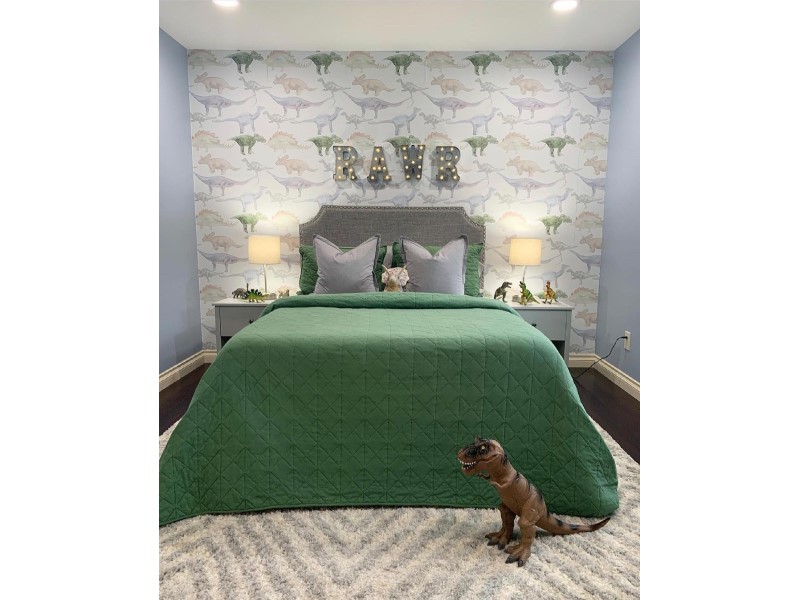 Many boys are obsessed with dinosaurs. If your kid is one of 'em, look no further than this boys' bedroom idea. Have the bed placed against a dinosaur print wallpaper, assemble a few LED-lit alphabets to spell out R-A-W-R (or maybe even a personalised Jurassic Park sticker), and display his favourite dinosaur toys on the bedside tables. 
Sporty Double Decker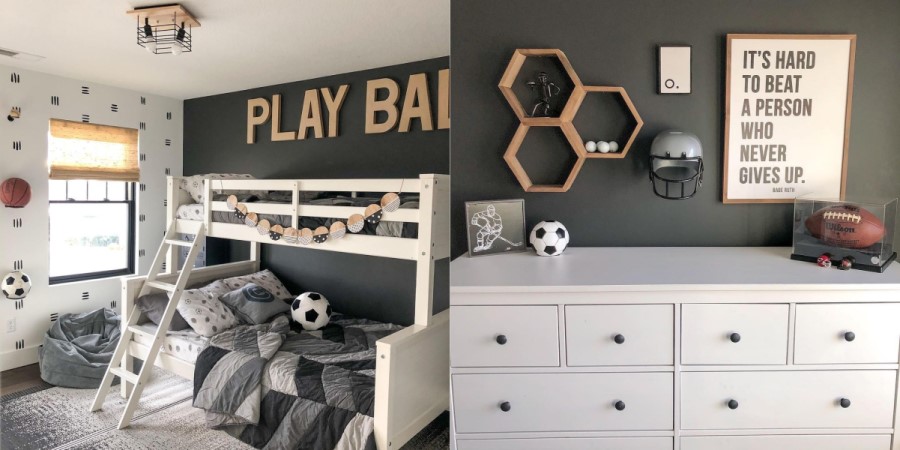 Got two active kids sharing a room? Then take inspiration from this sporty-yet-sophisticated boys' bedroom that utilises a monochrome palette to perfection. From the bunk bed and chest of drawers to wall paint or wallpaper, have everything in black, white, or grey, then throw in a few of their favourite sports balls—be it basketballs or soccer balls—as decor. 
Sea-Inspired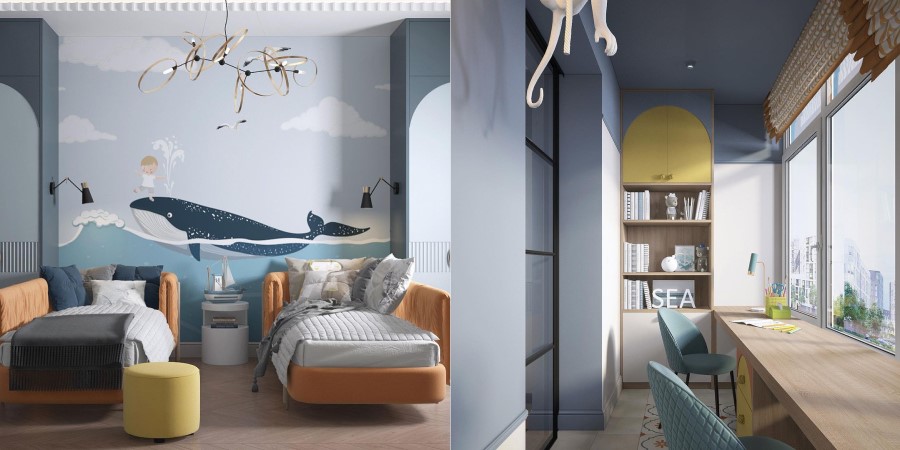 If your kiddos are into watersports but can't exactly go swimming or snorkeling right now, fret not. Bring the sun, sea, and sand into their bedroom by taking notes from this marine-inspired theme and colour scheme. It's youthful and elevated, yet easy to rework once they grow up. 
Monochromatic Chevron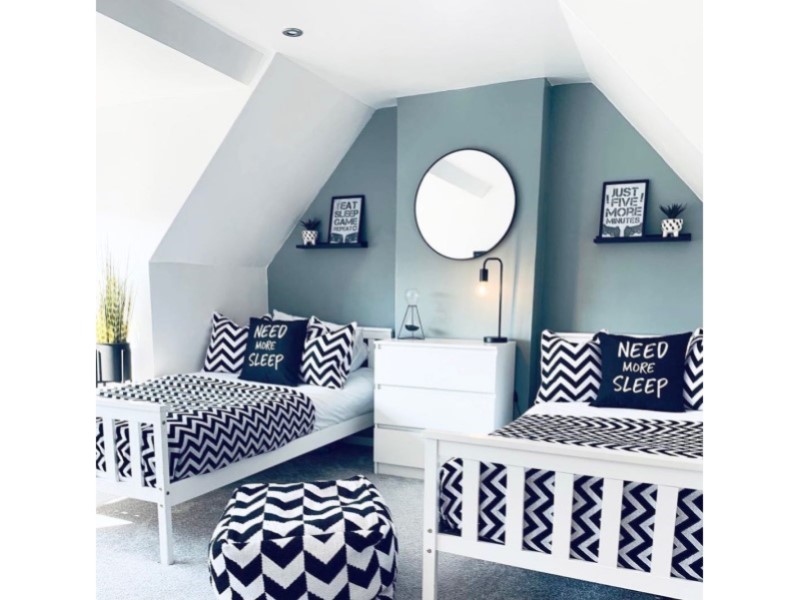 Another black-and-white theme worth considering for your kids is this twin room that cleverly uses a chevron print against mostly white furniture to make a statement. To maintain this monochrome look all year round, get a set of bed sheets in only shades of black and white.
Star Wars Theme
If your boys are upset by the fact that they've got to share a room, this super cool Star Wars-themed bedroom will turn that frown upside down. The walls should be on the dark side of course, painted with the warp speed effect in white. For bed sheets, here are 22 different designs to choose from. Optional: Throw in some novel Baby Yoda, Stormtrooper, or Darth Vader cushions.  
Steal These Sophisticated

Boys' Bedroom Ideas

To Earn Major Cool Points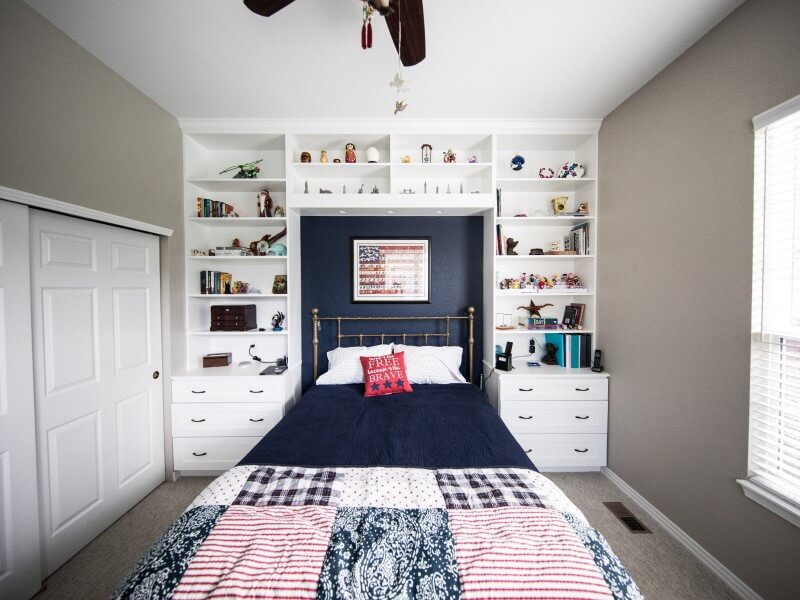 Your kids are still growing, and that means their tastes will evolve over time too. Hence, it's important to design a space that can be reworked as an adult room once superheroes and dinosaurs no longer excite them. And with these creative boys' bedroom ideas, you'll be able to do just that (while scoring some brownie points). 
Need ideas for your daughter's room instead? Get inspired by these dreamy girls' bedroom designs.