While Gen-Z tends to favour middle-partings, as evidenced by the 1.8 billion views for the hashtag #curtainbangs, the classic side part is not to be overlooked. Below, we've compiled 11 side bangs haircuts and hairstyles, from the mullet and bixie to long layers, to help you nail this fringe type.
Side Bangs Haircut

& Hairstyles To Try This Year 
1. Mullet With Side Bangs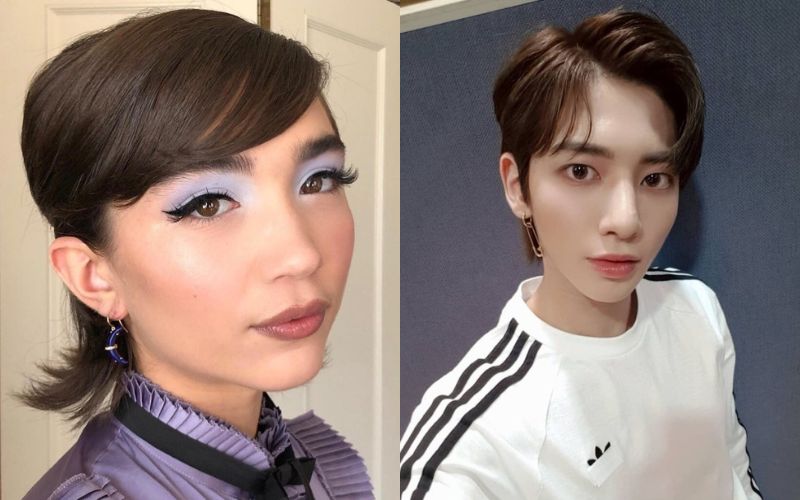 Though most mullets feature full bangs or a middle parting, side bangs can give this haircut a more sophisticated look. Rowan Blancard's thick, short fringe falls across her forehead, which adds extra volume to her grown-out mullet. Meanwhile, TXT's Taehyun is sporting a slightly longer length that ends just past his eyebrows, which gives him a neater style. 
Related: Mullet Haircuts For Men: 8 Looks Inspired By Korean Celebrities
Related: The Mullet Is Back! Here Are 8 Modern Ways To Rock The Retro Hairstyle For Women
2. Two-Block With Side Bangs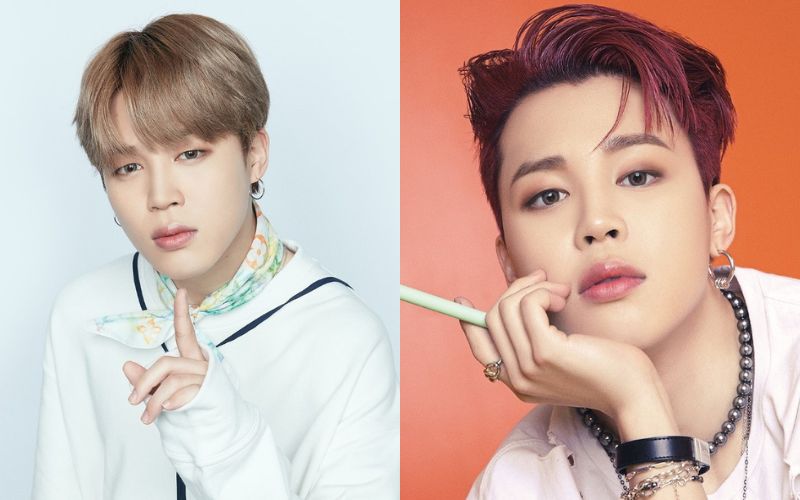 The two-block cut is one of the most popular Korean male hairstyles for its versatility. Whether it's with full and straight bangs or a natural perm, this short haircut pairs well with just about any style. That said, you can never go wrong with a classic side-swept fringe to nail that quintessential Korean oppa look. 
BTS' Jimin shows off two different vibes with his side bangs haircut. His fluffier hairdo gives a cuter touch and can be achieved with a round brush and a hairdryer. On the other hand, his sleek style for the group's Butter comeback oozes a sexier vibe, which can be recreated with your favourite styling gel. 
Related: How To Wear The Two-Block Cut Like Your Favourite K-Pop Star
3. French Bob With Side Bangs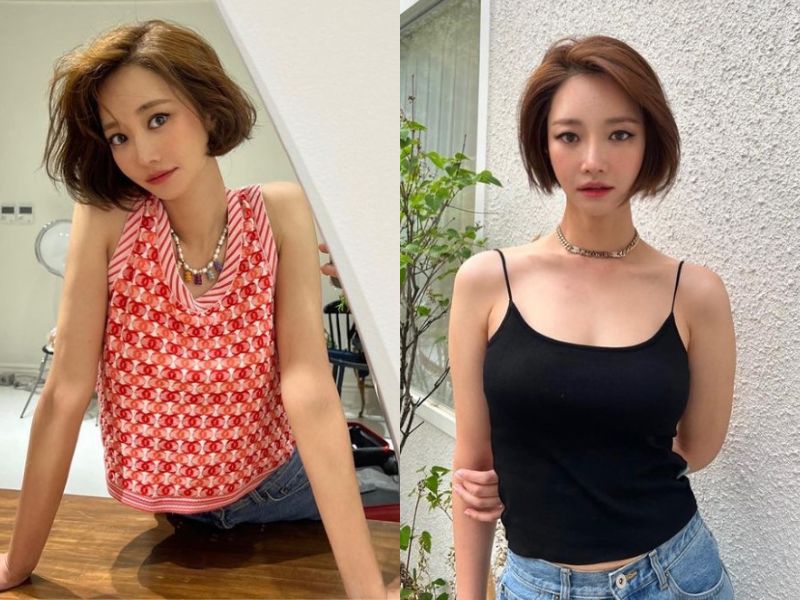 Typically, a French bob would include a prominent straight fringe that sits at eyebrow level. However, it's still possible to rock this modern haircut even with side bangs. Just make sure to keep the hair at the front longer than the back for a more balanced look. Don't overdo it though, because then it'll look too much like an asymmetrical bob. 
Related: From Blunt To Pixie, Here Are 7 Best Short Bobs You Won't Regret Cutting
4. Flicked-Out Bob With Side Bangs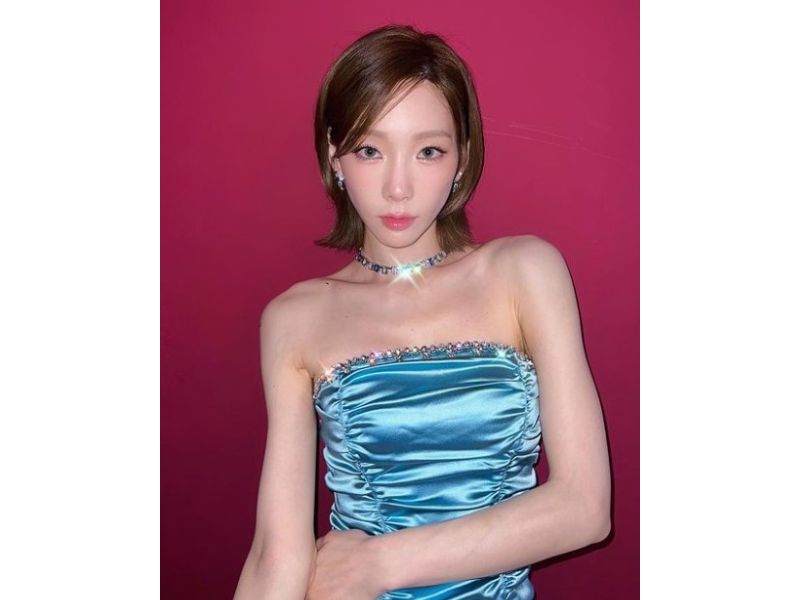 Don't want to commit to anything too extreme? Then SNSD Taeyeon's collarbone-length bob offers a safe middle ground for those cutting their hair short for the first time. A short side bang pairs nicely with this haircut, as it creates more definition to your features and elongates your face. 
5. Bixie With Side Bangs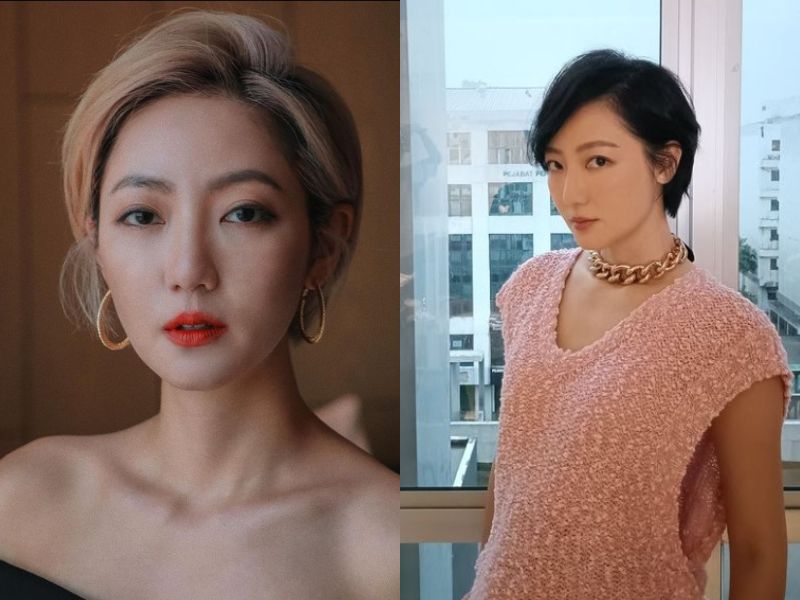 If you can't decide between a bob and a pixie, the 'bixie' hairstyle is definitely for you. Like its namesake, this 2022 hair trend is a modern hybrid of both a bob and a pixie haircut. So, essentially, you can enjoy two haircuts in one. This style looks incredibly flattering on straight-haired locks; even more so when paired with a long side-swept fringe for an elegant yet sexy look. 
Related: Check Out These Trendiest Short Pixie Haircuts To Try This Year
6. Long Wavy Layers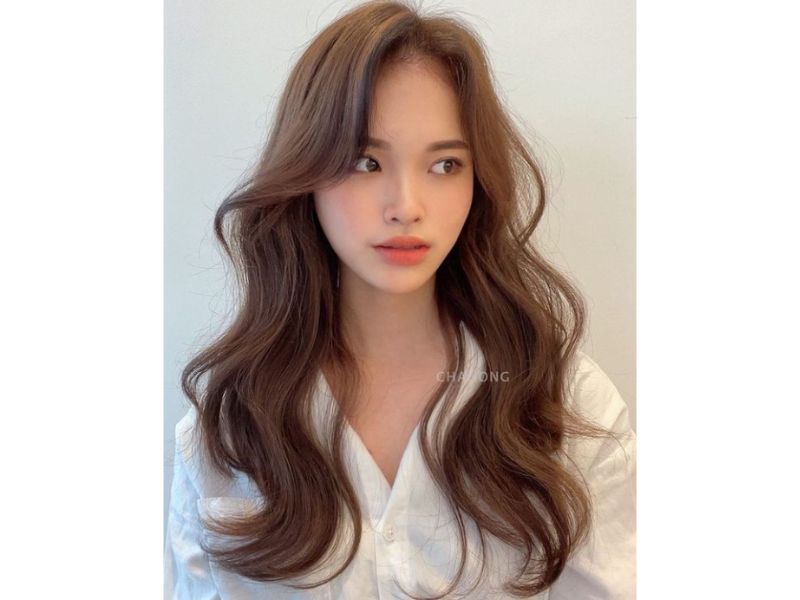 Combining soft waves and a voluminous side bang in your long haircut create the perfect illusion of a smaller face. Use a 1-inch curling iron to curl your hair outwards, and carefully twist the barrel downwards till you reach the ends of your hair. This should create a tight ringlet that you can comb out for a looser, natural curl. As for the bangs, roll your hair upwards and secure them in place with hair rollers to achieve a flicked-out wave. Once the wave is set, you can sweep your bangs to the side to create your side parting. 
7. Curly Hair With Side Bangs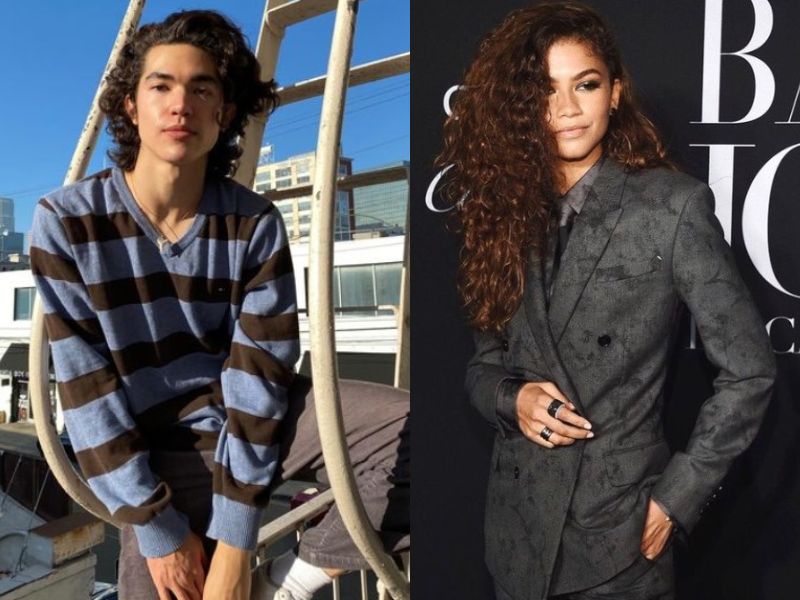 Sometimes, all you need to do is work with your own natural hair texture. If you have curly hair, a deep side parting can really bring out the volume and drama in your luscious locks.  
For defined curls, apply your styling products in the shower to maintain your curls throughout the day. But before that, make sure to identify your curly hair type so you know which technique and hair care routine work best for you. 
Related: 13 Curly Hair Care Tips & Tricks To Get Your Best Curls Eve
8. High Ponytail 
Choosing the right hairstyle is just as important if you want to enhance your side bangs haircut.
A high ponytail with long, slicked-back bangs tucked behind the ear is a great way to allow your new fringe to shine.
9. Low Spiky Bun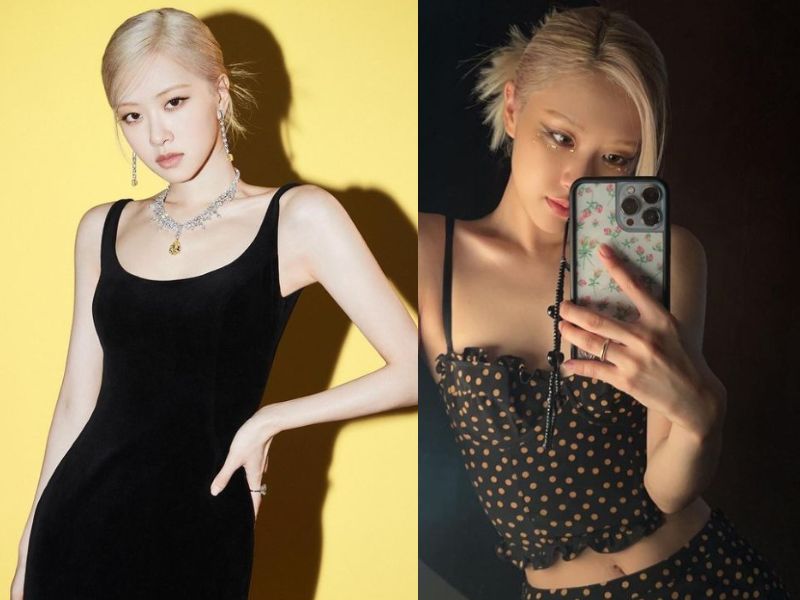 Blackpink Rose is channelling major Y2K vibes with a low spiky bun. Her cheekbone-grazing side fringe adds an extra hint of edge to keep her hairstyle chic instead of office-like. Worried about your bangs poking your eyes? Simply pin them back with a bobby pin for a sleeker look. 
10. Straight With Curled-In Ends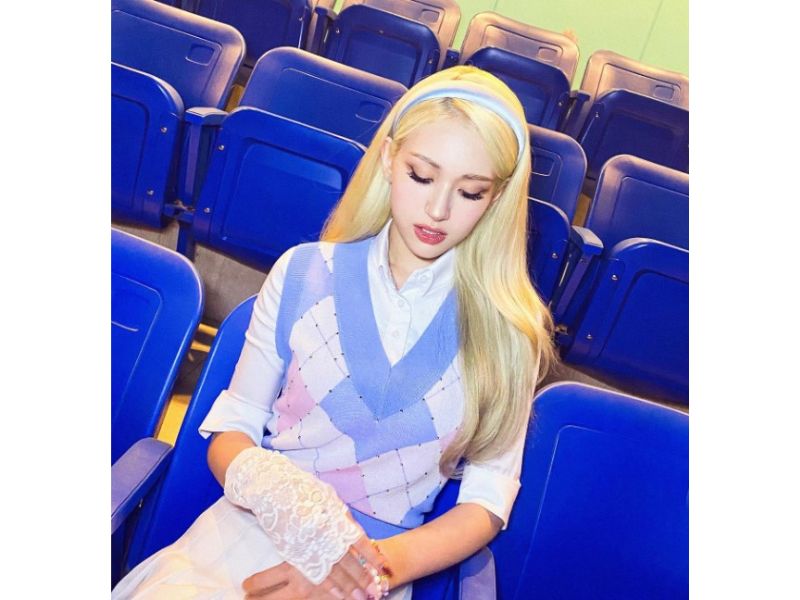 Don't feel like tying up your hair? Then you can keep your side bangs haircut neat and simple with a hairband. Here, Jeon Somi has styled her dyed blonde locks straight while curling the ends of her hair inwards into a soft C-curl. This creates a fresh and bouncy look that complements her preppy aesthetic. She also takes care to match her headpiece with her knitted sweater vest for a more cohesive style. 
11. Side Fishtail Braid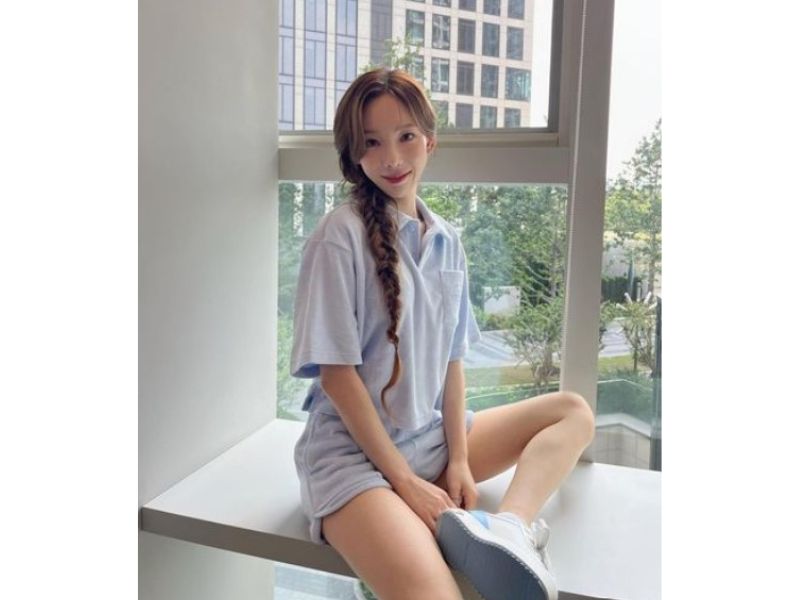 Give your girl-next-door hairdo a little twist by incorporating a wavy side bang into your fishtail braid. After braiding, run through your braid with a fine-toothed comb to add more texture and volume. Secure with an elastic band and keep the ends of your hair unbraided for a modern look. Then gently pull apart the braid to get that loose and effortless look. 
Embrace Your

Side Bangs Haircut

& Hairstyles With Pride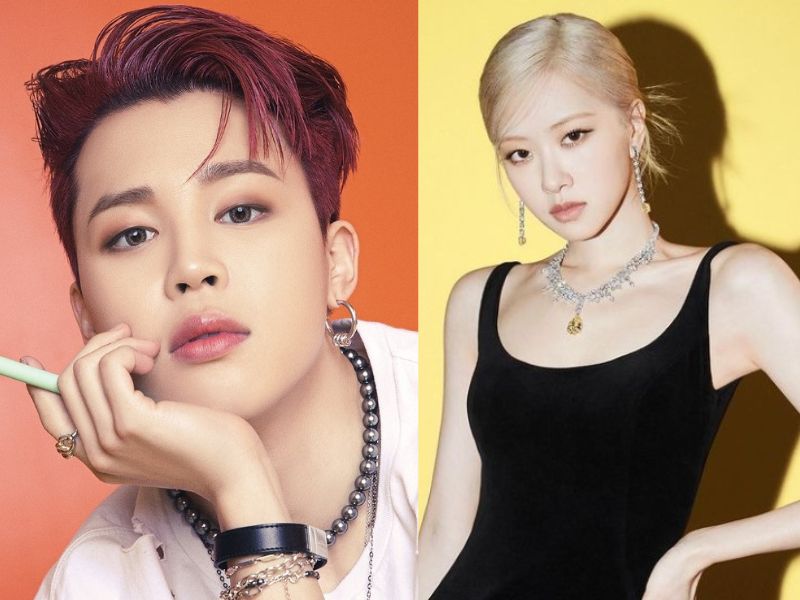 Now that you know how versatile this fringe can be, we hope our list encourages you to start incorporating side bangs into your haircuts and hairstyles a bit more. Otherwise, you could also check out our guide on the 10 different types of bangs to better understand what fringe would suit your face shape best. Or if you're still dead set on the middle parting, feel free to take your pick from these middle-parting haircuts to show to your hairstylist for a fresh new trim.
Don't forget to head over to Beauty Carou-sale to stay up to date on all the latest beauty trends!