Whether you are a newbie or a hardcore anime fan, surely you know all too well the struggle of finding where to watch anime content online. To those who can afford it, streaming services like Netflix and Hulu are great platforms to catch some of the latest anime releases or old favourites. But of course, not everyone can afford (or want) to pay a monthly fee for that privilege. We all love free stuff, and lucky for anime lovers, finding  where to watch anime for free isn't an impossible task. If you are fine with watching content that may not be the latest (and being shown ads), read on for some of the best websites to watch anime recommendations!
Where

To Watch Anime Safely For Free: 7 Best Websites
There are lots of dodgy anime websites on the web that you would want to avoid. But fret not, these websites are the best to watch free anime content without the baggage and poor user experience.    
1. Crunchyroll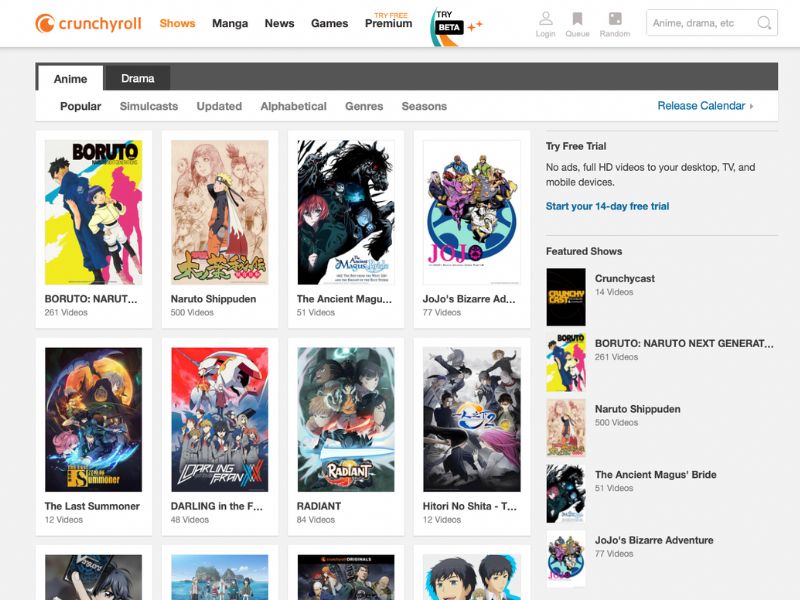 No other anime website is more well-known to fans than Crunchyroll. It is often the first anime-streaming service that gets recommended to newcomers as it is widely accessible and has the world's largest streaming catalogue of licensed anime. Though Crunchyroll is a subscription-based service, a large swath of its content is available to watch for free—as long as you have an account and are fine with watching in low 480p resolution. It is the best place to start for beginners and casual watchers who aren't always chasing the latest episodes of the hottest anime.
Anime content available: Boruto: Naruto Next Generations, DARLING in the FRANXX, CARDFIGHT!! Vanguard overDRESS, Eyeshield 21, SKET Dance 
What we like: The most legit platform to watch anime online with the largest streaming catalogue of licensed content.
What we don't like: Subscription is required to have unlimited access to the library.
2. 9anime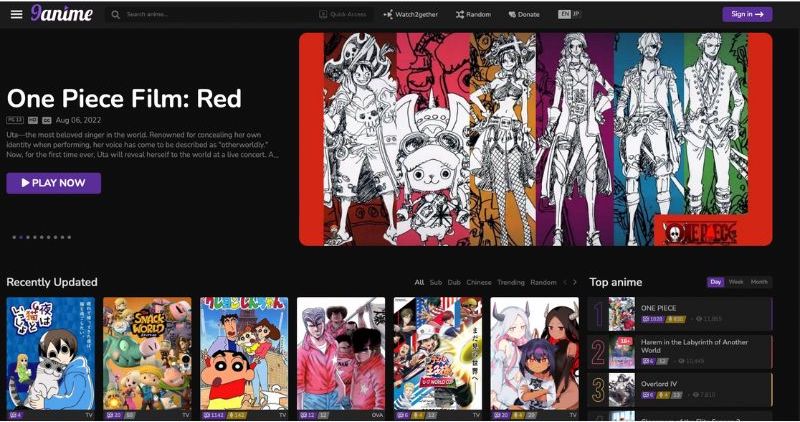 9anime offers free HD-quality anime with English subtitles or dubbing. It is one of the best websites to watch anime as it claims to have among the largest anime content libraries on the web. Not just that, it also provides a good streaming experience with high-quality streaming servers and an easy-to-navigate user interface. Content is updated hourly, and you can download any show without registration or payment required.
Anime content available: One Piece, Spy X Family, Naruto, Jujutsu Kaisen, My Isekai Life
What we like: HD content with both subbed and dubbed options, very frequent content updates, downloadable shows.
What we don't like: Contains ads and pop-ups. 
3. Anime-Planet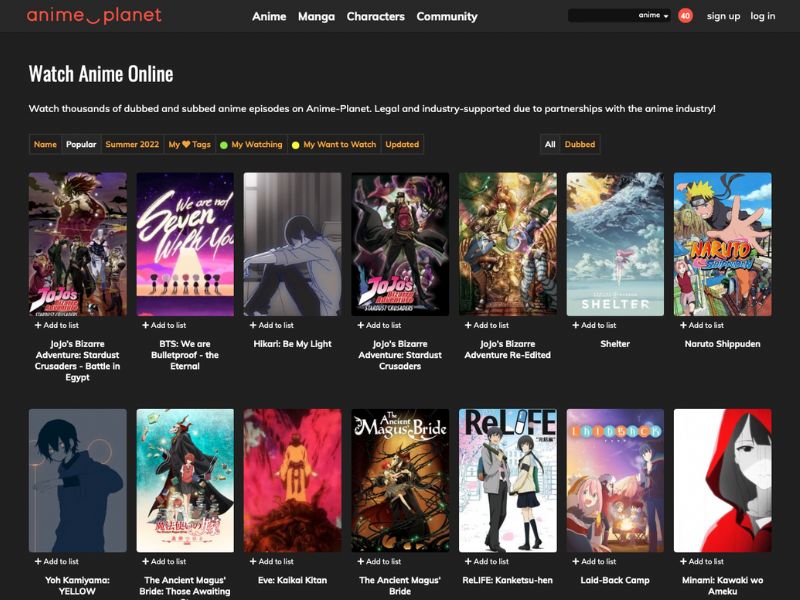 Touted as a site created by fans for fans, Anime-Planet has over 45,000 legal and industry-supported anime episodes to stream at the cost of nothing. One perk of using this site is that it lets you create your own anime watchlist while also browse other users' lists to discover endless recommendations. What's more, there is an active community where you can immerse yourself in discussing and gushing about your favourite shows with like-minded fans.
Anime content available: JoJo's Bizarre Adventure, ReLIFE, Laid-Back Camp, A Day Before Us, The Ancient Magus' Bride
What we like: Watch in complete peace with all licensed content, active community with forums and reviews are helpful in discovering new shows that are worth watching.
What we don't like: Content library not as diverse as other sites.
4. Zoro.to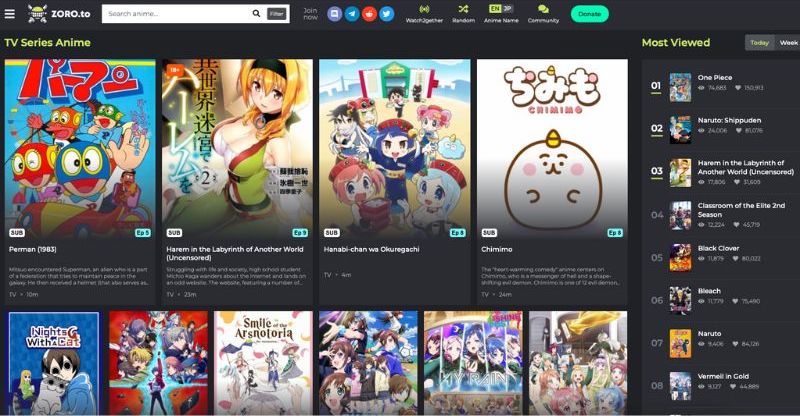 Not only can you watch free anime on Zoro.to, but you can also download subbed or dubbed shows in ultra HD quality without any payment or even registration. With almost zero ads on the website, Zoro.to is kept relatively free from viruses and malware. Content-wise, Zoro.to features a huge library that includes anime from all genres, and it is updated with new titles and user requests on a daily basis.
Anime content available: Classroom of the Elite, Black Clover, Vermeil in Gold, My Stepsister is My Ex-Girlfriend, Lycoris Recoil
What we like: High-quality streams with subbed and dubbed options, no ads, downloadable shows.
What we don't like: Although it is completely safe to use, it is not a licenced platform. 
5. Bilibili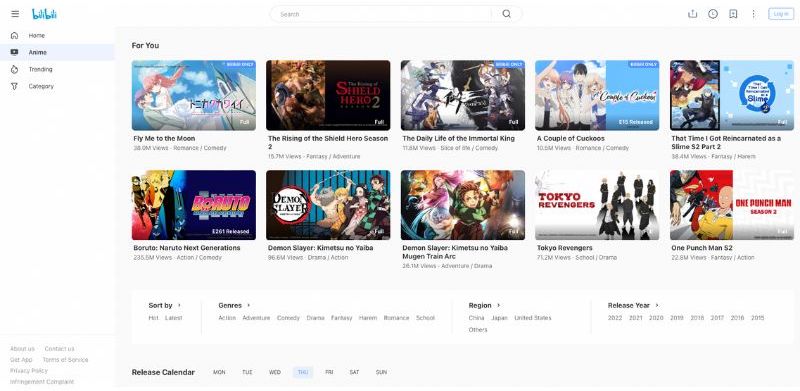 The name Bilibili may sound familiar to you. The Shanghai-based video-sharing website is known for hosting a variety of content that includes TV shows and video game playthroughs. Recently made available to Malaysian viewers, Bilibili is the latest and one of the best websites to watch anime content for free, provided that you don't mind watching 720p videos (you will need to subscribe to its premium plan to watch in 1080p). In addition to having a sizable anime library, it also features some exclusive shows.
Anime content available: Demon Slayer: Kimetsu No Yaiba, The Devil Is A Part-Timer, Attack on Titan, My Hero Academia, Haikyuu!!
What we like: Simple and clean interface that is easy to navigate around, and features some of the most popular titles. 
What we don't like: Need to subscribe to premium plan to watch in full HD.
6. WeTV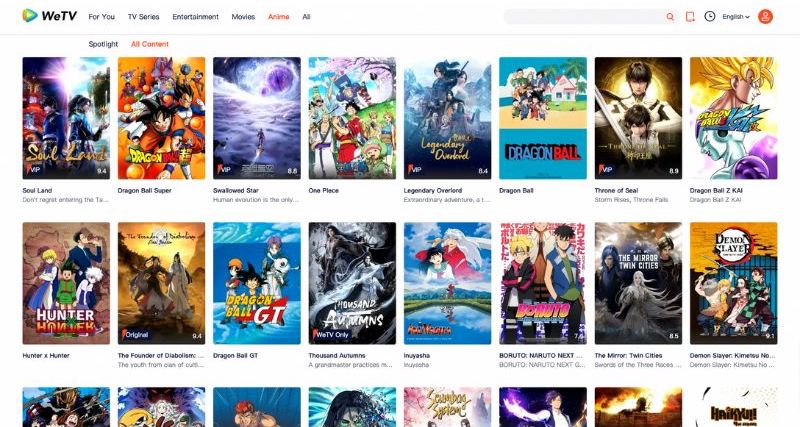 Though WeTV doesn't have the latest series and its content library isn't as extensive as the other sites, it is still a great platform to catch up on some classic anime. Old-but-gold favourites such as Dragon Ball, Hunter X Hunter, Slam Dunk, Inuyasha, and Rurouni Kenshin are readily available to watch with complete episodes and English subtitles. For those yearning to revisit the classics (or check them out for the very first time), the simple and straightforward interface offered by WeTV makes it worthy of a spot in your browser bookmark list.
Anime content available: Sailor Moon, One Punch Man, My Hero Academia, Sword Art Online, Digimon Adventure
What we like: You can never go wrong with the popular classics all in one place. 
What we don't like: Nothing much to watch besides the classics.
7. YouTube
Everyone's favourite video streaming site is also home to free anime content! If this is news to you, now's the time to hit the subscribe button on channels like Muse Asia, Ani-One Asia, and AnimeLog. Together, they offer hundreds of hours of anime streaming that should keep you occupied for hours. And because it is YouTube, you already know how it works like the back of your hand, and there's no concern about the legality side of things.
Anime content available: Assassination Classroom, Hina Logic, Saiyuki Reload, Konosuba – God's Blessing on This Wonderful World, BanG Dream!
What we like: It's YouTube, what more can we say that you don't already know?
What we don't like: Limited content and not the latest.
Bookmark These

Best Websites To Watch Your Favourite Anime

Right Now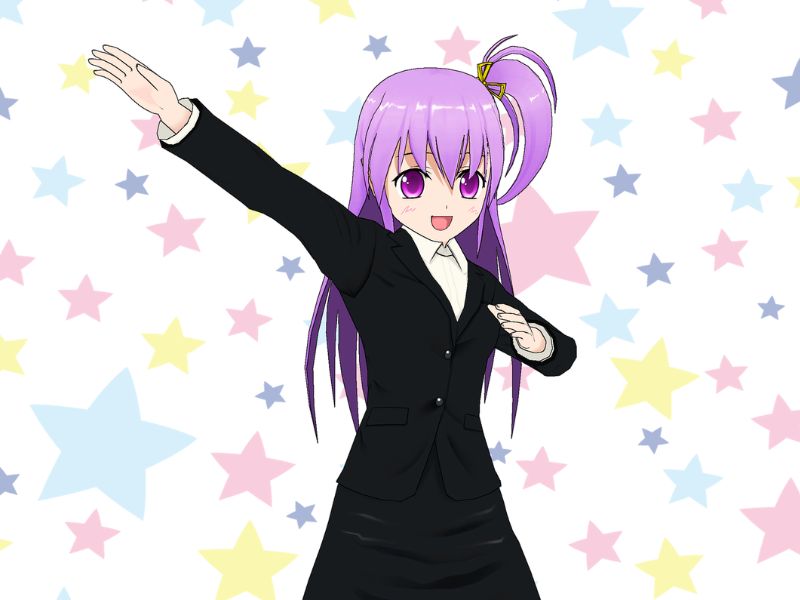 No more searching high and low when you know where to watch anime for free with these best websites! They may not feature simulcasts or the very latest series that paid services offer, but hey, they cost you nothing! And despite being free, these platforms offer more than enough content that can last you months, if not years.
Related: How To Dress Like Your Favourite Anime Characters Without Being Too "Extra"