Sure, staying up to date with all the latest fashion trends can be incredibly fun. It's a great place to start if you don't know your own personal sense of style yet. But sometimes you don't need to look too far for inspiration. You can even look towards your favourite music or TV series to merge your different passions into a whole new aesthetic. We've touched on K-Fashion from famous K-dramas to K-pop artists—today we're talking about anime! So tap into your inner weeb with these 10 ultra-chic outfits inspired by anime characters. 
Fashionable Anime-Inspired Outfits For Men
Killua Zoldyck From Hunter X Hunter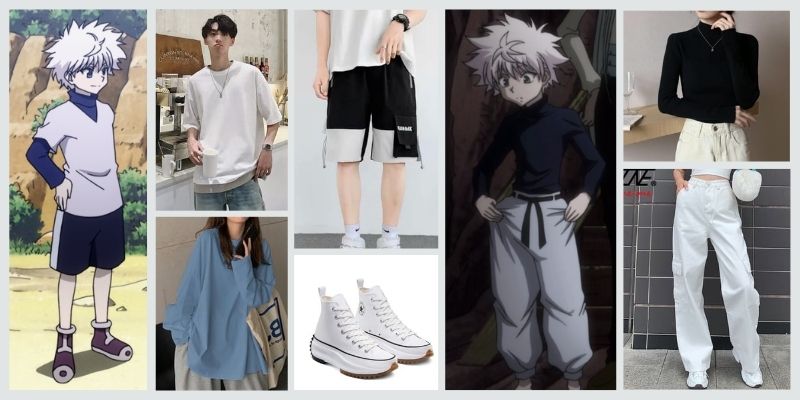 Most anime characters are usually stuck with just one main outfit but not Killua. The middle child of the Zoldyck family is often seen with an array of streetwear pieces. While he does experiment with hints of colour every now and then, he's most commonly seen in black and white. 
Shop this style (outfit 1):
Shop this style (outfit 2): 
Howl Pendragon From Howl's Moving Castle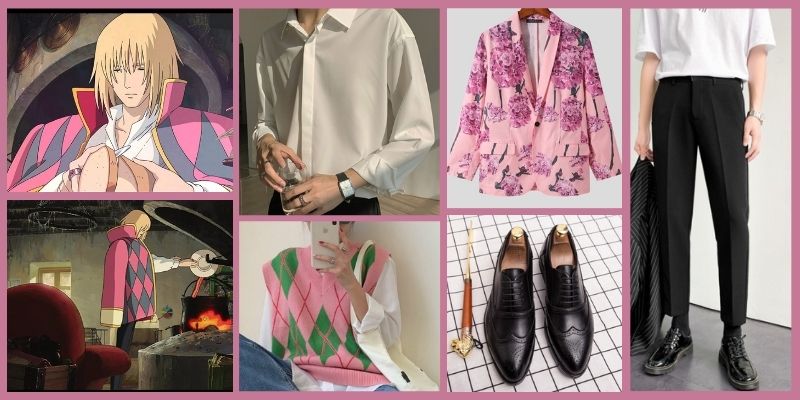 Howl was (and still is) every girl's first 2D crush, so naturally, we had to include him in this list. The vain wizard is obsessed with maintaining his beautiful image, using charms and potions to upkeep his good looks. As for his outfits, the Studio Ghibli anime character likes to dress just as flamboyantly as his extravagant personality. His signature style mostly consists of any type of statement outerwear, frilly blouses, and argyle prints. 
Shop this style:
Kakashi Hatake From Naruto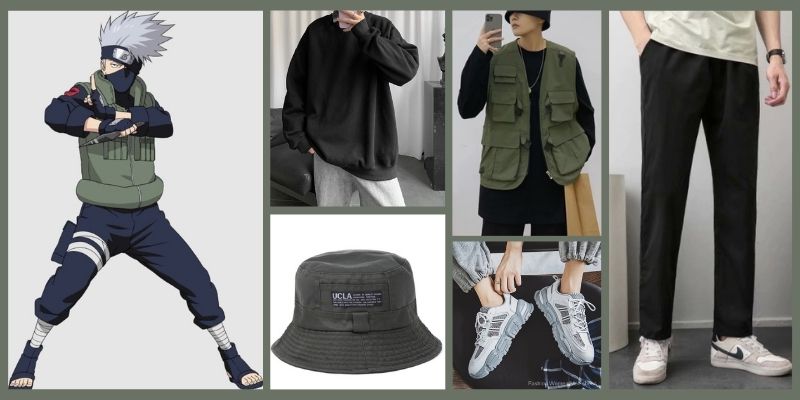 This could just be the nostalgia speaking, but Kakashi Hatake walked so Gojo Satoru could run. Seriously, why are all the white-haired characters the most powerful and attractive? Kakashi is rarely donning anything apart from his shinobi uniform. To reinterpret his look, simply throw on an army green utility vest over your black sweatshirt ensemble and you're good to go!
Shop this style:
Eren Yeager From Attack On Titan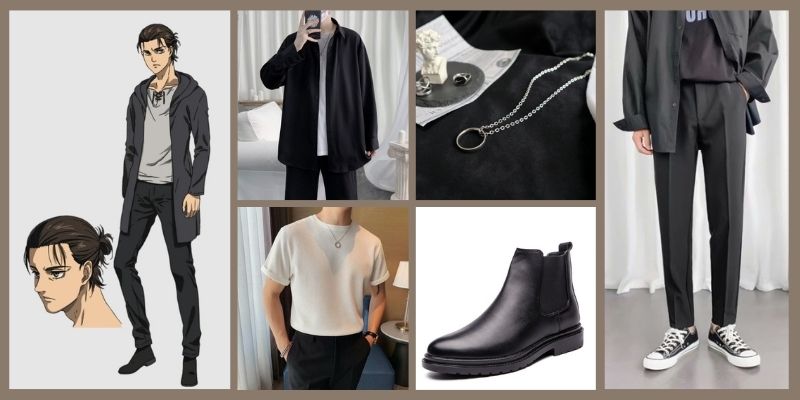 Eren has come a long way from his passionate and naive self in season one to the cold-blooded killer he is in season four. But then again, dedicating yourself to ridding the world of titans and saving humanity is bound to take a toll eventually. His loss of innocence is most notable with a long hairstyle and dark-coloured outfits. 
Shop this style:
Spike Spiegel From Cowboy Bepop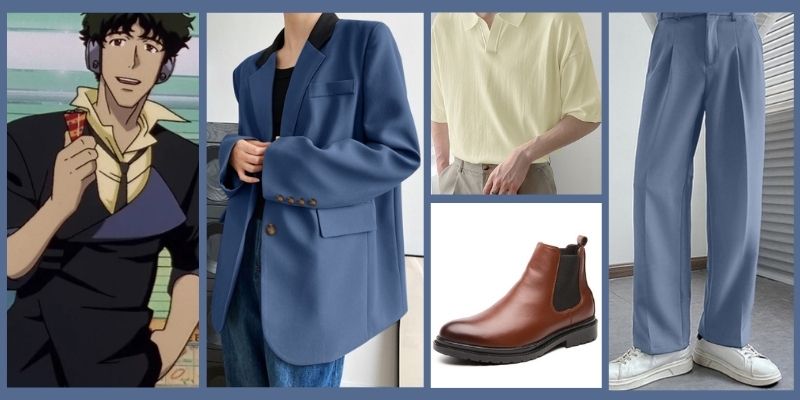 Cowboy Bebop's Spike Spiegel never fails to blow the scene with his combat and gun-shooting skills. But that's not all, even his fashion sense is not to be ignored! His retro blue suit is a classic that will never go out of style. Plus, it's incredibly easy to recreate with your basic wardrobe staples. 
Shop this style:
Fashionable Anime-Inspired Outfits For Women 
Shinobu Kocho From Demon Slayer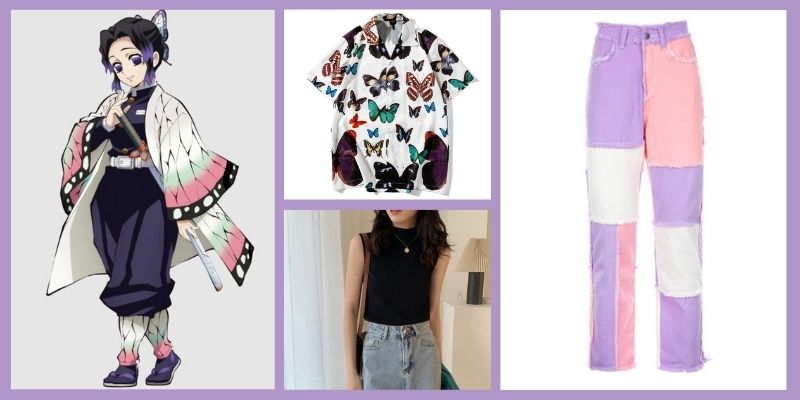 In this anime-inspired outfit, we've decided to experiment more with the concept of Shinobu's character. Known as the Insect Hashira, she's typically associated with butterflies and the colour purple. Throw on a butterfly-printed shirt in place of her butterfly kimono for a more modern, everyday look. We've also replaced her Demon Slayers Corps uniform with these patchwork jeans to give her an outfit an even bolder twist. 
Shop this style:
Nana "Hachi" Komatsu From Nana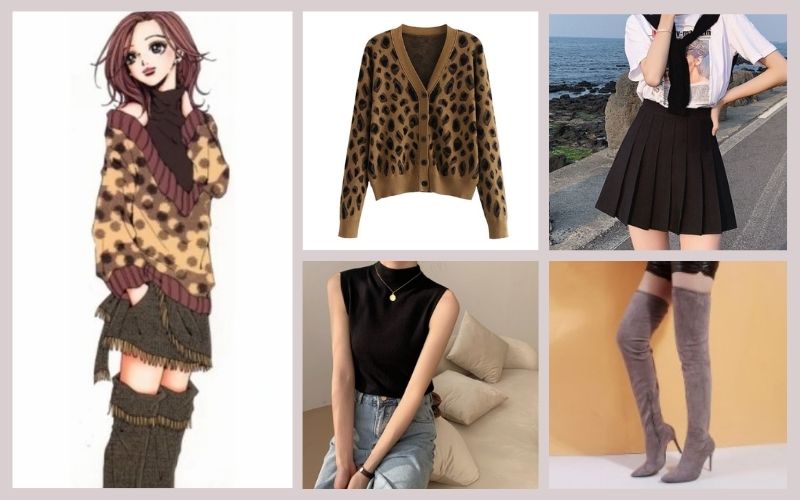 Nana is mostly known for its grunge, punk aesthetic, but Hachi's feminine style is a nice contrast from the rest of the cast. Think cosy cardigans, flowy dresses, and girly skirts to capture her cute yet elegant anime outfit. 
Shop this style:
Misato Katsuragi From Neon Genesis Evangelion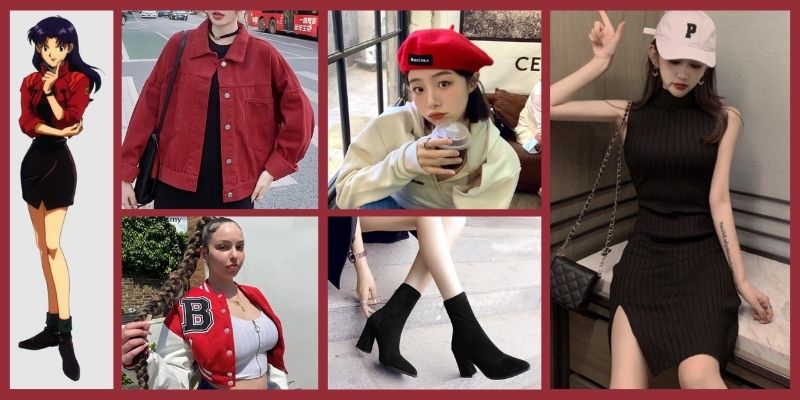 If you're not a huge fan of Hachi and Usagi's delicate style, Misato Katsuragi's edgier ensemble is for you. Her go-to outfit consists of a simple black mini dress and a red leather jacket. Otherwise, you can also find her sporting a two-piece set with a matching red beret. 
Shop this style:
Usagi Tsukino From Sailor Moon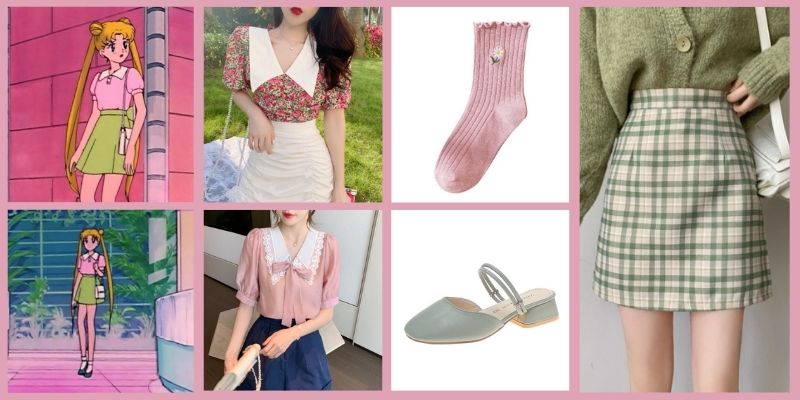 There's no way we can talk about the most stylish anime outfits without bringing up Sailor Moon. When she's not busy saving the world in her iconic Sailor uniform, Usagi is rocking '90s fashion and soft girl vibes in light pastel hues. To get the quintessential 'Usagi' look, you can never go wrong with her favourite colour combination: pink and green. 
Shop this style:
Make Your Inner Weeb Fashionable With These Stylish Anime-Inspired Outfits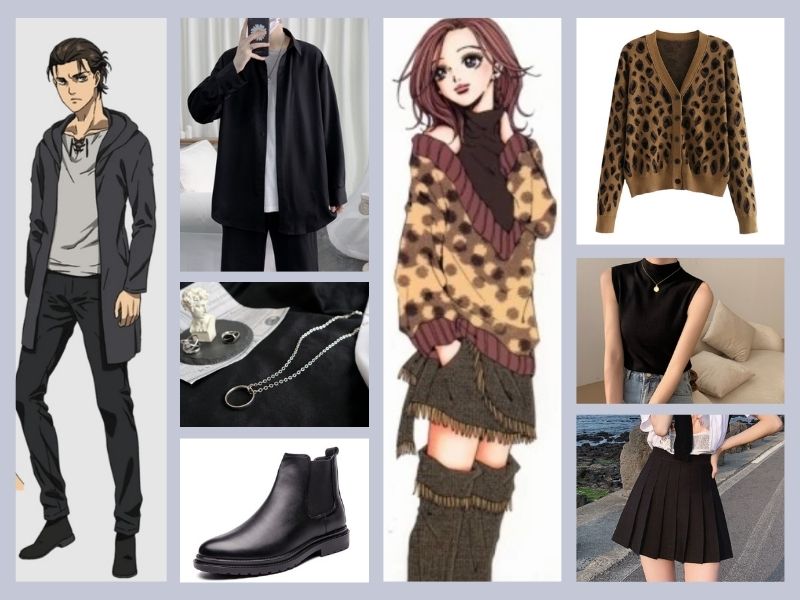 From Killua's casual streetwear to Usagi's soft girl style, tell us which anime-inspired outfit is your favourite in the comments below! If you're also a K-drama fan, these 15 fashionable K-drama characters will teach you how to nail the Korean style aesthetic. Meanwhile, Harry Potter fans will enjoy expressing their love for the series with these Hogwarts House-inspired outfits.