Parents, the struggle of dining out with kids is real. Making sure they polish off their food is a challenge, and attempting to eat your own meal in peace is nearly impossible. But there may just be a happy medium where you can have the best of both worlds – or at least a semblance of it. We're talking about a kids friendly cafe with playground! More of these two-in-one cafes have popped up in the Klang Valley recently, and we've put together a list of the best ones you can visit with your family. Imagine having the kids play on their own while you eat, catch up on some reading, and watch from a close distance. It may not be such a pipe dream after all.
The Best

Kids Friendly Cafes

With Playgrounds

In KL
Great for kids of all ages, these kids friendly cafes in KL serve delicious meals, fun play areas, and a relaxed ambience.
1. The Little Owl Korean Cafe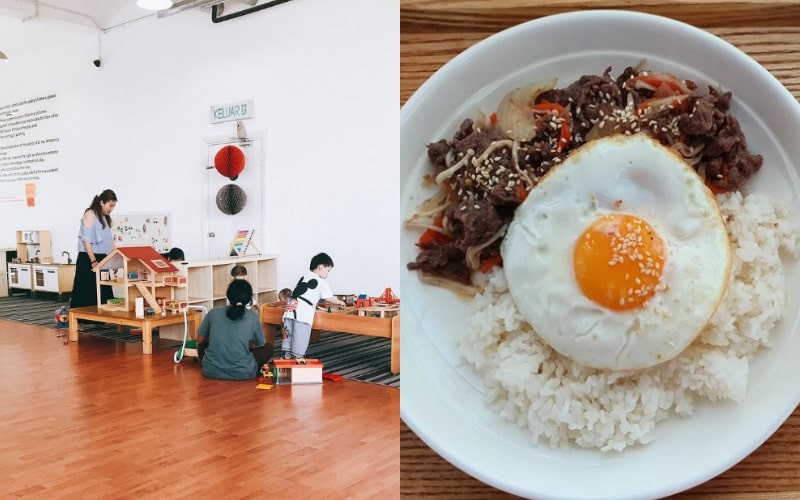 Operating on a reservation basis, The Little Owl is a kids friendly cafe that provides a safe space for families to play and dine. Its bright and airy space is divided into two sections – the eating area and play area – with plenty of room in between for kids to toddle and prance around. Kids will be spoilt for choice with the large selection of pretend play and educational toys, while parents will be happy to indulge in tasty homemade Korean food.
Address: A3-U1-1, Publika, 1, Jln Dutamas 1, Solaris Dutamas, 50480 KL
Opening Hours: Tue – Sun: 10am – 5pm
Contact: 017-637 0885
2. Simply Good Food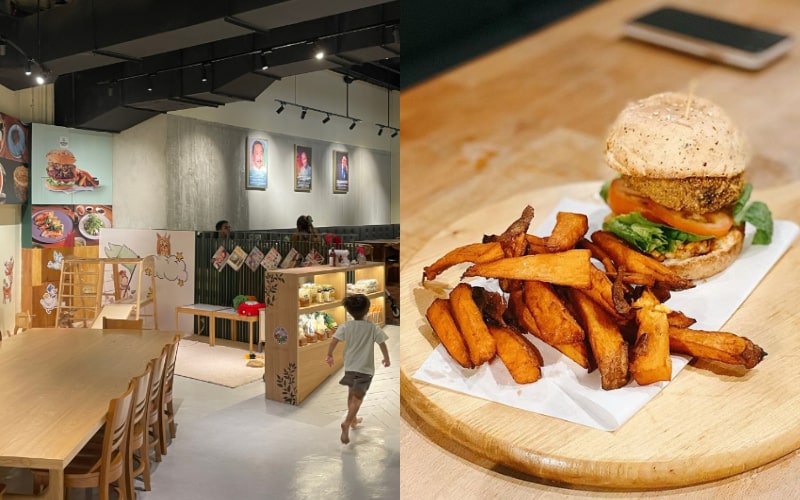 The first thing you'll see when you step into this cafe is the dedicated play area up front, equipped with a mini playground set and a play kitchen. That'll be sure to get the kids running through the door. The next thing you'll notice is the absence of meat options in the menu, though you might not want to announce that to the kids just yet. Surprise them with burgers, sandwiches, pasta, and pizza, and let them know later that they're all plant-based. It might just blow their little minds!
Address: G-11, 1 Mont Kiara, 1, Jalan Kiara, Mont Kiara, 50480 KL
Opening Hours: Mon – Thu: 10am – 9pm; Fri, Sat & Sun: 10am – 9.30pm
Contact: 03-6211 9078
3. Noriter Cafe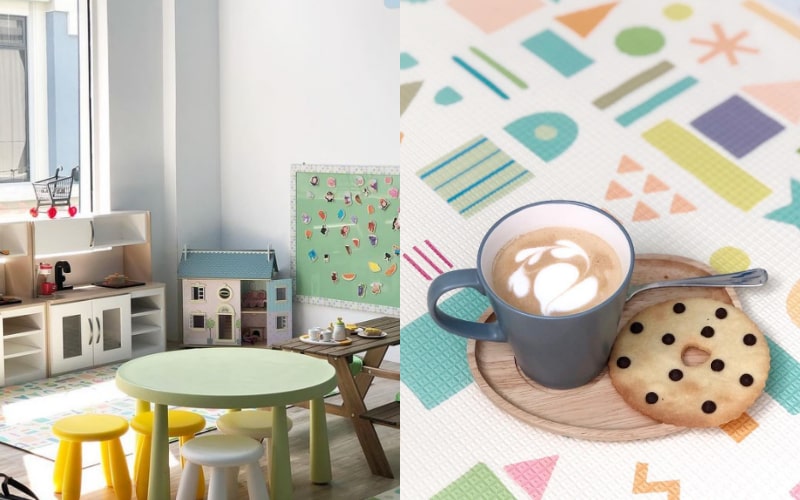 At this kids friendly cafe, you can enjoy a cup of coffee and have a quick bite to eat while your child enjoys some independent play. This spacious cafe is loved by parents for its collection of high-quality toys and kid-sized furniture, allowing children to fully engage their imagination. But it's the little touches, like the lockers, stroller 'parking', and well-stocked nursery room, that elevate the experience at Noriter from good to great.
Address: B-1-12, Plaza Arkadia, 3, Jalan Intisari, Desa Parkcity, 52200 KL
Opening Hours: Wed – Mon: 10am – 7pm
Contact: 010-295 3099
4. Green Tomato Cafe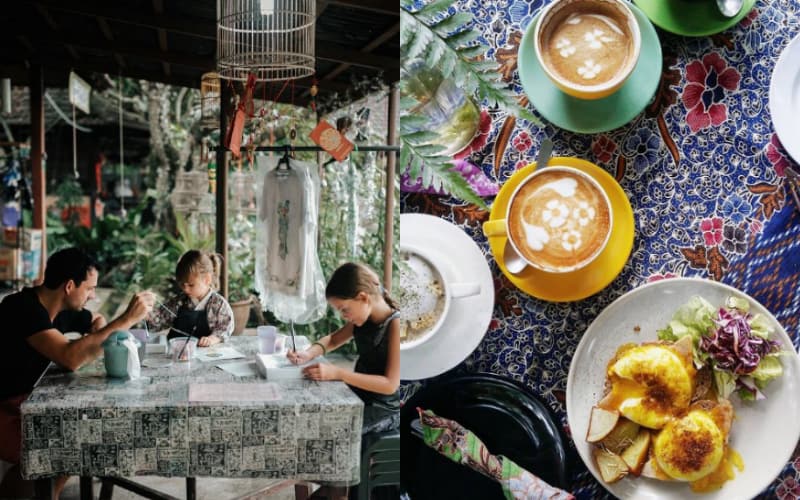 Located in a house, this cafe with a playground is a homey place for friends and family to gather. After chowing down on some home-cooked nosh, the kids can frolic in the grassy backyard that occasionally features a bouncy castle. Or else, they can pick up a new skill like tie-dyeing or batik-painting from the adjacent myBatik that's equally, if not more, fun! Just make sure to call ahead to book a spot as the cafe operates by appointment only.
Address: 51, Embun Kemensah, Jalan Tiara Kemensah 3, 68000 Ampang, KL
Opening Hours: Daily, 8am – 3pm
Contact: 012-257 9775
Website | Facebook | Instagram
5. Marmalade Cafe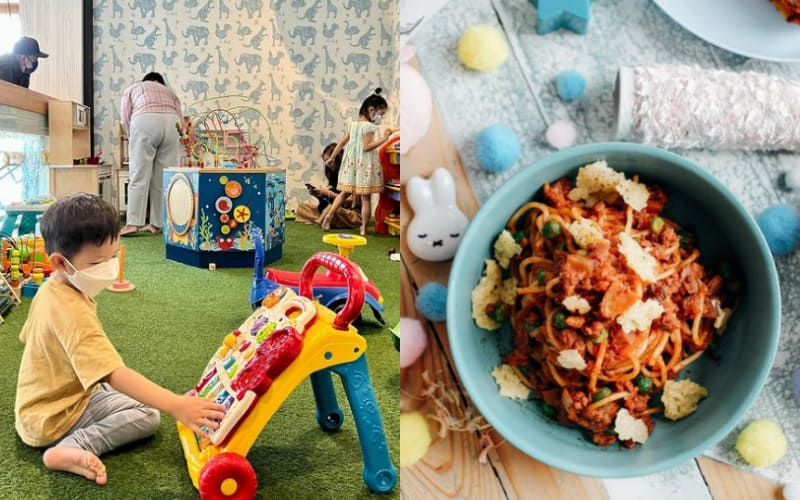 With an interior that's inspired by tropical Malaysia and an ethos that's inspired by family, Marmalade Cafe is a kids friendly cafe worth visiting. It houses a dedicated play area for kids that doesn't skimp on toys, so there's plenty of fun to go around. For meals, Marmalade's extensive menu features local and Western cuisine. This includes a small but tantalising selection of kiddie meals, the likes of mac and cheese, lasagna, chicken teriyaki bowl, and more.
Address: Level 1 F18, Bangsar Village II, 2, Jalan Telawi 3, Bangsar, 59100 KL
Opening Hours: Daily, 10am – 9.30pm
Contact: 017-240 3440
6. The Midnight Baker Bakery And Cafe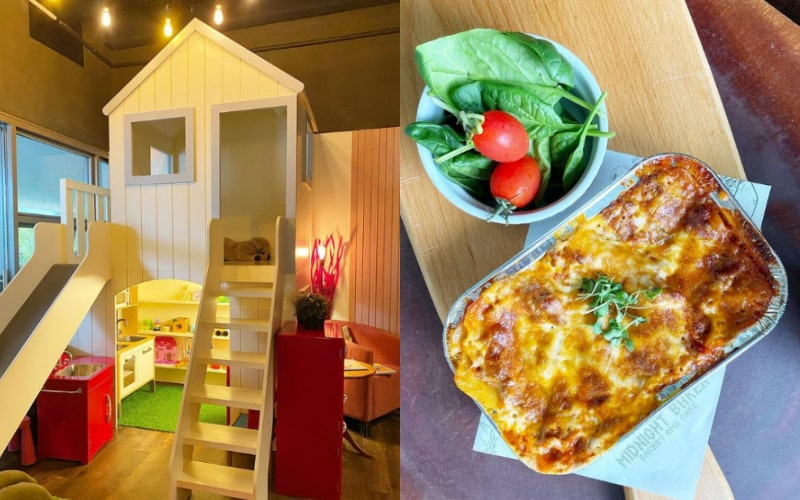 The Midnight Baker is a hidden gem tucked away in a quiet Mont Kiara condominium. Serving home-style breakfast and lunch items like gourmet sandwiches, pasta, cakes, and pastries, there's bound to be something here for everyone. In the way of beverages, they offer a variety – from creamy hot chocolate for the kids, robust coffee for the adults, to fresh juice for the caffeine-averse. When the kids have refuelled, they certainly won't need any prodding to explore the inviting playground within the cafe.
Address: LG 1-3, Seni Mont Kiara, 2A, Changkat Duta Kiara, Mont Kiara, 50480 KL
Opening Hours: Daily, 8am – 5pm
Contact: 016-225 5198
Website | Facebook | Instagram
The Best

Kids Friendly Cafe

With Playgrounds

In PJ
If you find yourself in PJ, these cosy kids friendly cafes are worth checking out too.
7. Leetou Pods Cafe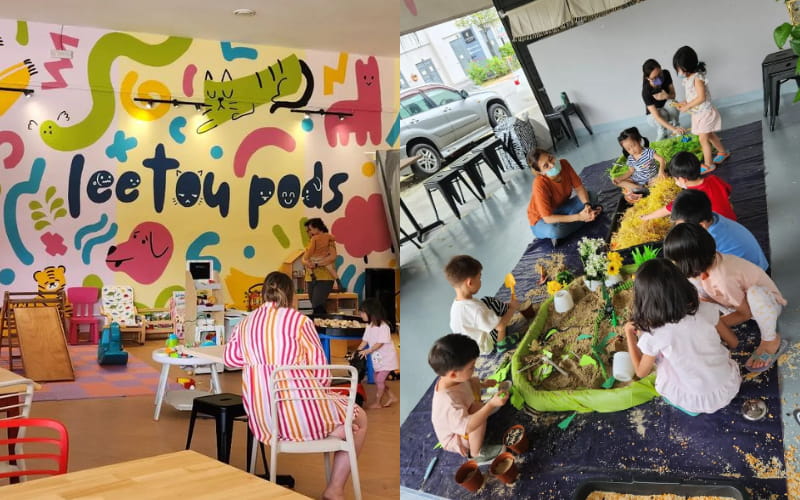 PJ's newest kids friendly cafe, Leetou Pods, offers some much-needed breathing room for parents who want to have a stress-free meal without worrying about their little ones. Toddlers are free to explore the spacious open-air play area, or if they're a little tentative, the busy boards that come with each table will keep them properly occupied. Other conveniences, such as a changing table area, nursing room, and kid-friendly washrooms, are also available. If you'd like your child to participate in a play group, be sure to sign up for the cafe's popular messy play events on weekends.
Address: Ara Permata, 85, Jalan PJU 1A/42B, Ara Damansara, 47301 PJ, Selangor
Opening Hours:
Mon, Wed – Fri: 8am – 4pm
Sat – Sun: 9am – 5pm
Contact: 03-7832 0318
8. The Red Beanbag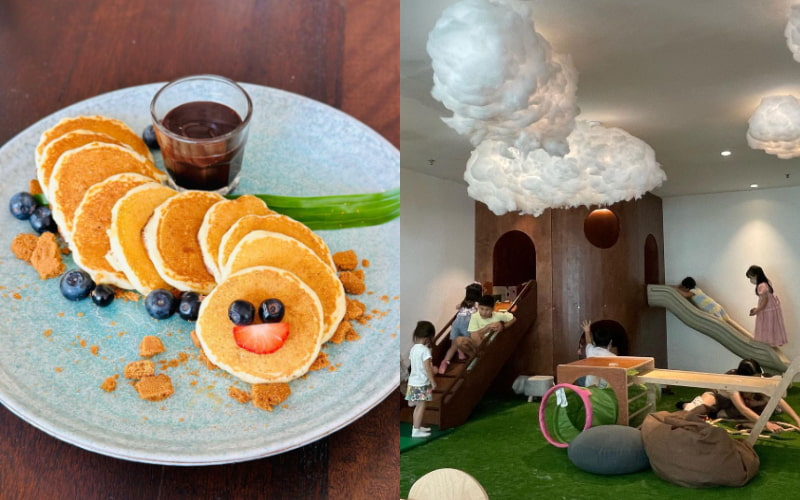 Having just moved from Publika to its brand new premises in Mutiara Damansara, The Red Beanbag is now closer to families in PJ! From menu to amenities, nearly every aspect of the kids friendly cafe has been thoughtfully designed for young families with boisterous children. The whimsical woodland-themed play area and dedicated nursing room are a few fine examples. And in the F&B department, there's specialty coffee, an all-day brunch menu, and a kids menu that adults are welcome to order from.
Address: G-2, Menara Mudajaya, 12A, Jln PJU 7/3, Mutiara Damansara, 47810 Petaling Jaya, Selangor
Opening Hours: Daily, 8.30am – 5pm
Contact: 03-7731 8834
Website | Facebook | Instagram
9. Tedboy Bakery, Jaya One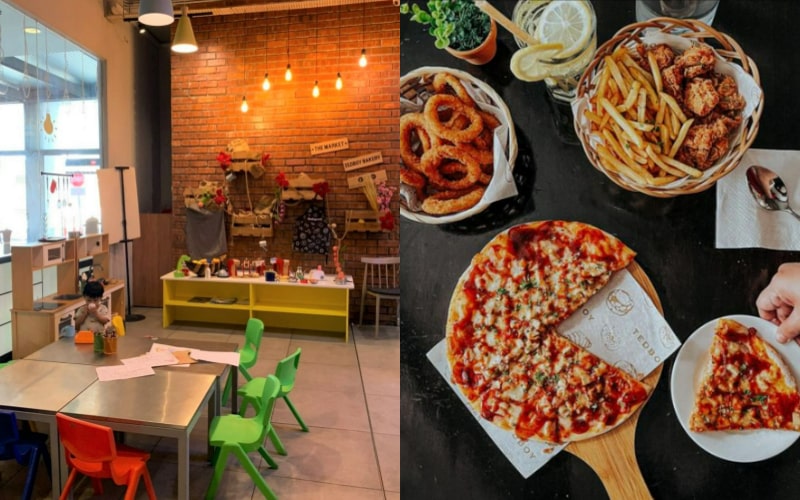 Inspired by the owners' firstborn, Tedboy Bakery was first established in 2012 with the aim of providing healthy, honest food for families. Since then, it has been serving freshly baked bread, pastries, and hot food to folks in the Klang Valley. But this kids friendly cafe goes a step beyond providing wholesome food; it also provides kids with an area to read, colour, and play. Plus, an outdoor seating area if you prefer better air ventilation!
Address: 100-G.037 Level G, The School Jaya One, 72A, Jalan Profesor Diraja Ungku Aziz, Seksyen 13, 46200 PJ
Opening Hours: Daily, 8.30am – 9pm
Contact: 03-7931 7388
Website | Facebook | Instagram
10. Antipodean, Atria Shopping Gallery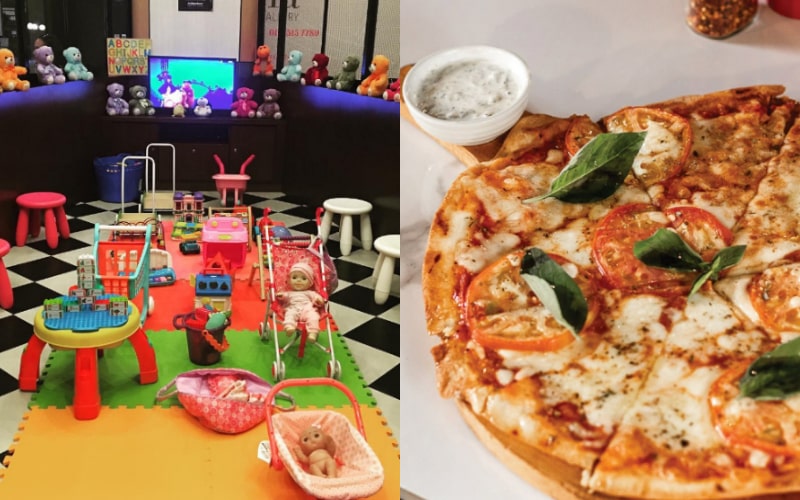 Antipodean is one of the pioneers of European cafe culture in Malaysia. But on top of great coffee and hearty brunch servings, they also brought along the concept of a kids' play area within a cafe. Today, this remains a key feature of the bistro, allowing adults to dine and catch up as kids tune in to cartoons or play with dolls. There are no kiddie meals to be had here, but every item on their Western menu is family-friendly and great for sharing.
Address: G37 & GK1 Ground Floor, Atria Shopping Gallery, Jalan SS22/23, Damansara Jaya, 47400 PJ
Opening Hours: Daily, 10am – 8pm
Contact: 03-7732 8594
Website | Facebook | Instagram
11. Out Of Africa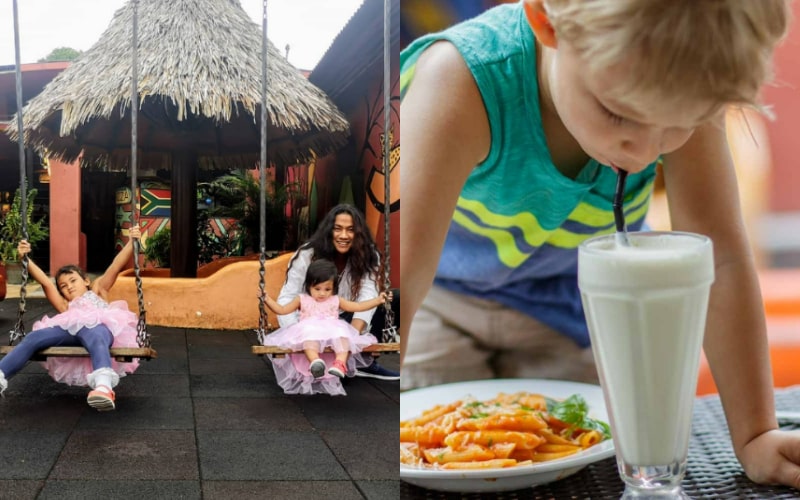 Looking for alfresco dining? Then bring the family down to Out Of Africa for a meal at the garden or terrace. The cafe serves mainly South African cuisine, but they've made the extra effort to curate a special children's menu that includes pizza, pasta, chicken fingers, and hamburgers – all made from scratch. To make it even more family friendly, this laidback cafe comes with an outdoor playground so kids can have fun while they await their food.
Address: PJ Palms Sport Centre, 1, Lorong Sultan, PJS 52, 46200 PJ
Opening Hours: Mon – Thu: 12pm – 2pm, 5pm – 10pm; Fri, Sat & Sun: 12pm – 10pm
Contact: 03-7955 3432
Website | Facebook | Instagram
Have A Fun Day Out At These

Kids Friendly Cafes

With Playgrounds

In Klang Valley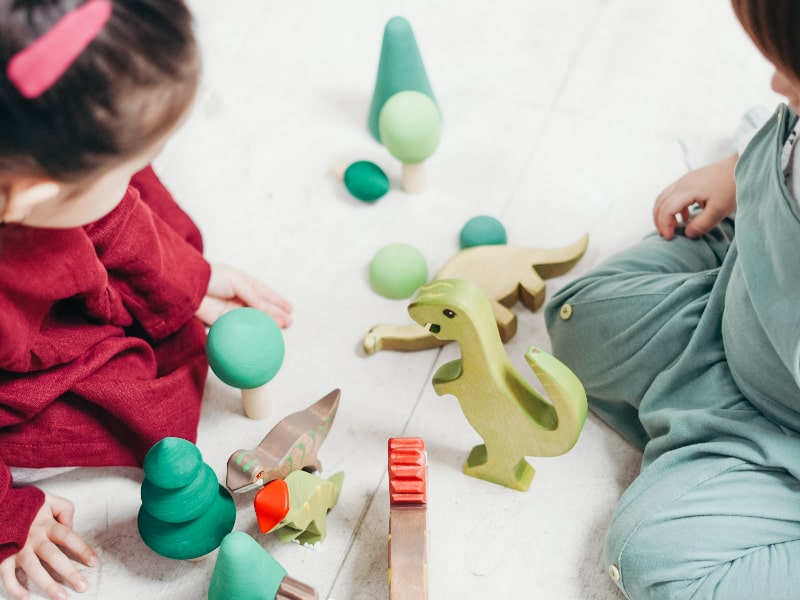 So if you're yearning for a free and easy family meal without having to pack snacks and activities, book a spot at these kids friendly cafes with playgrounds. You can enjoy a yummy meal with the kids, then catch up with friends and family without having to hurry off. And if you have a toddler, you'll get to enjoy some productive playtime with your kiddo too!
Looking for more options? Check out these cat cafes if your kid doesn't mind some furry companions or these beautiful parks in KL for a relaxing picnic.