Eating a burger is an experience. Holding what is essentially a meat sandwich in your hands, feeling the sauces dripping down your fingers as you carefully position your mouth to take in as big of a first bite as possible. It can get messy, but that's only when you know you're eating a darn good burger.
Hungry and salivating? You're at the right place then. Here's where you can find the best burgers in KL for lunch, dinner, supper, and every meal in between.
The

Best Burgers In KL

For A Finger-Licking Good Time 
myBurgerLab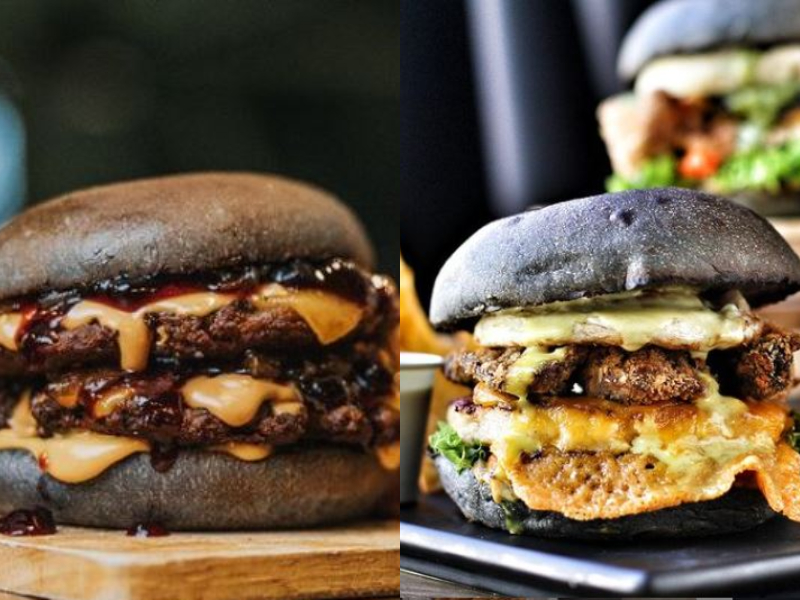 myBurgerLab is widely considered as one of the finest purveyors of gourmet burgers in the Klang Valley, serving some of the best burgers in KL and PJ. Since launching its first outpost in Petaling Jaya's Sea Park in 2012, myBurgerLab has grown to eight locations including its pizzeria offshoot, the Pizza Lab. 
Inspired by the likes of In-N-Out and Shake Shack, chefs grill the burgers to order without shortcuts, using top-grade patties and made-from-scratch, Instagram-ready charcoal buns. 
The selection here is eclectic. For instance, Say Cheese and Lab Burger take on the classic American cheeseburger for days when you just want something simple. If you're feeling adventurous, choices are aplenty. The Beautiful Mess 5.0 lives up to its name with a cheddar-topped beef patty stacked below a bed of fried Portello mushrooms, sunny-side-up, and honey mustard sauce. 
But if you're feeling really adventurous, get your hands on Fat Elvis, a creation consisting of double beef patties slathered with blueberry jam and peanut butter sauce that will have you singing the praises.
Address: Several locations, full details here
Opening Hours: Refer to the link above for info
Contact: Via social media
MORBITES Burger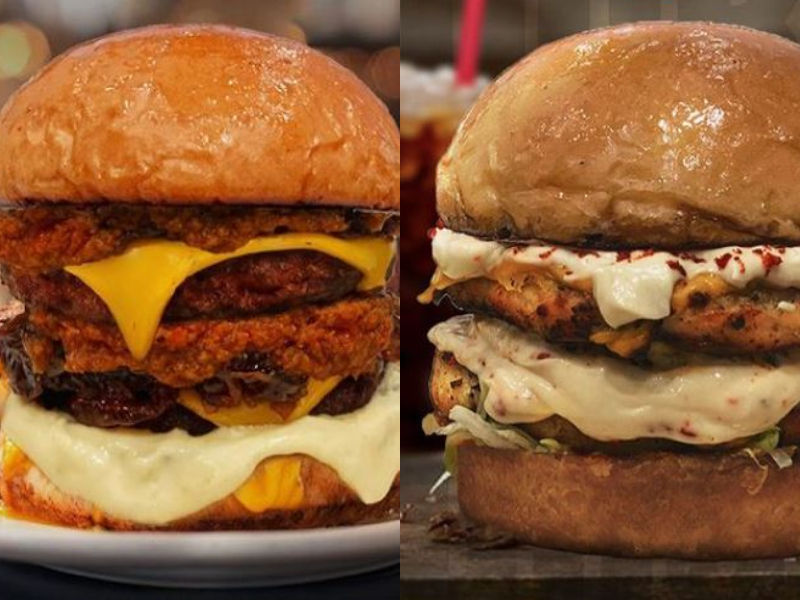 Many TTDI residents vouch for MORBITES (FKA Sixty Bites) and some even dare say it serves the best burgers in KL. First dishing out quality buns from a neighbourhood food truck, MORBITES went through a rebranding and expansion exercise in 2019. But the burgers that have garnered the brand a loyal following remained unchanged. 
Paying close attention to detail and using only the freshest ingredients, MORBITES puts a twist on street-style burgers with juicy patties and special sauces.
For starters, try its signature burgers like the Maui with a chicken patty and a pineapple slice; Chezburger for its own take on the popular cheeseburger, and Chilichez, which is a chilli cheeseburger.
Address: Several locations, full details here
Opening Hours: Refer to the link above for info
Contact: Via social media
FowlBoys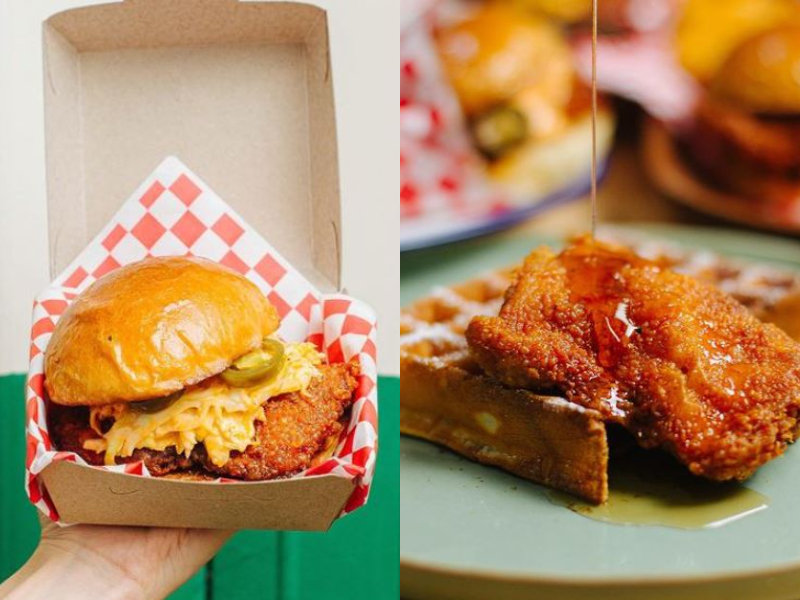 There's certainly nothing foul about the fried chicken sandwiches that this establishment is serving. FowlBoys took off during the first MCO with its own brand of classic Southern fare. Fast forward to now, hungry diners flock to try the signature Motherclucker with juicy buttermilk fried chicken thigh, garlic mayo, special sauce, and jalapeño slaw sandwiched between two fluffy potato buns. 
However, burgers are not all Fowlboys serves. There's also Batter Up, which is a reinterpretation of fried chicken waffles served with signature house jam. When it comes to sides, you can't go wrong with the addictive Cheesy Thots, which are grated potato cubes fried to golden brown perfection. 
Address: Kitchen Connect @ Plaza Mont Kiara, Courtyard Level of Block E, 2, Jalan Kiara, Mont Kiara, 50480 Kuala Lumpur 
Opening Hours: 11.30am to 8pm daily
Contact: 019-849 1268
Killer Gourmet Burgers (KGB)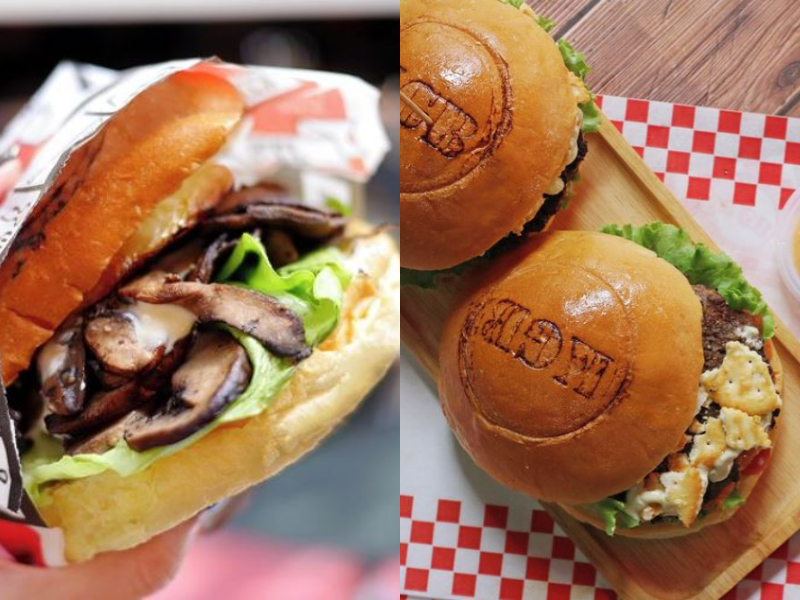 For years, KGB has been the go-to place for some of the best burgers in KL. And no, there's no link to the Russian spy agency in case you're wondering. With the unmistakable "KGB" stamp ironed on the buns, the burgers at KGB look as dangerously delicious as they taste. Meanwhile, 100% grass-fed Australian beef patties ensure a juicy and tender sensation in every bite. 
Get down and dirty with Animal Style, which is a scrumptious serving of a crust seared beef patty, layered with sharp cheddar cheese, caramelised onions, and KGB's special sauce. Upsize to the Double Animal Style if you're up for the challenge. 
For a taste of something unordinary, order the Sacre Bleu! that combines a grilled beef patty with crumbled blue cheese and Ritz crackers before finishing with buffalo wing aioli. 
Address: Several locations, full details here
Opening Hours: Refer to the link above for info
Contact: 03-2201 1220
The Daily Grind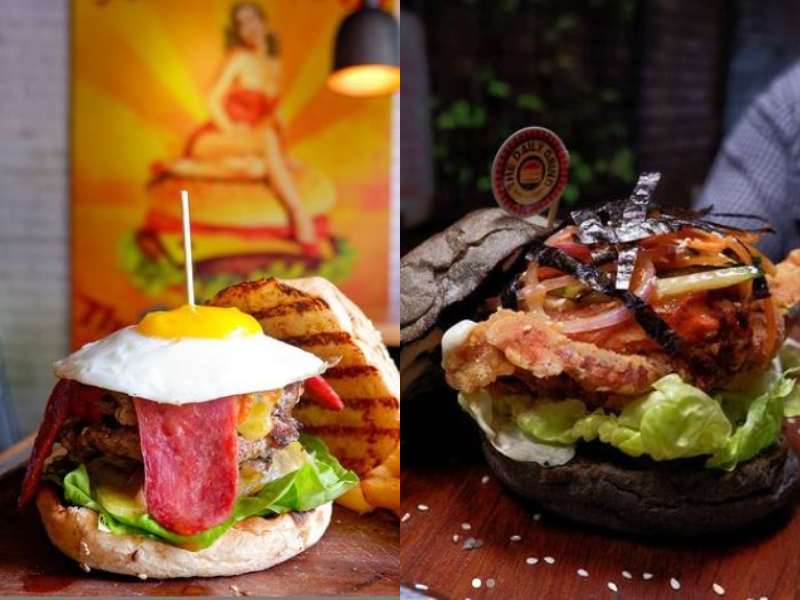 The Daily Grind is considered an OG of the local burger scene, churning out some of the best burgers in KL since 2008. More than a decade later, it's still consistently delivering mouth-watering creations to starving patrons. 
Forgo typical burger buns by going for the Portobello Paleo Burger that sandwiches grilled beef patty, melted cheddar, lettuce, and tomatoes with portobello mushroom "buns". Reminiscent of flavours from Down Under, the G'Day Burger is a no-fuss meal using juicy beef patty, beef bacon, roasted beetroot, melted cheddar cheese, and pineapple slices. 
Sick of the usual beef and chicken? Take a ride to Downtown Tokyo for a burger stuffed with soft shell crab filling, wasabi mayo, and Asian slaw.
Address: Several locations, full details here
Opening Hours: Refer to the link above for info
Contact: 03-4265 7600 (Ampang), 03-2287 6708 (Bangsar)
Beatles & Buns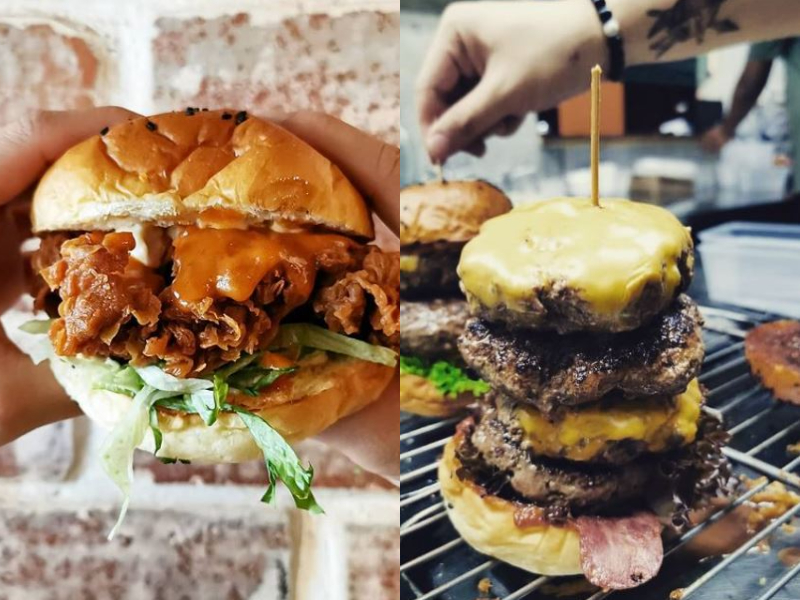 Themed after The Beatles, this spot in Desa Sri Hartamas is where you come to for no-frills, straight-up terrific burgers. As such, expect patties with free-range grass-fed Australian beef and special in-house condiments. 
The Classic 1960s is a must-try, which takes unprocessed cheddar cheese, balsamic onions, and smoky chipotle sauce to spread over a medium-well beef patty. Pay homage to The Beatles frontman with John Lennon. This burger is topped with grilled beef bacon, fried onion strips, unprocessed cheddar cheese, and a dollop of BBQ sauce. 
Address: Ground Floor, No. 48 Jalan 27/70A, Desa Sri Hartamas 50480 Kuala Lumpur
Opening Hours: 4pm to 12am (Monday to Friday); 12pm to 12am (Saturday); Closed on Sunday
Contact: 011-1127 3087
Spade's Burger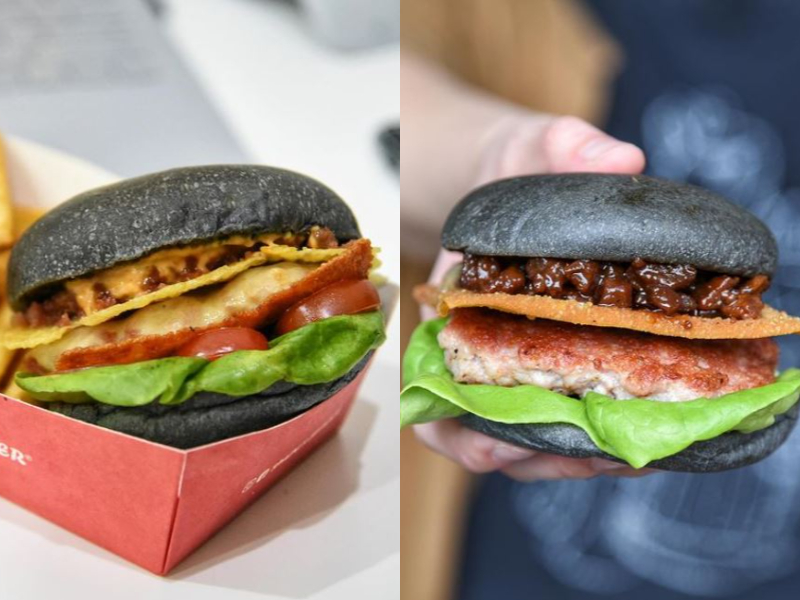 Spade's Burger has gone a long way since its beginnings as a burger stand in 2013. Now, it boasts 10 outlets across Penang, Perak, Johor, and the Klang Valley. With the motto to "serve really, really good burgers and make them affordable", it's no wonder some consider their burgers to be one of the best in KL.
Using eye-catching names, the burgers here cater to different taste buds. For instance, there's the Spidey (cheese-covered patty topped with bacon strips and cheese-BBQ sauce) and CCB (Australian grass-fed beef patty covered in chilli cheese beef and cheese sauce). 
Address: Several locations, full details here
Opening Hours: Refer to the link above for info
Contact: Via social media
Satisfy Your Hunger And Get The

Best Burgers In KL

For Your Next Meal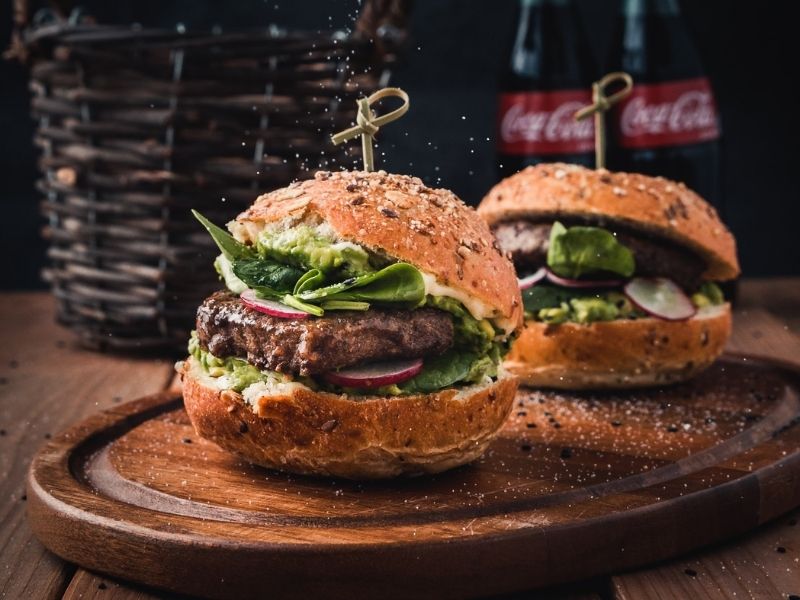 Burgers are comfort food that transcends generations. No matter how old or young you are, it's hard to resist a fresh-off-the-grill burger. So, if you're feeling famished after ogling at the photos here, chow down on the best burgers in KL by patronising any of the places above. 
Burgers and fries go hand-in-hand. With these easy French fries recipes, you can make the perfect companion for your buns.